At Halloween in New York there's something for everyone, from pumpkins to haunted houses to canine parades. Everything culminates on Tuesday the 31st, but we've got plenty of tempting goings-on for Halloween week and the lead up all through October. What follows is the best of 2023, all proof that celebrating Halloween in NYC is a scary good time.
50TH ANNUAL VILLAGE HALLOWEEN PARADE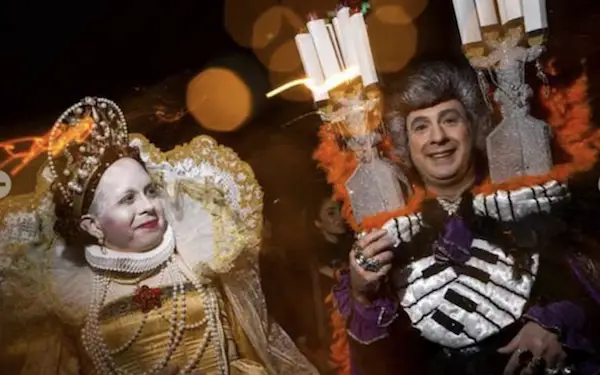 A major Halloween highlight is NYC's 50th Annual Village Halloween Parade, which goes off at 7pm in Greenwich Village on Halloween night. All those in costume are welcome to join a parade of puppets, bands, dancers, artists, and thousands of other New Yorkers in outfits of their own creation—it's the country's most wildly creative public participatory event and only major nighttime parade. Spectators line both sides of Sixth Avenue, where the parade passes north from Canal Street to 15th Street. For the official afterparty, head to the East Village's Webster Hall. The historic space, which dates to 1886, transforms for the night into Webster Hell.
ENTER THE HALLOWverse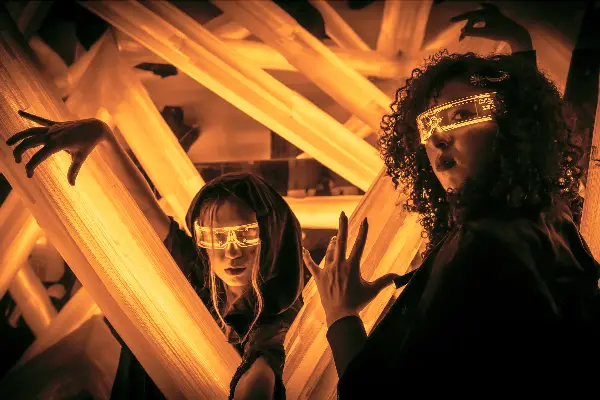 Downtown immersive destination INTER_ gets into the spooky season spirit with new autumn festival INTERween. Through November 6th, you can connect with the HALLOWverse's magic—which includes trick or treating, music, face painting, tarot readings, scavenger hunts, costume contests, sweet treats, and more. Thursdays to Sundays, for all ages.
HALLOWEEN SEASON AT ELLEN'S STARDUST DINER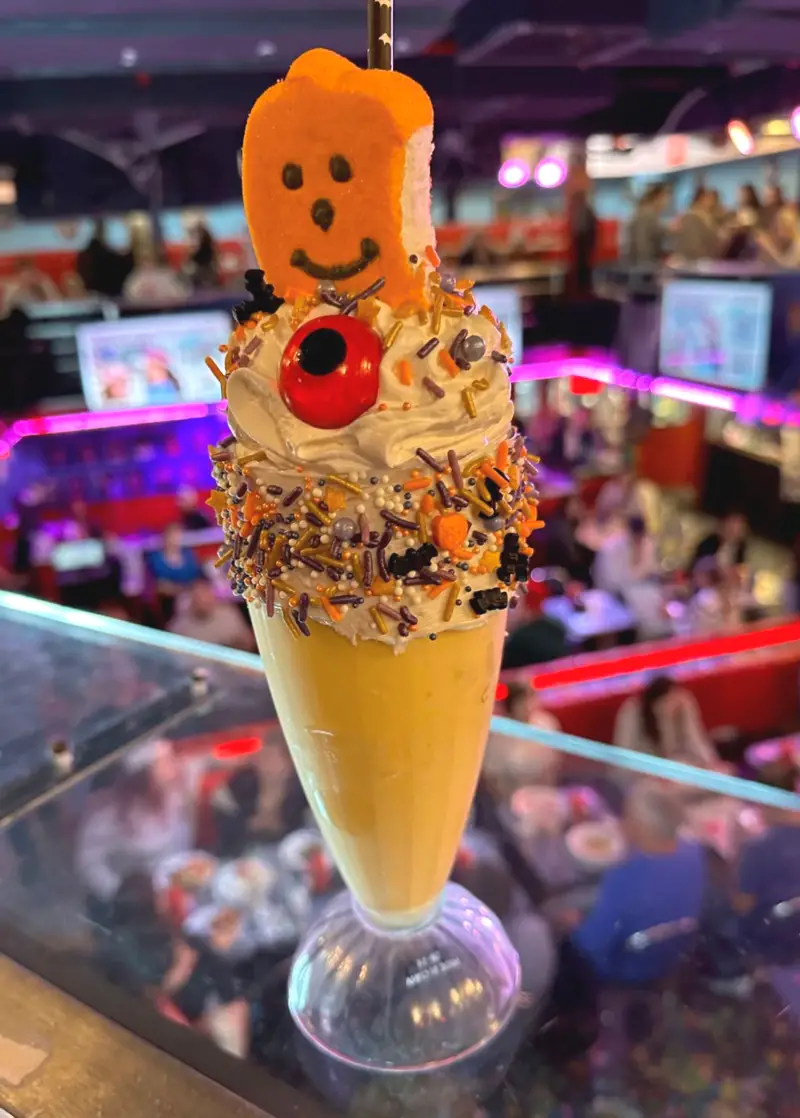 In the heart of the Theater District, Ellen's Stardust Diner has been a staple in the Broadway community since 1987, famed for its singing waitstaff. Guests can enjoy "tricks & treats" this season, including:
Specialty Halloween Milkshakes. Available for the month of October, The Spooky Shake (above) features vanilla ice cream, Halloween sprinkles, and candy. 
Compete for a Prize in a Costume Contest. Come to Ellen's at 5pm on Halloween dressed as a favorite Broadway character or Broadway Star and compete for a chance to win a gift card! The best costume will be awarded $100, with 2nd and 3rd place participants getting the chance to go home winners as well.  
Enjoy 'Spooktacular' Performances by the "Stardusters." The diner's world famous singing waitstaff, also known as "The Stardusters," many of whom have gone onto Broadway, Off-Broadway, and even American Idol, will not only be decked out in costumes, but will be performing Halloween classics including "Monster Mash," "I Put a Spell on You," and "Time Warp" from the Rocky Horror Picture Show. See the Stardusters' Hocus Pocus performance from a previous Halloween HERE.
VILLAGE HALLOWEEN COSTUME BALL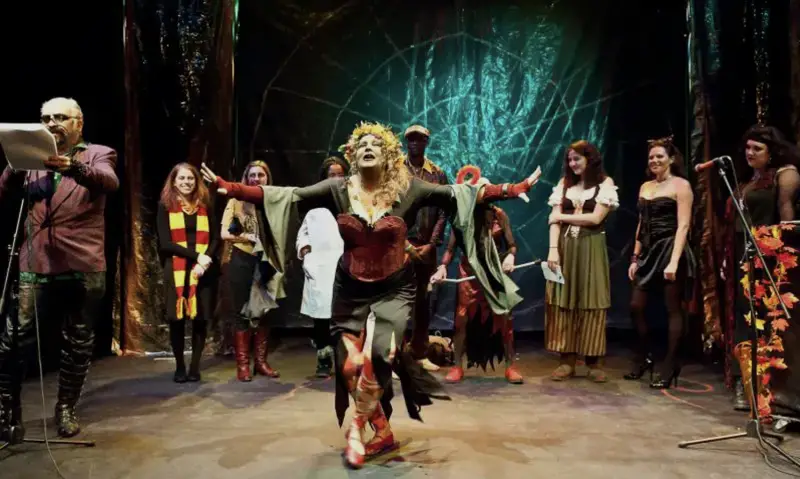 ​
Theater for the New City (TNC) celebrates the season and its creativity at its 47th annual Village Halloween Costume Ball on Halloween. A large outdoor festivity will be held from 3:15pm to 8pm outside the Theater on East Tenth Street between First and Second Avenues (or if it rains, in a big tent), featuring performances, a costume competition, and dancing to swing and Latin bands. There will be indoor performances as well; costumes or formal wear are requested.
GREG'S GREAT PUMPKIN PATCH IN WILLIAMSBURG

Greg's Trees has transformed Pollyn, 115 Broadway in Williamsburg on the corner of Bedford Ave., into Greg's Great Pumpkin Patch, which is open now through October 31st with events and attractions for the whole family.  Expect a massive selection of pumpkins and Halloween decor, Instagram-able photo ops, and activities galore. 
SPOOKY BAZAAR (HALLOWEEN SPECIAL)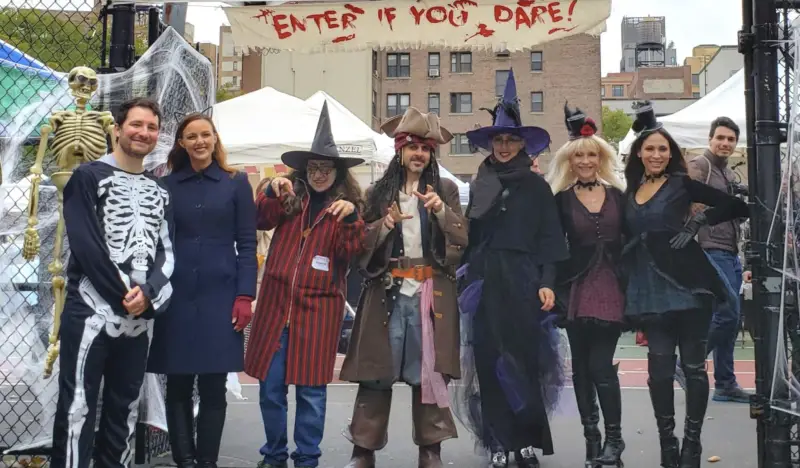 Every Sunday on the Upper West Side you can check out Grand Bazaar NYC, the city's largest curated market—and most distinctive. This week you'll also find the Spooky Bazaar (Halloween Special). Expect to be greeted by creepy crawly decorations, while uncovering unearthly finds from over 200 "scary" (many in costume) independent artists, designers, craft-makers, and vintage dealers that can't be found elsewhere. Come hungry! There are great artisanal bites as well. 10am-5pm.
TERRORVISION 
Near Times Square you'll find the heart-pounding immersive horror experience TerrorVision. Audiences embark on a tour of the 20,000 square feet of rooms and passageways that make up the dilapidated Horrowood Studios for a sneak peek of the filming of an upcoming TerrorVision Halloween episode. But when the screen shatters, guests are forced to inhabit three nightmarish tales, each one overflowing with gruesome creatures and terrifying special effects. From September 13th. 
NIGHTMARE DOLLHOUSE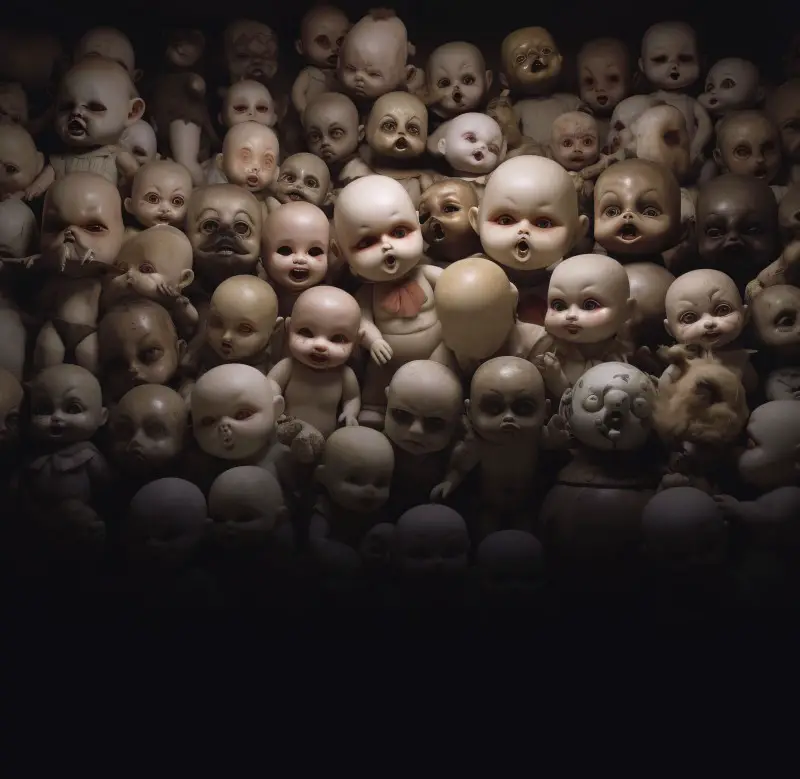 Nightmare Dollhouse is a hyper-realistic interactive experience set in what appears to be a roadside doll museum in the middle of nowhere that intensifies into an unhinged fright fest when the dolls morph to life and try to make you part of their sinister world. It's playing  October 13th through Halloween at Teatro SEA @ The Clemente on the Lower East Side.
HALLOWEEN COCKTAILS IN BK
Republic Latin Fusion in Williamsburg just decorated for Halloween and they've rolled out a Halloween cocktail menu to match. (They turn into a lounge after dinner hours, so it's the perfect place to bring in spooky szn while sipping on a themed cocktail.) Republic Latin Fusion also has an amazing lineup of daily specials. The week kicks off with Martini Monday, offering expertly crafted Martinis for just $10 and 20% off vegan dishes. Taco Tuesday brings a 3 for just $12 deal, perfectly paired with $10 Margaritas. Wednesdays offer 20% off on a wide selection of whiskey, wine, and wings. Tiki Thursday brings tropical vibes and 20% off tiki drinks, rum, and chaufas. The 'Made it to Friday' celebration starts with a lively Happy Hour and 20% off sushi until 7 pm.
SPOOKTACULAR CELEBRATION AT THE MUSEUM OF ICE CREAM
Maryellis Bunn.
The Museum of Ice Cream is sprinkles-deep in a "Spooktacular Celebration," spreading the joy of Halloween with limited-edition cocktails and one-of-a-kind treats. There's also all kinds of Instagrammable moments here, should you want to rock a costume as you take to a three-story slide that ends in a pool of sprinkles.
33RD ANNUAL TOMPKINS SQUARE PARK HALLOWEEN DOG PARADE
istolethetv/Flickr
Pooches let their alter-egos shine, putting on some of the cutest and most creative costumes you've ever seen at the 33rd annual Tompkins Square Halloween Dog Parade. There was a close call this year, with cancellation threatened, but "the largest dog costume parade in the world" will go on! Expect hundreds of dogs in costumes and thousands of spectators. Saturday, October 21st.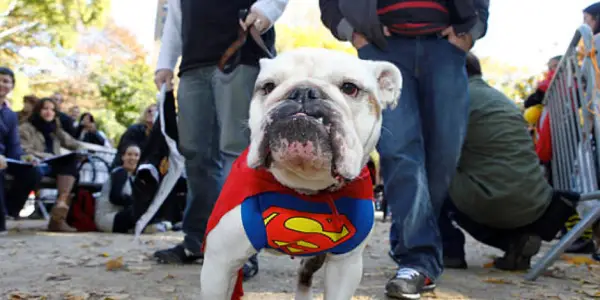 Pooches let their alter-egos shine, putting on some of the cutest and most creative costumes you've ever seen at the annual Pupkin Dog Costume Contest in Fort Greene Park. Festivities begin at 11:30am. Suggested $5 donation. fortgreenepups.org
HALLOWEEN IN PROSPECT PARK

On Sunday, October 29th, join Prospect Park Alliance at the Audubon Center for a special Creepy Crawly Halloween celebration. Take a second look at the creatures that give you the creeps, you may find you like them—fun activities and experiments will make your spine tingle.
Prospect Park Zoo is going batty every weekend in October. Visit for Boo at the Zoo and learn about bats around the world and visit the zoo's African straw colored bats in the Hall of Animals.
HALLOWEEN FOR BROADWAY FANS...
MJ has been stunning audiences on Broadway since 2021, especially with its show-stopping rendition of the #1 Halloween anthem "THRILLER." Last year, the show celebrated Halloween by doing a special, one-night-only performance at the end of the show of the iconic music video version of the song and choreography. They'll be bringing this tradition back again this year after the Halloween performance on Tuesday, October 31st. It's a super fun way to celebrate the holiday!
...AND THEATRE FANS
All The Devils Are Here starring Patrick Page of Hadestown fame recently began previews Off-Broadway at the DR2 Theatre. Dubbed "The villain of Broadway" by Playbill, the Tony Award nominee and Grammy Award winner has never shied away from exploring his dark side. Now, with this tour de force, he turns his attention to the twisted motivation and hidden humanity at the heart of Shakespeare's greatest villains. Moving swiftly through the Shakespeare canon, Page illuminates the playwright's ever-evolving conception of evil by delving into more than a dozen of the Bard's most wicked creations. Thrilling, biting, hilarious, and enlightening, what Page delivers is a masterclass on the most terrifying subject of them all: human nature.
ARLO SOHO
Arlo Soho's Halloween Bash is back. On Saturday, October 28th from 10pm to 2am, Renwick Hospitality Group is throwing a Spooky Spectacular with three different parties under one roof. Enjoy a 4-hour Premium Open Bar with light bites, live music & a DJ, dancers, costume contests, prizes, a photobooth, a haunted disco and more. Tickets available here. 
FEAR ON THE PIER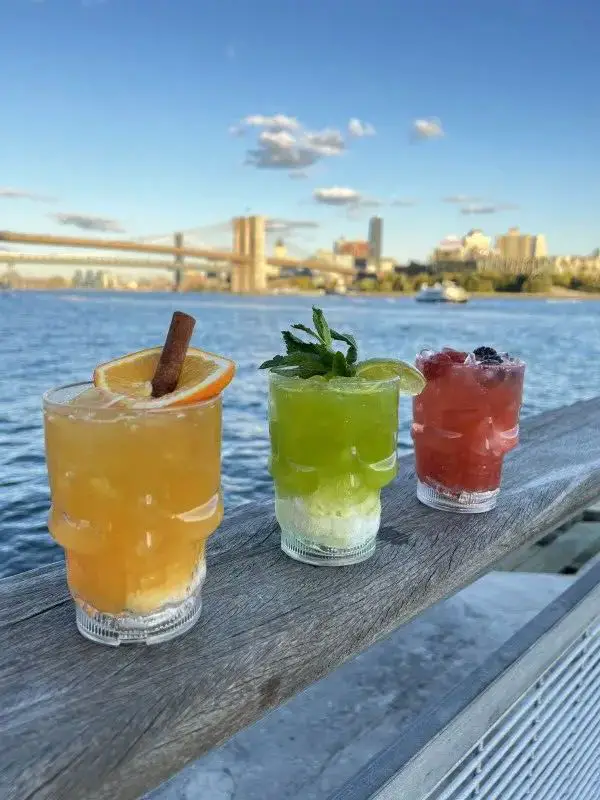 Watermark's Fear On The Pier is back again starting Friday the 28th through Halloween weekend. The space becomes eerie, with specially crafted cocktails like the Witches Brew and Pumpkin Cup, plus Jello Shot Syringes. But beware, infamous horror characters may appear when you least expect it. A rotating lineup of DJs, killer views. Reservations can be made here. 
Friday, October 27th | The Haunted Pier Bash from 5pm-midnight
Saturday, October 28th | Oktober-Fright-Fest on the Pier from noon-1am
Sunday, October 29th | Spooky Brunch & Sunset Soiree from noon-10pm
MUERTOS MASQUERADE
Ophelia will be hosting a Dia de los Muertos-themed event on Saturday, October 28th, from 5pm 'til late. With twilight cocktails from 5-10pm and a moonlight soiree continuing on through the night, the rooftop lounge will be decked out in Dia de los Muertos decor.  Bleeding into Sunday morning, the space will welcome guests for a Muerts Cocktail Brunch starting at noon. Guests are encouraged to embrace the masquerade spirit in their dress, reservations can be made here. 
MAGIC:DISTILLED PRESENTS "SMOKE & MIRRORS"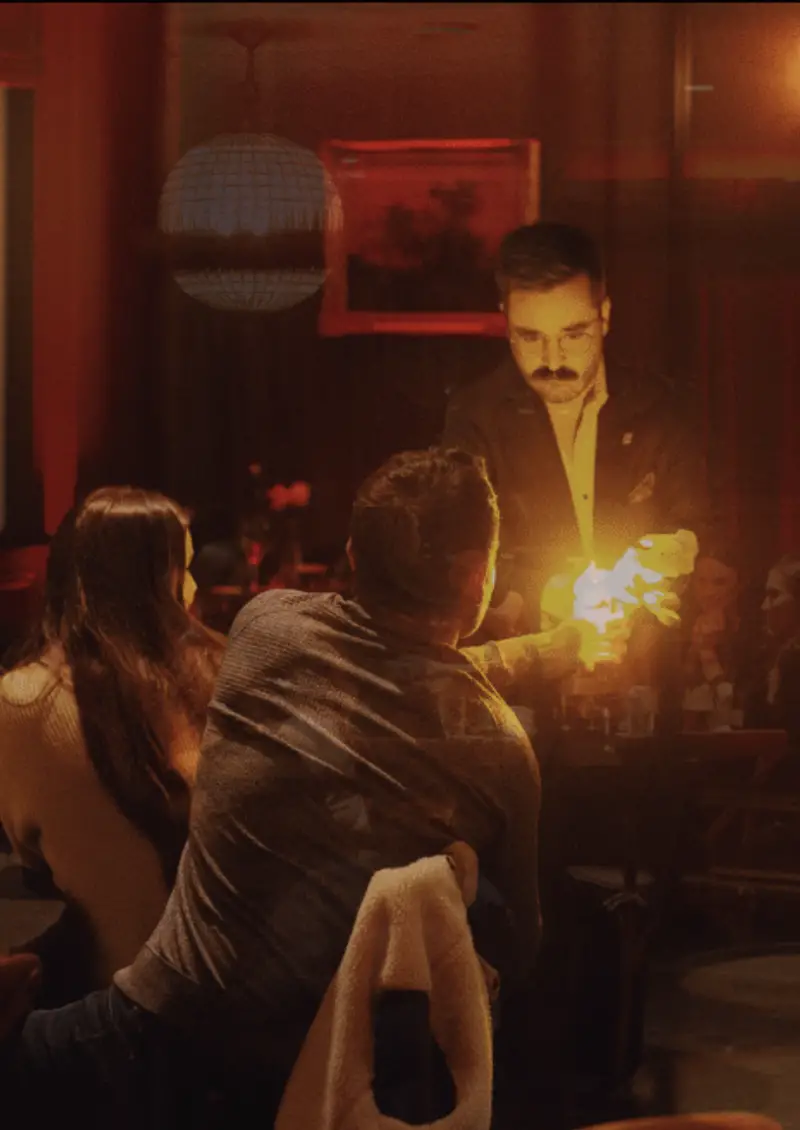 Join Great Jones Distilling Co. for an epic Halloween edition of their popular Magic:Distilled performance with "Smoke & Mirrors" and experience rarely seen magic inspired by performances from a bygone era. Manhattan's first whiskey distillery since Prohibition will be serving craft cocktails by Head Mixologist Collin Frazier, complemented by NYC's top magicians, led by illusionist Jeanette Andrews, who will perform table-side and parlor magic. Step back in time and experience a mind bending evening where the craft of whiskey distilling collides with awe-inspiring magic. Reservations can be made here.
ROOFTOP HAPPY HOUR: HALLOWEEN EDITION WITH TIM GUNN
On Friday, October 27th, join the New York Public Library for its annual Halloween costume parade. Fashion icon Tim Gunn will be joined by NYPL librarians on the Library (SNFL) terrace high above Fifth Avenue. There will be drinks, crafts, and costumes—come dressed to impress in your best look inspired by a beloved book, poem, character, or writer.
FAMILY FRIENDLY HALLOWEEN (SUNDAY, OCTOBER 29)
Local brew pros TALEA are hosting their annual Halloween Celebration at all three taprooms with treats for all ages. At any of TALEA's taprooms—Williamsburg, Cobble Hill, and the West Village—join in on costume contests, kids crafts, pumpkin beer, and a delicious Trick or Treat flight inspired by your favorite candy. Along with the chance to win a $100 gift card to TALEA in a raffle, families can also sign up for either of the below ticketed events for even more Halloween fun:
Family Pumpkin Carving Class

Get the chance to carve your own pumpkin at TALEA Cobble Hill. Complete with kid friendly guided carving instruction, all carving materials included, and take your completed pumpkin home with you. Book HERE, $30/Pumpkin.

Jazz Baby Singalong Class - Halloween Theme

Get in the Halloween spirit at TALEA Williamsburg from 10:30 - 11:15 AM with this 45 minute kids music class in partnership with Jazz Baby, a multi-sensory experience designed to enhance motor, social, and spatial skills, featuring some spooky season songs. Book HERE, $30/Family.
GHOST STORIES: HALLOWEEN VERSION!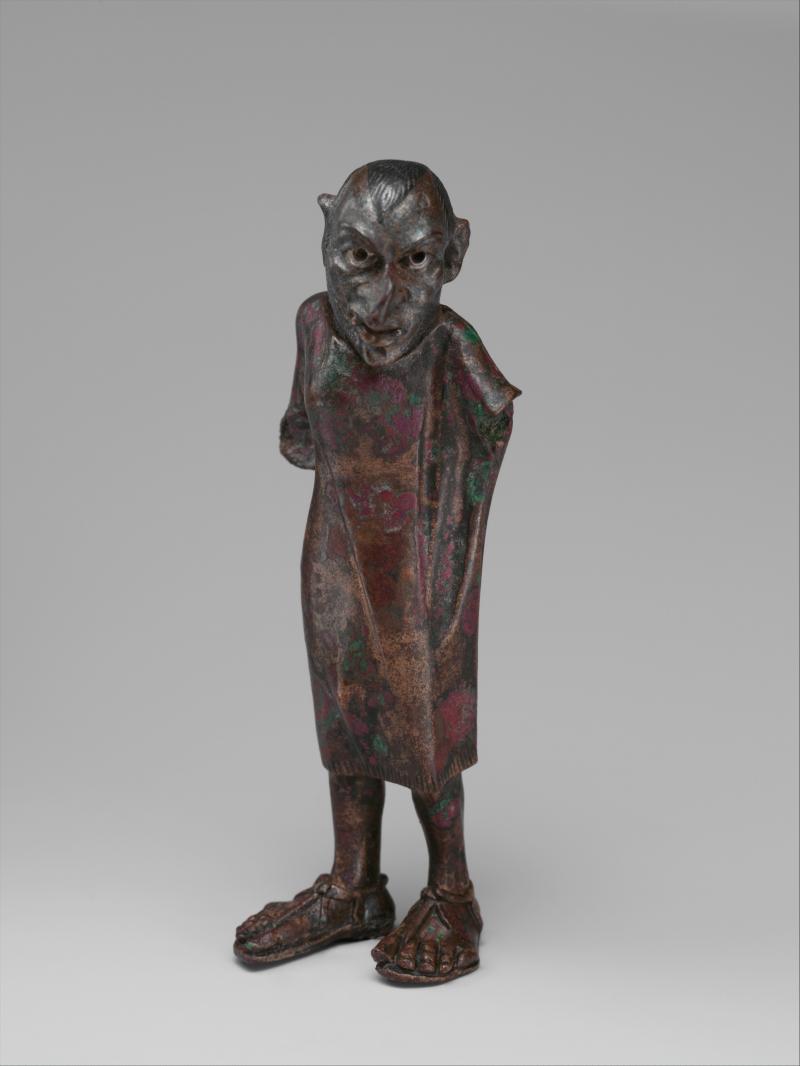 From the spooky to the scary, the macabre to the mysterious, the ghostly to the ghoulish, "Ghost Stories" takes visitors on an interactive tour of things frightful in the Metropolitan Museum. Participants travel across cultures and across time to see Flying Dutchmen and funerary brooches, sculpture and sarcophogi. Led by Fable and Lark, you'll look at Egyptian, American, and European works of art, to name a few, all with a Halloween twist.  All the while, you'll explore how different cultures depict the fearsome and the gruesome, in pursuit of what scares us…and why. September 30th, October 14th, October 28th: 11am; October 6th, October 13th, October 20th, October 27th: 6pm. info@fableandlark.com, 917-513-4081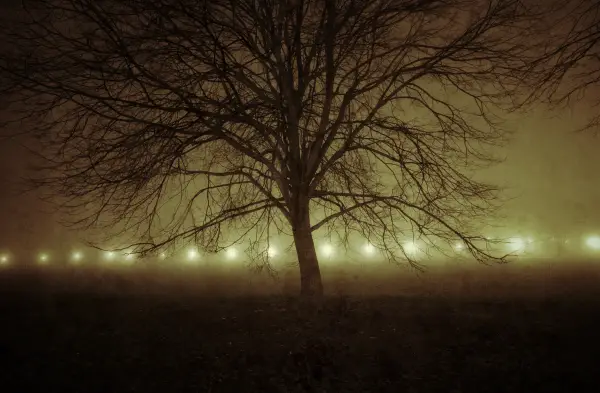 Image: Ahmed ElHusseiny/Flickr
EXTRACURRICULAR
If Halloween has you in the mood for some creepy New York, we've got a dozen spooky spots across all five boroughs.