Halloween in NYC 2017: Scary Good Times
October 10, 2017 - by City Guide News Desk
At Halloween in New York there's something for everyone, from pumpkins to haunted houses to canine parades. Everything culminates on Tuesday the 31st, but we've got plenty of tempting goings-on for Halloween week and the lead up all through October. What follows is the best of 2017, all proof that celebrating Halloween in NYC is a scary good time.
ONGOING
VR WORLD

It's the time of year we all like to experience a chill or two. Head to NYC's blockbuster new VR World, where you can get immersed in something truly new with a Halloween twist on top. Flatline Emergency Room is an immersive virtual reality theatre experience, David Lynch meets Mad Men. Guests relive a near-death experience, traveling to the Other Side and back again. Even scarier than flatlining? How about VR World's new Dark Corner, which is now featuring Catatonic, where live nurses in 1950s uniforms prepare patients for a VR horror thrill ride through a vintage insane asylum.
9/16-10/29
HALLOWEEN HARVEST
Join Luna Park in Coney Island, Brooklyn along the Atlantic shore now through Oct. 29 for family-friendly activities. Luna Park's Halloween Harvest, now in its fifth year, features pumpkin picking and painting and FREE activities like trick or treating, daily entertainment, costumed characters, caricature artists, balloonbenders and twisters, magicians, one of NYC's largest pumpkins, and more! lunaparknyc.com
10/1-10/31
HAUNTED HOLLYWOOD AT PLANET HOLLYWOOD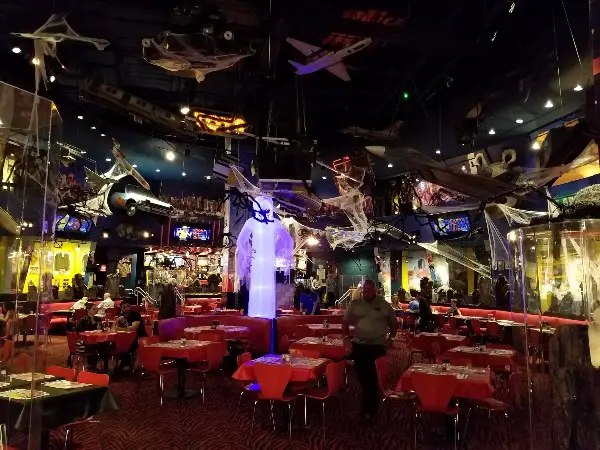 Dine among the stars and immerse yourself in Hollywood history at Times Square's Planet Hollywood. All month long, the restaurant gets in the spirit of the season with Haunted Hollywood, bringing together some spooktacular horror film memorabilia, decorations, and even some videos. Don't be scared off, though—the staff is welcoming and the menu boasts an eclectic mix of favorites, including pastas, salads, sandwiches, and award-winning burgers.
10/7-10/9
DIG! PLANT! GROW! SCARECROW WEEKEND AT NYBG
Hurrah, it's time to make scarecrows! Help us dress up one scarecrow per family to fill our garden with friendly faces. Plant and prepare for fall with us, explore the garden, and make marigold jewelry. 1:30pm-5:30pm. New York Botanical Garden, the Bronx.
10/6-11/4*

BLOOD MANOR
For some serious chills, don't miss Blood Manor in SoHo, a haunted house of themed rooms, corridors, and a labyrinth of passageways designed to maximize fear. Ages 14 and up. (*dates are not consecutive)
LOLA STAR'S DREAMLAND ROLLER DISCO AT PROSPECT PARK
Take part in Lola Star's Dreamland Roller Disco, held every Friday in October, in Prospect Park! Eighties theme and inspired costumes encouraged! 7:30-10pm, at Lefrak Center at Lakeside in Prospect Park, Brooklyn. $18 pp (21+ only).
10/13
FRIDAY THE 13TH AT RIPLEY'S
While Ripley's Believe It or Not! Times Square Odditorium is home to the strangest things you will find in New York City all year round, in special celebration of Halloween this year, Ripley's is hosting some extra spooky events and serving complimentary treats beginning Friday the 13th. From shrunken heads to death masks to dentures made from crocodile teeth, the weird and wacky is on display for all, believe it or not!
10/15
ARTISANAL SWEET TREATS BAZAAR
Grand Bazaar NYC on the Upper West Side is the city's largest curated outdoor market—and most distinctive. From 10am to 5:30pm on Sunday, check out the Artisanal Sweet Treats Bazaar, just in time for Halloween with artisanal cupcakes, macaroons, spiced pumpkin pies, experimental ice cream sandwiches, and the most mouthwatering truffles and chocolates you've ever had. Columbus Ave. & 77th St.
10/20
HALLOWEEN SCREENING AT NITEHAWK CINEMA
The one that started it all-Jamie Lee Curtis in the original 1978 John Carpenter film as the babysitter with a menacing brother. Midnight screening at Williamsburg's Nitehawk Cinema.
10/21-10/29
INAUGURAL PUMPKIN POINT AT GOVERNORS ISLAND
Photo: Trust for Governors Island
Picturesque Governors Island (easily reachable via a $2 ferry), for the first time, is transforming into a pumpkin filled wonderland, complemented with hot cider and other ghoulish treats from Little Eva's. There will even a be a spooky hayride! 11am-5pm. Oct. 26-29, it's Night of 1,000 Jack O'Lanterns, 6pm-10pm.
10/21-22, 10/28
HALLOWEEN MURDER MYSTERY AT THE MOUNT VERNON HOTEL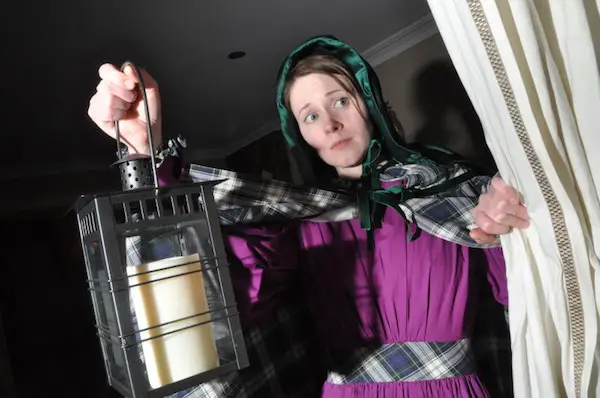 Built in 1799 as a carriage house and later converted into a hotel, this museum is one of the oldest buildings in Manhattan. All new for 2017, test your wits in a mystery game loosely based on a historic newspaper account. An unidentified skeleton has been discovered at the Mount Vernon Hotel: explore the museum by candlelight and collect clues to unravel the mystery and solve the case. Two sessions each day, start times 6:15 and 7:30pm. Appropriate for families with kids 10+.
10/21
TOMPKINS SQUARE HALLOWEEN DOG PARADE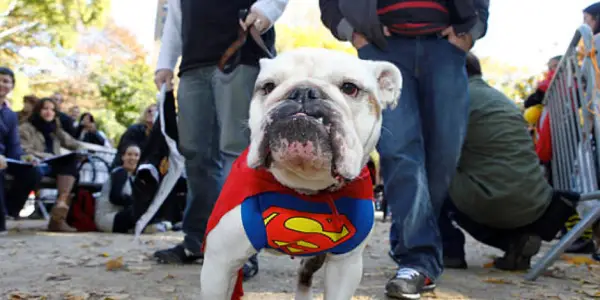 Pooches let their alter-egos shine, putting on some of the cutest and most creative costumes you've ever seen at the annual Tompkins Square Halloween Dog Parade. Compete for thousands of dollars in prizes. Noon-3pm, rain or shine. tompkindssquaredogrun.com
10/26
MUMMY MASQUERADE AT BROOKLYN MUSEUM
MeLo X and Jasmine Solano (A.K.A. Electric Punanny) host a Halloween dance party at Brooklyn Museum, in celebration of the special exhibition Soulful Creatures. The evening includes pop-up tours, led by the ASK team, on the origins of mummies becoming synonymous with Halloween. Guests are encouraged to wear costumes, but they are not mandatory for entry. Includes a cash bar. $25 advance, $30 at door. 7pm-11pm.
10/27
FREAKY FRIDAY WORLD RECORD-BREAKING ATTEMPT
Ripley's Believe It or Not! Times Square Odditorium will be hosting a Freaky Friday World Record Breaking Attempt. From 9am to noon, Hollywood FX makeup artist and fashion designer Gerrold Vincent will be attempting to set a new world's record.
Among the upcoming special attractions: free candy with all admissions starting on Friday, October 27th; on the weekend, Saturday October 28th and 29th from 10am to 2pm, Ripley's will be offering complimentary face painting for all guests. Visitors who come in costume on the 30th or 31st will get $10 off their admission.
ART AFTER DARK: HALLOWEEN AT THE GUGGENHEIM
Join Art After Dark for its first-ever Halloween event. Enjoy a live DJ performance by BEARCAT (Discwoman) and an after-hours private viewing of current exhibitions, including Art and China after 1989: Theater of the World. Costumes are encouraged (please see guidelines below) and the attendee with the most Guggenheim-inspired costume wins a special prize!
This event is ticketed for both members and the general public. No tickets are sold at the door.
Cash bar serves wine and beer. Guests will be asked for a photo ID. 9pm-midnight. $65. Click here for tickets.
10/27, 10/28, 10/31
MCKITTRICK MASQUERADE: INFERNO AT THE MCKITTRICK HOTEL
McKittrick Hotel is home to the interactive experience Sleep No More. Take part in one, or three nights of "costumed revelry" with dancing, live entertainment, plus open bar. Tickets $95-$475.
10/28
BPNY HALLOWEEN BASH
Brookfield Place in the Financial District celebrates Halloween with a family-friendly afternoon full of costumes, magic, Carmelo the Science Fellow's Spooky Science Lab, puppets, live music, and face painting. 12-3pm, free.
HAUNTED HIGHLINE HALLOWEEN FAMILY EVENT
Travel back in time and learn the history of the High Line, get into character with artistic face painting, capture memories with an old-time photo booth, go on a scavenger hunt, dance, and watch live performances, all at a special kid-focused afternoon at New York's elevated park. 14th-16th Streets, 11am-3pm.
HALLOWEEN HARVEST FESTIVAL AT SOCRATES SCULPTURE PARK



Light out to Queens to make a costume with Socrates artists, listen to live music, enjoy a special art-making workshop with Free Style Arts Association, get your face painted by Agostino Arts, try harvest foods from local restaurants, and enter your dog in the ever-popular Annual Juried Canine Costume Contest! 11am-3pm. socratessculpturepark.org
GHOULS & GOURDS AT BROOKLYN BOTANIC GARDEN
Save the date to shake a tail feather, show off your costume, and carouse with colossal puppets at Brooklyn Botanic Garden's wackiest costume parade! Noon-5:30pm, rain or shine. Kids under 12 free.
ANNUAL HALLOWEEN CELEBRATION AT AMNH
Families can trick or treat in the American Museum of Natural History's iconic halls. The afternoon will include live performances, magic by Robert Austin, arts and crafts, origami, and roaming characters including Clifford, Curious George, and Peter Rabbit. 2-6pm. $15 pp.
THE UPSIDE DOWN: A COSTUME BAR CRAWL AT FLOYD NY, FAWKNER, & UNION HALL
$10 early bird/$15 general admission tickets get you one Beer or Bloody Mary at each bar! They'll have 6 different delicious beers on tap from partners Sixpoint-2 lines at each bar! Plus amazing Bloody Marys made with Tito's Handmade Vodka! DJ upstairs at Union Hall, 5pm-8pm. Cash prizes for costumes.
WASSABASSCO HALLOWEEN: COSTUME PARTY & BURLESQUE AT CITY WINERY
It's time to dress up, dress all-out, and undress with New York's greatest burlesque show. Avoid the maddening crowd-filled the streets and chaos and do halloween with class, elegance and lots of fancy stripping burlesquers. Hosted at City Winery by Nasty Canasta with a cast of our most amazing performers: Sapphire Jones, Amuse Bouche, Audrey Love, Dangrrr Doll, Ivory Fox, Penny Wren, Qualms Galore, and Tiger Bay! $25. 8pm.
UNIT J's ROCK IS DEAD HALLOWEEN SHOW
Unit J is considered one of the most intimate, collaborative music initiatives in Brooklyn.
The ROCK is DEAD event, consists of an eight piece David Bowie cover band, a zombie tribute to 'The Band' and music from local acts Watergate and Dirty Bird. 9pm. Get tickets here.
10/28 & 10/29
HAUNTED HOUSE & CHILDREN'S FALL FESTIVAL AT QUEENS COUNTY FARM

The Haunted House at Queens County Farm Museum is perfect for thrills and chills for the younger set! Hayrides, Halloween treats, mulled cider, pumpkins, and apples will be sold. Adults will find it creepy too! 1pm-7pm/ 11am-7pm. $4 admission haunted house /*$20 Fall Festival admission
CITY OF GODS AT PAPER FACTORY HOTEL

This year, Long Island City's Paper Factory Hotel has teamed up with House of Yes and ZERO to develop a new level of Halloween experience called City of Gods. City of Gods is a *24-hour event beginning at 9pm on Saturday, October 28th that will transport guests into an alternate reality. Simultaneously held at Paper Factory Hotel (37-06 26th Street) and sister venue, The Warehouse (37-08 34th Street), City of Gods will feature nine indoor and outdoor stages across several floors and two venues. Partygoers will be treated to an anonymous musical and artistic line-up with performances from over 40 international artists. Delicious and decadent bites will be offered from Lily Valley, Paper Factory's onsite restaurant, while add-on packages and room reservations at The Paper Factory Hotel are available. Partners include: Disco Knights, Distrikt, MikiMau, Mirage Garage and Tierra Bomba. Tickets are available starting at $50 and tiered options are available here.
10/29
AN IRISH HALLOWEEN AT IRISH ARTS CENTER
This Halloween at the Irish Arts Center, celebrate Irish Celtic origins with a captivating, intercultural festival of shadow and light. Families can celebrate the Autumn Moon with a shadow puppet show from Chinese Theatre Works, enjoy a performance and lesson from Darrah Carr Dance, make lanterns and carve turnips (the original jack o' lanterns), play traditional Irish Halloween games, dance in our flashlight party, and much more. Noon.
SCARY BAZAAR NYC
Get ready for Halloween with a visit to Grand Bazaar NYC's special themed "Scary Bazaar"! The Upper West Side will get the fright of its life, with the market transformed with creepy crawly decorations, 100+ spooky vendors -- many in costume -- and, of course, a selection of scary sweet treats from our artisanal food vendors. Get your scare on and come out for a fun day for the whole family and maybe uncover an unearthly bargain! Columbus Ave. & 77th St.
OBAKE FAMILY DAY: SPIRITS OF THE MISTY SEA AT JAPAN SOCIETY
Embark on an eerie expedition by land and by sea to reach new frontiers filled with friendly Japanese ghosts and goblins. Discover a spooky world of unparalleled adventure at Japan Society's Obake Family Day! Come dressed in your Halloween costume and join our dragon-led parade of 100 ghouls. 11am.
HUDSON RIVER PARK'S ANNUAL HALLOWEEN KIDZ KARNIVAL
Get into the spooky spirit with Hudson River Park as Pier 26 becomes Halloween Central with face painting, mask decorating, wax hands creation, spin art, cotton candy, rides, and more. 12pm-5pm, Tribeca at the Hudson River.

HALLOWEEN PARADE AND PUMPKIN FLOTILLA, CENTRAL PARK
Enjoy spooky music, crafts, live pumpkin carving demonstrations, and of course the signature pumpkin flotilla, which sets sail across the Harlem Meer on the north end of Central Park at twilight! Due to the limited number of floats and space, pre-carved pumpkins will only be accepted between 3:30-5pm, or until flotilla is full. No advance registration. Open to all ages. 3:30-7pm. Free.
10/31
NYC'S ANNUAL VILLAGE HALLOWEEN PARADE
All those in costume are welcome to join a parade of hundreds of puppets, bands, dancers, artists, and thousands of other New Yorkers in costumes of their own creation in the nation's most wildly creative public participatory event. This year's theme is Cabinet of Curiosities: An Imaginary Menagerie, celebrating "hybrids, mash-ups and the frisson of crossed identities." Enter the line-up between 6:30 and 8:30pm on Sixth Ave. at Canal St. For spectators, the route follows Sixth Ave. north from Spring St. to 16th St. 7-10:30pm.
HALLOWEEN NYC: HAUNTED BEER GARDEN PARTY AT LORELEY BEER GARDEN
Loreley Beer Garden is open all day and night, from 12pm on! Halloween Specials All Day & Night! Pre-parade happy hour until 8pm! Post-Parade happy hour at 11pm! Drink Pumpkin Beer from mini pumpkin kegs directly to your table! FREE Admission, NO Cover! All day, while supplies lasts!

HALLOWEEN FUNKDOWN WITH GEORGE CLINTON AND PARLIAMENT FUNKADELIC AT B.B. KING BLUES CLUB & GRILL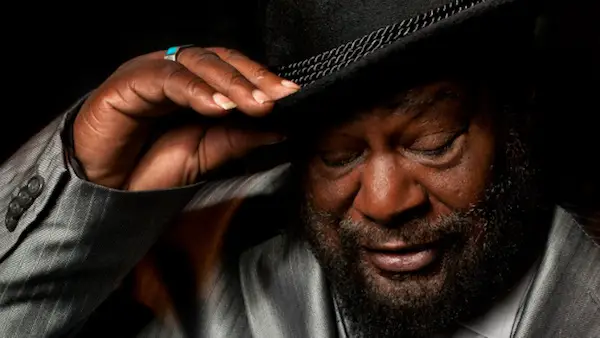 Free your mind and you a-- will follow! Celebrate Halloween with a special concert with George Clinton and Parliament Funkadelic at B.B. King Blues Club & Grill.
---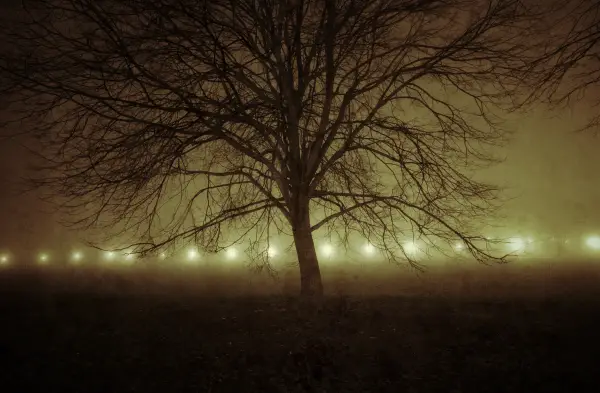 Image: Ahmed ElHusseiny/Flickr
EXTRACURRICULAR
If Halloween has you in the mood for some creepy New York, we've got a dozen spooky spots across all five boroughs.
Get ready for Halloween with a visit to Grand Bazaar NYC's special themed event, "Scary Bazaar"! The Upper West Side will get the fright of its life, with the market transformed with creepy crawly decorations, 100+ spooky vendors - many in costume, and of course, a selection of scary sweet treats from our Artisanal food vendors.

Get your scare on and come out for a fun day for the whole family and maybe uncover an unearthly bargain!
Looking for Free Group Planning Services?
Get free advice on planning your group's trip to New York.
RESTAURANTS

Beer hall casual meets craft cocktails with a healthy dose o...

THEATER

A new musical following a wannabe rock star who poses as tea...

SHOPPING

The world's largest source of cameras, camcorders, and more ...

SIGHTSEEING

A state-of-the-art Coney Island amusement park that's home t...