At Halloween in New York there's something for everyone, from pumpkins to haunted houses to canine parades. Everything culminates on Wednesday the 31st, but we've got plenty of tempting goings-on for Halloween week and the lead up all through October. What follows is the best of 2018, all proof that celebrating Halloween in NYC is a scary good time.
9/29-10/28
HALLOWEEN HARVEST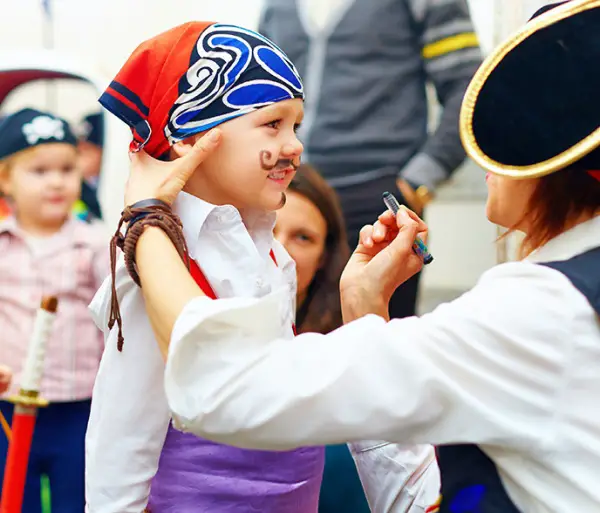 Get in on the fun early! Join Luna Park in Coney Island, Brooklyn along the Atlantic shore weekends from Sept. 29 through Oct. 28 for family-friendly activities. Luna Park's Halloween Harvest, now in its sixth year, features pumpkin picking and painting and FREE activities like trick or treating, daily entertainment, costumed characters, caricature artists, balloonbenders and twisters, magicians, one of NYC's largest pumpkins, and more! lunaparknyc.com
10/16, 10/19-10/20
LITTLE CINEMA NO 40: SECRET HALLOWEEN SPECIAL (IMMERSIVE)
Come experience most interactive performance yet at House of Yes! This audiovisual experience will be a new take on dark comedy horror featuring serial killers, virgins, and of course the victims! And, as they say, "Remember: movies don't create psychos - movies make psychos more creative." This event is 21+. For more info please click here!
10/20 & 10/27
FAMILY FRIENDLY GHOST TOUR
Boroughs of the dead is doing ghost tours that everyone in the whole family will love. On the 20ththey will be exploring Greenwich Village and the East Village on a 90-minute trek that will dive into the village's hauntings. On the 27thit's Brooklyn Heights turn to tell its spooky tales as the tour takes a walk past one of Brooklyn's oldest neighborhoods. Check out both tours here!
10/26-10/27
SPOOKY PUMPKIN NIGHTS AT NYBG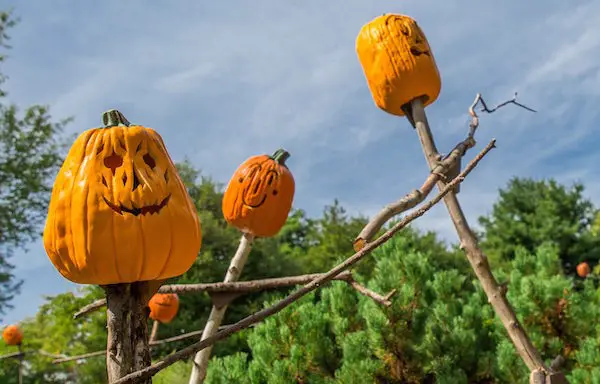 Come dressed in your favorite costume, grab a flashlight, and go on a nighttime adventure to explore the Spooky Pumpkin Garden's scarecrow and pumpkin displays at The New York Botanical Garden. Visit the Whole Foods Market Trick-or-Treat Trail to decorate a bag and collect wholesome goodies. Other frightfully fun activities include gourd decorating, mingling with larger-than-life skeletons and costumed characters, and listening for critters of the night.New York Botanical Garden, the Bronx. 6:30pm-8:30pm. $25. Part of the Spooky Pumpkin Garden, that will be open 9/22-10/31. nybg.org.
10/26-10/31
TRICK OR TREAT AT RIPLEY'S BELIEVE IT OR NOT! TIME SQUARE
Visit Ripley's in costume and recieve $10 off admission, or save 50% when going to see Luke Skywalker's lightsaber while dressed as a Star Wars character!
BLOOD MANOR
This year Blood Manor relocates to 359 Broadway. There are special "Lights Out" dates on Nov. 4 & 5. Click here for tickets.
10/20, 10/26-27
HALLOWEEN MURDER MYSTERY AT THE MOUNT VERNON HOTEL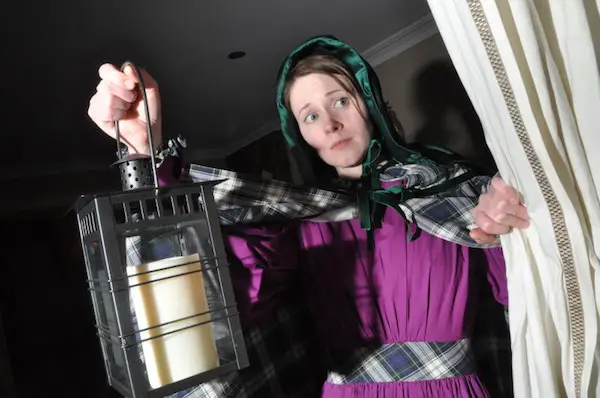 Built in 1799 as a carriage house and later converted into a hotel, this museum is one of the oldest buildings in Manhattan. This Halloween, test your wits in a mystery game loosely based on a historic newspaper account. An unidentified skeleton has been discovered at the Mount Vernon Hotel: explore the museum by candlelight and collect clues to unravel the mystery and solve the case. Two sessions each day, start times 6:15 and 7:30pm. Appropriate for families with kids 10+. 10/20
HARVEST FESTIVAL
Enjoy the Harvest Festival with fall themed festivities at Pier 6 Lawns. Experience the kick off parade featuring a brass band and more fun-filled family activities like story time, square dancing, face painting and more! Stop by and taste food from Forino, Ample Hill and more! Check out all the fun activities going on here!
A HAUNTING AT HENDRICK'S HOUSE
Attend the most ghoul-tastic cocktail party around! Get your most scary costume and join Lott House for cocktails and hors d'ouerves. Must be 21 years or older to attend. Get your ticket here!
10/21
TENTH INTERVENTION'S SILENT HOUSE: NOSFERATU LIVE SCORE
Get your garlic ready! The 1922 vampire classic, Nosferatu, is having not one but two special viewing parties on the 21st! The first screening is at 7:15PM and the second is at 9:15PM. Planning on going? Find out more details here!
10/24
Mothmeister "Postmortem Fairy Tales"
Experience fairy tales with a spooky twist at this event. View creepy art and imagry (and a full-service bar) while enjoying this multi-sensory book pop-up event. The Mothmeister duo will be there to sign their latest book 'Weird & Wonderful Post-Mortem Fairy Tales' which will be available for purchace. Tickets and more information can be found here.
10/25
FILM: LITTLE CINEMA PRESENTS SCREAM
Join Little Cinema for a night of frights and horror with the cult classic dark comedy Scream. Join in on the horror trivia contest by wearing a scream mask. There will also be dance performances form The Love Show and tons of audience interactive activities. $25. For more information click here!
10/26-11/2
VIDA VERDE PRESENTS: DAY OF THE DEAD
Celebrate with a week of costumes, performers, tarot card readers, cocktails, and more at favorite midtown Mexican spot Vida Verde. Stop by for the festivities and to show your appreciation for celebrating life, Mexico, and mezcal! Check out vidaverdeny.com for more details!
ART AFTER DARK: HALLOWEEN AT THE GUGGENHEIM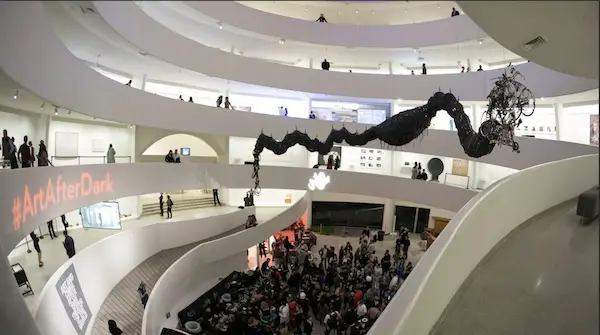 Photo by Ben Hider
10/27
HALLOWEEN IN PROSPECT PARK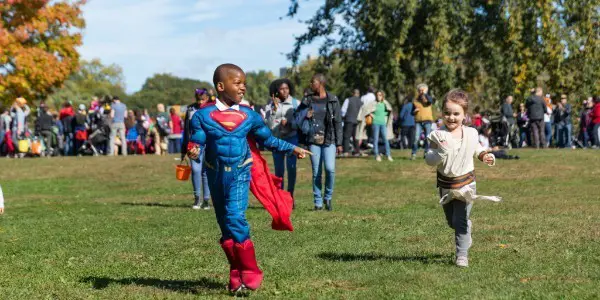 Prospect Park Alliance invites all local ghosts and ghouls to the 39th Annual Halloween Haunted Walk and Fair! This much-anticipated annual event brings thousands of families for free, ghastly fun to Prospect Park. For the second year in a row, the festivities will continue with the official Prospect Park Halloween After Party: BKLYN BOO! taking place at City Point in Downtown Brooklyn.
GHOULS & GOURDS AT BROOKLYN BOTANIC GARDEN
Save the date to shake a tail feather, show off your costume, and carouse with colossal puppets at Brooklyn Botanic Garden's wackiest costume parade! Noon-5:30pm, rain or shine. Kids under 12 free.
PLAYBOY'S MASQUERADE BALL
Playboy's Annual Masquerade Ball takes place for the first time ever at Playboy Club New York. Tickets include admission in Playboy Club's Black Box, premium open bar from 9PM-2AM and passed hors d'oeuvres. Surprise guest DJs and other wild live entertainment will make for a unforgettable Halloween. 9pm. $80+ .Tickets: must be purchased in advance HERE
BRONX RISING! HALLOWEEN: THE BICENTENNIAL OF FRANKENSTEIN
Did you know that Frankenstein is the scientist, not the monster? Celebrate All Hallows Eve the right way with the celebration of Frankenstein, the classic novel by Mary Shelley! Screen the movie 1931 movie elevated with a live soundtrack performed by Bobby Sanabria & Project X. Check out the event's details here.
SUPERHERO HALLOWEEN PARTY AT MAX BAR
Did your last couple Halloween parties need a little saving? Well, Max Bar is hosting a Superhero themed party that will surely make your Halloween 2018 the strongest it's ever been. Fun and fantasy awaits as guests will enjoy chilling cocktails and thrilling tunes all night long. And you might find yourself in the presence of your all-time hero….or arch nemesis, super villains are also welcome. 9PM. Free admission. Reservations: Highly suggested in advanced. Email [email protected]
23RD ANNUAL AMNH HALLOWEEN CELEBRATION
Curious George, Clifford the Big Red Dog, Franny K. Stein, Little Critters, and Miffy are among the characters who will greet costumed children as they arrive at the American Museum of Natural History to celebrate Halloween. Enjoy trick or treating, arts and crafts, live music, stilt walkers, balloon artists, and more. $16. Get tickets here.
BEYOND X INDUSTRY CITY: KIDS' HALLOWEEN PARADE
It's time for the second annual Kids' Halloween PArade in Industry City! Enjoy the day with a trick or treat scavenger hunt, pumpkin patches and more! Make sure to come in your best costume for a day filled with goodies! For more details click here!
HARVEST FEST (MEATPACKING)
Bringing together purveyors and brands to sample, sell and showcase unique foods and crafts. Enjoy art, music and fun free activities throughout the day from 11am – 4pm, at Hudson River Park. Most importantly, there will be a Doggie Costume Contest at 1:30pm! meatpacking-district.com.
10/27 & 10/28
HAUNTED HOUSE & CHILDREN'S FALL FESTIVAL AT QUEENS COUNTY FARM
The Haunted House at Queens County Farm Museum is perfect for thrills and chills for the younger set! Hayrides, Halloween treats, mulled cider, pumpkins, and apples will be sold. Adults will find it creepy too! Haunted house, 1pm-7pm/ festival, 11am-7pm. $4 admission haunted house /*$20 Fall Festival admission.
10/28
FORT GREENE PUPS' 20TH ANNIVERSARY PUPKIN DOG COSTUME CONTEST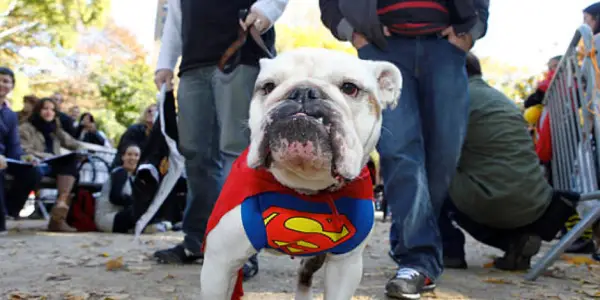 (Originally 10/27, changed due to noreaster.) Pooches let their alter-egos shine, putting on some of the cutest and most creative costumes you've ever seen at the 20th annual Pupkin Dog Costume Contest in Fort Greene Park. Festivities begin at 11:30am. Suggested $5 donation. fortgreenepups.org
HALLOWEEN PARADE AND PUMPKIN FLOTILLA, CENTRAL PARK

FREE! Enjoy spooky music, crafts, live pumpkin carving demonstrations, and of course the signature pumpkin flotilla, which sets sail across the Harlem Meer on the north end of Central Park at twilight! Open to all ages. 4-7pm. FREE!
SCARY BAZAAR HALLOWEEN SPECIAL AT GRAND BAZAAR NYC

Every Sunday on the Upper West Side you can find Grand Bazaar NYC, the city's largest curated market—and most distinctive! You'll find one-of-a-kind fashion, crafts, collectibles, and handmade jewelry. The Sunday before Halloween you'll also find creepy crawly decorations, 140+ spooky vendors—many in costume—and a fantastic selection of scary sweet treats from artisanal food vendors.
HISTORICAL HALLOWE'EN FAMILY PARTY
Halloween bashes don't get much better than the Historical Hallowe'en Family Party. Guests of all ages will be transported back into Victorian times when they get a reading from a spooky fortune teller, create creepy crafts and hear ghost stories that have been passed down from many generations. What's better than that? All attendees will also receive tickets to Harry Potter: A History of Magic during the party! 5-7PM, $20, harrypotter.nyhistory.org
HAUNTED LIGHTHOUSE BOAT TOUR
Take a tour of the East River (to Execution Rocks) on a boat this Halloween season! The boat is headed towards Execution Rocks and once there a dance party will begin! They will hae a DJ and everything. What's better than that? The costume contest will have two winners! One for the creepiest costume and one for the best maritime one! So, choose your category, prepare for a fright, and get ready to rock and stroll down the river! Register here!
DOG DAY

Washington Square Park is hosting a special event for your doggie right before Halloween. Bring your puppy in costume to participate in the parade and judging. There will be brizes, treats and more! Tho register go to wspdogrun.org and receive a treat bag!
EAST RIVER PARK HALLOWEEN DOG PARADE
Earlier this year the sad news was delivered that the 28th Annual Tompkin Square Park Dog Parade would be canceled. Recently it has been annonced that the parde is back on with a new location. From 12-3PM stop by the parade with your furry friend to participate in the fun. More info is available here!
10/29
OBAKE FAMILY DAY: SPIRITS OF THE MISTY SEA AT JAPAN SOCIETY
Embark on an eerie expedition by land and by sea to reach new frontiers filled with friendly Japanese ghosts and goblins. Discover a spooky world of unparalleled adventure at Japan Society's Obake Family Day! Come dressed in your Halloween costume and join our dragon-led parade of 100 ghouls. 11am.
10/30
HALLOWEEN: AN EVENING OF MAGIC
Spend Halloween eve experiencing magic at the New-York Historical Society! From 7:30-10:30PM, enjoy deliciously spooky cocktails and special late-night entry into Harry Potter: A History of Magic for a night of dancing in the library. And, remember this event is costume friendly! 21+ only. $35, nyhistory.org
ASTRONOMY LIVE: SPOOKY SPACE
Join panelists astrophysicist Dr. Jacki Faherty and presenter Mark Popinchalk as they discuss the most terrifying phenomenas in space today. They will touch on monsters like asteroids and heavy radiation from stars and more. You don't want to miss this event. $15, purchase tickets here.
LITTLE SHOP OF HORRORS FILM: DIRECTOR'S CUT
Watch the Halloween classic tale about a horrifying plant named Audrey II in Little Shop of Horrors. What makes Audrey II so terrifying? She eats people! See the low-budget film's director's cut! This production is staring Rick Moranis, Ellen Greene, Vincent Gardenia and John Candy and with a special appearance by Steve Martin. Make sure to join them at 6:30PM for preshow festivities! $20, get your ticket here!
10/31
NYC'S ANNUAL VILLAGE HALLOWEEN PARADE
All those in costume are welcome to join a parade of hundreds of puppets, bands, dancers, artists, and thousands of other New Yorkers in costumes of their own creation in the nation's most wildly creative public participatory event. Enter the lineup between 6:30 and 8:30pm on Sixth Ave. at Canal St. For spectators, the route follows Sixth Ave. north from Spring St. to 16th St. 7-10:30pm.
15TH ANNUAL MADONNATHON AT HIGHLINE BALLROOM
About to celebrate its 15th anniversary of Madonna madness, MADONNATHON at Highline Ballroom features live performances, bringing you the very best of Madonna's huge repertoire. Every year, the house is packed with a crowd of die-hard, fun-loving Madonna fans who get into the groove, paying tribute not only to Madonna's amazing music, but also to her ever-evolving looks and influence. Hear NYC's best musicians, dancers, and performers deliver stunning renditions of Madonna's best-loved hits (as well as some deeper cuts) and dance the night away with guest DJs spinning sets of Madge classics, mashups, and remixes before and after the show. Get tickets here.
HAUNTED HISTORY TOUR OF FRAUNCES TAVERN
Get your paranormal activities on by visiting the oldest structure the city has to offer. This Manhattan structure will feature a Halloween-themed tour of the museum. Hear real life ghost stories of tragic events that happened in that building and immerse yourself into 18thcentury funeral customs and more. This event is free when regular museum admission is purchased.
BAR THALIA KARAOKE SING ALONG!
Karaoke singers get ready becuase this one is for you! Bar Thalia Karaoke Sing Along is doing a special Trick or Treats night on Halloween! Get ready to belt out some classic themed hits that will have you shook! For more, click here!
SCOTT ROBINSON'S HELIOTONES: A HALLOWEEN SPECTACULAR
If jazz is your thing than this Halloween show is something you cannot miss. Join the Jazz Standard as they welcome Scott Robinson's Heliotones for a night filled with ominous tunes. There will be special themed drinks, a costume contest and more! $30, get tickets here!
BOOS IN THE BOROUGH: A BROOKLYN HISTORICAL HALLOWEEN
Find out if you are one of the Best Dressed Ghouls in Brooklyn at the Boos in the Borough event. Listen to ghoulish ghost tales, learn about the macabre celebrations, and attend some of their free events! Event schedule can be found here.
FREE CONE AT BIG GAY ICE CREAM
Calling all ice cream lovers. If you want a free, special treat while tricker treating this year stop by Big Gay Ice Cream while dressed as their unicorn mascot! The con is of your choosing but we suggest trying one of their spooky flavors like candy corn and pumpkin.
SPOOKS AND SHADOWS AT SPYSCAPE
Dance the night away while putting your spy skills to the test at SPYSCAPE on Halloween night. Expect to be dazzles with spooky cakes and cocktails to perfectly set the ultimate spy mood. There will be a photobooth, DJ and a costume competition! Click here to purchase tickets!
---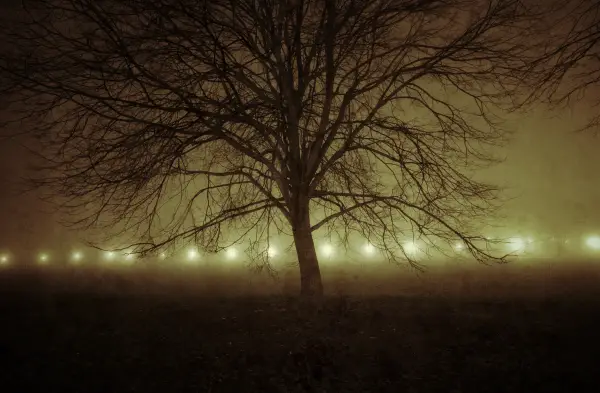 Image: Ahmed ElHusseiny/Flickr
EXTRACURRICULAR
If Halloween has you in the mood for some creepy New York, we've got a dozen spooky spots across all five boroughs.