At Halloween in New York there's something for everyone, from pumpkins to haunted houses to canine parades. Everything culminates on Sunday the 31st, but we've got plenty of tempting goings-on for Halloween week and the lead up all through October. What follows is the best of 2021, all proof that celebrating Halloween in NYC is a scary good time.
9/28-10/27
HALLOWEEN HARVEST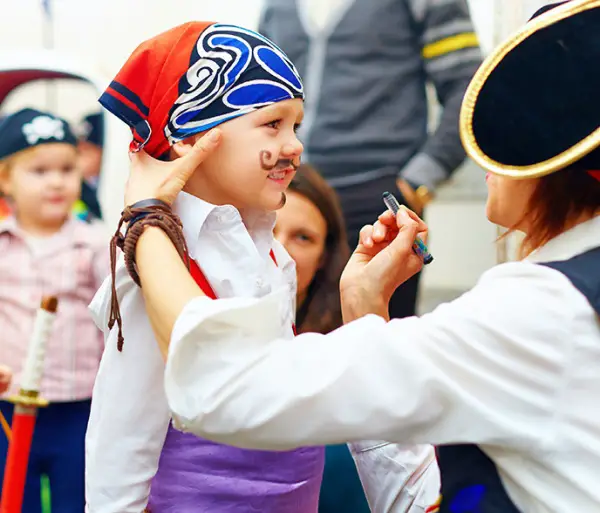 Get in on the fun early! Join Luna Park in Coney Island, Brooklyn along the Atlantic shore weekends from Sept. 28 through Oct. 27 for family-friendly activities. Luna Park's Halloween Harvest, now in its sixth year, features pumpkin picking and painting and FREE activities like trick or treating, daily entertainment, costumed characters, caricature artists, balloonbenders and twisters, magicians, one of NYC's largest pumpkins, and more! lunaparknyc.com
10/1-10/31
HAUNTED HALLOWEEN AT PLANET HOLLYWOOD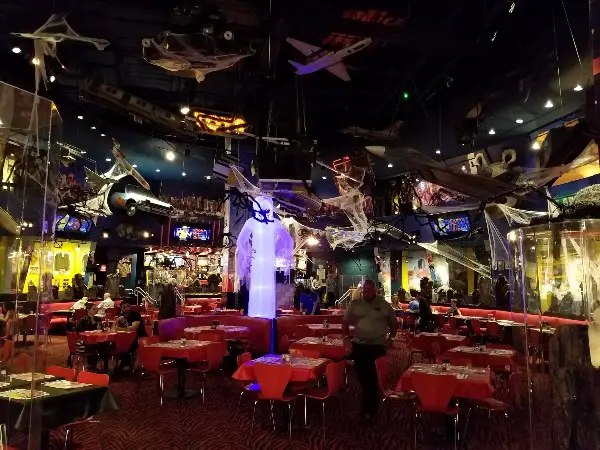 Dine among the stars and immerse yourself in Hollywood history at Times Square's Planet Hollywood. All month long, the restaurant gets in the spirit of the season with Haunted Hollywood, bringing together some spooktacular horror film memorabilia, decorations, and even some videos. Don't be scared off, though—the staff is welcoming and the menu boasts an eclectic mix of favorites, including pastas, salads, sandwiches, and award-winning burgers.
10/21-10/31
SPOOKY PUMPKIN NIGHTS AT NYBG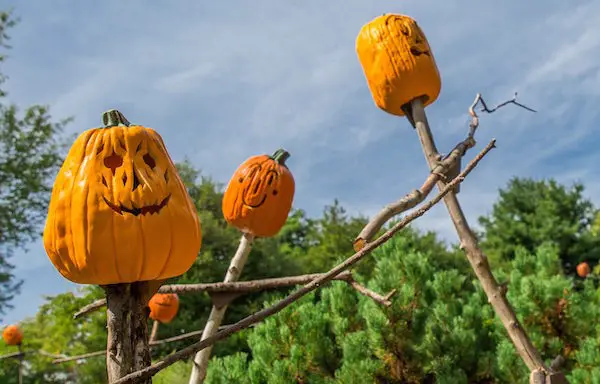 Come dressed in your favorite costume, grab a flashlight, and go on a nighttime adventure to explore the Spooky Pumpkin Garden's scarecrow and pumpkin displays at The New York Botanical Garden. Visit the Whole Foods Market Trick-or-Treat Trail to decorate a bag and collect wholesome goodies. Other frightfully fun activities include gourd decorating, mingling with larger-than-life skeletons and costumed characters, and listening for critters of the night. New York Botanical Garden, the Bronx. 6:30-8:30pm. $25. nybg.org
10/4-11/9
BLOOD MANOR
Live horror! Not for the faint of heart! Blood Manor is located at 359 Broadway. There are special "Lights Out" dates on Nov. 4 & 5. Click here for tickets.
10/17
DIRTY HANDS HALLOWEEN CRAFT AT MOXY CHELSEA
Dive into the world of watercolors with this Halloween-inspired still-life class at Moxy Chelsea. Guests are welcome to find their creative flow with this spooky twist on a signature class. Email rsvp@moxychelsea.com with WATERCOLOR in the subject to reserve a spot. 6-7pm.
10/19, 10/25, 10/26
HALLOWEEN MURDER MYSTERY AT THE MOUNT VERNON HOTEL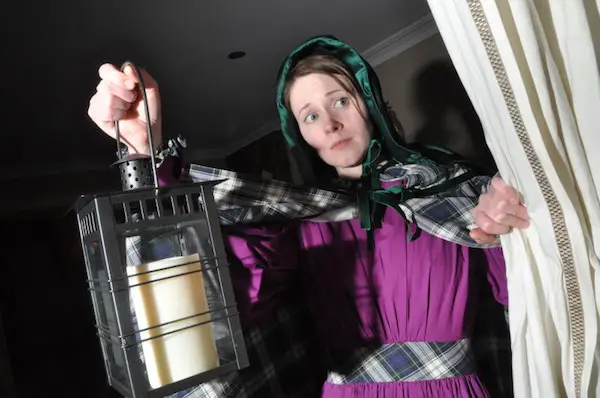 Built in 1799 as a carriage house and later converted into a hotel, this museum is one of the oldest buildings in Manhattan. This Halloween, test your wits in a mystery game loosely based on a historic newspaper account. An unidentified skeleton has been discovered at the Mount Vernon Hotel: explore the museum by candlelight and collect clues to unravel the mystery and solve the case. Two sessions each day, start times 6:15 and 7:30pm. Appropriate for families with kids 8+.
10/19
HARVEST FESTIVAL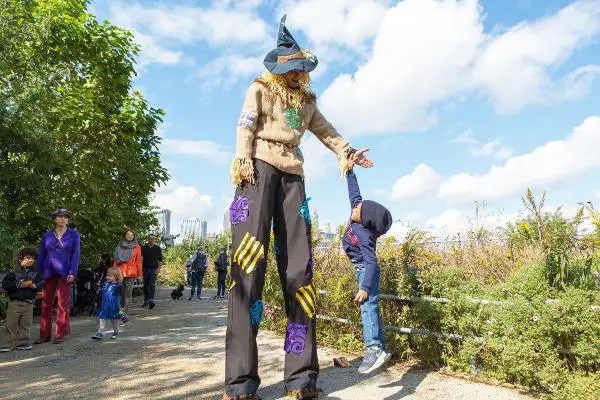 Enjoy the Harvest Festival with fall-themed festivities at the Pier 6 Lawns in Brooklyn Bridge Park. Family activities include story time, square dancing, and face painting. 
FORT GREENE PUPS' 21ST ANNIVERSARY PUPKIN DOG COSTUME CONTEST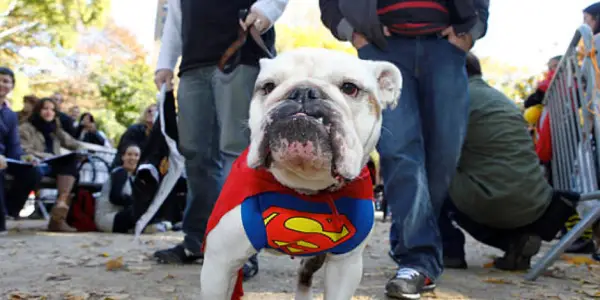 Pooches let their alter-egos shine, putting on some of the cutest and most creative costumes you've ever seen at the 20th annual Pupkin Dog Costume Contest in Fort Greene Park. Festivities begin at 11:30am. Suggested $5 donation. fortgreenepups.org
HALLOWEEN IN PROSPECT PARK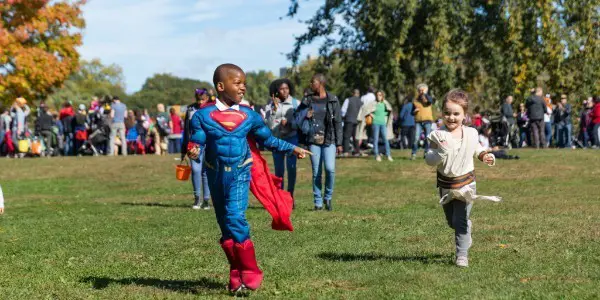 Prospect Park Alliance invites all local ghosts and ghouls to the 40th Annual Halloween Haunted Walk and Fair! This much-anticipated annual event brings thousands of families for free, ghastly fun to Prospect Park. 
SCARY BAZAAR HALLOWEEN SPECIAL AT GRAND BAZAAR NYC
Every Sunday on the Upper West Side you can find Grand Bazaar NYC, the city's largest curated market—and most distinctive! You'll find one-of-a-kind fashion, crafts, collectibles, and handmade jewelry. The Sunday before Halloween you'll also find creepy crawly decorations, 140+ spooky vendors—many in costume—and a fantastic selection of scary sweet treats from artisanal food vendors.
HALLOWEEN BASH AT EMPIRE OUTLETS
Join Empire Outlets, right off the ferry on Staten Island, for amazing outlet shopping and the mall's first annual Halloween Bash. On Saturday, October 26, stop by with the whole family for Patrick's Halloween Show, stilt walkers and jugglers, a pumpkin decorating station, and crafts in the chalk art tunnel. Enjoy fresh popcorn and cotton candy, too! Plus, kids are invited to join the Trick-Or-Treat Parade at 12:30pm, where participating Empire Outlets shops will be handing out candy and surprises. The first 200 kids who attend will receive a FREE exclusive Empire Outlets Halloween tote bag to hold all their tasty treats!
HOUSTON HALL HALLOWEEN BASH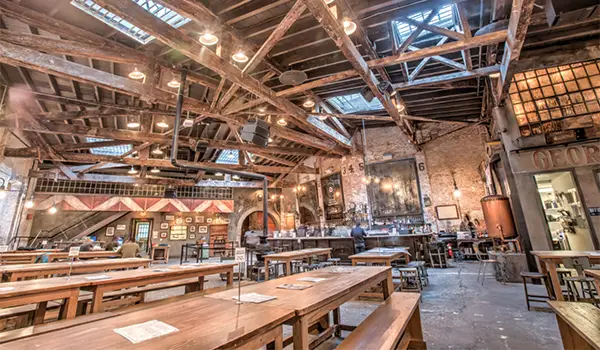 The Houston Hall Halloween Bash is back! Join the downtown beer hall on Saturday, October 26th, for a raucous night of scary fun. Look for an all-night DJ, costume contest with big prizes, and classic horror movies playing on the big screen. Specialty beers like Oktoberfest Lager and Pumpkin Ale are on tap to quench your All Hallows' Eve thirst.
BEYOND X INDUSTRY CITY: KIDS' HALLOWEEN PARADE
It's time for the annual Kids' Halloween Parade in Industry City in Brooklyn! Enjoy the day with a trick or treat scavenger hunt, pumpkin patches and more! Make sure to come in your best costume for a day filled with goodies! 10am-4pm. 
10/26-10/31
ALL TREAT WEEK AT ESCAPE ROOM "THE ESCAPE GAME"

 
Be the hero of your very own adventure at The Escape Game! Here's how it works: you and your team will work together to find clues, solve puzzles, and ultimately complete a mission. Find yourself breaking out of prison, finding hidden gold, saving the day, and more! If you're looking for something fun and unique, make sure to go to The Escape Game in Midtown Manhattan. All Treat Week at The Escape Game is October 26th-31st and means you can save 13% on games played those dates when you use code "Treat13" at checkout.  Come play in costume and get a free game pin when you mention "Costume Pin" at the front desk after your game.
10/26 & 10/27
HAUNTED HOUSE & CHILDREN'S FALL FESTIVAL AT QUEENS COUNTY FARM 
The Haunted House at Queens County Farm Museum is perfect for thrills and chills for the younger set! Hayrides, Halloween treats, mulled cider, pumpkins, and apples will be sold. Adults will find it creepy too! Haunted house, 1pm-7pm/ Festival, 11am-7pm. $4 admission haunted house /*$20 Fall Festival admission. 
10/27
TRICK OR TREAT THE TERMINAL 
Grand Central Terminal celebrates Halloween with trick or treating and family activities. Nine locations will be distributing candy and kids can meet famous children's characters and enjoy spooky music from three live acts. There's also a pumpkin-carving station, photo ops, prizes, and complimentary "Trick or Treat" tote bags. Updated information can be found here.
10/28
OBAKE FAMILY DAY: SPIRITS OF THE MISTY SEA AT JAPAN SOCIETY

 
Embark on an eerie expedition by land and by sea to reach new frontiers filled with friendly Japanese ghosts and goblins. Discover a spooky world of unparalleled adventure at Japan Society's Obake Family Day! Come dressed in your Halloween costume and join our dragon-led parade of 100 ghouls. 11am-4pm. $18 adults, $15 kids.
10/30
HALLOWEEN PARADE AND PUMPKIN FLOTILLA, CENTRAL PARK

FREE! Enjoy spooky music, crafts, live pumpkin carving demonstrations, and of course the signature pumpkin flotilla, which sets sail across the Harlem Meer on the north end of Central Park at twilight! Open to all ages. 4-7pm at the Charles A. Dana Discovery Center.
HALLOWEEN DRAG BINGO AT TACO ELECTRICO
Taco Electrico will be hosting a Halloween-themed Drag Bingo Party with host Linda Loves Bingo! Guests are strongly encouraged to dress in their best costumes for the annual bingo costume contest with prizes. Additionally, the Wednesday through the weekend, Taco Electrico will be offering the "Spooky Glitter Lips" cocktail for a discounted $10. 7pm on.
10/31
NYC'S ANNUAL VILLAGE HALLOWEEN PARADE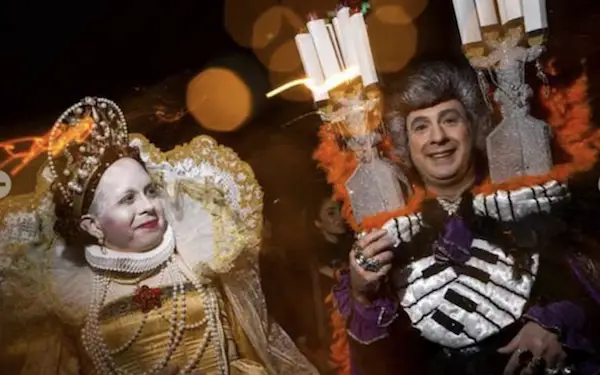 All those in costume are welcome to join a parade of hundreds of puppets, bands, dancers, artists, and thousands of New Yorkers in outfits of their own creation— the 46th Annual Village Halloween Parade is the country's most wildly creative public participatory event and only major nighttime parade. This year's theme is Wild Thing!, encouraging participants to look to antlers, fur, nails, teeth, hooves, and tails for better connecting with our animal sides. Participants for the Village Halloween Parade enter the lineup between 6:30 and 8:30pm on Sixth Ave. at Canal St. For spectators, the route follows Sixth Ave. north from Spring St. to 16th St. from 7-10:30pm. halloween-nyc.com
VILLAGE HALLOWEEN COSTUME BALL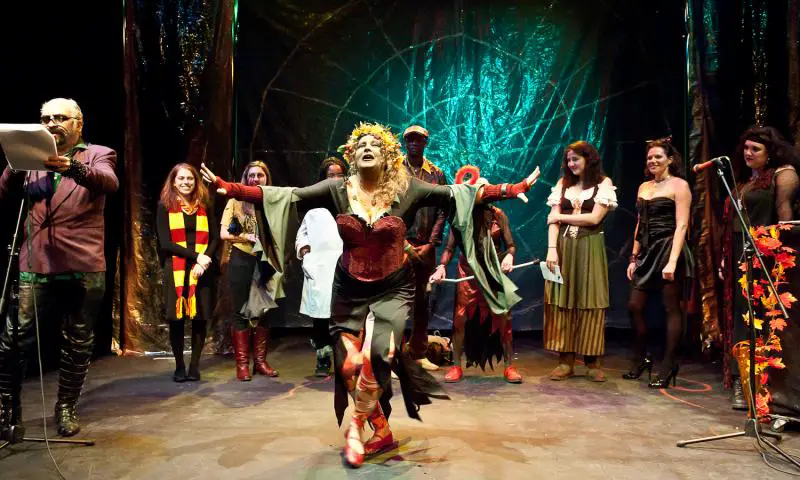 Nonstop theater, a costume competition, and ballroom dancing will bewitch the East Village at Theater for the New City's 42nd annual Village Halloween Costume Ball.  This one-night fiesta takes over all four of TNC's theater spaces, plus its lobby and the block of East 10th St. between First and Second Aves. Over 1,500 wildly clad celebrants will gather for dancing, dining, showing off costumes, and enjoying cutting-edge cabaret and theatre performances. Outside, look for R&B and Dixieland bands, fire eaters, jugglers, storyweavers, and stilt dancers, all free to the public. Inside tickets are $20; not to be missed are great (and affordable) food and drink, the "House of Horrors," and midnight's "Monsters and Miracles Costume Parade." Festivities begin at 4pm. theaterforthenewcity.net
(10/25-10/27)
HALLOWEEN AT GRACIE MANSION 
The Gracie Mansion Halloween parties takes place at the historic home of the first couple, located at 88th Street and East End Avenue on Manhattan's UES. Recommended for kids ages 6-10. Get tickets at nyc.gov/GracieHalloween Times Friday, 5pm-7pm, Sat. , 2pm-3pm, Sun, 12pm-3pm.
NIGHTMARE ON THE HUDSON CRUISE
Circle Line Sightseeing Cruises is hosting a Nightmare on the Hudson Cruise on Halloween Night. This spooky night on the harbor will feature live music by DJ Sneak, Eli Escobar, Love & Logic, and Devon James. Creative costumes will make the night as you dance away All Hallows' Eve against the breathtaking backdrop of the Manhattan skyline. Boat boards at 7pm and cruises at 8pm, with a midnight return. Attendees must be 21 and over. Tickets are $35. Food and drink available for purchase on board.
DUMBOWEEN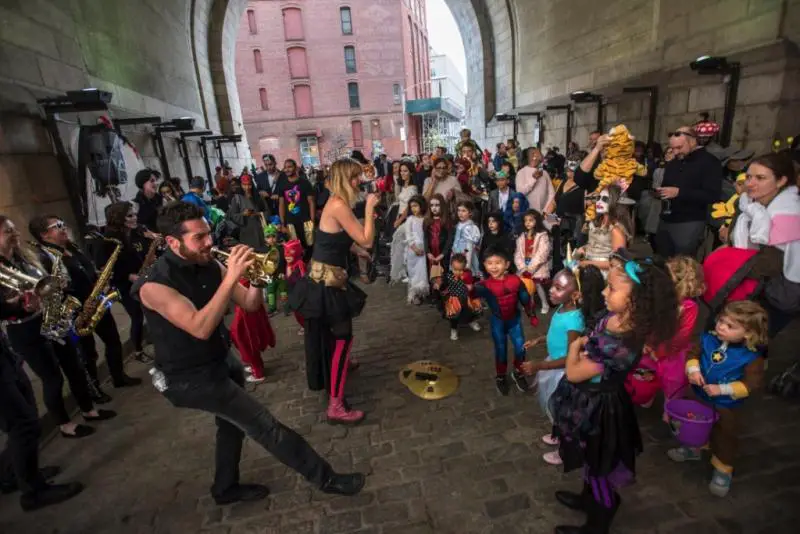 Brooklyn's Dumbo neighborhood celebrates the holiday with its annual Dumboween get down. March to the arch for crafts, costume contests, live music, and candy in the archway.
HAUNTED HISTORY TOUR OF FRAUNCES TAVERN
Get your paranormal activities on by visiting the oldest structure the city has to offer. This Manhattan structure will feature a Halloween-themed tour of the museum. Hear real life ghost stories of tragic events that happened in that building and immerse yourself into 18th-century funeral customs and more. This event is free when regular museum admission is purchased. 
THROUGH 11/3
HALLOWEEN MONTH AT ROSÉ MANSION
Rosé Mansion, everyone's favorite excuse to sample rosé, wraps up another fabulous run with a series of Halloween parties. October 18-20 is Mermaids vs. Unicorns Weekend; movie nights, other costume blowouts, a Mystical Halloween Night, and a Halloween Weekend through November 3rd all await. rosewinemansion.com, @rosewinemansion
---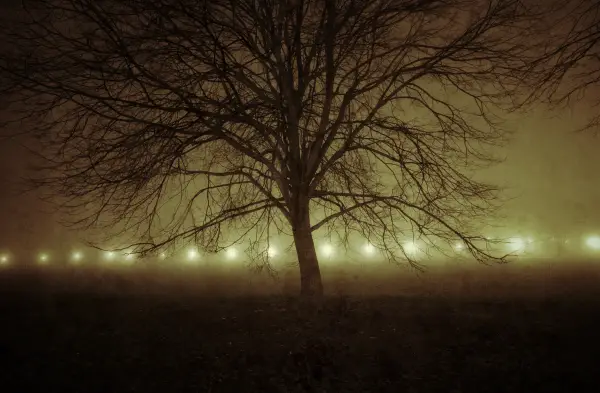 Image: Ahmed ElHusseiny/Flickr
EXTRACURRICULAR
If Halloween has you in the mood for some creepy New York, we've got a dozen spooky spots across all five boroughs.