World focus may have moved on from jazz and rock to rap and hip-hop in mainstream culture, but don't tell that to the proprietors and patrons of Smoke Jazz Club on the Upper West Side. They're intent on presenting, preserving, and expanding what they love about modern jazz, and in one visit, you'll believe they state their case with style and aplomb.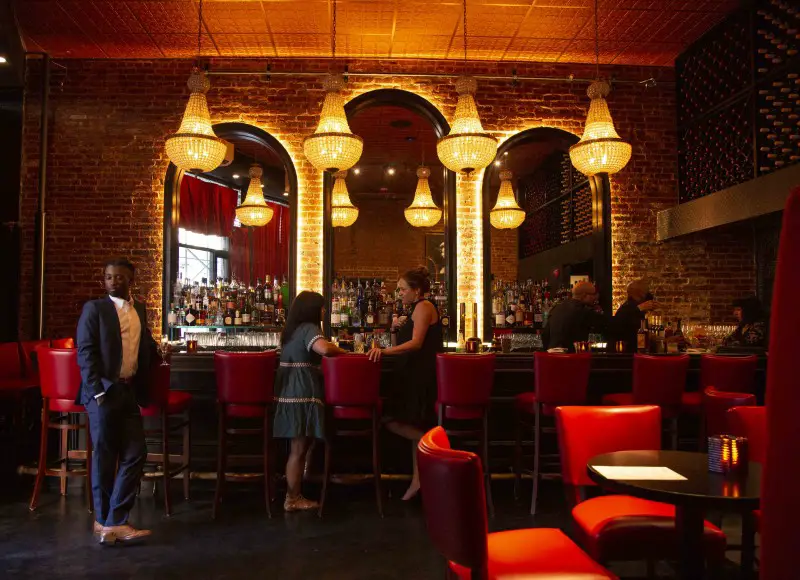 For starters, the newly renovated club is now divided into two sections: there's a full-sized bar at the entry where you can soak up the atmosphere and sip something cool under an unblinking gaze from the jazz greats of yesteryear.
But inside the showroom, the joint is jumpin'. Smoke is situated at 106th and Broadway (aka Duke Ellington Blvd.), and just as you'd expect to hear the Memphis journeymen of Beale Street rockin' the blues, the Manhattan jazz here sizzles like steak on an open grill.
Eddie Henderson, Melissa Aldana, Julius Rodriguez, Gerald Cannon, and Joe Farnsworth. Photo by Jimmy Katz.
There's an inordinate amount of  beautiful brick in the main room. It's everywhere, providing a cool mid-century look that evokes images of cigarette girls and gangsters murmuring in a dimly lit corner. But once the band kicks in, you wonder how they get such a clean, full-bodied sound with all those unforgiving hard surfaces on the walls and floors. As it turns out, the owners labored over the room's acoustics during their pandemic closure until they got a sound that allows each note to hang in the air like unfinished seduction.
Now that they've reopened, curtains, period art, and banquettes set the scene, and the newly revamped Smoke is the same kind of place that beckoned Manhattanites uptown a century ago to experience the Harlem Renaissance.
Of course there's fried chicken on the varied menu, but the steak is every bit as tempting and even the burgers are a cut above what you might expect. There's also a selection of lighter fare including an assortment of fine cheeses (exotic without becoming a foodie's challenge) and a salted caramel bread pudding that will put a little French Quarter in your evening. The wines are simple and supple, and the cocktails on-point and affordable.
George Coleman. Photo by Kevin Phinney.
Our night's entertainment was provided by sax great George Coleman, who at 80, plays with the wisdom of his years and the verve of a hotshot half his age. As a virtuoso who's shared the stage with Max Roach, Mingus, and Miles and played alongside Elvin Jones and B.B. King, Coleman and his group offer up a selection of hard bop and swinging jazz that's both decades in the making and completely of the moment.
One regular, the late jazz pianist Harold Mabern, used to call Smoke "the best jazz club in the world." Now, in its grand reopening, it's even better.
Smoke Jazz Club, 2751 Broadway, 212-864-6662, smokejazz.com