Dan Sperry – Your Friendly Neighborhood Shock Illusionist
April 23, 2012 - by Melanie Baker
Don't get too comfortable as you settle into your seat -- at Dan Sperry's Twisted Theatre of Shock Illusion, you'll witness acts that defy logic, trick the mind, and give audiences innumerable chills at the expense of one quick-handed daredevil, anti-conjuror Sperry himself. You may have heard the name Dan Sperry before, after he gained unexpected fame from the prime-time hit show America's Got Talent, twisting the minds of judge Howie Mandel and his colleagues.
Sperry's current residency at haunted New York City hot spot Times Scare is a far cry from his early beginnings performing as one of the busiest kid's magicians in Chicago. With a flare for the frightful, Sperry shocks as much with his appearance -- a Gothic style with countless piercings and impressively distressed eye makeup -- as he does with his performances. Walking past Sperry on the street, one might take double or triple glances. Inside Times Scare, however, audiences know there's none better to guide them through the thrilling and mind-bending world of shock illusion.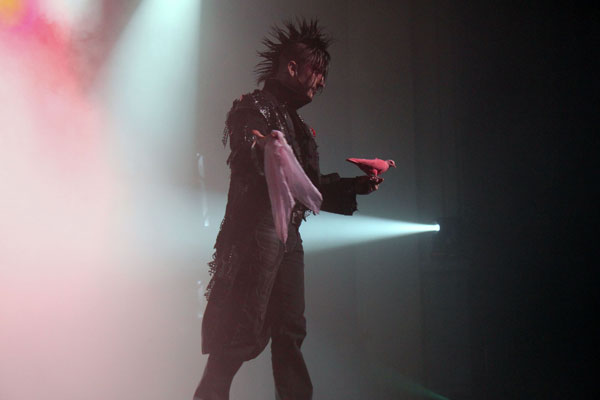 The genius behind a Dan Sperry show lies in his talent to amaze by multiplying birds with the swish of a cloth just as much as it does when he fearlessly swallows numerous razor blades as if they were cake, only to coax them back up his windpipe.
Sperry loves to push his audiences to the brink, teetering the fine line between magic and acts that have you almost sinking into your seat for refuge. "It's like Willy Wonka," Sperry says. "[The show] appears to be chaos, but I'm really in control the whole time...you know it's safe, but you're still freaked out. In the end, you still want more and that's what I'm going for." Sperry's favorite illusion to throw at audiences is a game of Roulette, in which volunteers remain at the mercy of the magician's hands to dodge a paper bag that might contain sharp glass.


Prepare to be visually stunned, mentally perplexed, and physically shaken as Sperry swallows a Lifesaver whole, then rescues it by sliding dental floss through -- yes, through -- his neck without flinching. Flesh will be punctured without a drop of blood or scar to speak of during a voodoo ceremony, and Sperry downright stuns with a mind trick that pulls from audience members' recurring dreams.

For a show that's equally as enjoyable as it is brain boggling, head straight to Times Scare to subject yourself to Dan Sperry's twisted but oh-so-impressive repertoire of shock/illusion acts. To study up on the master of magical ceremonies, visit dansperry.com, follow @dansperry on Twitter, or become a Facebook fan at www.facebook.com/officialdansperryfans.

Times Scare is located at 669 8th Ave. at 42nd St. Visit timesscarenyc.com or call 212-586-7829 for tickets and more information.
Looking for Free Group Planning Services?
Get free advice on planning your group's trip to New York.
RESTAURANTS

The newest member to the Heartland Brewery family, HB Burger...

THEATER

Gaston Leroux's famous period thriller is now one of Broadwa...

SHOPPING

Swiss luxury watch manufacturer for men and women since 1853...

SIGHTSEEING

Hop aboard these environmentally friendly twin-hulled catama...