There are plenty of bars in New York that can get you fed and refreshed. There's not so many that will make you feel at home no matter what your walk of life. Foxy John's in Midtown East is that rare exception.


Don't be concerned if you pass through the fox-red doors to find a packed space buzzing with life. There's plenty of room throughout the pub, blessed with "loads of nooks and crannies," as general manager Keith Curistan puts it. The cozy ground floor still has its original wood beams, which date to the building's origins as an 1889 row house. There's a dining room in back, and a staircase leading up to a second-floor perch. Upstairs you'll find more tables, another bar, and that ultimate Manhattan perk: outdoor space, in the form of a balcony overlooking 47th Street.
The kitchen's ambitions aim higher than standard pub grub. The chef is of Mexican origins, with experience that includes a long stint in an Italian restaurant and a tutelage under a French chef. The results could be called "Fusion American." Take the ale-fried calamari, a popular appetizer, which adds a global twist to an Italian favorite, with jalapeño tomato sauce and curry aioli. Mussels come in a tequila and lime broth, tricked out with chorizo and salsa verde, with generous slabs of garlic bread on the side.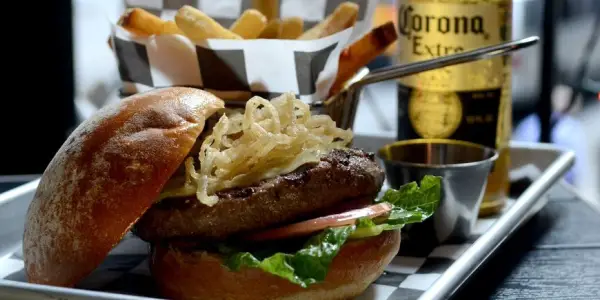 Lighter appetites can dig into healthier options like a romaine and baby kale salad, enlivened with grilled teriyaki chicken and a zesty orange and ginger dressing. No bar experience is complete without a classic burger, and Foxy John's is one to remember, with cooked-to-order flame-grilled Black Angus beef, pepper jack, crispy onions, and chipotle mayo, all served on a pretzel bun. Lunch is popular with local workers, with the selections highlighted by the salmon club, which comes complete with bacon, watercress, and a pesto aioli.
If you're not here for a meal, you can still get a quick pick-me-up with the house special, which plates fresh, meaty, $1 oysters any time of the day or night. How does it go over? "Brilliant," Curistan says. "People love them."
The beer selection also earns raves, with a variety that goes beyond the same dozen tap tops you find in every other bar. The spirit selection is extensive as well, with attention newly shifting to America's own spirit—bourbon—and a run of whiskeys. If you're looking for a handcrafted cocktail, the bartenders have you covered, with classics like a Dark 'n' Stormy, and creative departures like an Absolut Citron Pomegranate Martini.
Lunchtimes see the music pushed to the background, but come evening an upbeat soundtrack comes on, with the lights lowered and candles flickering on the tables.
Flatscreens provide ample coverage of local sports, with a diet of basketball, baseball, hockey, and football, augmented by a soccer match or two, as you would expect from an ownership with roots in Ireland.
With a crowd that draws on commuters from Grand Central and guests from the nine hotels that are within a four-block radius, Foxy John's knows how to make anyone feel at home—no matter where they're from.