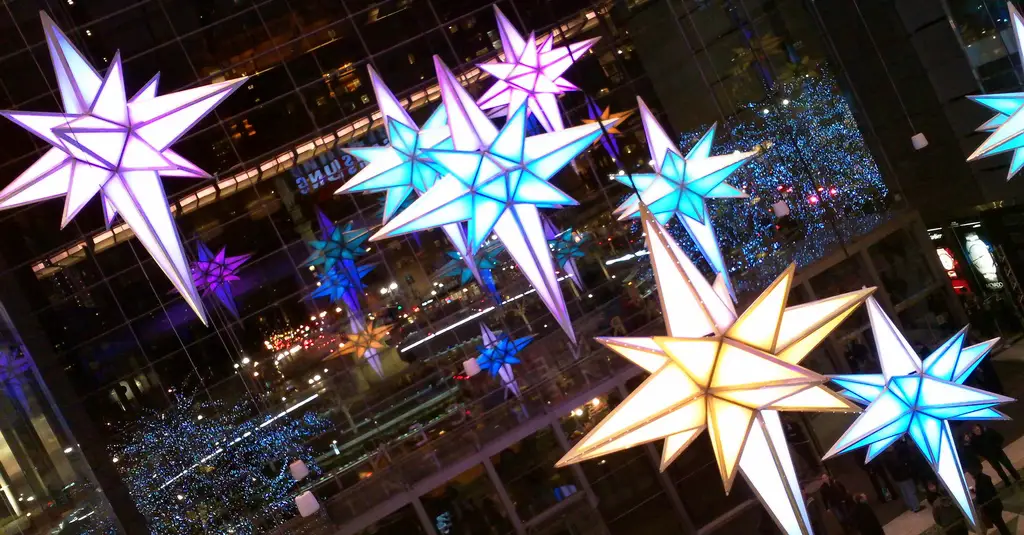 Photo: Shannon McGee/Flickr

New York City takes its seasonal specials and holidays seriously. City Guide's got all the latest and greatest news on the holiday events and specials coming up in New York City this weekend. From scoping out the windows on Saks Fifth Avenue during the Christmas season to catching a round of fireworks on the Hudson on the Fourth of July, you won't miss a thing.


The Muttcracker - AKC Museum of the Dog
November 29, 2019 - New York
Start out the holiday season with a reading from author Donna Parrey of "The Muttcracker"! The book and illustrations tell the classic tale of the Nutcracker with a doggy twist! Listen to hear the different breeds mentioned in this holiday tail to add a special memory with your family during your visit.
EBAY BLACK FRIDAY ESCAPE ROOM - 163 Mercer Street
November 29, 2019 - New York
eBay invites shoppers to skip the lines and tackle the madness this year, with fun holiday challenges and puzzles. Escape to eBays Zen Room, where consumers can shop the best Black Friday deals and gifts this season, without any of the holiday frenzy, all with free admission and #HolidayChill perks.
Magnus Opus International Speech and Drama Competition Winners Showcase - Carnegie Hall
November 30, 2019 - New York
PerformersMagnum Opus International Speech and Drama Competition Winners
Little Italy in the Bronx Annual Holiday Tree Lighting Ceremony - Ciccarone Park
November 30, 2019 - Bronx
Taking place on Small Business Saturday, the Belmont BIDs Annual Holiday Tree Lighting Ceremony will take place on November 30 and will be open to the public, featuring festive entertainment including carolers, an appearance by Santa Claus, hot chocolate, Italian cookies and treats, and much more. In addition, during the ceremony, the BID will co-host a toy giveaway for the neighborhood with Love Holds Childrens Cancer Foundation, whose mission is to support kids and their families fighting cancer by providing monetary aid for medical expenses not covered by insurance. The BID is also partnering with Lyft on Small Business Saturday. Visitors to the neighborhood can use the code SBSBELMONT, which can be applied under promos in the Lyft app. New and existing users will receive 20% off a ride to and from the neighborhood. This code will be valid for the weekend of Small Business Saturday and is based on availability.
Brian Ames' Carols and Keys: Christmas on Broadway and Around the Piano - Feinstein's/54 Below
November 30, 2019 - New York
Brian Ames, pianist, and composerreturn to Feinstein's/54 Below in the second annual Carols And Keys mixing the traditional piano bar show with a holiday twist. Kick-off the Christmas season with this audience participation show of traditional carols, holiday classics, and Broadway hits. Many of Brian's talented friends from Broadway and around NYC will step out of the audience and join him on the stage to perform their Christmas favorites, including a performance from special guests, The Broadway Star Project, who will perform the single from their new holiday album. Come dream of a White Christmas on The Great White Way!Featured Performers:Brian Ames (Brian Ames' Tribute To Elton John)Special Guests:The Broadway Star Project (The Holiday Star Experience)A portion of the proceeds will go to support Broadway Cares/Equity Fights AIDS.
November at Williams Sonoma - The Shops at Columbus Circle
Through November 30, 2019 - New York
Jr. Chefs - Tie on your apron and let's bake an awesome pumpkin pie! Your sweet creation will be the talk of your family's Thanksgiving feast.
Chrysann Panos - New York Cares
Through November 30, 2019 - New York
VOLUNTEERS NEEDED TO FULFILL WINTER WISHES HOLIDAY GIFTSFOR CHILDREN AND TEENS WITH NEW YORK CARESThe holiday season is right around the corner! Bring a smile to the faces of children and teens in need when you participate in the 29th annual New York Cares Winter Wishes program from October 21 through November 30.In line with New York Cares mission to meet the most pressing community needs in the most impactful ways, Winter Wishes 2019 partners with family shelters, public housing facilities and public schools with high economic need across the five boroughs to provide gifts to fellow New Yorkers who would not otherwise receive presents during the holidays. This years program focuses on providing gifts to children and teens from ages 418 from low-income families.New York Cares collects and screens more than 35,000 gift requests and sends them to volunteers who purchase, wrap, and send the gifts to its partner agencies. These seemingly random acts of kindness enable thousands of less fortunate New Yorkers to experience the magic of the holiday season in a way that is personal and from the heart.Find out how you can get involved by visiting www.newyorkcares.... (read more)
Tocca's Sample Sale - 260 Sample Sale
Through December 01, 2019 - New York
Tocca's Sample Sale is here just in time for the holiday season! Shop luxuriously scented perfumes, candles, lotions and body care that are perfect to give as gifts or keep for yourself. Make sure to get your favorite hand crafted beauty and home fragrance products early - the sale only runs November 25 - December 1!November 25th - December 1stMonday : 9am-8pmTuesday - Wednesday : 10am-7pmThursday : Closed for Thanksgiving Friday - Saturday : 10am-8pm Sunday : 10am-5pm
Georg Jensen Offers Up to 50% off during Black Friday Cyber Monday Sale - Georg Jensen
Through December 02, 2019 - New York
Georg Jensen, the timeless Scandinavian brand, is pleased to announce that from November 29th December 2nd, 2019 the company will host its annual Black Friday-Cyber Monday Sale online at https://www.georgjensen.com/en-us, offering up to 50% off select home items. This is a great opportunity to own some of Georg Jensens best home designs for below retail value. Sale items include Matrix Vase medium (originally $120, now $84 with 30% off), Cobra Candleholder medium set in rose gold (originally $185, now $129.50 with 30% off), and Urkiola Pitcher 1.7L (originally $295, now $147.50 with 50% off), as well as additional select items from Georg Jensens home collection.
FLOS Offers 30% Discount during Cyber Week Sale - FLOS Soho Showroom
Through December 03, 2019 - New York
FLOS, the world-renowned Italian lighting brand, is pleased to announce that from November 25th December 3rd the company will host its cyber week sale on the official online North American store (usa.flos.com) and at participating dealers. The sale offers 30% off select black or matte black finish designs. This is a great opportunity to own some of the worlds most distinguished lighting fixtures for below retail value. Sale items include the Lampadina (originally $159, now $111), the Tatou floor lamp (originally $1,095, now $767) and IC Lights S Black (originally $695, now $487), as well as other select black or matte black finish lights from FLOS decorative collection.
nanimarquina Offers 20% Discount during Black Friday Sale - nanimarquina Showroom New York
Through December 03, 2019 - NEW YORK
nanimarquina, the family-owned rug design brand, is pleased to announce that from November 21st to December 3rd the company will host their black friday sale at participating dealers, offering 20% off their entire collection, including standard and custom sizes. This is a great opportunity to own unique, hand-made rugs for below retail value. Sale items include rugs from the 2019 collections such as, Wellbeing Nettle Dhurrie (originally from $1,980, now $1,584), Persian Colors (originally from $3,300, now $2,640), and Capas (originally from $2,480, now $1,984) along with the remainder of nanimarquinas collections.
The Ultimate Holiday Giveaway - The Shops at Columbus Circle
Through December 07, 2019 - New York
Celebrate the most wonderful time of the year with the Holiday photo contest! Take a photo with the Holiday Stars for a chance to win a $1,000 gift card to The Shops at Columbus Circle.
theSkimm "Celebrate Smarter Shop" - 909 Broadway
Through December 24, 2019 - New York
theSkimm, the membership company dedicated to helping millennial women live smarter, announced today the launch of its Celebrate Smarter Shop, a curated retail experience designed to streamline holiday shopping. The e-commerce site is live today, and a physical pop-up shop in the Flatiron neighborhood of Manhattan will open on November 29 (Black Friday) and run through December 24.The Celebrate Smarter Shop presents a highly-curated collection of products (largely direct-to consumer, and ranging in price from $8-$399) to solve the holiday gifting, hosting, travel, and wellness needs of the millennial woman on-the-go. The shop features apparel from ADAY and Primary; plants and planters from The Sill; skincare from Ursa Major, Wander Beauty, and Paradox; accessories from Nisolo, Artemis Designs, and State Bags; nail colors from Fluide; candles from Otherland; cookware from Material; and fitness gear from Amanda Kloots.For a company founded on the concept of time well spent, first-party data showing that the average Skimmr spends 20 hours prepping for the holiday season presented a very clear challenge: Skimm the holiday routine. Using the same live smarter lens that driv... (read more)
Celebrate Smarter Shop - theSkimm Pop-Up
Through December 24, 2019 - New York
theSkimm has launched a are e-commerce website designed to make shopping smarter! Experience this online store in real life for a limited-time at their new pop-up!Three floors of shopping and events to help you gift, party, de-stress and travel smarter. It's got all the Skimm-approved products from our online shop, plus live programming and experiences to help you live your best life while making your list and checking it twice. Think live podcasts, Hair styling bar, gift-wrapping workshops, wine tastings, and more. All Skimm'd, just for you.Find us at 909 Broadway in Flatiron all season long, only a few blocks away from Union Square and Madison Square Park. It's a one-stop holiday shop with gifts you actually want to give. Everything in one place saves you time so you can move on to the truly important things (looking at you, wine tasting). Cheers to a holiday you can actually enjoy.Every day in the shop: Refresh with Batiste Hair Styling BarDecember 2nd - December 6th: Gift Smarter WorkshopsDecember 9th - December 13th: Party Smarter WorkshopsDecember 13th - December 20th: STARZ Recharge LoungeDecember 16th - December 20th: De-Stress Smarter Workshops
Grand Central Holiday Fair - Vanderbilt Hall
Through December 24, 2019 - New York
For a magical, one-stop holiday-shopping experience, nothing compares to the Holiday Fair at Grand Central. The experience itself is a holiday gift. Explore one of the most beautiful architectural settings in the world featuring dozens of talented artisans.The Grand Central Terminal Holiday Fair is one of the finest, longest-running indoor holiday fairs in New York City. The Holiday Fair Committee spends the year looking for unique vendors with a focus on American-made and handmade products with locally-sourced materials or a socially-conscious business model. Vendors will take over half of the historic Vanderbilt Hall for almost six weeks to sell artwork, clothing for all ages, men's/women's accessories, children's clothing/toys and home goods. A range of products and price points guarantees that New Yorkers, commuters, and tourists alike can find interesting gift items for others as well as covet-worthy items for themselves. Since 1993, the Holiday Fair has been a must-shop destination during the holiday season.
12 Beers of Christmas - Evil Twin Brewing NYC
Through December 31, 2019 - Queens
12 Beers of Christmas is a celebration of a select handful of collaborations with some of our best friends and leaders in the beer industry. Over the years Evil Twin Brewing has had the unique opportunity to travel and collaborate with the best brewers in the world while creating life-long friendships.
Henry Rose x Perfumarie Pop-Up - Perfumarie
Through December 31, 2019 - New York
Just in time for the holidays, Henry Rose, a line of genderless fine fragrances founded by Michelle Pfeiffer, will be popping up for a limited time at Perfumarie in New York City! Beginning October 15 through December, Henry Rose will be available for in-person sampling, testing and buying for the ultimate holiday shopping experience. During the pop-up, the brand will also be introducing its newest product offering: rollerballs, available as singles, sets of two and sets of all five of the brands distinct, intoxicating scents! In a striking departure from industry norms established over many decades, Henry Rose made waves in April 2019 for disclosing 100% of its ingredients, thereby setting a precedent for transparency in fine fragrance and personal care.The 8mL Henry Rose rollerballs will be available on www.henryrose.com and at Perfumarie during regular store hours in New York City from October through December. Pricing will start at $50 for a single vial, $80 for a set of two, and $140 for a set of all five.
Away Williamsburg Pop-Up - Away
Through January 05, 2020 - Brooklyn
Away, the global lifestyle brand thats on a mission to transform travel, is opening a holiday pop-up in Williamsburg at 111 North 3rd Street, beginning on Black Friday and running through January 5th, allowing visitors to shop Aways lineup of luggage and other travel essentials.On opening day, the first 100 customers will receive a personalized foil stamped luggage tag. Artists will also be on-site offering customers hand-painted monogramming every Saturday and Sunday from 12-4pm EST through December 22nd.Open daily (11/29 1/5): Monday-Thursday from 11am-8pm, Friday-Saturday from 10am-8pm, and Sunday from 11am-7pm EST.
Holiday Lights at the Bronx Zoo - The Bronx Zoo
Through January 05, 2020 - The Bronx
Holiday Lights at the Bronx Zoo are set to return bigger, brighter, and greener than ever before from November 21, 2019 - January 5, 2020.The zoo is bringing back the holiday tradition for the first time since 2007. The dazzling light displays will cover several acres of the zoo in a walk-through experience with wildlife-themed LED displays,custom Asian lanterns, and animated light shows on the historic Astor Court.Entertainment will include holiday-themed music, ice carving demonstrations, caroling, performances, ice carving, train rides, seasonal treats, and souvenirs.Keep an eye on the zoos website (www.BronxZoo.com) for more information as details become available.
Bank of America Winter Village at Bryant Park - Holiday Shops - Bryant Park
Through January 05, 2020 - New York
Over 170 Holiday Shops, curated by Urbanspace, will be featured this year at Bank of America Winter Village at Bryant Park. A mix of food and artisanal boutiques, offering delicious eats and exquisite gifts, will be found at The Holiday Shops, including Verrier Handcrafted, Jack + G, Olfactory, Reeci, and Baking Bean. The Holiday Shops iconic winter experience is located along Bryant Parks alles, plazas, terraces, and are housed in custom-designed kiosks. For more information on Bank of America Winter Village at Bryant Parks events and daily activities, like Broomball, Exerskate, live music and more, visit: wintervillage.org.
Bank of America Winter Village at Bryant Park - The Lodge by Urbanspace - Bryant Park
Through March 01, 2020 - New York
After its successful debut last year, The Lodge by Urbanspace returns to Bank of America Winter Village at Bryant Park featuring a festive cocktail bar surrounded by a full range of eateries and an outdoor beer garden. The aprs skate-escape will host a mix of returning vendor favorites like The Stackery, and new ones like Ovenly, designed to fulfill the cravings of New Yorkers and visitors alike from morning until night. This cozy winter destination with a dozen new and classic NYC restaurants such as Casa Toscana, The Lodge Bar, The Lodge Biergarten by Stout NYC, Mayhem Smokehouse, Ovenly, Pierogi Boys, S'mores N'more by Renegade, The Stackery, and Two Tablespoons. Beginning in January 2020, head to The Lodge by Urbanspace for live music and other special events. The Lodge by Urbanspace is open daily, 8 a.m.-10 p.m., from October 31, 2019-March 1, 2020. To learn more about The Lodge by Urbanspace, vist: wintervillage.org.
Bank of America Winter Village at Bryant Park - Free Skating - Bryant Park
Through March 01, 2020 - New York
Head to the only FREE admission skating rink in NYC between October. 31, 2019 and March 1, 2020 at Bank of America Winter Village at Bryant Park. The Rink at Bank of America Winter Village at Bryant Park offers high quality rental skates, free skating shows, Broomball pick-up games, Exerskate classes as well as other special events and activities for both children & adults. For more information and the most up to date schedule of events at The Rink during this years Bank of America Winter VIllage at Bryant Park, go to: wintervillage.org.
Daniel Buren on the High Line - The High Line
Through March 01, 2020 - New York
High Line presents En Plein Air, a group exhibition that broadens and challenges historical ideas of outdoor painting. The exhibition is on view along the length of the park from April 2019 to March 2020. It will bring together work by eight artists, including French artist Daniel Buren, who will string his signature stripe piece The Gardland over the elevated walkway
Blythe Doll - New York
Through November 29, 2021 - City Guide
BLYTHE DOLL CUSTOMIZATION PANELWhen the worlds of fashion enthusiasts and doll collectors collide, Blythe dolls are at the center. These wide-eyed darlings are beloved as a creative dress for fans who love to pose and style their dolls. But with so many fashion options, how does one get started making custom Blythes? Youll learn just how at our Blythe doll customization panel!Ever wonder how to sew your own Blythe doll clothes, resculpt her face, or style her hair? Our panel will take fans through the basics of coordination and customization. With the mini petite Blythe, middie Blythes or even the moveable Neo Blythe doll, you will learn how to make your doll special.From her humble beginnings in the 70s to her modern resurgence in the past few decades, Blythe is about bringing together the style-savvy. Almost every aspect of her can be customized. Her hands, ears, and faceplate can be swapped out to add attitude and personality. Her hair and eyes can be changed to a rainbow of colours and styles to fit any aesthetic. And, of course, there are as many options for her clothing as fans can dream of.With so many choices, a Blythe doll is a blank canvas for the fashio... (read more)

Want free advice on what to see and do in NYC? Join our Facebook group Everything to Do NYC, a place for people to ask questions and get tips on how to make the most of the city.