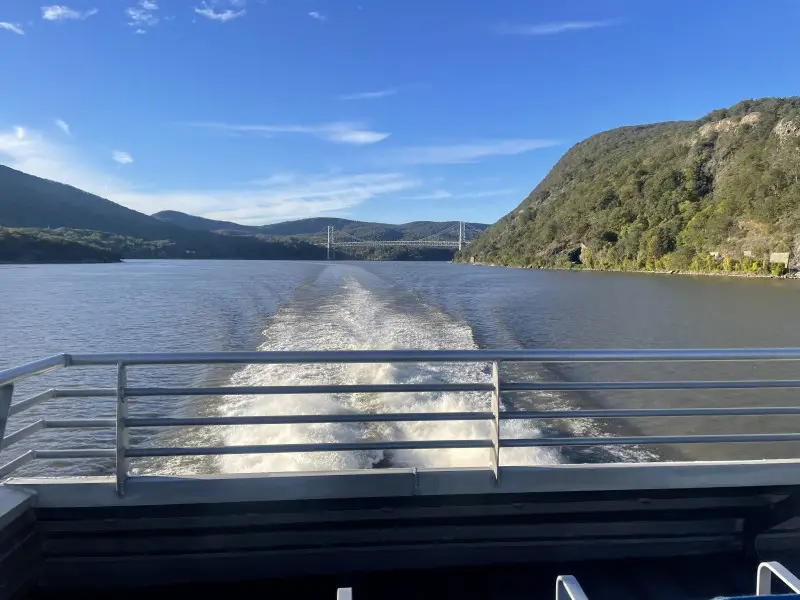 Autumn is a pretty magical time of year in New York City, but to take the season to the next level, consider a fall foliage cruise along the Hudson River. There's nothing quite like getting out of the city for a glimpse of the great outdoors, particularly when the leaves are showing off hues of gold, amber, and crimson, and the weather is still pleasantly brisk. Luckily, there are some excellent day cruises on Hudson River ferries that offer a convenient and thoroughly enjoyable daylong getaway from Manhattan. Seastreak Ferries and Circle Line Sightseeing Cruises offer distinct and equally worthwhile trips up the Hudson River to see scenic spots (for Seastreak, the quaint town of Cold Spring; for Circle Line, the ruggedly beautiful Bear Mountain State Park) in their full fall glory. Read on for details about both of these fall foliage cruises that help you make the most of autumn in New York.
SEASTREAK: Fall Foliage Cruise to Cold Spring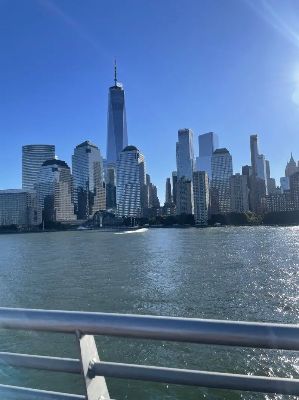 ARRIVAL
Seastreak's sightseeing cruise to Cold Spring, NY sets off from the Pier 11/Wall Street ferry cruise terminal. It's a bit counterintuitive: Though the vessel will cruise up the Hudson River (on the west side of Manhattan), the departure point is on the East River (on the east side of Manhattan). You'll need to cross South Street/FDR Drive (see more directions below) to enter, and once you arrive at the ferry terminal you'll see a sign directing you to the Seastreak vessel. You can also head into the ticket center to ask an employee for directions if you'd like. Note that there is also an arrival and departure option from the Highland Cruise Ferry in Highlands, NJ (it embarks an hour earlier and disembarks an hour later than the New York City times.) Seastreak recommends arriving with at least 15 extra minutes before boarding. There's a restroom at the terminal, and there are small stands both at the terminal and in the streets nearby selling coffee, water, and light eats. (You can also buy food and drinks on board). You'll receive a QR code with your ticket, which staffers will scan before you head onto the ferry.
ONBOARD
Once on the ferry, you can take your pick of seats on the three-level vessel. There are rows of comfortable, relatively plush seats that allow groups of two and three to sit together (the double seats are situated along the windows and the triple seats in the middle of the boat), along with a couple of tables with bench seating for larger groups in the corner (I saw a group of six sitting comfortably, with room around the table for a stroller). Or opt for the open-air top deck—though it can be chilly and windy, it does offer the most direct views of the sights if you're willing to brave the elements. I chose to sit outside while leaving the Pier in the morning (which gave me prime views of Lower Manhattan), and during the entire return leg. During the journey up the Hudson, which lasts about two and half hours, a guide will fill you in on the history of the region, throwing in fun facts about the many sites you'll pass along the way (from the Palisades to the Tappan Zee Bridge to West Point). Onboard, there are three restrooms, a food and beverage bar serving coffee, bagels, beer, wine, sodas, and snacks, and TV screens (there is also free Wi-Fi on board, though it can be a bit spotty).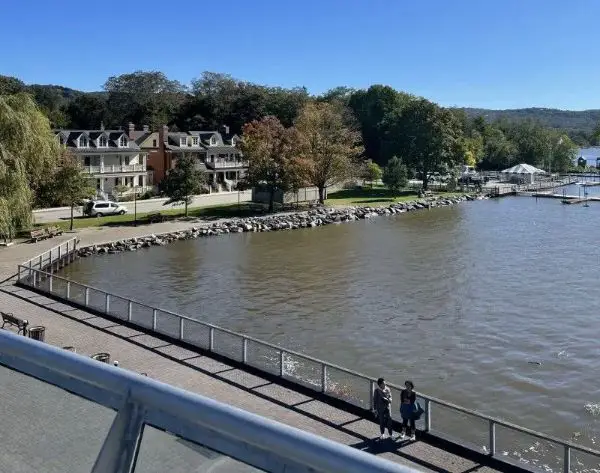 COLD SPRING & YOUR RETURN TRIP
The boat will make a stop at Bear Mountain State Park (where passengers can disembark if they'd like) before continuing on to Cold Spring. One of the staffers described passenger's options for the day as outdoor (Bear Mountain, known for hiking trails and scenic views) vs. indoor (Cold Spring, where you'll find a number of specialty shops and restaurants). Once you disembark at the Cold Spring Pier (easy to spot thanks to its round bandstand), you'll have about three hours to explore the quaint small town. If you stick to Main Street, there's plenty to do and it's virtually impossible to get lost. There are dozens of charming shops carrying everything from locally-made candy to antiques to specialty olive oil, along with a number of restaurants, cafes, and wine bars (I opted for Rincón Argentino, a cozy eatery with standout coffee and cake). I also ventured just off the beaten path (about a 15-minute walk from the Cold Spring Pier) to visit two sites that were well worth the stop: The Putnam History Museum (a small yet beautifully curated space with free admission and informative exhibits on indigenous history, the West Point Foundry, and more) and the West Point Foundry Preserve, a scenic hiking trail that offers stunning views of the river and easy access to the local Metro North train station and Main Street.
You'll re-board the ship promptly at 4pm (I got back to the pier about 20 minutes before departure, which was plenty of time), and cruise back down the Hudson, gliding past the west side of Manhattan just as the sun sets (making for a can't-miss photo op).
CIRCLE LINE: Bear Mountain Oktoberfest Cruise
ARRIVAL
Circle Line's Oktoberfest-themed cruise departs from Pier 83, which is at the intersection of West 42nd Street and 12th Avenue, just a few blocks away from the Intrepid Sea, Air & Space Museum. You'll see several ticket windows for various Circle Line excursions, and there are plenty of staffers that can direct you to the right boat (I could spot them thanks to their red jackets). Note that you cannot bring outside food or drinks (aside from water) onto the ship. Boarding begins at 8:30am, 30 minutes prior to departure.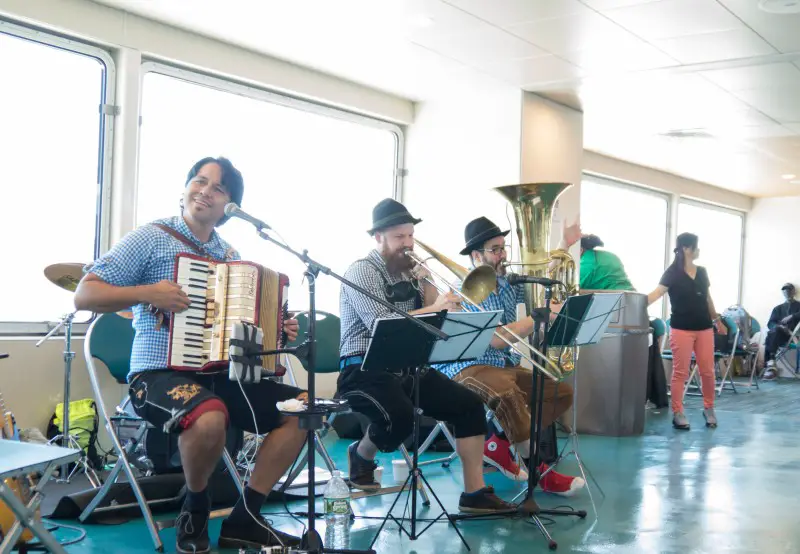 ONBOARD
Once on the boat, you'll see rows of folding chairs both inside on the lower deck, and upstairs on the open-air upper deck. There are a number of bars on board, serving up coffee, bagels, snacks, and of course, plenty of beer on tap. A full German-style spread is also included with your ticket, with options including bratwurst (traditional and vegan), potato salad, sauerkraut, and Bavarian pretzels on offer. I saw groups of all ages, including parents with children. There's a very pleasant, festive atmosphere on board–a live band plays on the upper deck, there's a raffle (prizes included a souvenir beer stein), and the narration from the guide was clever and informative. 
BEAR MOUNTAIN & YOUR RETURN TRIP
Once you dock at Bear Mountain, you can spend roughly two hours exploring. There are paved hiking trails, and plenty of scenic spots around Hessian Lake where you can sit, unwind and snap photos. There is also a museum and zoo (keep an eye out for local wildlife including bald eagles, porcupines, and more), and an old-school carousel popular with families. Though there is food onboard the ship, you can also grab a bite at 1915 Bar and Restaurant, and you can pick up a souvenir at Bear Mountain Trading Post, a small but well-stocked gift shop. In rare cases, the tide may be too high for the vessel to dock, in which case you'll get to cruise on a bit further to pass West Point before heading back down the Hudson for the return trip (again, I highly recommend spending at least some of the voyage on the open upper deck so you can enjoy the fresh air and snap some stunning photos).
The Bottom Line:
A fall foliage cruise along the Hudson is a gorgeous way to enjoy the autumn scenery, experience some of NYC's scenic neighboring areas, and get out in nature while the weather is crisp and refreshing.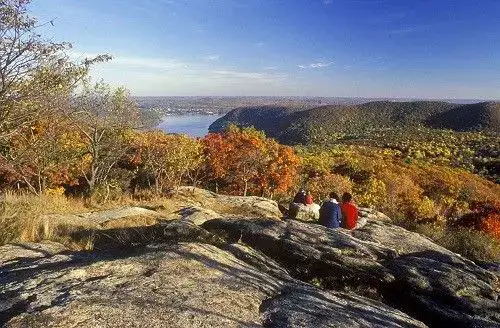 ESSENTIAL INFO:
How to get there 
Seastreak: 
Departs from Pier 11/Wall Street Ferry Terminal (address: Wall Street and South Street/FDR Drive)

Subway directions:

 4/5/6 :

Take the 4, 5, or 6 to Wall Street

Walk east on Wall Street to South Street/FDR Drive

 R :

Take the R to Whitehall Street/South Ferry

Walk south on Whitehall Street towards South Street
Turn left on South Street and walk until you reach Old Slip Street
Turn right on Old Slip Street and walk until you reach the East River Greenway
Turn left onto the East River Greenway and walk until you reach Pier 11 (on your right)
Circle Line:
Departs from Pier 83 (address: West 42nd Street and 12th Avenue)

Subway directions:

 A/C/E :

Take the A, C, or E to 42nd Street/Port Authority 

Walk west on 42nd Street to 12th Avenue

 N/Q/R :

Take the N, Q, or R to 42nd Street/Times Square

Walk west on 42nd Street to 12th Avenue

 1/2/3 :

Take the 1, 2, or 3 to 42nd Street/Times Square

Walk west on 42nd Street to 12th Avenue

 D/F :

Take the D or F to 42nd Street/Bryant Park

Walk west on 42nd Street to 12th Avenue

 7 

:

Take the

7

to 34th Street-Hudson Yards
Walk west on 34th Street to 12th Avenue
Turn right and walk north on 12th Avenue until you reach 42nd Street
Turn left on 42nd Street and walk towards Pier 83 (on your left)
When to go:
Seastreak:
DATES:

Friday, October 27

Saturdays and Sundays through November 12

TIMES:

Departs from Pier 11/Wall Street at 9:10am

Returns to Pier 11/Wall Street at approximately 6pm
Circle Line:
DATES:

Saturdays and Sundays through November 11

TIMES:

Departs from Pier 83 at 9:00am

Returns to Pier 83 at approximately 5pm
Pricing:
Seastreak:
* $129 roundtrip for adults; $69 roundtrip for children (12 and under)
Circle Line:
* From $79 roundtrip
Tickets & more information:
Seastreak: seastreak.com
Circle Line: circleline.com