Live Music in Clubs and Bars in Downtown NYC This Week - April 14-April 21
April 14, 2019 - by CG Directory Editor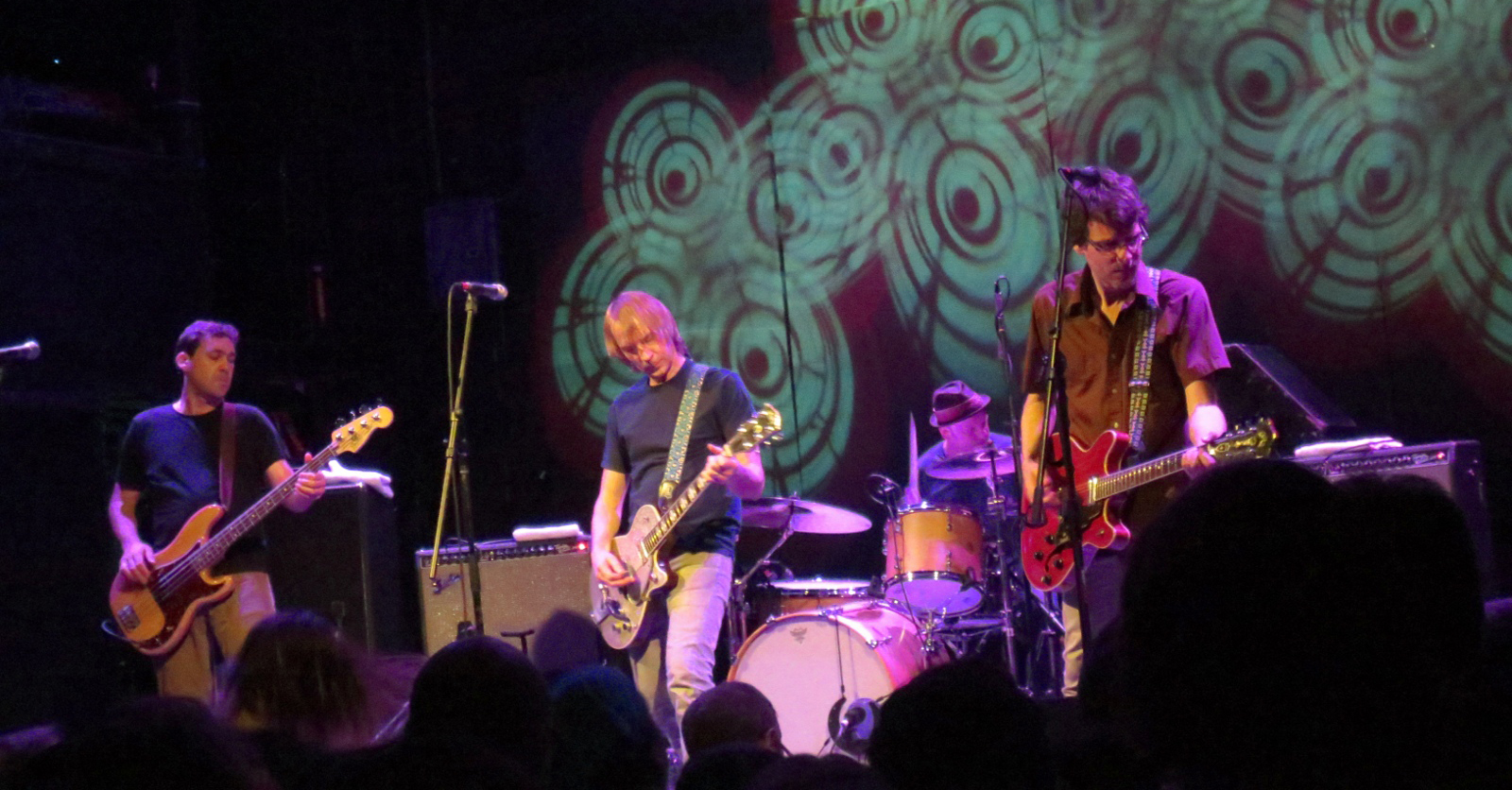 Photo: Vladimir/Flickr

Downtown NYC has long been a capital of live music. With venues like the Bowery Ballroom, Mercury Lounge, and Terra Blues, fans of rock, jazz, and more have long been drawn here. City Guide's roundup of live music in clubs and bars will connect you with tunes at dozens of great downtown venues.


Tim Miller - 55 Bar
April 14, 2019 - New York
Tim Miller...Guitar Santiago Bosch...Keys Evan Marien...Bass Cliff Almond...Drums
Jim Campilongo - 55 Bar
April 14, 2019 - New York
The Music of Pink & Lady Gaga at The Loft - 4/14 - City Winery
April 14, 2019 - 2nd floor New York
Vocalists Ashley Menard and Jessica Stark (<>Hello: The Ultimate Adele Experience) team up at New York's City Winery to channel the Queens of Pop Pink and Lady Gaga. They'll pay homage to the international superstar with their special tribute concert The Fame Monster, belting out one chart-topping Gaga gem after another -- from "Paparazzi" to "Born This Way" and "Poker Face" to "Just Dance."
Arturo Sandoval - Blue Note
Through April 14, 2019 - New York
A protégé of the legendary jazz master Dizzy Gillespie, Sandoval was born in Artemisa, a small town in the outskirts of Havana, Cuba, on November 6, 1949, just two years after Gillespie became the first musician to bring Latin influences into American Jazz. Sandoval began studying classical trumpet at the age of twelve, but it didn't take him long to catch the excitement of the jazz world. He has since evolved into one of the world's most acknowledged guardians of jazz trumpet and flugelhorn, as well as a renowned classical artist, pianist and composer. He is one of the most dynamic and vivacious live performers of our time, and has been seen by millions at the Oscars, at the Grammy Awards, and the Billboard Awards.
Emi Makabe - 55 Bar
April 15, 2019 - New York
Emi Makabe...Voice/Shamisen/Compositions Fabian Almazan...Keys Thomas Morgan...Double Bass Rudy Royston...Drums
Malbec World Day Walk Around Tasting - 4/15 - City Winery
April 15, 2019 - 2nd floor New York
Join City Winery and the Wines of Argentina for a celebration unlike any other! In a complete takeover, City Winery's Loft will transform to celebrate all things Argentine Malbec. Taste through a variety of styles and expressions of Malbec in a walk-about style tasting, enjoy an intimate Tango performance, all while delighting in regional bites and Argentine delicacies prepared by City Winery's Executive Chef, Michael Jeanty. The event will feature: - Argentine Tango performances - Tasting a variety of Malbecs poured by experts - Passed appetizers and regional fare Malbec World Day 2019: "Elegance doesn't need perfection" Malbec World Day is a global initiative created by Wines of Argentina that seeks to position Argentine Malbec in the world and celebrate the success of the national wine industry. Celebrated for the first time on April 17, 2011 Malbec World Day has managed to position itself as an historic event in the global promotion of wine and today is part of an international calendar of celebrations. About Wines of Argentina: Since 1993 Wines of Argentina has been promoting the image of regional wines abroad, in addition to helping guide the export strategy of Arge... (read more)
New Candys - Mercury Lounge
April 15, 2019 - New York
Twin Guns,Crazy Pills Age Limit: 21 and Over Italian psychedelic band from Venice, formed in 2008. Their influences have roots in The Velvet Underground and Syd Barrett. Fernando Nuti: lead vocals, guitar, sitar. Dario Lucchesi: drums, percussion. Andrea Volpato: lead guitar, backing vocals. From November 2017. Alessandro Boschiero: bass. From June 2018. Diego Menegaldo: lead guitar, backing vocals. Until May 2018. Stefano Bidoggia: bass. Until February 2018.
Tom Guarna - 55 Bar
April 15, 2019 - New York
The Quebe Sisters at The Loft - 4/16 - City Winery
April 16, 2019 - 2nd floor New York
With over fifteen years of touring to date, The Quebe Sisters have delivered their authentic triple fiddle and three-part harmony sound to the concert halls and festivals of North America, Europe, and Russia. Grace, Sophia, and Hulda Quebe front an innovative Progressive Western Swing band of archtop guitar, upright bass, fiddles and sibling harmony. The Dallas-based five-piece presents a unique Americana blend of Western Swing, Jazz-influenced Swing, Country, Texas-Style Fiddling, and Western music. "We differentiate our music as 'Progressive Western Swing' from simply 'Western Swing' because we aren't trying to sound just like Bob Wills," Grace Quebe explains. "Instead, we continue his vision, playing the style he pioneered in an authentic way by incorporating new genres and songs, interpreting them using our own unique voice through Country instrumentation." The band's stripped-down acoustic instrumentation breathes new life into seasoned sounds once found in Texas dance halls and honky-tonks. Grace continues, "To us, preserving the tradition of Western Swing isn't about keeping something alive like a relic. Western Swing has always been about inånovation." Innovation has le... (read more)
Dalton & The Sheriffs - Mercury Lounge
April 16, 2019 - New York
Age Limit: 21 and Over Armed with legion of Boston fans and a new sponsorship from Bud Light, Dalton & the Sheriffs hit the road in the fall of 2016, earning a headlining slot on the Bud Light Down South Tour. From Virginia to Tennessee, from Florida to Alabama and Mississippi, the band brought Boston country music to the south to high praise. Along the way, the band landed marquee opening slots for acts such as Sam Hunt and Jon Pardi at the Battle at Bristol, as well as supporting A Thousand Horses and Mickey Guyton at the Titans-Jaguars Thursday Night Football game at Nissan Stadium. In between their travels, the band also found time to open twice for LOCASH in the Boston area. Their work on the tour -- and at various additional stops such as the famed Bluebird Cafe's Sunday Night Writer's night -- earned the band three shows at Tootsie's Orchid Lounge playing their own music in November and December. The band enters 2017 with a new EP on the way and their popular single "You Ain't Her" getting regular rotation on iHeartRadio's 101.7 The Bull's Backyard Country show.
Dan Weiss & Friends - 55 Bar
April 16, 2019 - New York
Iris Ornig Quintet - 55 Bar
April 16, 2019 - New York
Josh Deutsch...Trumpet Jeremy Powell...Tenor Saxophone Chris McCarthy...Keys Iris Ornig...Bass/Compositions Rodrigo Recabarren...Drums
John Craigie w/ Brad Parsons at The Loft - 4/17 - City Winery
April 17, 2019 - 2nd floor New York
.the lovechild of John Prine and Mitch Hedberg with a vagabond troubadour edge." – The Stranger "The record opens with the shanty-like Dylan-meets-Prine number "Virgin Guitar," which displays Craigie's talent for understated singing coupled with poetic lyrics." – The Portland Tribune "Craigie's latest, "I Am California," is haunting, poetic, and just how a longing for California should sound. Draped in nostalgia and covered in memories, Craigie paints a beautiful homage to the Golden State, with the assistance of singer Gregory Alan Isakov." – Impose Magazine "You can be sure I'll be on the lookout for anything he does from now on." - No Depression ***LONG BIO*** Renowned for his eloquent Americana style, engaging live shows, and off-the-cuff clever observations, John Craigie carries on the legacy of classic singer-songwriters, while blazing a trail of his own. Recently, that trail twisted and turned into new territory for the Portland, OR performer who The Stranger appropriately dubbed, "the lovechild of John Prine and Mitch Hedberg." His music speaks loud to both audiences and fellow artists. Todd Snider notably hand-delivered a gift on-stage, and Chuck Norris has sent fan m... (read more)
Nir Felder - 55 Bar
April 17, 2019 - New York
Melissa Stylianou - 55 Bar
April 17, 2019 - New York
Mindy Gledhill - Rabbit Hole Tour w/ Nymph at The Loft - 4/18 - City Winery
April 18, 2019 - 2nd floor New York
"Indie singer songwriter who will leave you floating like cream in a cup of tea."
Tennyson - Mercury Lounge
April 18, 2019 - New York
Age Limit: 16 and Over
Wayne Krantz - 55 Bar
April 18, 2019 - New York
Morgan Weidinger - 55 Bar
April 18, 2019 - New York
The Bell Bottom Blues (Eric Clapton Tribute) at The Loft - 4/19 - City Winery
April 19, 2019 - 2nd floor New York
The Bell Bottom Blues is a professional tribute to one of the greatest guitar players and rock icons of our time, Eric Clapton. It is a show band in the true sense of the word which performs in theaters, casinos, outdoor concerts and other top venues throughout the country. The band has recreated Clapton's incredible stage presence and awe inspiring performances from The Yardbirds, Cream, Blind Faith, Derek and the Dominos and a incredible solo career that spanned decades. Playing all his hits as well as some deep cuts, Al Caprara has recreated Clapton's guitar stylings and more importantly his voice, making the audience truly feel that they are at a live Clapton Concert. Its a high energy show with both electric and acoustic sets. This is not just a tribute, It's a true Eric Clapton Experience.
Iamchelseaiam Birthday Show at the Loft - 4/19 - City Winery
April 19, 2019 - 2nd floor New York
The smells of incense and Pine Sol along with the melodies of powerful R&B/Soul singers such as Anita Baker and Mary J Blige were a familiar weekend scene for iamchelseaiam growing up in Cincinnati, OH. Between the influences of her mother and the Baptist church it was hard to escape the music that created the soundtrack for her childhood, which led her to play several instruments. Currently, with a New York State of Mind and a Midwestern Spirit, Singer/Songwriter iamchelseaiam uses her guitar to deliver melodic riffs, taking audiences on a rhythmic journey. Inspired human connection, every-day conversations & relationships are what drives iamchelseaiam to create music. As a writer she's had the opportunity to write for The Voice contestant Kenny Araujo, actress Taryn Manning as well as several independent artists. She was recently mentored by Eric Robeson (Musiq Soulchild, Jill Scott, etc) through the ASCAP "The Collective" program. In addition she was apart of the ASCAP Song Accelerator program hosted by Alex Forbes and Valerie Ghent. Her current project "A Beautiful Mess" (released Spring 2018), is a new sound that is completely different from the singer/songwriter style of he... (read more)
Chris Bergson - 55 Bar
April 19, 2019 - New York
Gabriela Anders - 55 Bar
April 19, 2019 - New York
Crack the Sky at The Loft - 4/20 - City Winery
April 20, 2019 - 2nd floor New York
Crack the Sky is an American progressive rock band formed in Weirton, West Virginia. In 1975, Rolling Stone declared their first album for Lifesong Records "debut album of the year", and in 1978, the Rolling Stone Record Guide compared them to Steely Dan. Their first three albums charted on the Billboard 200 while supporting Kansas, Boston, Supertramp, Zappa, Styx, Rush and Foreigner. To date the band has released 20 records and a live DVD. In 2017 they signed to Loud and Proud Records and this year simultaneously released two new CDs: Crackology a re-recorded best of package and Living In Reverse - 12 brand new originals which continue to solidify CTS's reputation of genre-bending progressive rock. The current CTS lineup is the longest-running (7 years) incarnation of the band and features 3 original members: singer/composer John Palumbo, guitarist Rick Witkowski and drummer Joey D'Amico along with longtime guitarist Bobby Hird, keysman Glenn Workman and bassist Dave DeMarco. 43 years after their debut, fans continue to flock to the east coast from all over the country to see and hear this truly progressive rock band.
Hope DeBates & North 40 - 55 Bar
April 20, 2019 - New York
KJ Denhert - 55 Bar
April 20, 2019 - New York
The Music of Amy Winehouse & 'Hello' The Adele Experience at The Loft - 4/21 - City Winery
April 21, 2019 - 2nd floor New York
The Adele Tribute "Hello" is the ultimate tribute to the world famous and much loved soul singer Adele. Featuring songs from her debut album 19, her mega hit sensation 21 and record breaking follow up album 25. The Evergreen Experience delivers every song you love by Adele such as Hello, Rumor has it, Someone like you, When we were young, Rolling in the Deep, Set Fire to the Rain, Send my love to your new Lover and many more. You will feel powerful performances from the effervencent Ashley Monique Menard and the charming Jessica Stark. These women leaves audiences spellbound with rich, velvety and soulful vocals. Amy Winehouse was a huge star whose light faded way before her time. The English singer-songwriter shot to stardom in 2006, winning five Grammys for Back to Black. Posthumously, she was listed at 26 on VH1's 100 Greatest Women in Music. Now Jessica Stark & Ashley Menard, performs some of Winehouse's biggest hits . Relive The Unforgettable Songs of Amy Winehouse and more, at NYC's City Winery.
Terence Blanchard ft The E-Collective - Blue Note
Through April 21, 2019 - New York
Music and art have the power to change hearts and souls," expresses composer and trumpeter Terence Blanchard — a belief brought to life through the music of Blanchard and his E-Collective. This revolutionary ensemble thrives off the perfect mixture of Blanchard's genius and the innovations of four young musical pioneers: guitarist Charles Altura, pianist Fabian Almazan, bassist David "DJ" Ginyard Jr., and drummer Oscar Seaton. It was while recording the scores for Spike Lee's Inside Man and Kasi Lemmons' Talk to Me that Blanchard and Seaton first dreamt of a band that layered grooves teeming with funk, R&B, and blues colors. Years later, that dream came to fruition and formed the foundation for the E-Collective's signature sound.
Looking for Free Group Planning Services?
Get free advice on planning your group's trip to New York.
MORE Activity Planner ARTICLES
RESTAURANTS

Multi-concept restaurant offering modern Japanese cuisine, a...

THEATER

In a heartbeat, 38 planes with 6,579 passengers were strand...

SHOPPING

The world's largest source of cameras, camcorders, and more ...

SIGHTSEEING

This renovated museum complex includes the 900-foot-long air...