Live Music in Clubs and Bars in Downtown NYC This Week - March 24-March 31
March 24, 2019 - by CG Directory Editor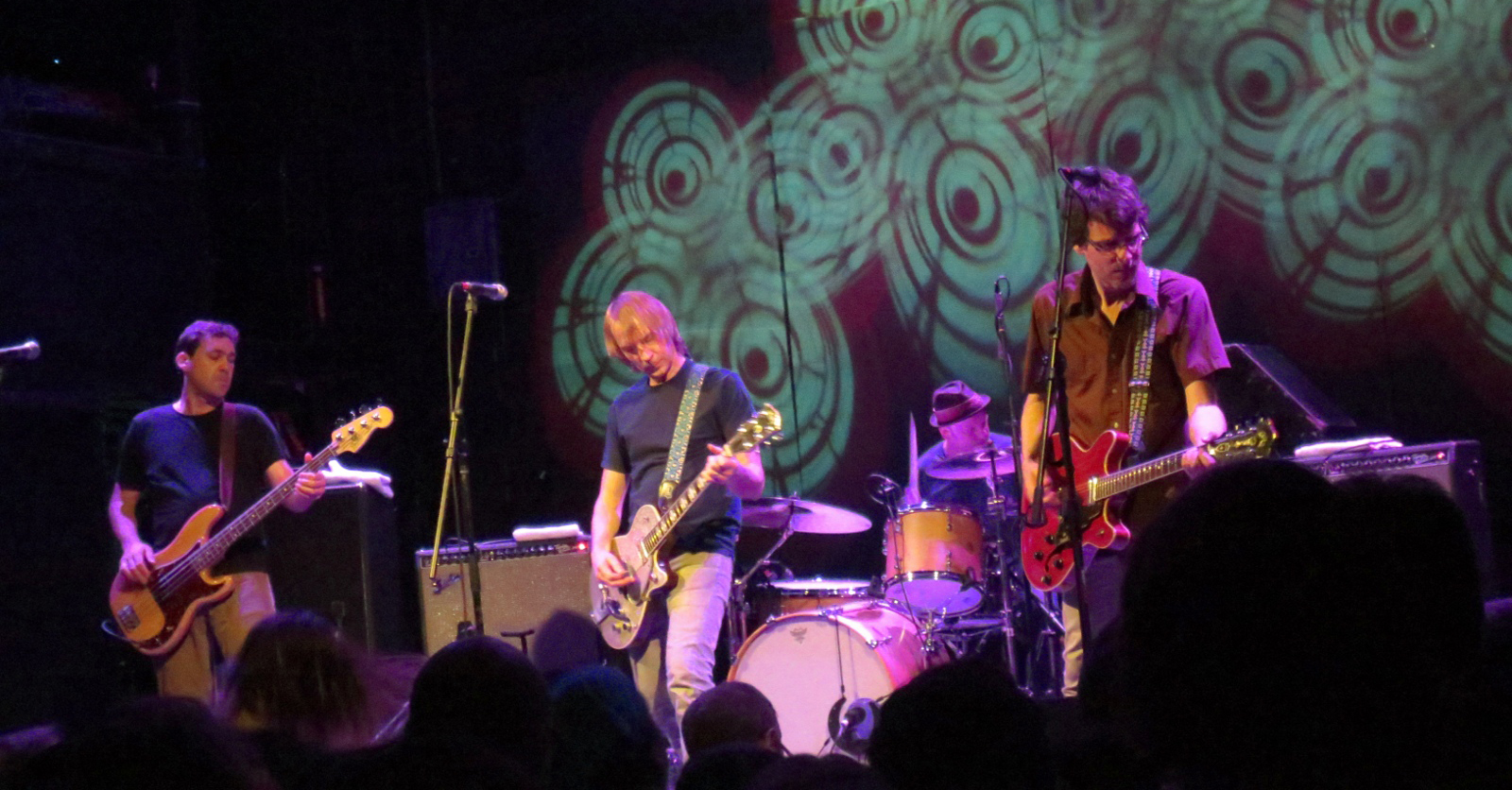 Photo: Vladimir/Flickr

Downtown NYC has long been a capital of live music. With venues like the Bowery Ballroom, Mercury Lounge, and Terra Blues, fans of rock, jazz, and more have long been drawn here. City Guide's roundup of live music in clubs and bars will connect you with tunes at dozens of great downtown venues.


Lezlie Harrison Quartet - Smalls Jazz Club
March 24, 2019 - New York
Lezlie Harrison is her own personal renaissance. Her constant state of evolution and growth brings with it, gifts for those those paying attention.
Jc Stylles Quintet Feat. Steve Nelson - Smalls Jazz Club
March 24, 2019 - New York
"Hittin' the Hutch"
Ben Zweig Trio After-Hours - Smalls Jazz Club
March 24, 2019 - New York
Jazz drummer and educator, Ben Zweig, "is able to combine history with the current musical environment, making it sound fresh" (Don Sickler, Grammy winning producer). After moving to NYC in 2011, the 26 year old has accompanied an impressive array of jazz luminaries, including; Randy Weston, Johnny O'Neal, Larry Ridley, David Williams, Roy Hargrove, Deborah Davis, Joe Cohn, Champian Fulton, Jerry Dodgion, and Steve Nelson. Described by downbeat as "especially crisp and articulate," Zweig has presented his personalized drum sounds on tours throughout the continental US, Asia and Canada. He currently tours regularly with Ben Rosenblum's trio and leads a bi-weekly residency hosting the Sunday late night jam sessions at Smalls Jazz Club in NYC.
Craigy F, Wave Matthews, Dash Flash - Pianos
March 24, 2019 - New York
This Event Is 21 And Over CRAIGY F WAVE MATTHEWS DASH FLASH
Sadao Watanabe Quartet - Blue Note
Through March 24, 2019 - New York
A highly visible and well-regarded musician, Sadao Watanabe has been one of the major influences on jazz in Japan. Since 1969 he has hosted radio programs that introduce his listeners to a range of musical styles. Throughout his 50-year career he has created a substantial collection of music ranging from straightforward bebop to bossa nova. His endorsements for products have made his face as well as his more commercial compositions familiar to the average citizen. He has worked with artists from Africa, Latin America, Europe, and the United States. When playing his saxophone, Watanabe is uniquely identifiable. Gene Kalbacher wrote in Down Beat, "As a saxist, Watanabe's cachet is melody--simple, catchy melody--purveyed by a semi-sweet alto tonality and a fluid delivery. That he retains this signature sound in settings ranging from jazz-rock fusion to bebop, from samba to reggae, from Mozart to Masai tribal music, testifies to his insistence on authenticity."
The Bad Plus - Village Vanguard
Through March 24, 2019 - New York
Reid Anderson (bass) Orrin Evans (piano) Dave King (drums) The Bad Plus came together at the end of the 20th century and has avoided easy categorization ever since, winning critical hosannas and a legion of fans worldwide with their creativity, unique sound and flair for live performance. The intensely collaborative trio has constantly searched for rules to break and boundaries to cross, bridging genres and techniques while exploring the infinite possibilities of three exceptional musicians working in perfect sync.
Call Me Karizma - Mercury Lounge
March 25, 2019 - New York
Age Limit: 16 and Over
Mark McIntyre Syndicate - 55 Bar
March 25, 2019 - New York
Mark McIntyre...Vox/Guitar Jake Owen...Guitar/Vox Aron Caceres...Upright Bass Sam Gautier...Drums/Vox
Sebastian Chames Quintet - Smalls Jazz Club
March 25, 2019 - New York
Sebastian Chames is a pianist who belongs to the new generation of jazz musicians in Spain. He has completed his musical training in New York with Rodney Kendrick, Bruce Barth, Barry Harris and Fred Hersch, among others. In 2008 he released his first album "Primera Toma" as a band leader. In 2013, Chames released his second album "Reconstrucción" featuring an outstanding line up: Jeremy Pelt – trumpet, Justin Robinson - alto saxophone, Dwayne Burno - bass and Willie Jones III- drums; and in 2015 he recorded his third album "Pick Up the Phone" with Jeremy Pelt – trumpet, Greg Tardy - tenor sax; Gerald Cannon- bass, and Willie Jones III- drums. Chames albums were all recorded in New York and received rave reviews by the specialized Spanish press (Diario Abc: "…Chames is confirmed as one of the pillars of "New Jazz" made in Spain" Diario el Mundo: "Tradition and innovation are united in the music of Sebastián Chames"). He currently leads his quintet which regularly plays in clubs and festivals throughout Europe featuring an extraordinary line up of musicians such as Jeremy Pelt, Steve Nelson, Willie Jones IIII, Greg Tardy, Perico Sambeat, Chris Kase and Bob Sands, among others
Mike Stern - 55 Bar
March 25, 2019 - New York
The Complete Unknowns Perform the Music of Bob Dylan at The Loft - 3/25 - City Winery
March 25, 2019 - 2nd floor New York
The Complete Unknowns is a celebration of the music of Bob Dylan. Covering Dylan's material spanning his six decade career, the band provides a complete Dylan experience that showcases Bob's songs as well as the great musicianship that brought them to life. Players like Mike Bloomfield, Al Kooper, Rick Danko, Robbie Robertson, Russ Kunkel, Levon Helm and too many more greats to list here. Bob Dylan is arguably the most prolific songwriter of our time and his work has been interpreted by many from Jimi Hendrix, Nina Simone, Eric Clapton,and Adele to name a few. The band's mission is to entertain you while we maintain the freshness and integrity of Dylan's work. The Complete Unknowns are: Michael Weiskopf, Randolph Hudson III, Klyph Black, Stuart Sherman, Taka Shimizu, Lauren Matzen, James Benard, and Alex Sarkis. Plus special guests TBA
Leni Stern - 55 Bar
March 26, 2019 - New York
Leni Stern...Guitar & Voice Mamadou Ba...Bass Alioune Faye...Percussion
MSM Vocal Series - 55 Bar
March 26, 2019 - New York
Up-and-coming jazz vocalists and musicians from the esteemed Manhattan School of Music showcase their talents in a monthly series of Tuesday evening performances. Two sets of jazz vocal combos will perform songs from the '30s through the '80s in a musical nod to the past that is firmly rooted in the present. The series performs on the last Tuesday of the month and each show will be hosted by the MSM students themselves. Come hear the new voices that you'll be listening to for years to come!
Steve Earle Exclusive Vinofile Performance & WFUV Live Broadcast at The Loft - 3/26 - City Winery
March 26, 2019 - 2nd floor New York
If you ever had any doubt about where Steve Earle's musical roots are planted, his new collection, So You Wannabe an Outlaw, makes it perfectly plain. "There's nothing 'retro' about this record," he states, "I'm just acknowledging where I'm coming from." So You Wannabe an Outlaw is the first recording he has made in Austin, Texas. Earle has lived in New York City for the past decade but he acknowledges, "Look, I'm always gonna be a Texan, no matter what I do. And I'm always going to be somebody who learned their craft in Nashville. It's who I am." In the 1970s, artists such as Waylon Jennings, Willie Nelson, Johnny Paycheck, Billy Joe Shaver and Tompall Glaser gave country music a rock edge, some raw grit and a rebel attitude. People called what these artists created "outlaw music." The results were country's first Platinum-certified records, exciting and fresh stylistic breakthroughs and the attraction of a vast new youth audience to a genre that had previously been by and for adults. In the eighties, The Highwaymen was formed by Johnny Cash, Willie Nelson, Kris Kristofferson and Waylon Jennings. Their final album "The Road Goes On Forever" released in 1996 began with the Steve E... (read more)
Kelsey Jillette - 55 Bar
March 27, 2019 - New York
Adam Rogers - 55 Bar
March 27, 2019 - New York
Nightly - Mercury Lounge
March 27, 2019 - New York
Age Limit: 16 and Over Nightly are Nashville based cousins, Jonathan Capeci and Joey Beretta. Over the past two years Nightly released their debut honest EP, headlined their first tour & supported The Night Game, The Struts, and K.Flay on tour. Nightly have amassed over 7 million streams across all digital streaming partners on their hit song, "XO" and followed that up with the release of "Talk To Me." Most recently Nightly released the song "Miss You Like Hell" off their forthcoming EP and hit the road with NF. Nightly is currently working on their debut album for Interscope Records.
Kelsey Jillette - 55 Bar
March 27, 2019 - New York
Chip Taylor at The Loft - 3/27 - City Winery
March 27, 2019 - 2nd floor New York
Songwriters Hall of Fame 2016 inductee Chip Taylor has been writing and performing for nearly 60 years and shows no sign of slowing down. The New York Times says it best, "If you only know him as the as the guy who wrote 'Wild Thing' and 'Angel of the Morning" — you don't know him! Chip Taylor is making some of the most distinctive acoustic music around today." Taylor and master guitarist John Platania (Van Morrison) will be playing his biggest hits along with the fans favorites - the songs from his long and storied career that have become viral Spotify smashes and those most requested at shows. In addition, Chip will be debuting songs from his latest album. Creating distinctive music that is also enduring and influential has been Chip Taylor's métier over the course of what is closing in on five decades as "one of America's finest songwriters as well as a masterful singer and performer," says Rolling Stone. His two best-known songs are only some of the many pop, rock, country and R&B chart hits he wrote in the 1960s (Janis Joplin, Aretha Franklin, Dusty Springfield and Frank Sinatra all recorded his songs). Taylor was then one of the pioneers of the pivotal country-rock movemen... (read more)
Wayne Krantz - 55 Bar
March 28, 2019 - New York
Fay Victor - 55 Bar
March 28, 2019 - New York
James Maddock w/ Joy Askew at The Loft - 3/28 - City Winery
March 28, 2019 - 2nd floor New York
The best singer-songwriters serve the song. The songwriter's songwriter, James Maddock, who has earned the respect of masterful writers such as Bruce Springsteen and Willie Nile, has built his acclaimed legacy on humbly honoring purity of expression. Many albums in his beloved catalog are elegantly spare, conveying his songs and sentiments in the most direct possible way. But for his latest album, The Green, the songs guided him into recording the most eclectic, exhilaratingly soulful, and imaginatively produced album in his career. "This is my best album. It's an upbeat record with really strong songs and a lot of surprises," the British transplant reveals. "It all happened really naturally. I just listened to where the songs where going and allowed myself the time to give each one a proper sonic home." Since 1999, James Maddock's boldly vulnerable songwriting, honeyed rasp, and distinct folk and Americana aesthetic have garnered acclaim from icons, peers, and tastemaking outlets like NPR, American Songwriter, Relix Magazine, and CMT Edge. Relix notes: "James Maddock possesses the kind of lived-in, craggy voice that would sound authoritative if he were singing the sports pages. ... (read more)
Dreyer Tribe - 55 Bar
March 29, 2019 - New York
Craig Dreyer...Saxophone, Vox & Keys Al Street...Guitar Richard Hammond...Bass Tony Mason...Drums Ismael "Bongo" Bruno...Congas
Kendra Shank - 55 Bar
March 29, 2019 - New York
Kendra Shank...Voice Pete McCann...Guitar Dean Johnson...Bass
DOPICO w/ Taylor Phelan at The Loft - 3/29 - City Winery
March 29, 2019 - New York
DOPICO is now releasing singles under her new artist name, in anticipation of her upcoming full-length album. Her former music under "Madeleine Dopico", is still available on all major platforms. The Hustling independant artist's top single "Nice Boy", was selected by Spotify for one of their most popular curated playlists, and she was featured singing in a Google Pixel commercial on national television. Based in NYC, DOPICO has performed throughout the city with a live band, including atop the World Trade Center, at The Studio At Webster Hall, Brooklyn Bowl, Highline Ballroom supporting Haley Reinhart, and more. DOPICO writes all of her own music and records in New York and Los Angeles. DOPICO's rebrand marks a new sound that's both powerful and vulnerable, leaning into the electro-pop parts of her soul, while maintaining her signature level of the genre fusion. "DOPICO" the album, is coming soon! Taylor Phelan Taylor Phelan is a songwriter, singer and indie-rock artist. Phelan was raised within a musical family in his home state of Texas and began to play guitar and write his own songs at 16, cutting his teeth at coffee shops. He started his professional career as the founder ... (read more)
Stew Cutler - 55 Bar
March 30, 2019 - New York
Cherry Pools - Mercury Lounge
March 30, 2019 - New York
tiLLie Age Limit: 16 and Over
Adam Larson Band - 55 Bar
March 31, 2019 - New York
Adam Larson...Saxophone Henry Hay...Keys Matt Clohesy...Bass Clarence Penn...Drums
Paul Jost - 55 Bar
March 31, 2019 - New York
Simple Life CD Release
Animaniacs Live! at The Loft - 3/31 - City Winery
March 31, 2019 - New York
"Animaniacs in Concert!" Starring Voice Legend Rob Paulsen Heads to The Loft at City Winery in NYC on Sunday, March 31st Legendary voice actor Rob Paulsen, who has delighted generations of animation fanatics with his signature roles in "Pinky and the Brain," "Teenage Mutant Ninja Turtles," and other film and television projects, will be joined by "Animaniacs" composer Randy Rogel in "Animaniacs in Concert!" at The Loft at City Winery on Sunday, March 31st at 7:30 PM. "Animaniacs in Concert!" features live music and voice work from Paulsen and music from Rogel while beloved "Animaniacs" cartoons are screened. The show has hopscotched around the country with shows in St. Charles, IL; Arlington, TX; Tucson, AZ; Long Island, NY; Grayslake, IL; Santa Clarita, CA, Downey, CA, San Francisco, CA, Danbury, CT, New York City, Houston, TX, Portland, OR and Seattle, WA. For Paulsen, the return to work is a triumph. Diagnosed with throat cancer almost two years ago, Paulsen only told a few friends and professional colleagues, facing the possibility that his three-decades long career might be over forever. But for a man of a hundred voices who suffered literally and figuratively in silence, h... (read more)
Bobby McFerrin & Gimme5 w Joey Blake, Dave Worm, Judi Vinar & Rhiannon - Blue Note
Through March 31, 2019 - New York
Bobby McFerrin Joey Blake Dave Worm Judi Vinar Rhiannon The ever-surprising vocal virtuoso Bobby McFerrin is excited to present his new group Gimme5 with audiences around the world. From his trailblazing solo a cappella performances to his inspired collaborations with Chick Corea and Yo-Yo Ma, his iconic global No. 1 hit "Don't Worry, Be Happy" and his work conducting top-tier orchestras, McFerrin's calling has always been to connect people through the unlimited possibilities of music. Or, as the Los Angeles Times put it, "Bobby McFerrin's greatest gift to his audience may be changing them from spectators into celebrants and transforming a concert hall into a playground, a village center, a joyous space."
Broken Shadows - Village Vanguard
Through March 31, 2019 - New York
Tim Berne (alto sax) Chris Speed (tenor sax) Reid Anderson (bass) Dave King (drums) Named for one of Ornette Coleman's most evocative compositions, this all-star project honors the Coleman legacy along with the music of Coleman's fellow Fort Worth native reed players Dewey Redman and Julius Hemphill, featuring the wildly inventive saxophonists Tim Berne and Chris Speed, and the Bad Plus rhythm section of bassist Reid Anderson and drummer Dave King. —
Looking for Free Group Planning Services?
Get free advice on planning your group's trip to New York.
MORE Activity Planner ARTICLES
RESTAURANTS

Multi-concept restaurant offering modern Japanese cuisine, a...

THEATER

Gaston Leroux's famous period thriller is now one of Broadwa...

SHOPPING

The world's largest source of cameras, camcorders, and more ...

SIGHTSEEING

This renovated museum complex includes the 900-foot-long air...