9 Amazing Movie Theater Alternatives in NYC
August 7, 2018 - by Merrill Lee Girardeau
Alternative movie theaters in New York City open up the worlds of VR, 4D, and deluxe experiences where you can enjoy craft cocktails and fries while checking out a great film. At these 9 movie theaters in NYC, you'll find an experience no home theater can replicate.
Alternative Movie Theater Experiences in NYC: Kips Bay
Take your moviegoing to a whole new level with the Virtual Reality experience at AMC's Kips Bay location. Wearing a VR headset, you can explore the fantastical worlds from movies you love. Bring your family to this VR experience for your next special occasion! IMAX, 570 Second Ave., 212-447-0638, amctheatres.com
Alternative Movie Theater Experiences in NYC: Union Square and Times Square

Get excited: Regal Cinemas features 4DX screens at its Union Square and Times Square locations! Vibrating chairs, scents, bubbles, and wind in the theater are prompted by key moments in whatever movie you're watching. Regal Union Square: 850 Broadway; Regal Times Square: 247 W. 42nd St., 844-462-7342, regmovies.com
Alternative Movie Theater Experiences in NYC: Queens
Set to open later this year in Queens, CJ CGV Cinemas will screen 4DX and ScreenX films. That means your seats will vibrate at action-packed moments, and you'll experience simulated weather like wind and rain when they occur in the movie. CGV will also have a ScreenX auditorium, which is similar to IMAX in scale. Go to the Tangram complex in Flushing when it opens, and see a movie like you've never seen one before! 133-15 39th Ave., cgvcinemas.com
Alternative Movie Theater Experiences in NYC: Williamsburg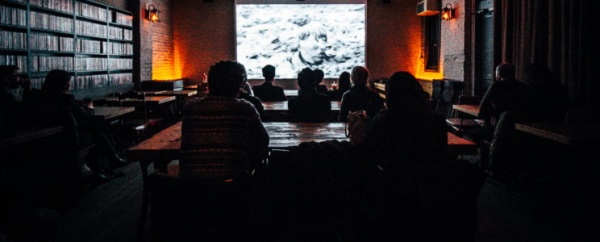 Brooklyn's Videology brings all the fun and then some. Various film screenings include drinking games, singalongs, bingo, trivia, and paired specialty cocktails. In their "Pictures with Elixirs" series, see something like Clueless with mimosas or enjoy a boozy milkshakes drink-along with Grease. Check out the schedule today! 308 Bedford Ave., videologybarandcinema.com
Alternative Movie Theater Experiences in NYC: Downtown Brooklyn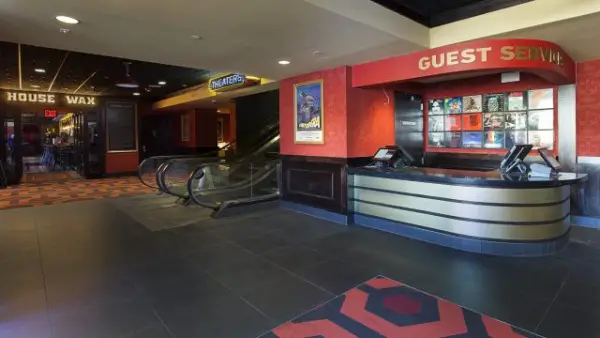 Go to Downtown Brooklyn for dinner and a show at Alamo! With giant screens and a full menu of food and drink, you can watch your new favorite comic-book movie or Oscar contender while enjoying craft beer, burgers, and truly amazing popcorn. They also show throwback movies like Troop Beverly Hills on occasion, if you're up for a "quote-along"! 445 Albee Square West, 718-513-2547, drafthouse.com/nyc
Alternative Movie Theater Experiences in NYC: Seaport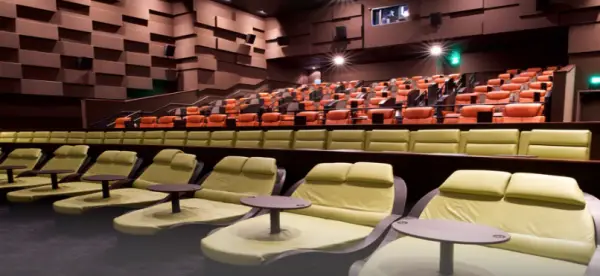 iPic is the only New York theater that offers a luxurious lounge chair, pillow, and blanket as part of your movie-going experience. If that's not enough, there are also tables between each pair of seats and wait staff on call to deliver great margaritas, truffle fries, cheese plate, or all of the above as you watch your movie. Come to South Street Seaport for this one-of-a-kind theater, and check out the bar-restaurant upstairs before you leave. 11 Fulton St., 212-776-8272, ipictheaters.com
Alternative Movie Theater Experiences in NYC: Williamsburg

Nitehawk is another cornerstone of the movie/restaurant movement in New York. They might be screening something like movie-of-the-moment Heredity, paired with a "Life in Miniature" drink (7oz of Budweiser or an Absolut Vodka airplane bottle with your choice of mixer) and "Matricide" (cauliflower, romanesco, radish, and watercress salad with horseradish dressing) to reflect the film's spooky vibes. Come to Williamsburg for a delightful experience at Nitehawk, and look forward to a new location opening soon near Prospect Park in Park Slope. 136 Metropolitan Ave., nitehawkcinema.com
Alternative Movie Theater Experiences in NYC: Greenwich Village

IFC is a film nerd's paradise in the heart of Greenwich Village. With international, independent, and classic movies on display, you can enjoy hard-to-find movies on the big screen. IFC frequently invites film luminaries to speak and answer your questions when their films appear at the theater. 323 Sixth Ave., 212-924-7771, ifccenter.com
Alternative Movie Theater Experiences in NYC: SoHo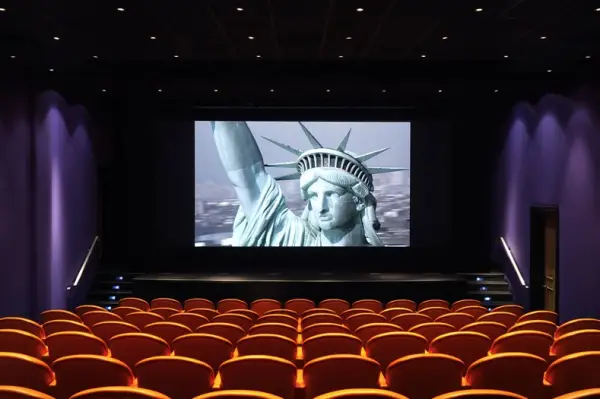 Enjoy dinner and a movie in style at the Sunday Night Film Club at the Crosby Street Hotel. For $55 per person, you'll have three courses of fine food, as well as a seat in the sleek in-hotel movie theater, which screens amazing films like A Quiet Place after your meal. (If you want drinks and appetizers only, tickets are $35 per person.) 79 Crosby St., 212-226-6400, firmdalehotels.com
Looking for Free Group Planning Services?
Get free advice on planning your group's trip to New York.
RESTAURANTS

Beer hall casual meets craft cocktails with a healthy dose o...

THEATER

In a heartbeat, 38 planes with 6,579 passengers were strand...

SHOPPING

The landmark store for America's longest-running catalog, of...

SIGHTSEEING

A state-of-the-art Coney Island amusement park that's home t...