Brooklyn will be welcoming the New York Cosmos in 2017 as the latest sports team to call the borough home. This legendary professional soccer team has most recently been situated in Long Island; their move to Brooklyn represents an exciting new beginning for the franchise, which was recently sold to the club's new Chairman, Rocco Commisso. Check out the full lineup of details below to learn more about this exciting new era of soccer for the New York Cosmos—and Brooklyn.
Who?
Rocco Commisso met with the NY Cosmos for the first time on February 21st, 2017 at the Columbia University's Rocco B. Commisso Soccer Stadium, where Commisso himself played soccer for Columbia University from 1967 to 1970. During his time on the field, Commisso co-captained the 1970 Lions, which became Columbia's first team to qualify for the NCAA men's soccer tournament. Naturally, Commisso's heart has remained with the sport for all these years, even amid his current position as Founder, Chairman, and CEO of Mediacom Communications (the fifth largest cable television company in the US).
What?

The New York Cosmos are currently the reigning champions of the NASL. The team won their second consecutive NASL Championship on November 13, 2016. The club has brought many of the soccer world's biggest names to the U.S., including Franz Beckenbauer, Giorgio Chinaglia, Carlos Alberto, and Pelé. Currently on the team are a slew of impressive players, including Carlos Mendes, Andres Flores, Danny Szetela, and Jimmy Maurer.
Where? 

As for where specifically the NY Cosmos are moving, you'll be able to find them at MCU Park (formerly known as KeySpan Park) in Coney Island. Located beneath the iconic Parachute Jump just off the Atlantic Ocean waterfront, MCU Park is surrounded by public beaches, restaurants, bars, and of course, Coney Island's famed boardwalk.
When?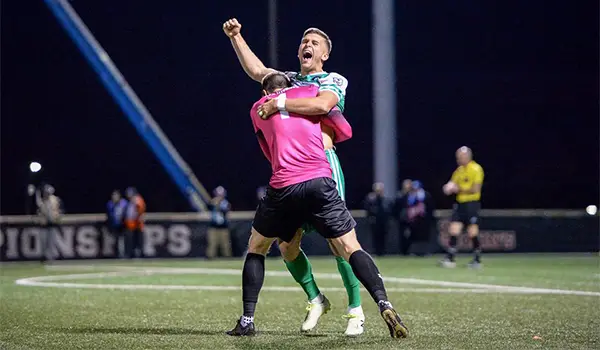 The home opener game will take place on Saturday, April 1st, 2017 at 7pm at MCU Park. Listed below are NY Cosmos home games for the spring season:


April 1 @ 7pm
April 22 @ 7pm
May 13 @ 7pm
May 21 @ 7pm
May 27 @ 7pm
June 9 @ 7:30pm
June 16 @ 7:30pm
July 4 @ 7:30pm
Listed below are NY Cosmos home games for the fall season:
July 29 @ 7pm
August 19 @ 7:30pm
September 3 @ 7:30pm
September 17 @ 5pm
September 20 @ 7:30pm
September 23 @ 7pm
October 14 @ 7pm
October 28 @ 7pm
For more calendar details, see City Guide's Everything to Do.
Tickets?
Head to NYCosmos.com to purchase tickets for upcoming matches. Weekend, holiday, and spring flex packages are available in addition to individual game tickets.