Industry City is a self-described "innovation ecosystem" in South Brooklyn, inviting tourists and locals alike to shop, eat, and explore its 35 acres of converted industrial space. The facilities consist of 16 gigantic buildings on the Brooklyn coastline in the neighborhood of Sunset Park.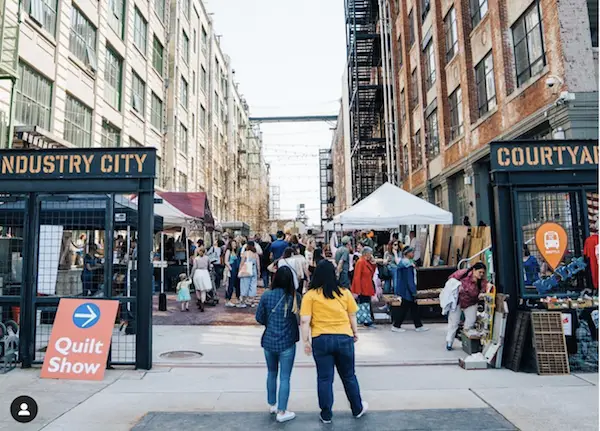 Industry City was once called Bush Terminal, a shipping and manufacturing center built in the 1890s. The facade of one building at Bush Terminal described the complex as 'a great industrial city within a city.' In 2013, developers began to reimagine the former Bush Terminal as a new kind of city within a city. Since then, all kinds of businesses have leased space from the over 6 million square feet that had been abandoned for decades.
Now not only are there food vendors and retail stores, but Industry City hosts community events, performances, and art installations on the grounds. Below, learn about the food, culture, and retail options offered to visitors at Industry City!
Industry City in Brooklyn NYC: Food Vendors
Throughout the massive Industry City are a wealth of options for eating and drinking. You might be picking up a quick sandwich while you shop, looking for a coffee shop to do work, or trying to make a dinner reservation in the area. Industry City has you covered with its Food Hall in Building 2, as well as its many other offerings.


The Food Hall is a collection of many food vendors and open community-style seating areas. That way, you and your friends can all try something different! Insta-worthy toast is yours at Avocaderia, while a bowl of bibimbap is not far away at Ejen. There's a Kosher deli counter at Breadberry Local, pad thai at Bangkok B.A.R., and chicken tikka masala at Taza Market. If you're looking for more of a restaurant experience, Filament at The Landing is located on the south side of the Food Hall.
Inside Building 3 and 4, you'll find Shanghainese dumplings at Yaso Tangbao and fresh croissants at Colson Patisserie. There's also Japan Village and New York City's oldest chocolatier, Li-Lac Chocolates.
Alcoholic beverages are available at the Bell House Outpost in the outdoor courtyard between Buildings 1 and 2, as well as inside Brooklyn Kura, New York's first sake brewery (Building 6). Manhattan's famous floating restaurant The Frying Pan also has an outpost here in Industry City, with a full bar, seafood sandwiches, and other shareable eats (Building 5). There's also a game room across the hall from The Frying Pan, offering mini golf, arcade games, and shuffleboard.
Industry City in Brooklyn NYC: Japan Village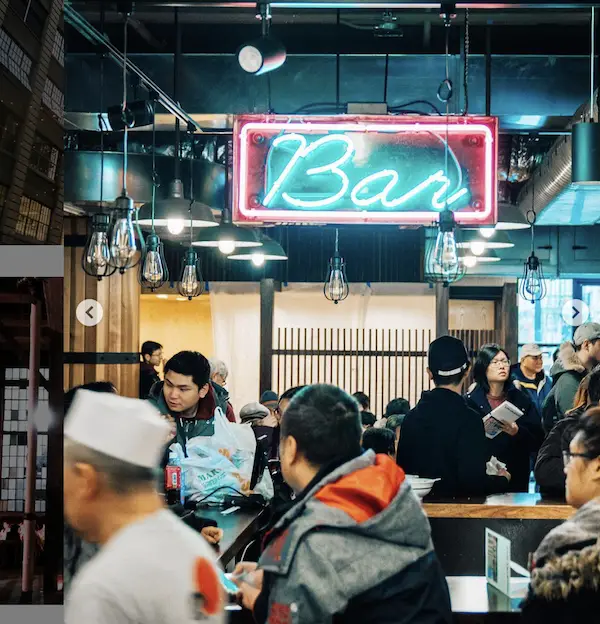 Newly opened in Building 4 is Japan Village, announcing itself with a giant mural on the face of the building at 3rd Avenue. Japan Village is comprised of Sunrise Mart and the Food Hall. Sunrise Mart contains a host of ingredients for a delicious meal, including dry goods, fine Japanese beef, homemade tofu, and fresh seafood. If you're looking to make your own sushi or grill some chicken teriyaki, this is your market. There's also the liquor store at Kuraichi, where you can buy an imported bottle of sake.
The Food Hall at Japan Village contains several counters serving various kinds of Japanese cuisine. You can try a bowl of Japanese curry at Moriya, a slice of cheesecake at Cafe Japon, or street food at Hachi. There are currently 11 vendors in the Food Hall, all offering seating areas where you can slurp your ramen or crunch on a piece of tempura shrimp.
Soon, Japan Village will expand to the second floor of the building and establish a market for artisanal Japanese goods like cosmetics and pottery. 934 3rd Ave., japanvillage.com
Industry City in Brooklyn NYC: Shopping
Industry City can offer you everything from home goods to haircuts. Among its wide range of stores are big names like Petco and idiosyncratic treasures like Maglia Rosa (a bike shop-slash-coffee shop).
Fine home goods can be found at ABC Carpet & Home, Design Within Reach, and Mitchell Gold + Bob Williams. There's also a Restoration Hardware outlet for fine furnishings for less. At Flavor Paper, there are hand-printed and digital wallpapers. Home goods are also available at World Market and Bed Bath & Beyond.
Fashion lovers should head to Building 5 for vintage clothing at Arcade by A Current Affair. More vintage goods and locally made products come to Industry City every Saturday during the warmer months, courtesy of Brooklyn Flea. Also in Building 5, find your new favorite chapeau at Teressa Foglia, selling handmade hats.
If you're interested in a cooking class, check out The Brooklyn Kitchen. They offer series of basic cooking courses as well as one-time classes on fresh pasta, cooking for kids, and baking bread.
Industry City in Brooklyn NYC: ESCHER: The Exhibition & Experience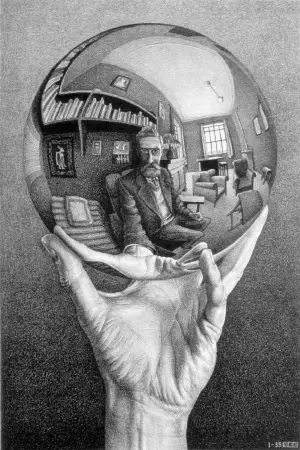 Hand with Reflecting Sphere by M. C. Escher. Lithograph, 1935.
Not only does Industry City invite eaters and shoppers, but it also hosts cultural installations like ESCHER: The Exhibition & Experience. On view now in Building 6, ESCHER invites you into the topsy-turvy world of the artist M.C. Escher. In the "Exhibition" space are over 200 of his works, which Escher designed as optical illusions and architectural puzzles. The "Experience" portion throws visitors into mind-bending Escher landscapes. Take a picture in the photo booth with an optical-illusion background, and encounter illusions of scale in the Relativity Room, a la Alice in Wonderland. You can also see your reflection echoing forever in the Infinity Room. Instagramming encouraged! Through February 3, 2019. 34 34th St., eschernyc.com
Industry City in Brooklyn NYC: Events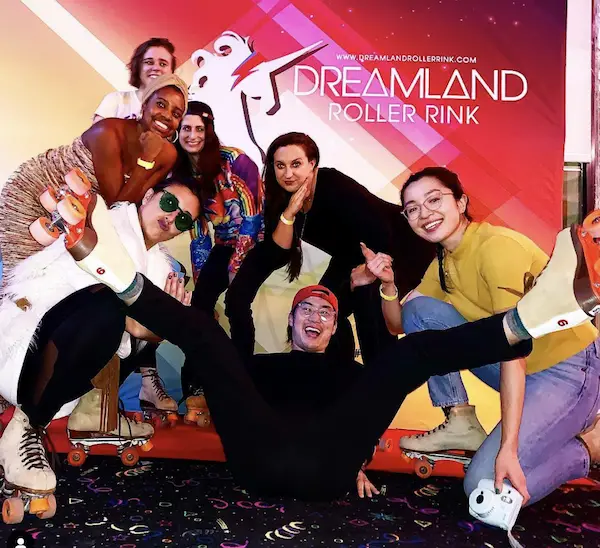 There's no shortage of live music, parties, family events, and pop-ups at Industry City. New to the calendar, Lola Star Dreamland Roller Rink is hosting hula hoop hour, skating classes, dance classes, and themed roller disco parties with costumes at the new 15,000 square foot rink in Building 2.  
Every Saturday, Industry City also hosts Rock and Roll Playhouse, a free family concert for the community. The NYC Trivia League occurs Wednesday nights at The Frying Pan. Every Monday, come sweat at Zumba, a workout dance class that's free for all.
Click here for a full calendar of Industry City events.
 
Industry City is located between 2nd and 3rd Avenues in Brooklyn, between 33rd and 37th Streets. Visit industrycity.com for more information.