Brooklyn is one of the most talked-about places in America. A borough of New York City, this cultural mecca has undergone rapid and radical changes that have transformed certain areas from quiet residential communities to popular tourist destinations. Read on for a weekend-long itinerary in Brooklyn. We're using Williamsburg as a launching point, as that's where the most hotels are located.
How to Spend a Weekend in Brooklyn NYC: Friday Afternoon Shopping in Williamsburg
<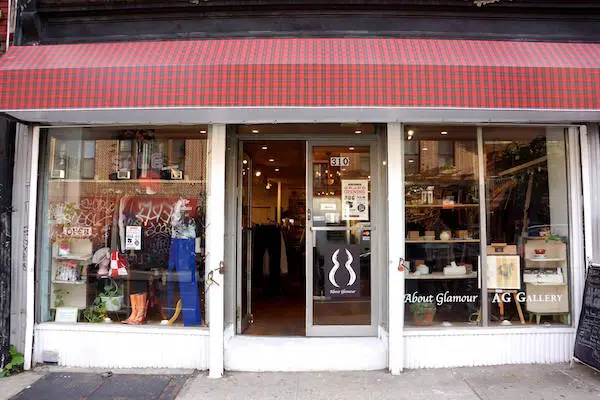 Let's assume you have some time before your dinner reservation. Take a stroll along Grand Street in South Williamsburg to hit some of the area's finest vintage shopping. You can stop in Rabbits, About Glamour, Le Grand Strip, and Antoinette for fabulous vintage finds. Whether you're in the market for Levis from the 80s or hats from the 40s, you have a good chance of scoring in this area. For new and locally made fashions for all, try Swords-Smith on South 4th. Rabbits: 120 Havemeyer St., 718-384-2181, rabbitsnyc.com; About Glamour: 310 Grand St., 718-599-3044, aboutglamour.net; Le Grand Strip: 197 Grand St., 718-599-3525, legrandstrip.com>; Antoinette: 119 Grand St., 718-387-8664, antoinettebrooklyn.com; Swords-Smith: 98 S. 4th St., 347-599-2969, swords-smith.com
How to Spend a Weekend in Brooklyn NYC: Friday Dinner at Aska
Winner of two Michelin stars, Aska offers Scandinavian sophistication from its antique warehouse underneath the Williamsburg Bridge. Swedish chef Fredrik Berselius prepares elegant tasting menus with a variety of unusual ingredients like deer lichen and pig's blood and chamomile jelly. These dishes surprise the palate and create a dining experience you won't soon forget. There are just ten tables in the dining room (reservations required), while the cellar seats many more and offers beer, wine, cocktails, and a calming backyard space in warmer weather. 47 S. 5th St., 929-337-6792, askanyc.com
How to Spend a Weekend in Brooklyn NYC: Bike the Waterfront on Saturday Morning
Saturday morning, start your day with a Brooklyn bike ride: the fun and carefree way to see the sights like locals do. You can also rent a Citi Bike from one of the many blue docks you'll find in the area. Starting in Williamsburg, find your way to the waterfront-facing Kent Avenue. Bike north along Kent toward the neighborhood of Greenpoint. Stop at the lovely WNYC Transmitter Park if you'd like to rest and/or take pictures of the Manhattan skyline. From there, turn around and take Kent Avenue south along the waterfront. You'll pass through North and South Williamsburg with largely unobstructed views of the East River and Manhattan beyond. Turn right on Flushing Avenue, and see the Brooklyn Navy Yard, a revitalized manufacturing center with its own museum. Head west through the DUMBO area, under both Manhattan and Brooklyn Bridges, and find your way to Henry Street. This street will take you through New York's first suburb, Brooklyn Heights. Take Henry Street south to Atlantic Avenue. There's a Citi Bike dock here, as well as your brunch destination. This ride should take 35 to 40 minutes. citibikenyc.com


How to Spend a Weekend in Brooklyn NYC: Saturday Brunch at Colonie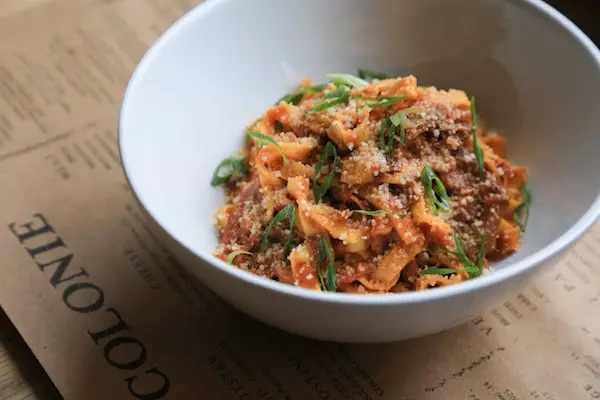 A fine farm-to-table eatery in Brooklyn Heights, Colonie will deliver a spot-on Brooklyn dining experience. It's upscale comfort food in casual yet chic environs full of reclaimed wood and an open kitchen if you'd like a look behind the scenes. For brunch, get the Turkish eggs with poached eggs, brown butter, yogurt, and spices. The buttermilk pancakes and grass-fed burger are also winners. Brunch cocktails include the blood orange chili margarita and Coffee & Cigarettes with nitro-brew coffee and mezcal. If you like dessert with brunch, order the Sticky Date Cake, served with salted creme fraiche gelato. 127 Atlantic Ave., 718-855-7500, colonienyc.com
How to Spend a Weekend in Brooklyn NYC: Brooklyn Distilled Walking Tour
From brunch, you can bike easily to the meeting place for the Brooklyn Distilled walking tour, located in the DUMBO neighborhood. The late 1800s saw a spate of illegal distilleries in the adjacent neighborhood of Vinegar Hill. In 1870, government forces destroyed these facilities as part of the Whiskey Wars. Big Onion Walking Tours will take you through Vinegar Hill, describing the fascinating history of the area as you go. Best of all, you'll get to taste local whiskey at Kings County Distillery. At Kings, you'll get a tour and a flight of four whiskey flavors. These two-hour tours are $40 and offered monthly. Meet at SE corner of Jay & York St., 212-439-1090, bigonion.com/tour/brooklyn-distilled
How to Spend a Weekend in Brooklyn NYC: Saturday Afternoon at the Brooklyn Museum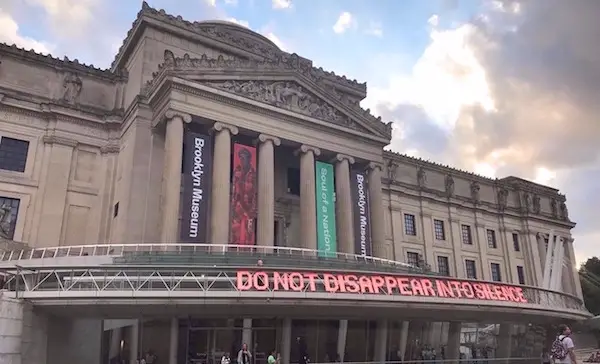 Bike or take the subway to Brooklyn Museum for an afternoon rich in culture. Located on the border of Crown Heights at the northeast corner of Prospect Park, this 1822 Beaux-Art museum might surprise you with its massive size. Brooklyn Museum contains thousands of years' worth of art and artifacts, ranging from its significant ancient Egyptian collection to art objects of the Elizabeth A. Sackler Center for Feminist Art. The museum has hosted recent smash-hit exhibits such as David Bowie is and Georgia O'Keeffe: Living Modern. Its other collections include art from Europe, a sculpture garden, and decorative arts. If you need a pick-me-up, there's a cafe on the ground floor. 200 Eastern Parkway, 718-638-5000, brooklynmuseum.org
How to Spend a Weekend in Brooklyn NYC: Saturday Dinner at Chavela's
This popular Mexican restaurant in Crown Heights is the perfect way to cap off your day of biking, whiskey, and art. Standard offerings like guacamole, queso, margaritas, and fish tacos won't disappoint. Chavela's manages to be stylish but not stuffy and traditional but not boring. The fajitas are a fun order and made to share, with a stack of fresh tortillas and toppings on a large platter. Reservations recommended for a Saturday night. 736 Franklin Ave., 718-622-3100, chavelasnyc.com
How to Spend a Weekend in Brooklyn NYC: Music Hall of Williamsburg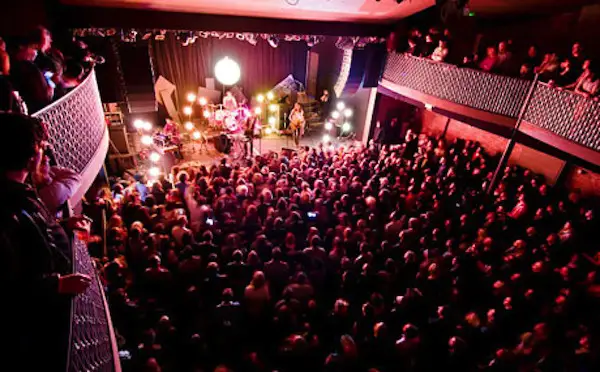 Head back to Williamsburg for some live music at one of the borough's best venues. Music Hall of Williamsburg hosts a wide range of live acts and is managed by The Bowery Presents. On the schedule you'll find well-curated indie acts playing a stage easily visible from any spot in the house. 66 N. 6th St., musichallofwilliamsburg.com
How to Spend a Weekend in Brooklyn NYC: Sunday Morning on Brooklyn Bridge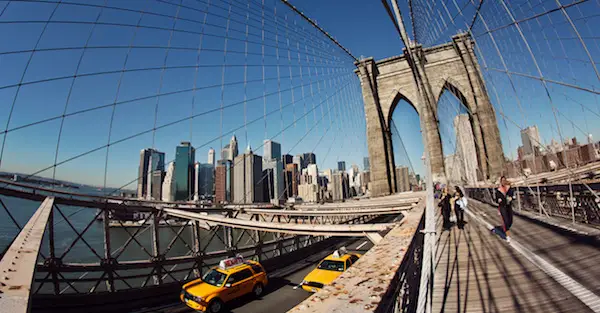 There's no way we weren't going to fit this one in. The Brooklyn Bridge is a 1.1-mile long suspension bridge that connects the Brooklyn neighborhood of DUMBO with lower Manhattan. John A. Roebling designed the bridge with Gothic double-arches and steel suspension cables. It opened to passengers in 1883. Today, thousands of cars, trucks, bicycles, and pedestrians cross Brooklyn Bridge. It's one of the best spots for photographs in the city. Bike or take the subway here after breakfast, and keep in mind that although the boardwalk accommodates bikes, pedestrians often crowd the bike lane on the bridge. Once you're on the Manhattan side, double back over the bridge so you can fit in more Brooklyn fun. Enter pedestrian walkway from the intersection of Adams and Tillary Street in Brooklyn.
How to Spend a Weekend in Brooklyn NYC: Sunday Lunch at Lucali
No one restaurant can claim the title of "best Brooklyn pizza." It's stiff competition and a popular game to play for tourists visiting the area. We might send you to Grimaldi's or Juliana's in DUMBO, but then you'd miss out on the sleeper hit that is Lucali. This neighborhood pizza parlor blew up after Jay-Z (a Brooklyn native himself) cited it as his and Beyonce's favorite pizza place. Head over after exploring Brooklyn Bridge, and keep in mind you may wait an hour or two once you put your name on the list. While you wait, explore the neighborhood of Carroll Gardens, home to well-tended gardens and a strong Italian-American community. There are plenty of shops and bars to explore along Court and Smith Streets. Once inside Lucali, you'll see what the fuss is all about. Their thin-crust pizza is topped with lots of fresh basil and a simple selection of other ingredients. Get a calzone for good measure, as well as the meatballs with four-hour hot sauce. Lucali is also cash-only and BYOB. 575 Henry St., 718-858-4086
How to Spend a Weekend in Brooklyn NYC: Brooklyn Bridge Park
Though it's named for a bridge about a mile away, Brooklyn Bridge Park extends along the coastline near the neighborhood of Cobble Hill. Walk from Lucali to the green lawn of Pier 6, the southmost pier of Brooklyn Bridge Park and a calming respite on a Sunday afternoon. There's also an incredible view of the Manhattan skyline while you relax. Nearby at Pier 5 is an outpost of Ample Hills Creamery, serving Brooklyn's best ice cream, if you'd like dessert. Enter Pier 6 at Atlantic Avenue and Columbia Street, 718-222-9939, brooklynbridgepark.org
How to Spend a Weekend in Brooklyn NYC: Tour Brooklyn Brewery
You've probably gathered by now that Brooklyn is a giant manufacturing hub, and that many of the spaces you've seen were once factories and shipping facilities. The same is true of Brooklyn Brewery, a craft brewery and bar in Williamsburg. They host tours of their facilities every day of the week. On Sunday afternoon, you might encounter a crowd, since it's free and open to the public. Tours occur every half hour between 1 and 6pm, with a maximum of 40 tickets distributed per tour. While you're around, try out an orange peel pale ale or a Sorachi Ace Saison at the bar. 79 N. 11th St., 718-486-7422, brooklynbrewery.com
How to Spend a Weekend in Brooklyn NYC: Sunday Dinner at Four Horsemen
Owned by former LCD Soundsystem frontman James Murphy, The Four Horsemen has serious credibility with its hip vibe and delicious wine menu. Try an Italian orange wine and the softest bread with cultured butter. From their pared-down menu of large plates, expect exceptional seasonal dishes like charred shrimp with Meyer lemon and striped bass with sweet corn. This wine bar is the perfect balance of chic and restful after a busy weekend. 295 Grand St, 718-599-4900, fourhorsemenbk.com
How to Spend a Weekend in Brooklyn NYC: Comedy at The Knitting Factory
Provided you're still around Sunday night, check out The Knitting Factory's longstanding comedy show at 9pm. Started by Hannibal Buress, this weekly event is currently hosted by comics Sydnee Washington, Marie Faustin, and Aminah Imani. It's free and often features huge comedy stars as surprise guests, along with up-and-coming talents on each show. Bonus: it's just two blocks from Four Horsemen. 361 Metropolitan Ave., 347-529-6696, knittingfactory.com