The Best Parks in NYC
August 15, 2016 - by Chelsey Grasso
New York City may be the concrete jungle, but it also has some of the most treasured and wondrous parks in the country. These seven parks listed below are the city's most iconic, and they range from Brooklyn expanses to midtown jewels. No matter if you're a nature-lover or prefer to be have your foliage mixed with skyscrapers and subway entrances, there's a park here that will make you feel right at home. They say it's impossible to get New Yorkers out of the city, and with parks like these, we're not a bit surprised.
Best of NYC Parks: Central Park (Upper West Side & Upper East Side)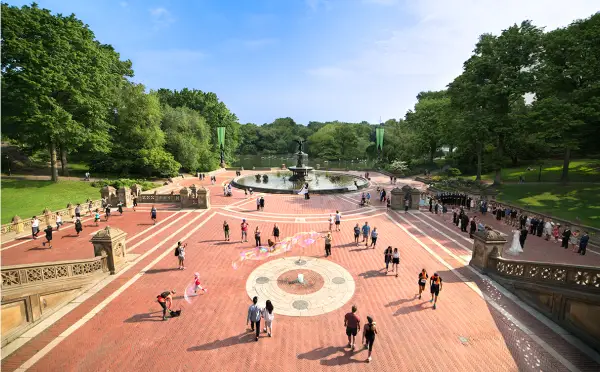 Image: John Cunniff/Flickr
Central Park provides 843 acres of natural bliss smack dab in the middle of Upper Manhattan. Being the most visited urban park in the world, you can bet that there's much to be explored. Central Park Zoo, The Mall, The Pond, Sheep Meadow, Bethesda Terrace (above), Strawberry Fields, The Lake, The Ramble, Belvedere Castle, and The Jacqueline Kennedy Onassis Reservoir are only some of the many sights to see when making your way through. 212-310-6600, centralparknyc.org
Best of NYC Parks: Bryant Park (Midtown West)
Image: Dan DeLuca/Flickr
Coming in at just under 10 acres, Bryant Park can be found between Fifth and Sixth Avenues and 40th and 42nd Street. Located in the heart of the city, this park is home to an iconic ice skating rink during the winter months and a lush, green lawn during the spring, summer, and fall. A dedicated game area in the park is open for visitors to indulge in a game of chess or backgammon while enjoying the city views. 212-768-4242, bryantpark.org
Best of NYC Parks: Brooklyn Bridge Park (Brooklyn)
Image: John Cunniff/Flickr
Though it's located in Brooklyn, Brooklyn Bridge Park is a must for everyone who wants to take in an iconic view of Manhattan. This park sits on the East River with 85 activity-filled acres resting directly across from the Financial District. Take a ride on Jane's Carousel, get in a game of basketball on Pier 2, or cool yourself off in The Water Lab while taking in the sights of this beloved park. 718-222-9939, brooklynbridgepark.org
Best of NYC Parks: Washington Square Park (Greenwich Village)
Image: Doc Searls/Flickr
This 9.75 acre park is perhaps New York's most famous following Central Park. Nestled in the middle of Greenwich Village, NYU students flock to this park during the academic year, as do talented street performers and jazz musicians. A central hub of cultural activity in the city, it's impossible not to enjoy the park where the Washington Square Arch and central fountain have become unofficial NYC landmarks. nycgovparks.org
Best of NYC Parks: Union Square Park (Union Square)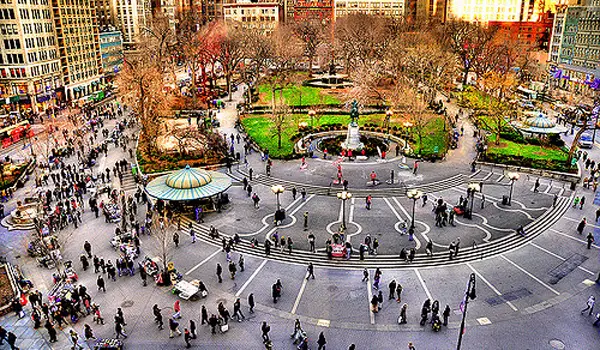 Image: David Robert Bliwas/Flickr
Union Square Park takes up 9 acres in one of New York City's busiest areas, making it a packed and popular location for artists, businessmen, and tourists alike. The Union Square Greenmarket is one of the best farmer's markets in the city, and the Union Square Holiday Market makes for superb Christmas shopping come the cooler months. nycgovparks.org
Best of NYC Parks: Prospect Park (Brooklyn)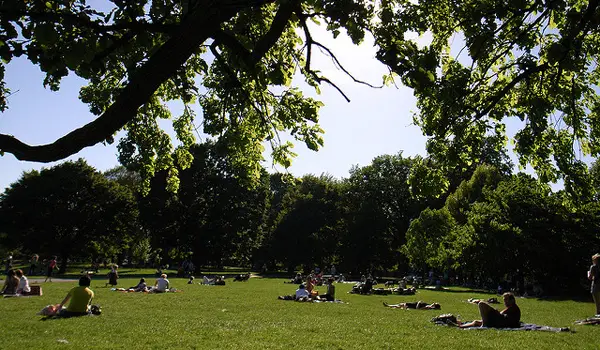 Image: perke/Flickr
Prospect Park's 526 acres were designed by the same man who drafted Central Park, so you can expect to see some similar layouts. This park is the biggest in Brooklyn and has become the go-to place for New Yorkers who want to avoid Central Park's heavy foot traffic during warm spring, summer, and fall weekends. A carousel and Prospect Park Zoo are both also located within the park's boundaries. 718-965-8951, prospectpark.org
Best of NYC Parks: Madison Square Park (Flatiron)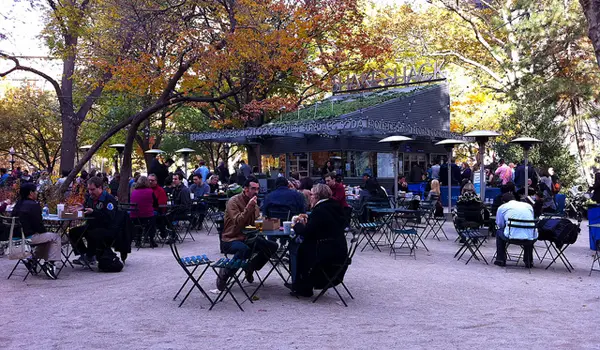 Image: Matthew Hurst/Flickr
Head over to Madison Square Park on any weekday afternoon to find it packed with businessmen and businesswomen enjoying their lunch while gazing at a perfect view of the Empire State Building. A great place to snack, this park is home to a Shake Shack and Madison Square Eats during the spring and fall seasons. 212-520-7600, madisonsquarepark.org
Looking for Free Group Planning Services?
Get free advice on planning your group's trip to New York.
RESTAURANTS

Multi-concept restaurant offering modern Japanese cuisine, a...

THEATER

Kander and Ebb's "musical vaudeville" in which Roxie Hart ga...

SHOPPING

An array of quality branded merchandise showcasing HBO's® aw...

SIGHTSEEING

The only provider of ferry transportation to the Statue of L...