The Best Things to Do in NYC in March
January 19, 2018 - by City Guide News Desk
March in New York is usually a cool, rainy month, but fortunately the city offers nearly endless opportunities to explore indoors. From museums to galleries to dining and nightlife, the onset of spring is a great time to be in New York City. The highly anticipated David Bowie is exhibit comes to the Brooklyn Museum, and The Orchid Show returns to the New York Botanical Garden. On March 17th everyone is Irish for a day, with the city's taps pouring green beer and the St. Patrick's Day Parade filling Fifth Avenue for the oldest and largest parade of its kind in the world. For the best things to do in NYC in March 2018, check out our complete guide below.
Things to Do in New York in March: Exhibits
David Bowie as alt-ego Aladdin Sane, on his album cover, photographed in 1973 by Brian Duffy.
(3/2) David Bowie Is at Brooklyn Museum. The Brooklyn Museum serves as the final stop for this exhibit, which debuted in 2013 at London's Victoria and Albert Museum (since its opening, the exhibit has been seen by more than 1.8 million people). The show includes 300+ significant objects from Bowie's teens to his death in 2016, including handwritten lyrics, original costumes, photography, set designs, album artwork, and rare performance material. Many of the items will be exclusive to the Brooklyn Museum presentation. It's the first-ever retrospective of the visionary's body of work, exploring his creative process of reinvention, collaborations, and how his bold characterizations shaped his listeners' own identities.
PLUS
(3/3-4/22) The Orchid Show celebrates its 16th year at the New York Botanical Garden with a showcase of thousands of dramatically displayed orchids in the Enid A. Haupt Conservatory. This year's show features a series of installations crafted by Daniel Ost—each a living sculpture that celebrates the complex beauty of these stunning flowers. One of the world's leading floral designers, Ost uses flowers as a means of expression. His artistic creations will be tailored to the unique environment of the landmark Victorian-style Conservatory, complementing the architecture of the building while creating a transformative, dazzling spectacle of color, form, and texture. Orchids of seemingly every conceivable shape and provenance from the Garden's collections as well as from some of the finest growers in the world, including rare and iconic specimens, will be on display. During Orchid Evenings throughout the run of the exhibition, experience music, tours, and special performances, while cash bars will offer beer, wine, and cocktails for purchase. nybg.org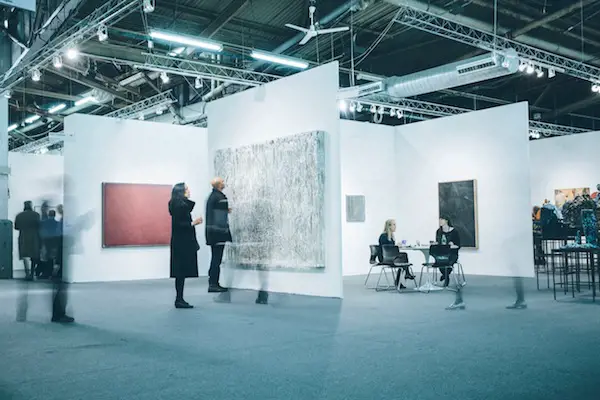 (3/8-3/11) Art lovers, the annual Armory Show returns to Pier 92/94 on the Hudson in midtown. New York's premier international art fair showcases over 200 galleries from around the world.
(3/12-1/6/19) Unseen Oceans at the American Museum of Natural History enables visitors to embark on a journey four miles underground to the ocean's bottom, as they discover the latest ocean science and encounter the researchers and technologies revealing our planet as never before.
(Now-5/13) Tennessee Williams: No Refuge But Writing comes to the Morgan Library. The plays of Tennessee Williams (1911–1983) are intimate, confessional, and autobiographical. They are touchstones not only of American theatrical history but American literary history as well. During the period 1939 to 1957, Williams composed such masterpieces as The Glass Menagerie, A Streetcar Named Desire, and Cat on a Hot Tin Roof, cementing his reputation as America's most celebrated playwright. By 1955 he had earned two Pulitzer Prizes, three New York Drama Critics' Circle Awards, and a Tony. The exhibit highlights the playwright's creative process and his close involvement with the theatrical production of his works, as well as their reception and lasting impact. Uniting his original drafts, private diaries, and personal letters with paintings, photographs, production stills, and other objects, the exhibition tells the story of one man's ongoing struggle for self-expression and how it forever changed the landscape of American drama.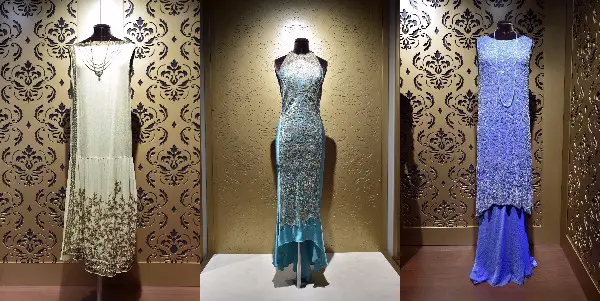 (Now-4/2) Extended! Downton Abbey: The Exhibition, based on the beloved television show Downton Abbey. Be transported to post-Edwardian England, where the characters and the iconic house come to life. You'll be immersed in the fascinating social history, culture, and some of the most memorable moments and sets from the show's six-season run, including Mrs. Patmore's kitchen and the servants' quarters.
(Now-3/28) Artist Josef Albers was best known for his vivid abstract paintings. A new show at the Solomon R. Guggenheim Museum provides fresh context on that work with a focus on Albers' black and white photographs, as well as his photo collages, in the newly opened Josef Albers in Mexico. Albers and his wife Anni traveled to Mexico many times over a period of more than 30 years, from 1935 through the 1960s. While there, they spent time at numerous archeological sites, from Uxmal to Chichen Itza. Albers took photos of everything from the landscape to shrines and monuments he encountered throughout the country; the resulting photo collages demonstrate his interest in geometric experimentation as seen through the influence of pre-Columbian art. The museum's airy, somewhat stark interior is a perfect foil for both the photos and the rich, colorful geometric shapes. Wander through, and then wander through again. This one's a treat.
(Now-6/3) While it's always fun to revisit favorite artists and works of art, one of the pleasures of museum special exhibitions is the chance to acquaint oneself with the work of formerly unknown artists. Case in point: Tarsila do Amaral: Inventing Modern Art in Brazil at MoMA The first exhibition in the US to focus on Amaral's works looks primarily at her output in the 1920s, her role in an international community, and her contribution to the emergence of modernism in Brazil. Abaporu, a 1928 painting, shows an isolated figure with a cactus, and became the totem of a movement celebrating Brazilian culture rising from the symbolic cannibalism of outside influences. The exhibit includes more than 100 works of art, encompassing paintings, drawings, sketches, photos and historical documents. It's a chance to discover "Modernism" in a new context.
(3/22-7/29) Public Parks, Private Gardens: Paris to Provence at the Metropolitan Museum of Art. Drawing largely on the encyclopedic holdings of The Met, this exhibition will illustrate the horticultural boom that reshaped much of the French landscape during the 19th century. As shiploads of exotic botanical specimens arrived from abroad and local nurserymen pursued hybridization, the availability and variety of plants and flowers grew exponentially, as did the interest in them. From paintings by the Impressionists to photographs of the era and vases made to display lush bouquets, this presentation of some 150 works will provide a fresh, multisided perspective on best-known and hidden treasures housed in a Museum that took root in a park: namely, New York's Central Park, which was designed in the spirit of Parisian public parks of the same period.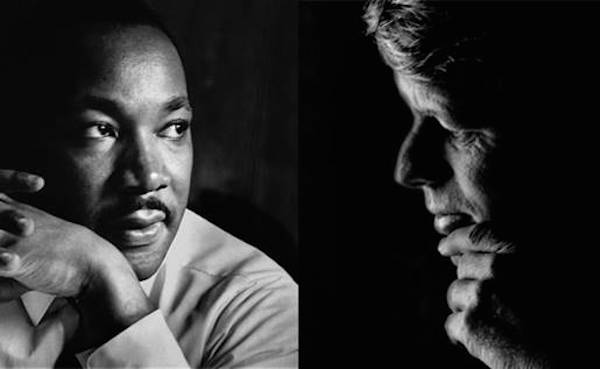 (2/16-5/20) To commemorate the 50th anniversary of the assassinations of Martin Luther King Jr. and Robert F. Kennedy in 1968, the New-York Historical Society presents an exhibition of photographs and artifacts honoring these visionary leaders who irrevocably changed the United States. Rebel Spirits: Robert F. Kennedy and Martin Luther King Jr. showcases approximately 60 photographs and 30 documents and artifacts that uncover the relationship between these historic figures.
As the centerpiece of the fourth floor, the gallery features 100 illuminated Tiffany lamps from New-York Historical's spectacular collection displayed within a dramatically lit jewel-like space. Photo: Corrado Serra.
(Permanent) Also, The New-York Historical Society's Fourth Floor Renovation, now complete, includes a brand-new Tiffany Lamps Gallery in addition to the opening of its Women's History Center.
(Permanent) The Jim Henson Exhibition at the Museum of the Moving Image will celebrate the life and legacy of the famed Muppet creator, exploring both his prolific career and the enduring effect his work has on pop culture to this day. Visitors can expect to learn more about the creation of such beloved works as The Muppet Show, Sesame Street, Fraggle Rock, The Dark Crystal, and Labryinth, as well as to discover the cutting-edge experimental works Henson made throughout his career.
Things to Do in New York in March: Comedy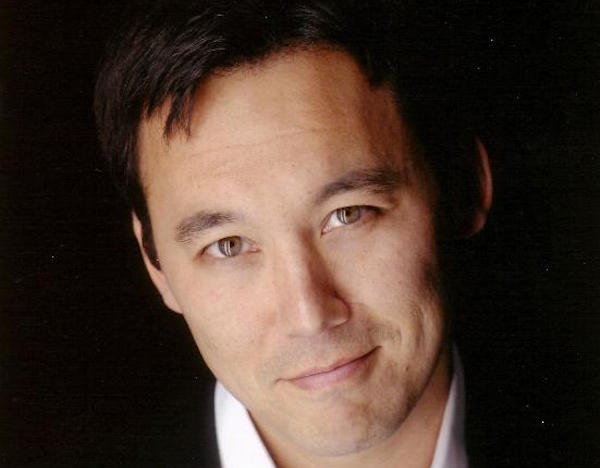 (3/15-3/17) Steve Byrne, creator of Sullivan & Son, performs at Gotham Comedy Club.
PLUS
(3/1-3/3) Sinbad at Carolines.
(3/1-3/3) Carlos Mencia at Gotham Comedy Club.
(3/9-3/11) Shawn Wayans at Gotham Comedy Club.
(3/20) Jeremy McLellan at Gotham Comedy Club.
(3/22-3/24) John Witherspoon at Gotham Comedy Club.
(3/30-3/31) Lynne Koplitz at Gotham Comedy Club.
Things to Do in New York in March: Kids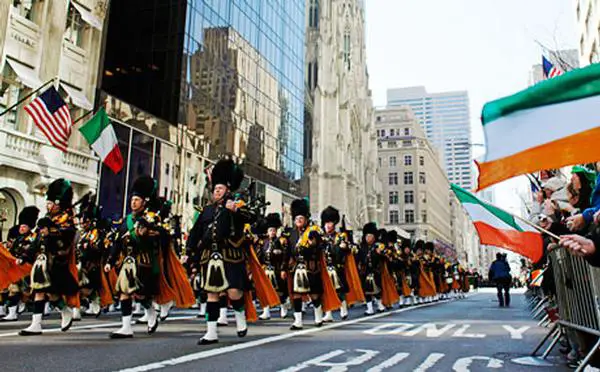 Photo: Joe Buglewicz
(3/17) Thirteen percent of New York traces its heritage to the Emerald Island, but on March 17th everyone in the city is Irish for a day. The city's main event is the St. Patrick's Day Parade, which marches up Fifth Avenue from 44th to 86th Street. Michael J. Dowling, president and chief executive officer of Northwell Health, will serve as Grand Marshal of the 256th version of the parade, which features bagpipes, bands, and dancers among its 150,000 marchers. The parade runs from 11am to 5pm, at which point the city's bars swell with revelers.
PLUS
(3/10) Craic Fest 20 presents the Kids Fleadh Saturday, March 10 at Cinepolis Theater (formerly Bow Tie Cinemas W 23rd St). A fun program of Award-winning Irish short films and Irish Step Dancing (Niall O'Leary dancers) ages 5-12 starts at 11:30am sharp. $10 for adults. $10 for kids. thecraicfest.com. You can buy tickets here.
(Ongoing) Bronx Zoo Treetop Adventures. A new tree-high obstacle course features a variety of ways to test your agility and strength, from the 400-foot-long zip line to an aerial adventure park that features seven different courses, from beginner to expert. Swing, navigate and even skateboard; it'll make a great story. 7+, 50 lbs. and up. Bronx Zoo, 2300 Southern Boulevard, Bronx, Bronxzootreetop.com
(Ongoing) Explore the beautiful interactive exhibit Connected Worlds at the New York Hall of Science in Queens.
(Ongoing) Blue Man Group at Astor Place Theatre. Best known for their wildly popular theatrical shows, Blue Man Group combines music, comedy, and multimedia theatrics to produce a unique form of entertainment. The hour and forty five minute show is fun for the whole family. The show recently celebrated its 25th anniversary.
For more kids activities, check out our sister site nymetroparents.com!
Things to Do in New York in March: Music & Nightlife
(3/21) The Justin Timberlake: Man of the Woods Tour comes to Madison Square Garden.
PLUS
(3/2-3/3) Howard Jones Solo: The Songs and the Stories at City Winery.
(3/9) Astrophysicist Neil DeGrasse Tyson presents StarTalk: Science is Everywhere to Brooklyn Academy of Music (BAM). Part of RadioLoveFest.
(3/10) The Chieftains perform at The Town Hall.
(3/17) St. Patrick's Day Celebration with Southside Johnny & The Asbury Jukes at B.B. King Blues Club & Grill.
(3/26) Chanteuse K.D. Lang performs at the Beacon Theatre.
For more information on LGBT nightlife events, visit our brother site metrosource.com!
Things to Do in New York in March: Sightseeing

(Ongoing) Sweets for the Sweet! Grab your honey or friend this Valentine's Day for a cozy ride aboard A Slice of Brooklyn's Chocolate Tour, TripAdvisor's top-rated NYC tour company A Slice of Brooklyn Bus Tours has launched its Brooklyn Chocolate Tour, which visits artisanal chocolate sites Jacques Torres Chocolate in DUMBO, The Chocolate Room in Cobble Hill, Raaka in Red Hook, and Li-Lac Chocolates in Industry City, Sunset Park. Offered every Monday, Wednesday, and Friday.
The largest VR entertainment center in the Western Hemisphere is New York's latest attraction: VR World. Get inspired by virtual reality in a diverse space with three floors that bring culture, gaming, and entertainment together. With over 50 experiences to choose from, VR World offers an unforgettable experience that's yours to create! Fight off droids, climb Mt. Kilimanjaro, race Formula One cars against your friends, and create a 3D masterpiece. The adventures are limitless.
Every year, at 11:59pm on December 31st, people from all over the world are focused on the Times Square New Year's Eve Ball. Millions of voices unite to count down the final seconds of the old year and celebrate the beginning of the new. Now you can get up close and personal with the Times Square New Year's Eve Ball at Ripley's Believe It or Not! Times Square. Press the button yourself and ring in the New Year every day of the year. A home to rare artifacts and thrilling interactive exhibits, Ripley's is for anyone who wants to immerse themselves in the unexpected and the unbelievable. Here's a coupon.
Things to Do in New York in March: Ongoing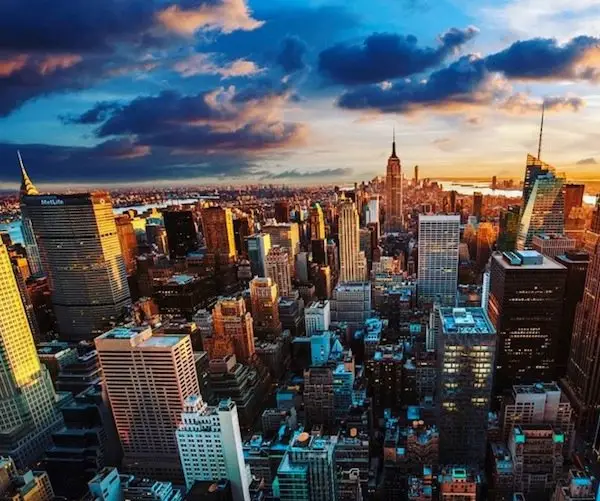 Bring a loved one to take in the breathtaking view at Top of the Rock.
Visit the sites of Friends, Seinfeld, Trainwreck, Gossip Girl, Sex and the City and many other NYC film sites with On Location Tours.

Learn more about the fascinating history of New York City's Financial District with Wall Street Walks tours.
Grab a photo with Taylor Swift, One Direction, Lady GaGa and countless others at Madame Tussauds New York.
Zip up 100 stories in 60 seconds and see New York City atop One World Observatory.
Weather in New York in March
The old maxim "in like a lion, out like a lamb" certainly applies to New York weather in March. Expect the temperatures to steadily rise through the month, from a start on March 1 with average highs at 45 degrees Fahrenheit (7°C) and average lows right at freezing to 56 degrees Fahrenheit (13°C) for a high and 40 degrees Fahrenheit (4°C) for a low come March 31st. Days are getting longer, with about 7 hours of light. The heaviest coats can probably be left behind, but you'll still want to pack warmly, with hats, scarves, and gloves not being a bad idea. You can expect some outlier days, warmer or colder, with extremes of weather (wind, snow, sleet, freezing rain) not uncommon. Precipitation picks up, about double what it is in February. You can expect 12 rainy days in March, and another five snowy days. Pack your umbrella, and take note of all the great restaurants, museums, galleries, and bars in New York that make it easy to entertain yourself indoors.
---
Like what you see here? Share it with your friends on Facebook! We've got April covered, too!
Looking for Free Group Planning Services?
Get free advice on planning your group's trip to New York.
RESTAURANTS

Beer hall casual meets craft cocktails with a healthy dose o...

THEATER

Gaston Leroux's famous period thriller is now one of Broadwa...

SHOPPING

The world's largest source of cameras, camcorders, and more ...

SIGHTSEEING

Introducing NFL EXPERIENCE TIMES SQUARE! The only attraction...