Nightlife in New York City This Weekend - February 15-February 17
February 11, 2019 - by CG Directory Editor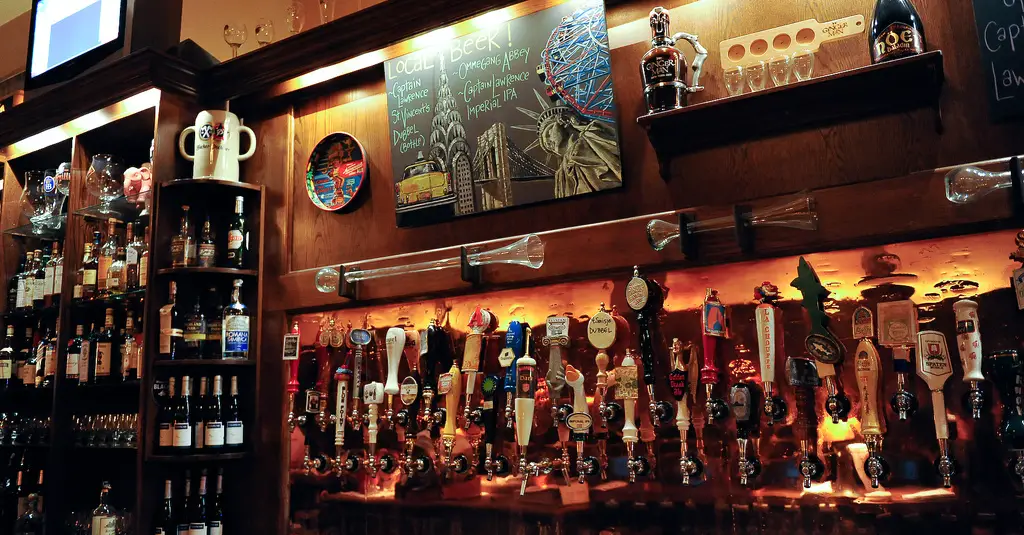 Photo: Jazz Guy/Flickr

New York City is the ideal metropolis for night owls wanting to stay out late long past the setting of the sun. From evening shows and late night performances to bustling bars and packed nightclubs, find exactly what you're looking for on City Guide's weekend nightlife guide to New York City.


Winter Wine & Food Festa: Spread the Love Edition - Eataly NYC Downtown
February 15, 2019 - New York
Celebrate the month of love with us here at Eataly Downtown at our Winter Wine & Food Festa: Spread the Love Edition. On Friday, February 15th we'll be cooking up some some delectable dishes paired delightfully with a line up of decadent wines and cocktails that will surely give you all those feels! Love isn't only about significant others, so grab those special friends, family members or co-workers that give you that warm fuzzy feeling and spend an Eatalian Friday night enjoying unlimited tastes at this two-hour store-wide event. This month enjoy italian chocolates, a guided tasting of artisanal cheeses, oysters, and a variety of heart-y dishes perfectly paired with lovely wines and cocktails. More than 20 wines, 10 different small bites.
Love Affair at ZAVO Valentines - Zavo
February 15, 2019 - New York
Valentine's Day continues on at ZAVO! View romantic aerial acts, Italian live music, burlesque and more to continue the romantic vibes of the evening before.
Dj Party - Union Hall
February 16, 2019 - Brooklyn
DJ parties happen most Saturdays at midnight or earlier (after the shows!) Check website for other special DJ nights. This event is 21 and over
Luxury Whiskeys at The Flatiron Room - The Flatiron Room
February 16, 2019 - New York
This class features six luxury whiskeys. We consider them 'single ingredient cocktails' – meant to be sipped and savored as they are. You will learn how to nose, taste and appreciate fine whiskey and what makes each expression so unique. This class is a treat for those looking for something a bit more special. Signature cocktail, six whiskeys and light appetizers provided
1001 Nights - Zavo
February 16, 2019 - New York
1000 and 1 night fairy tale with magic show, sword swallowers, tremendous belly dances, traditional drums and much more. We will transport you to a world of Arabian Nights! You will experience stories about Shahrazad, Alladin, Ali Baba, Arabic Princesses and other heroes and villains. We open one hour before the show starts – come have a drink and enjoy our pre-show entertainers!
Love and Classic Soul Ballads Night - Private Event Space
Through February 17, 2019 - New York
Classic soul music lovers you're guaranteed a treat at this Valentine's Day Weekend Saturday night. Slow sexy warm and sweet music that gets deep inside you. Some have been known to call it 'grown folks' music and others baby making music. But any true music lover young or old can appreciate timeless good music. Don't get us wrong we will hit the dance floor hard. Our Dj knows exactly how to step up the beat... Enjoy a lovely soulful dinner, live performance by JeRonelle McGhee who captivated us all with his performance of "This Woman's Work" on The FOUR. Then let the music take your mind on the dance floor... All tickets for this Soul Night like all our events are pre-sold and registration closes early. Don't miss out get your tickets as soon as you can. It is going to be one of New York's most anticipated event of February 2019. Dress Code: Cocktail Upscale Formal. You are getting dinner buffet, live entertainment, Dj and a glass of wine for regular tickets. Sponsors may contact us if you will like to participate.
Cityfox LIVE - Avant Gardner
Through February 17, 2019 - Brooklyn
New York City event purveyors The Cityfox Experience are pleased to present the debut of Cityfox LIVE on Saturday, February 16 from 10pm to 4:30am at East Williamsburg's multi-room event complex, Avant Gardner. The first of its kind concept to take place in Brooklyn, Cityfox will welcome leading live house and techno acts presenting a number of never before experienced live audiovisual sets, exclusive premieres and US debuts from Âme LIVE, Stephan Bodzin, Octave One, Giorgia Angiuli, Johannes Brecht, Rodriguez Jr. & Liset Alea present RJLA and more alongside two rare back-to-back sets with Mathew Jonson. Produced by Reynard Productions (the crew behind Cityfox), the new series will provide a platform designed to push the creative boundaries for both established and up and coming live artists, in what is certain to resonate with underground NYC tastemakers. With a laser focus on the music, the event will present a series of exclusive performances and US debuts that will fit perfectly with the large, minimal spaces (The Great Hall, Kings Hall, Lost Circus) that Avant Gardner is known for. Taking over the multi-room venue, Cityfox is pleased to present a live audiovisual debut fro... (read more)
Manhattan Hip Hop vs. Reggae Party Cruise Yacht party - Skyport Marina
Through June 23, 2019 - New York
Friday June 22nd, 2018 – NYC Hip Hop vs. Reggae Yacht Party at Skyport Marinas Jewel Yacht located at East 23rd st & FDR Drive 10010 NY (347) 592-0300. Music by NYC Hottest Djs! Tickets 20$! Boarding 11:45pm, Sailing after midnight! The Only Hip Hop vs. Reggae cruise to be in NYC...Jewel Yacht! www.Gametightny.com (347) 592-0300 info/tickets YACHT PARTIES IN NY - NY'S HOTTEST – YACHT NIGHT PARTY NYC HIP HOP VS. REGGAE CRUISE! The Only Boat Party to be in NY... Skyport Marina Jewel Yacht East 23rd st & FDR Drive 10010 (347) 592-0300 NYC HIP HOP VS. REGGAE BOAT PARTY! 1 DAY - 1 EXCLUSIVE EVENT! MUSIC BY NYC HOTTEST DJS AT SKYPORT MARINA JEWEL YACHT PARTY, NEW YORK!! TICKETS JUST $20 FOR TICKET WHICH INCLUDES:ADMISSION TO THE BOAT SAILING INFO:Boarding Starts at 11:45pm (highly recommend getting there at 10:00pm to avoid long lines & confusion), Sails after midnight. Boat Returns at approximately 4am. For tickets info, birthday parties, table reservations please call (347) 592-0300 or simply log onto www.Gametightny.com Also you can email us at Gametightny@hotmail.com
Looking for Free Group Planning Services?
Get free advice on planning your group's trip to New York.
MORE Activity Planner ARTICLES
RESTAURANTS

Multi-concept restaurant offering modern Japanese cuisine, a...

THEATER

Gaston Leroux's famous period thriller is now one of Broadwa...

SHOPPING

DataVision is redefining retail with their new, fully intera...

SIGHTSEEING

In addition to 360-degree views from Midtown Manhattan, the ...