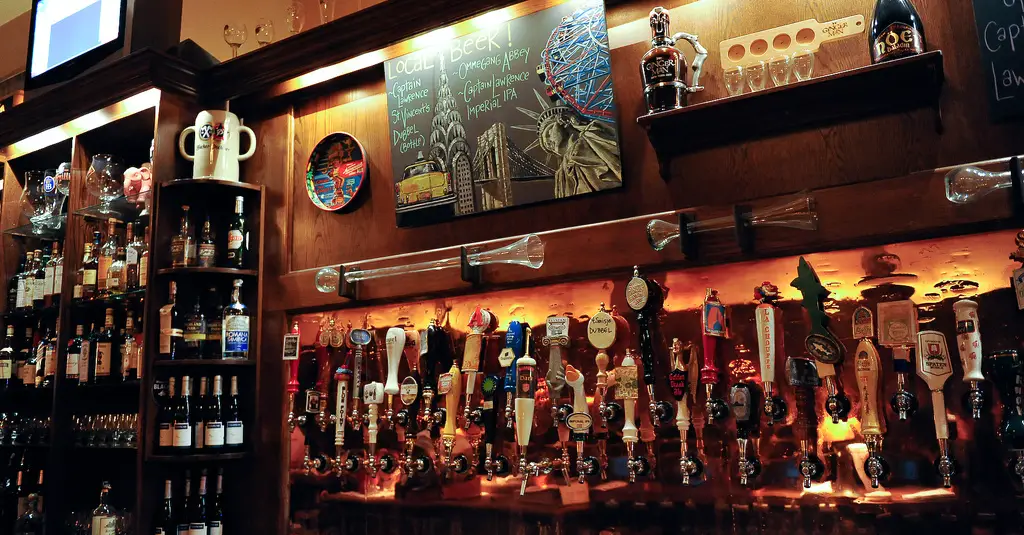 Photo: Jazz Guy/Flickr

New York City is the ideal metropolis for night owls wanting to stay out late long past the setting of the sun. From evening shows and late night performances to bustling bars and packed nightclubs, find exactly what you're looking for on City Guide's weekend nightlife guide to New York City.


Tocca Sample Sale - 5th Avenue
Through November 25, 2019 - New York
260 Sample Sale is excited to welcome back the Tocca Sample Sale! Join us at our 260 5th Avenue location in Nomad from Monday, November 25th through Sunday, December 1st to shop discounts on fragrance, candles, lotions, and body care.
Morgan Page - Lavo
November 29, 2019 - New York
21 & OVERMorgan Page
Black Friday Feat. Klass - SOB'S
November 29, 2019 - New York
Age 21+Saurel Celestin, Savoir Faire
Late Night DJ - 89 North Music
November 29, 2019 - Patchogue
This Event Is 21 and Over
After Hours hosted by Pablo Bencid - Fat Cat
November 29, 2019 - New York
After Hours hosted by Pablo Bencid
Jimmy's NYC Black Friday Openbar party 2019 - Jimmy's 38 NYC
November 29, 2019 - New York
Friday November 29th, 2019 - Jimmy's NYC Black Friday party located at 156 W 38th Street, New York, NY 10018. Join us this Black Friday Night at Jimmy's 38 NYC with multiple rooms in New York City!NYC Black Friday night in Midtown at Jimmys NYC!!Tickets are $20 and it includes:Admission for oneLadies openbar til 11-12All sales are final. Tickets are non-refundable regardless of attendance. This is a rain or shine event.For more information / tickets on Jimmys 38 NYC Black Friday Night party call/ text 3475920300 or log onto Gametightny.com
Dirty Thursday: Dirty Turkeys - House of Yes
Through November 29, 2019 - Brooklyn
Yes, we are OPEN on Thanksgiving!!!Join us for a night of gratitude, pumpkin pie, food coma nap zone, scrumptious beats and dance floor gluttony! Break a sweat, move your body and put your caloric intake to good use.Sick jams, hot beats, mash-up favorites and dance-off treats brought to you by DJ Dirtyfinger & friends.FOOD DRIVE: Bring a non-perishable item to the party in exchange for a half-priced cocktail! Limit 1 cocktail ticket per person. We'll be donating the food to City Harvest food pantry!Embrace your filth on our dance floor. Shake it off, sweat yourself clean, and get dirty all over again. Flirt till it hurts. Drink water. Drink everything.Get off your phone. Get into the groove.Its Free. FREE.***We love to give free drinks to people in our favorite costume/looks, or those who make us laugh or those who have crazy amazing dance energy. BRING IT.***21+
Shenseea Live in Brooklyn - Thanksgiving Saturday - Studio 26 BK
November 30, 2019 - Brooklyn
Thanksgiving Saturday, Join Shenseea and Friends LIVE at Brooklyn's newest Mega Venue Featuring NY's hottest Dancehall, Soca + Afrobeat DJs
The Rub - The Bell House
November 30, 2019 - Brooklyn
Ages 21+The Rub is the preeminent hip-hop dance party in New York City. DJ Eleven and DJ Ayres play everything from funk classics to new rap, R&B and house.
After Hours hosted by Greg Glassman - Fat Cat
November 30, 2019 - New York
After Hours hosted by Greg Glassman
Sky Room Rooftop Fridays - Sky Room
Through November 30, 2019 - New York
PRIVE GROUP Presents:SKY ROOM ROOFTOP FRIDAYSJoin us each and every Friday at the highest rooftop lounge in Manhattan: Sky Room Rooftop!Come enjoy drinks, great music, and dancing, and lounge on our heated outdoor patio and take in breathtaking views of the Manhattan Skyline!Sky Room, which boasts 360 views of Manhattan and the Hudson River from the city's highest rooftop lounge, takes New York City nightlife to new heights! Occupying the 33rd and 34th floors of the newly constructed Fairfield Inn and Suites by Marriott Times Square, the bi-level ultra lounge transports guests to a high energy oasis atop 40th Street and offers five distinct spaces: The Times Square Lounge, The Cube Balcony, The Private Salon, The North Terrace with retractable roof, and The South Terrace with private cabanas.
Throwback Friday - House of Yes
Through November 30, 2019 - Brooklyn
Nostalgia overload. Delicious Kitsch. Throwback mashups.w/ DJ Monday Blue & Uptown NikkoThe best of the 80's, 90's and 2000s all in one night, all in one place, all mixed up - each room themed to throwback perfection! Old school hits, bongs in the basement, regrettable fashion choices and fads that have come and gone and come back even harder.: : : LOOKS : : :THROWBACK LOOKS! 80s, 90s, Y2K!See more inspiration here: www.pinterest.com/houseofyesnyc/throwback21+ | No Re-Entry
Veterans Month at the Southampton Inn - Southampton Inn
Through November 30, 2019 - Southampton
Throughout the month of November, Southampton Inn is celebrating Veterans Month! All month long, our service men and women can enjoy an overnight stay for *$125/double occupancy.*Plus tax and fees. Valid ID required.For the latest packages, deals and rates, please call 631-283-6500, email reservations@southamptoninn.com or visit www.southamptoninn.comSouthampton Inn91 Hill Street, Southampton, NY 11968
Complimentary Dessert Tea - Grand Seoul
Through November 30, 2019 - New York
Celebrate Halloween at Grand Seoul, a lively Korean barbecue restaurant in the heart of Chinatown (85 Chrystie Street). Opt for All You Can Eat specials (available for both lunch and dinner at $35 per person) paired with Somaek Towers (a combination of beer and soju that arrives tableside in a glowing dispenser) and for a larger group, Grand Seoul offers a private dining room (20-40 guests).If youre looking to detox post-Halloween sugar-binge, make sure to try their seasonal (complimentary!) dessert beverage, SuJeongGwa (available beginning October 14 through November.)The traditional Korean tea is fruity and spicy, made from cinnamon, jujube, ginger, and sugar, and aids in digestion - ideal following All You Can Eat KBBQ or Halloween.
Beauty & Essex Parlor Sundays - Beauty & Essex
December 01, 2019 - New York
Every Sunday, head down to the Lower East Side at 2pm 6pm for Beauty Parlor Sundays The party thats so much more than Brunch! Celebrate with delicious food, divine dcor and of course, flowing Champagne throughout the day! Included with every ticket is a four-course pix fixe menu, with incredible dishes that range from the famous Red Velvet Waffles to the all-new Beautys Brunch Wonder Wheel!
Taj Lounge NYC Hip Hop vs. Reggae Sunday Funday Brunch Party - Taj II Lounge and Event Space
December 01, 2019 - New York
Taj NYC Sunday Brunch and Day Party Sunday December 1st, 2019 RSVP 3475920300About this EventSunday December 1st, 2019 - Taj NYC, Taj Lounge Sunday Funday Bottomless Brunch and Day Party located at 48 W 21st between 5th and 6th Avenue.Join us at a one time event 1st Sunday once a month for an exclusive Taj Sunday Brunch Party with no cover until 5pm on guestlist.Brunch Specials:$40 Prefix Brunch Menu w/ bottomless Mimosas until 6pm and 2x1 Drink specials for All from 2pm -5pm.$40 Prix Fixe Brunch Menu w/ Bottomless Mimosas and Sangria until 6pm.2 for 1 Top Shelf Drink Specials for Everyone until 4pm.$10 Margarita/Frozen Margarita Specials.Flavored Hookah is available All Day and Night.Bottle Specials Include:Pre-Order Bottle Special Include:2 Bottles (750ml) w/ 1 Hookah for $4502 Bottles (Liters) w/ 1 Hookah for $5501 Premium (750ml), 1 Champagne and 1 Hookah for $275Pricing:Everyone FREE on the Gametight Guestlist on with pass until 5pm, reduced after with Gametight Guestlist passDresscode:Casual, Trendy and Chic Attire is a must!$40+ Brunch Prix Fixe w/ 2 Hour Bottomless Mimosas until 6p.m.***TAX and TIP NOT ... (read more)
Desi Saturdays - Stage 48
Through December 01, 2019 - New York
Each & Every Saturday Night, come experience the Glamour & Glitz of Bollywood as you Mix, Mingle and Dance at New York City's Hottest Saturday Night DesiParty Stage4, Desi Saturdays is one high society DesiParty. Wow factor everywhere. Beautiful people, beautiful venue, beautiful ambiance, and did we mention beautiful people? High energy, amazing music and a packed house are just some of the traits of what you would expect at this weekly Bollywood party.
Sky Room RoofTop Saturdays - Sky Room
Through December 01, 2019 - New York
Must say BestNYCnightLife LIST TO GET INROOFTOP PARTY SATURDAY NIGHTWITH an UPSCALE AND CLASSY AtmosphereATSKY ROOM Rooftop TIMES SQUARE
Thanksgiving Party - Copacabana
Through December 01, 2019 - New York
Two Floors to Party:Floor 1: Salsa, Bachata, Merengue, Latin Mix & Rock Espanol. Floor 2: Top 40, Hip Hop, House, Dance, Freestyle, and much more.
NYC Penthouse Silent Disco - 230 Fifth
Through December 01, 2019 - New York
Were back at everyones favorite venue, 230 5th, for an amazing night of dancing, drinking, and fun! This upscale venue is ideal for your next birthday party or girls night out. Well we rocking out on the 20th floor penthouse with our 3 live DJs playing a bit of everything for everyone.Your 3 live DJs are spinning all night:DJ 1 (Green): Top 40 Dance HitsDJ 2 (Red): 80s, 90s & 2K ThrowbacksDJ 3 (Blue): Hip Hop/R&BYour Experience Includes: A pair of Quiet Events Headphones Glow in the dark gear 3 live DJs battling for your attention Rooftop beer garden accessSpecial notes: 21+ Rain or Shine Dress code: No athletic wear (sneakers, baseball caps, yoga pants, etc.); no baggy or destroyed jeansWhat to bring: Valid ID You MUST have a credit or debit card for the check-in process. If the headphones are NOT returned, there will be a $100 charge to your credit or debit card after the event. No need to print your ticket, just show the code on your phone or they will have your name at the door.How it works:With your pair of Quiet Events headphones you can adjust the volume and choose between our three DJs with the flick of a sw... (read more)
Unicornicopia - House of Yes
Through December 01, 2019 - Brooklyn
Pumpkin-Spice. Unicorns. Thanksgiving! For the fourth year in a row we continue our annual tradition of combining everyones favorite things: UNICORNS and COPIAS.Feel the abundance of the season and pick up a sexy-time playmate or two to add to your partnership shenanigans. Lets celebrate the season with Unicorns of all shapes, horn sizes and origins. Although usually elusive, on this night we collect them all and perform our mythical mating dances together.: : : LOOKS : : :Unicorns, Magical creatures of various horn numbers, glitter, glitz, and glam styles.
Broadway under the Stars Cocktail at Center Bar - The Shops at Columbus Circle
Through December 09, 2019 - New York
Visit the Restaurant and Bar Collection for Broadway themed cocktails and treats every Monday night after Broadway Under the Stars.Sip on the Pomegranate Smash cocktail at Center Bar: a winter take on a classic smash using pomegranate juice for a modern twist.
Broadway under the Stars Treats at Bouchon Bakery - The Shops at Columbus Circle
Through December 09, 2019 - New York
Visit the Restaurant and Bar Collection for Broadway themed cocktails and treats every Monday night after Broadway Under the Stars.Purchase a hot chocolate and receive a complimentary holiday cookie.
Broadway Under the Stars Cocktail at Momofuku Noodle Bar - The Shops at Columbus Circle
Through December 09, 2019 - New York
Visit the Restaurant and Bar Collection for Broadway themed cocktails and treats every Monday night after Broadway Under the Stars.
Broadway Under the Stars Treats at Bouchon Bakery - The Shops at Columbus Circle
Through December 09, 2019 - New York
Visit the Restaurant and Bar Collection for Broadway themed cocktails and treats every Monday night after Broadway Under the Stars.
VICE Night Market - Villain
Through December 13, 2019 - Brooklyn
Were taking the party indoors with VICE Night Market. Most Fridays in Brooklyn well be serving up delicious food and drinks from our carefully curated vendors, plus music and programming from VICE. Whether you start your night with us or come by for a night cap on the way home, we have everything you need for a night out all under one roof. Admission is free and food vendors include Scarrs Pizza, Maos Bao, Oyster Party, Palenque Home Made Colombian Food, Jibarito Shack, Better Pop, Crackd Food Concepts, and more.
A Cocktail Party Social Experiment - Chelsea Music Hall
Through December 16, 2019 - New York
Is it possible to have a meaningful conversation with a perfect stranger in our fast-paced, increasingly lonely world? This question has inspired the cocktail guru, theatre artist and storyteller Wil Petry to create A COCKTAIL PARTY SOCIAL EXPERIMENT an unconventional hybrid of immersive theater, story slam, and an evening of boozy voyeurism. The guests are asked to turn off their cell phones for the duration of the event; some can just watch and listen while eight volunteers skip the small talk, and get into the good stuff. Ticket price includes one free cocktail; a bar on the premises opens an hour before the show and serves drinks throughout the performance.
The Big Quiz Thing - Q.E.D
Through December 17, 2019 - New York
Since 2002, The Big Quiz Thingas seen on the official TV game show of New York Cityhas grown into Americas greatest source of custom trivia entertainment, for corporate and private clients nationwide. And this fall, the BQT is proud to return to Queens center for unique live entertainment, Q.E.D. Astoria, for a series of special themed trivia game shows. Featuring multimedia puzzles, the Buzzertastic Finale, Smart-Ass Points, a unique digital answer system, and much more, the Big Quiz Thing applies its unique trivia experience to four fantastic themes, including Wednesday, October 2: DC vs. MARVEL The comics, the movies, and more (in honor of New York Comic Con) Tuesday, October 29: HALLOWEEN Horror movies, candy, costumes, and beyond Sunday, November 17: DISNEY The most magical trivia on earth Sunday, December 15: STAR WARS Every aspect of the premier sci-fi franchise
Geoffrey Zakarians The Lambs Club Announces Cocktails on Broadway - The Lambs Club at The Chatwal
Through December 31, 2019 - New York
COCKTAILS ON BROADWAY is a new event series starting on Thursday, July 18th. This program is being introduced by Celebrity Chef Geoffrey Zakarian and his restaurant, The Lambs Club, Grey Goose and six different well known musicals on Broadway: including King Kong, Pretty Woman, Beetlejuice, Chicago, Tootsie and Waitress. Every month from July through December, a new musical will be hosting a fun night to celebrate this program at The Lambs Club. Each show will have cast members in attendance at the event to interact with guests. All of these events will be open to the public and Grey Goose Ambassador, Douglas Graham-Leigh, will be creating specialty Grey Goose cocktails for each show that guests can enjoy. Artist Toby Triumph will produce six pieces of unique art drawn on Grey Goose bottles, and each bottle will feature artwork symbolizing the Broadway show featured that month. There will also be complimentary light snacks offered to all guests in attendance and there will be an opportunity for fans to win tickets to the featured Broadway shows as well as fun door prizes.
KCBC Beer and Cheese Pairing - Murray's Cheese Shop
Through June 06, 2020 - New York
KCBC Beer and Cheese Pairing
High Tea at Elsie Rooftop - Elsie Rooftop
Through October 19, 2020 - New york
Elsie de Wolfe created the first penthouse in the 20s. Also knownas Lady Mendl, Elsie was an American actress, interior decorator, and author of the influential novel The House in Good Taste,and a prominent figure in New York, Paris, and London society.HIGH TEA SERVICE @ ELSIE ROOFTOPStarting October 19th, Else Rooftop will run High Tea Service every Saturday from 2pm-5pm.
Kest Pizza Making Class - Kest Fulton
Through December 17, 2020 - New York, NY
Keste recreational pizza classes consist of 2 hours of pizza history, techniques, and the actual making and enjoying of your pizza. We also include one glass of our house wine or beer/soft drink. If you want to purchase unlimited wine and beer you can do so with an additional $35 per person. Also included in our recreational classes is a gift bag of Caputo flour, a can of our highly prized Ciao tomatoes and a recipe of our pizza so you can make at home. We host classes every Tuesday and Thursday of the week 7PM-9PM, depending on the availability left. The pricing depends on how many people you would like in your reservation. The class for 1-9 adults is priced at $80/person (not including taxes and tips). However, if you plan on having more than 10 people we do have a group discount of $60 (not including tax + gratuity) per person. It is to be noted that the maximum capacity for our classes is 40 people. Please note we require a 30% non-refundable down payment for us to reserve the spot for you. This does not include sales tax and gratuity. Please keep in mind the rate will change according to the above stated amount should the number of attendees drop from the initi... (read more)

Want free advice on what to see and do in NYC? Join our Facebook group Everything to Do NYC, a place for people to ask questions and get tips on how to make the most of the city.