The Prospect Park Zoo serves Brooklyn natives and families from around the world with a peaceful escape from skyscrapers and taxis into the wonderful world of nature. This is one of six zoos in the city and one of the best places in New York to find animals that aren't being pulled on leashes or crawling down subway stairs with pizza slices. Here's why you should add this iconic park to your itinerary.
Year-Round Fun
If you end up making the journey to the Prospect Park Zoo, there will be five exhibits for you to explore, each representing a different type of animal.
A triple treat of Juliana pigs! Photo: Julie Larsen Maher © WCS


At the Animal Lifestyles exhibit, you will come across a Pallas's cat, golden lion tamarin, Hamadryas baboon, lettered aracari, and Geoffrey's marmoset. The Pallas's cat is a sure-to-be crowd-pleaser as the furriest feline in the world. This is for good reason—to survive in snow and icy weather.
You'll be feeling like you're on a farm in southern Tennessee with the zoo's Barn and Garden exhibit. Here you can find alpaca, Cotswold and Baby Doll sheep, a miniature horse, and other farm animals. The zoo also has two unique species: a Zebu calf (Zebu are cattle from Southeast Asia) and three Juliana pigs (the smallest—and cutest!—of pig breeds).
Although these are no lions, tigers, or bears, it's always fun to be able to pet these domestic animals as well as feed them some grain, as if it's a perfectly normal New York City activity.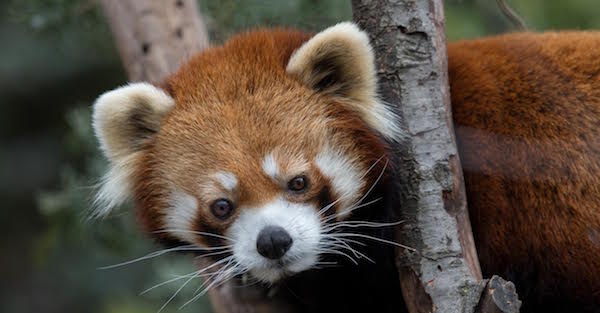 Hello, red panda! Find him on the Discovery Trail. Photo: Julie Larsen Maher © WCS
In the Discovery Trail, you can meander past the habitats of a black-tailed prairie dog, a dingo, emu, North American river otter, tufted deer, and, last but not least, a red panda, probably hanging out and taking a snooze on a tree branch.
Inside, the Hall of Animals exhibit has a lot to offer, though focusing on smaller creatures and critters. If you're an amphibian and reptile lover, there is a Chinese big-headed turtle, Henkel's leaf-tailed gecko, Vietnamese mossy frog, and a poison dart frog. The Hall of Animals also showcases a dwarf mongoose, pygmy slow loris, red-faced parrot finch, and fennec fox.
Lastly, a visit to the zoo isn't complete without stopping by the Sea Lion Court, a popular exhibit at the heart of the park exhibiting the California sea lion. Sea lions are attention-seekers by nature, so stop by and maybe they will wave to you. You can participate in Sea Lion Training Sessions daily at 11:30am, 2pm, and 4pm. Sea lions are extremely intelligent mammals and kids especially will find this experience quite rewarding.
In Sum
Although the zoo is thriving now and filled with tons of exotic creatures, it wasn't always that way. In the late 1800s, Prospect Park Zoo first operated a tiny menagerie with livestock and limited wildlife—sheep, cows, rabbits, birds, you know the drill—up until its first public opening in 1935. The park has come a long way since those times and has made quite an impression on city residents and tourists. Although it's not huge, there is something for every animal-lover to enjoy, from frogs to finches and mongooses to miniature horses.
Details
Address: 450 Flatbush Ave., near the neighborhoods of Park Slope, Prospect Heights, and Prospect Lefferts Gardens
Hours: Monday-Friday, 10am-5pm; Saturday-Sunday and holidays, 10am-5:30pm
Admission: $8; $6 seniors ages 65 and older; $5 children ages 3-12; free for children ages 2 and younger
For more information: 718-399-7339 or prospectparkzoo.com