The Downtown Experience Powered by THE RIDE is a brand-new virtual reality experience that transcends the traditional New York tour bus ride. Yes, an engaging tour guide will regale you with stories about Lower Manhattan's rich history, but you'll also be treated to a VR journey that will transport you to George Washington's inauguration, put you on the trading floor during the 1929 stock market crash, and set you in the virtual air soaring above the One World Observatory. You'll also hear from New York street artists, including an inspiring explanation of how 9/11 brought the city together out of tragedy. You'll not only be better informed after a tour with THE RIDE, you'll be moved.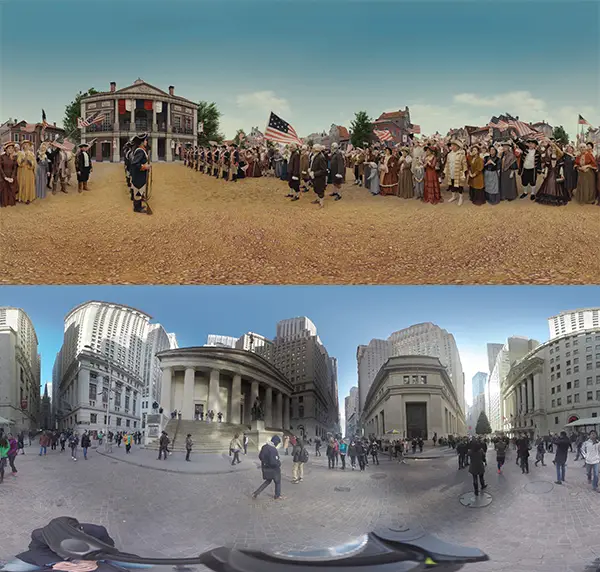 The downtown tour is an experience appealing to both lifelong New Yorkers and New York visitors. There's always more to learn about New York City-or perhaps a fact can be recalled that you might have forgotten. For example, the islands's name—Manhattan— comes from Manahatta ("the island of hills"), a name given by the Lenape Indians, who lived here for centuries before Europeans did.

Consistent with its midtown sister THE RIDE, The Downtown Experience features multi-million dollar, patented busses equipped with floor-to-ceiling windows. The seating is stadium style, meaning that there are no bad views. Adding to the overall experience, the buses are equipped with state-of-the-art audio and video technology to enhance the journey. The VR element is furnished by THE RIDE's partner, Timelooper.
The Downtown Experience is great for class trips, too.
Rides leave from 200 Water St. downtown. For reservations, visit experiencetheride.com.