If you're looking for things to do in NYC in January, you won't have to look too far. The holidays may have passed, but New York's theater, dining, and nightlife scenes are as vibrant as ever. As the temperatures drop, take advantage of museum exhibitions and the sheltered views at landmarks like One World Observatory and Top of the Rock. With the new year comes a fresh start and there's nothing like the energy of New York for making you feel renewed. Happy 2020!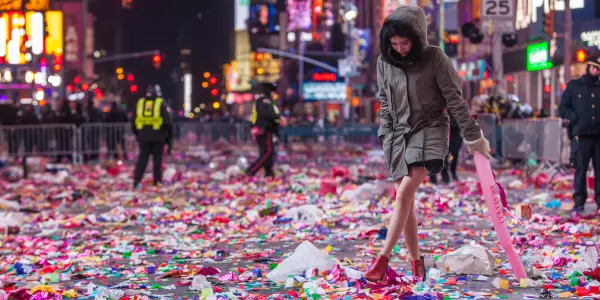 Image: Anthony Quintano/Flickr
Things to Do in New York in January: Kicking Off 2020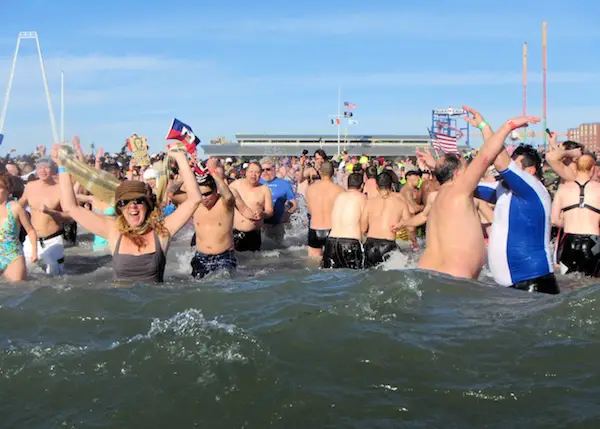 (1/1) Coney Island Polar Bear Club New Year's Day Plunge 2020. 1pm. The annual New Year's Day Swim is a big party, complete with costumes and more than a few pairs of blue lips. 1pm sharp. $25 suggested donation.
PLUS
(1/1) New Year's Day Brunch (or Dinner) Cruises with Spirit of New York. All ages welcome. Brunch, boards 11:30am, cruise noon-2pm; dinner, boards 6:30pm, sails 7pm-9:30pm.
(now-1/5) Final days to see the beautiful Christmas Spectacular Starring the Radio City Rockettes™ at Radio City Music Hall.
(Now-1/17) The Rockefeller Center Christmas Tree in Rockefeller Center is a global symbol of the holiday spirit. rockefellercenter.com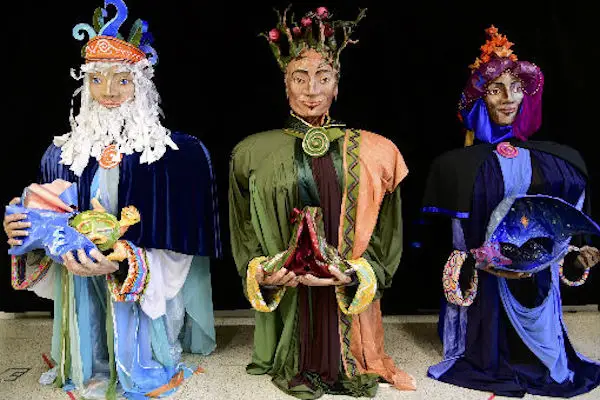 (1/4) Celebrate Three Kings Day with a Parade by El Museo del Barrio. Starts at 11am.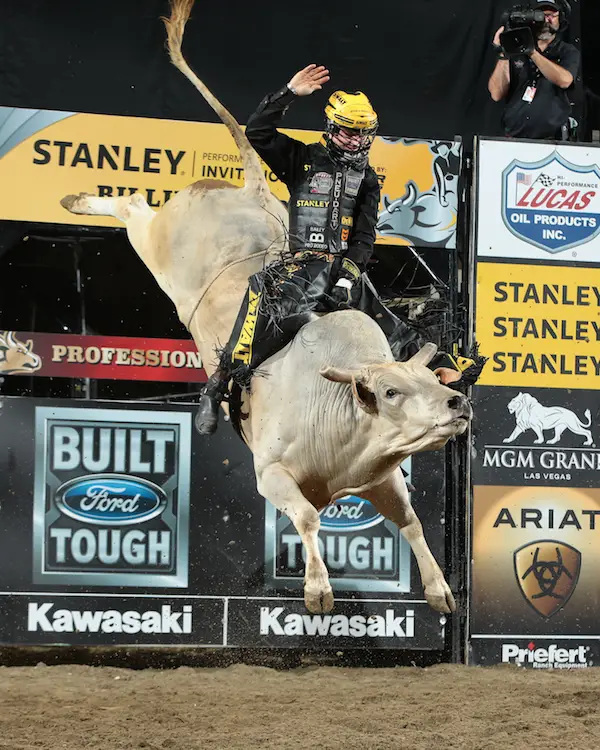 (1/3-1/5) If you're seeking adrenaline-pumping action well beyond a Broadway show or a bustling nightclub, grab a seat for the Professional Bull Riders (PBR) : Unleash the Beast at Madison Square Garden. The legendary New York arena will see the world's top 35 bull riders risking it all to ride eight seconds on 1,800 pound beasts for top points and a hefty purse. This New York weekend series marks the kickoff of the 2020 PBR season.
(1/20) The 34th Annual Brooklyn Tribute to Dr. Martin Luther King, Jr. at the Brooklyn Academy of Music. Keynote speaker: Nikole Hannah-Jones Musical performers: Son Little, Brooklyn Interdenominational Choir. New York City's largest public celebration in honor of iconic civil rights leader Dr. Martin Luther King, Jr., returns to BAM for the 34th year. BAM welcomes all members of the community for this beloved annual tradition, which brings together world-renowned activists, public figures, and civic leaders alongside musicians and other performers. FREE. Starts at 10:30am.
(1/22-1/26) Brooklyn Podcast Festival at various venues.
(1/21-2/9) NYC Restaurant Week. Two course lunch $26, three course dinner, $42 at hundreds of participating restaurants. *List available after Jan. 8.
(1/21-2/9) NYC 2 for 1 Broadway Week returns.
(1/24-1/26) BroadwayCon 2020 at New York Hilton Midtown. It's a three-day meet & greet fest with your favorite Broadway stars!
(1/24-2/2) Winter Antiques Show at Park Avenue Armory is the leading art, antiques, and design fair in America, featuring 72 of the world's top experts in the fine and decorative arts.


Things to Do in New York in January: Exhibits

JR (French, born 1983). The Chronicles of New York City, 2018–19 (detail). © JR-ART.NET.
(Through 5/3/2020) JR is a consummate 21st-century artist. As a young man, he began taking pictures of his fellow street-artist friends and posting them around his native France. Later, his photography projects expanded in scope and deepened in tone without losing their populist flair. Now, this celebrated artist will receive the first major North American retrospective of his work, JR: Chronicles, also at the Brooklyn Museum. The exhibition, named after the artist's new mural of New York City, debuted in October. The mural itself, The Chronicles of New York City, portrays over one thousand New Yorkers that the artist interviewed and photographed in summer of 2018. It will be displayed in the Great Hall of the museum. brooklynmuseum.org
PLUS
(Now-1/5/20) Final days! Experience the past, present, and future of fashion all at once at the Brooklyn Museum. Pierre Cardin: Future Fashion celebrates the French designer who embodied the Space Age and futuristic concepts in his designs. A living legend at 97, this is the first retrospective of Cardin's work hosted in New York for 40 years. It holds over 170 objects, dynamically displayed, collected from the Pierre Cardin archive, including recent work that feels every bit as vital as Cardin's historic designs. The show also shows how Cardin designed outside the realm of fashion, crafting "couture furniture," lighting, and even cars. Don't miss the fashion that literally lights up, arranged in the exhibit's back room. brooklynmuseum.org
PLUS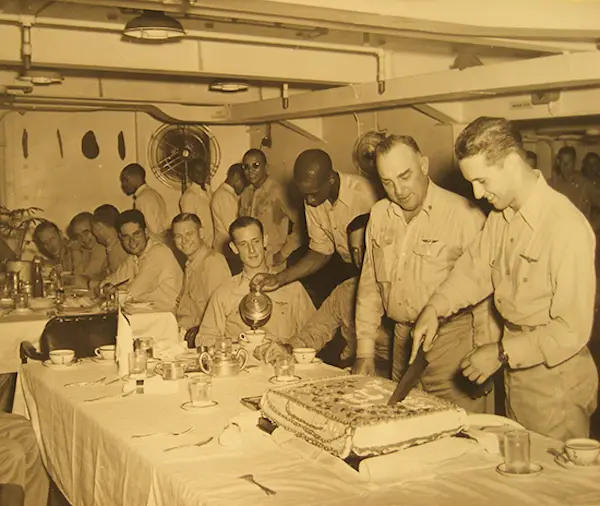 Dinner and cake in Intrepid's wardroom in October 1944. Photo from National Archives and Records Administration.
(Ongoing) Making a beautiful cake is pretty challenging, but what if you had to make it on a Navy ship, for a crew of thousands? The Intrepid Sea, Air & Space Museum's new exhibition, Navy Cakes: A Slice of History, explores the history of naval personnel and their incredible cakes.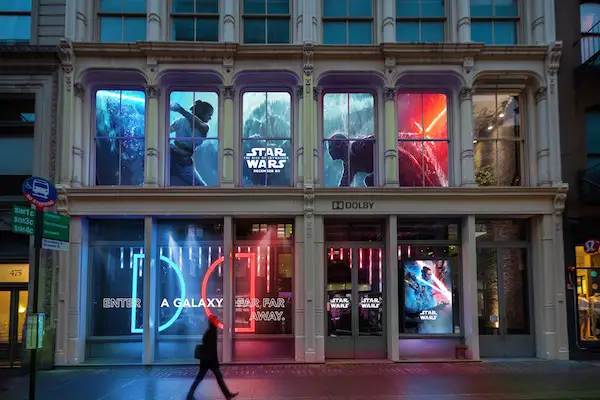 (Now-1/5) Final days! With the final chapter Stars Wars: The Rise of Skywalker out, Dolby SoHo has decked out its windows for its 11 immersive Star Wars exhibitions. Travel through hyperspace and relive epic lightsaber battles as you explore the iconic sights and sounds of the Star Wars Universe, presented in DOLBY VISION™. It's open Wednesdays-Sundays, 1-8pm, and the best part, it's FREE. (*closed New Year's Day). 477 Broadway, soho.dolby.com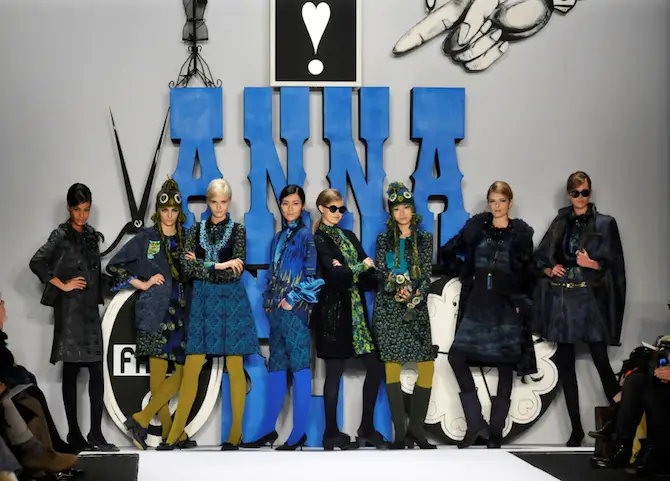 Photograph by Thomas Lau, courtesy of Anna Sui.
(Now-2/23/2020) The World of Anna Sui celebrates one of the country's top designers at the Museum of Arts and Design . The 75 fashion looks on display in this exhibition will showcase Anna Sui's decades-long career, beginning with the groundbreaking fashion show in 1991 that introduced the world to her one-of-a-kind eclectic aesthetic.
(Now-1/5/20) Final days! Verdi: Creating Otello and Falstaff—Highlights from the Ricordi Archive at the Morgan Library & Museum. After Aida in 1871, except for occasional projects, Giuseppe Verdi (1813–1901), Italy's pre-eminent composer, retired from opera at the age of 58. This, however, did not prevent constant pleas from his publisher, Giulio Ricordi (1840–1912), and his future librettist, Arrigo Boito (1842–1918), for the maestro to return to the operatic stage. Reluctantly coaxed out of retirement, Verdi composed what would become the crowning achievements of his career: Otello, premiered in 1887 and Falstaff, in 1893. This exhibition, based on The Enterprise of Opera--Verdi, Boito, Ricordi created by Bertelsmann/Ricordi and curated by Gabriele Dotto is the first in the United States to present rare documents and artifacts from Milan's Ricordi Archive and will offer visitors insight into the production of these two operas as well as the complex enterprise of bringing an opera to life. Set designs, costumes from Milan's Teatro alla Scala, autograph manuscripts, contracts, publications, publicity, video excerpts from recent productions, and other objects in many media will permit visitors to experience the tremendous collaborative efforts behind an operatic production.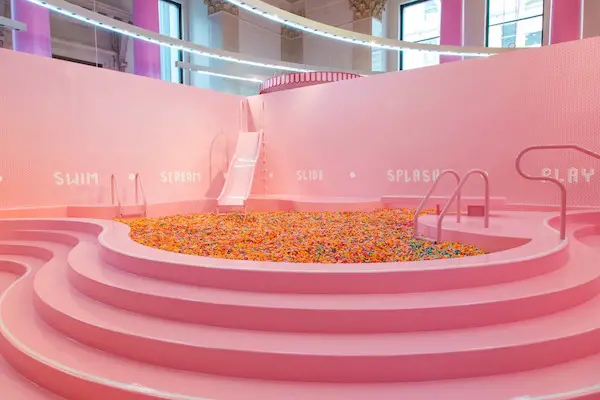 (Ongoing) The popular pop-up the Museum of Ice Cream returns. Tickets start at $39.
(Through 1/5/20) Final days! Implicit Tensions: Mapplethorpe Now at The Solomon R. Guggenheim Museum. Robert Mapplethorpe, one of the most critically acclaimed and controversial American artists of the late 20th century, is represented in great depth in the Guggenheim's collection. In 1993 the museum received a generous gift of approximately two hundred photographs and unique objects from the Robert Mapplethorpe Foundation, creating one of the most comprehensive public repositories in the world of this important artist's work. In 2019, 30 years after the artist's death, the Guggenheim will celebrate the sustained legacy of his work with a yearlong exhibition in two sequential parts in the museum's Mapplethorpe Gallery on Tower Level 4.
(Ongoing) The most significant site of the Holocaust, Auschwitz was not a single entity, but a complex of 48 concentration, forced labor, and extermination camps, at which 1 million Jews—and tens of thousands of others—were murdered. Auschwitz. Not long ago. Not far away., a new exhibition at the Museum of Jewish Heritage—A Living Memorial to the Holocaust, explores the legacy of history's deadliest mass murder site. More than 700 original objects and 400 photographs are on display, many for the first time in North America. Among the artifacts: personal possessions, fragments of a barrack, a gas mask used by the SS, and an original German-made Model 2 freight wagon used for the deportation of Jews to the ghettos and extermination camps in occupied Poland.
(Ongoing) Faith and Empire at the Rubin Museum. Religion has influenced and empowered countless political leaders throughout history, and Tibetan Buddhism is no exception. "Faith and Empire: Art and Politics in Tibetan Buddhism" is the first exhibition of its kind to explore Tibetan Buddhism's dynamic political role in the empires of Asia from the 7th to the early 20th century. Artwork highlights include a set of 8th-century gilt-silver drinking vessels from the Tibetan Empire; an early 13th-century wrathful icon made of silk and ornamented with tiny seed pearls; a 4 ½-foot-tall 680-pound gilt-bronze bodhisattva from the early 15th-century Ming court; and a 19th-century 8-feet-wide Mongolian depiction of the final battle against the heretics and nonbelievers. The exhibition is arranged chronologically, beginning with the Tibetan Empire in the 7th century, and includes sections on the Tangut kingdom of Xixia, the Mongol Empire, the Chinese Ming dynasty, the rule of the Dalai Lamas, and the Manchu Qing dynasty.
(Permanent) The Jim Henson Exhibition at the Museum of the Moving Image celebrates the life and legacy of the famed Muppet creator, exploring both his prolific career and the enduring effect his work has on pop culture to this day. Visitors can expect to learn more about the creation of such beloved works as The Muppet Show, Sesame Street, Fraggle Rock, The Dark Crystal, and Labryinth, as well as to discover the cutting-edge experimental works Henson made throughout his career.
(Permanent) The Museum of the City of New York presents NY at Its Core. Ten years in the making, New York at Its Core presents the compelling story of New York's rise from a striving Dutch village to today's "Capital of the World." The exhibition captures the human energy that drove New York to become a city like no other and a subject of fascination the world over. Entertaining, inspiring, important, and at times bemusing, New York City "big personalities," including Alexander Hamilton, Walt Whitman, Boss Tweed, Emma Goldman, JP Morgan, Fiorello La Guardia, Jane Jacobs, Jay-Z, and dozens more, parade through the exhibition.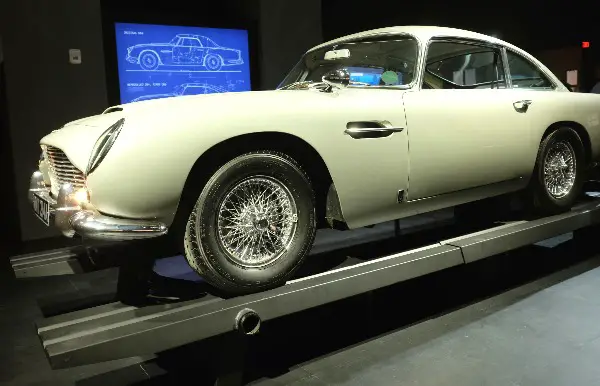 (Ongoing) You can experience the world of history's most famous spy at Driven: 007 x SPYSCAPE, a new exhibition inside New York's spy museum, SPYSCAPE. This immersive exhibition brings you into the Bond universe with sets, props, and insights about the creation of the ageless secret agent. Among the highlights: an Aston Martin DB5, the lab of Quartermaster (or Q), M16's gadget master, concept art from Oscar-winning production designer Sir Ken Adams, and an exploration of 2012 Bond film Skyfall's unforgettable final scene.
Things to Do in New York in January: Comedy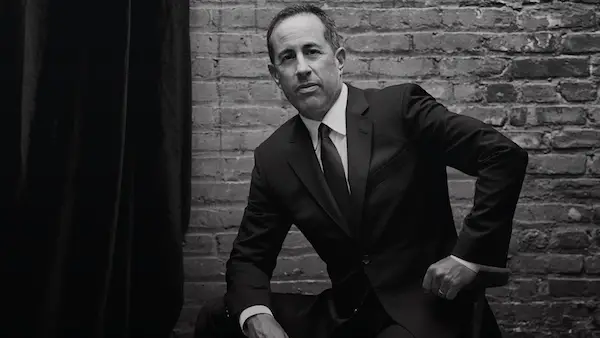 (1/10-1/11) Jerry Seinfeld at the Beacon Theatre.
PLUS
(1/2) Todd Barry Works on New Jokes and Improves Older Jokes at Union Hall.
(1/2) Sinbad at Carolines.
(1/3-1/4) Artie Lange at Gotham Comedy Club.
(1/10-1/11) Chloe Hilliard at Gotham Comedy Club.
(1/17-1/18) Dean Edwards at Gotham Comedy Club.
(1/18-1/19) Impractical Jokers at Radio City Music Hall.
(1/24-1/25) Ricky Velez at Gotham Comedy Club.
(1/31, 2/1) Steve Byrne at Gotham Comedy Club.
Things to Do in New York in January: Kids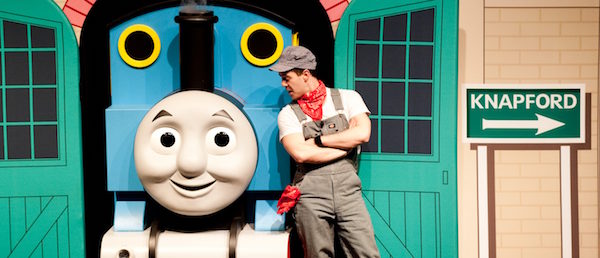 (1/4-1/5, 1/11-1/12, 1/18-1/20, 1/25-1/26) All Aboard with Thomas & Friends at The New York Botanical Garden. Join Thomas and Driver Sam on a fun-filled, sing-along, mini-performance adventure. In Thomas' Budding Adventure, kids will help Thomas discover the steps to growing a beautiful garden. Seating is first-come, first-served, and begins 30 minutes prior to your show time. Admission to the Thomas & Friends performance is included with the purchase of select Holiday Train Show tickets; specific timed tickets must be reserved.
PLUS
(Ongoing) Blue Man Group at Astor Place Theatre. Best known for their wildly popular theatrical shows, Blue Man Group combines music, comedy, and multimedia theatrics to produce a unique form of entertainment. The hour and forty five minute show is fun for the whole family. Here is a coupon!
(Ongoing) Explore the beautiful interactive exhibit Connected Worlds at the New York Hall of Science in Queens.
For more kids activities, check out our sister site nymetroparents.com!
Things to Do in New York in January: Food, Music & Nightlife
(1/12-2/20) Bobby Cannavale and Rose Byrne star in Medea at the Brooklyn Academy of Music.
PLUS

(Ongoing) Another winning combination of shopping and sustenance is Brooklyn Flea's Winter Flea +Smorgasburg, held this year indoors every Saturday and Sunday at 25 Kent Ave. in Williamsburg, Saturdays-Sundays, 10am-6pm. You'll find dozens of vintage/antique/other vendors, with holiday shopping running right up into Christmas. City Guide Insider Tip: Food trends are always emerging at Smorgasburg, and today's pop-up will blow up into tomorrow's successful restaurants. Get in on the ground floor!
(1/6-1/8) Simon Phillips Protocol 30th Anniversary Tour at The Iridium.
(1/8) Yola with Amethyst Kiah at Music Hall of Williamsburg.
(1/9) Sons of Mystro & The Tartan Terrors at The Iridium.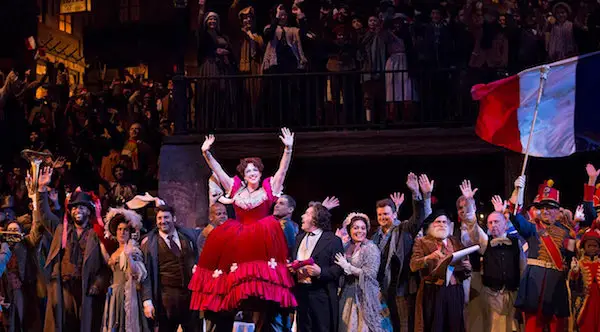 (1/9, 1/12, 1/17, 1/21, 1/25) La Boheme at Metropolitan Opera.
(1/16) Seu Jorge and Rogê at Town Hall.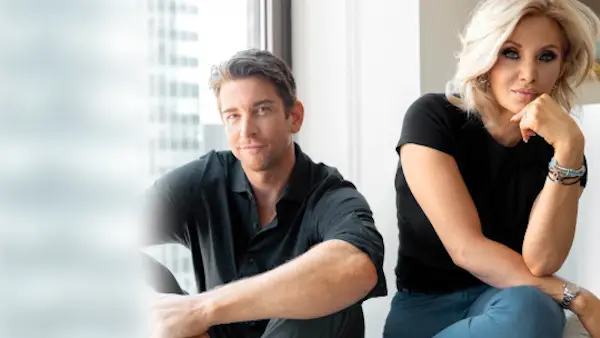 (1/23-1/27) Legally Bound: Orfeh and Andy Karl at 54 Below.
(1/22) Rufus Wainwright: Songs That Built Me at Alice Tully Hall at Lincoln Center.
(1/24) Greensky Bluegrass at the Beacon Theatre.
(1/29) Bob Mould Sunshine Rock Winter 2020 Solo Electric.
(1/31) Nada Surf with Aaron Lee Tasjan at The Music Hall of Williamsburg.
Ongoing Instagrammable New York: Pop Up Exhibits and More.
Things to Do in New York in January: Sightseeing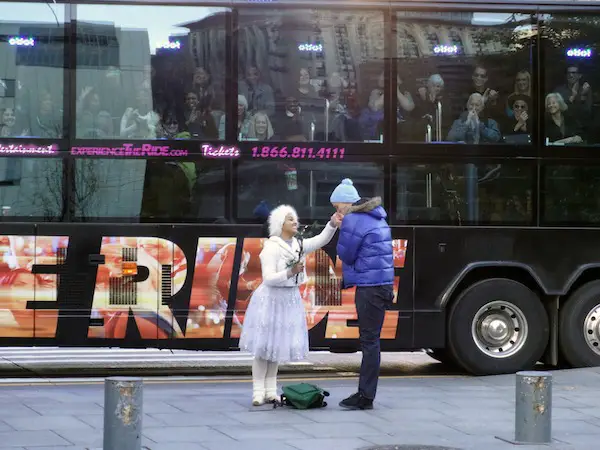 (Now-1/5)
THE RIDE
. The Annual Holiday Edition has returned to turn the streets of New York into a stage. You'll cruise in comfort in a patented $1.5 million traveling theater. Technology galore and floor-to-ceiling glass with side-facing VIP seating provide perfect views to dazzling holiday performances you'll find along a 4.2-mile journey through Manhattan. Original seasonal music, videos, and hilarious hosts complete the experience, definitely one to remember.
Use this coupon and save $10 off .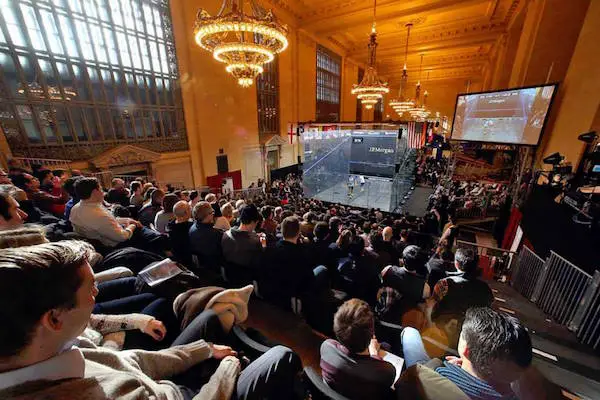 (1/9-1/17) Ever watched a squash game in a train station? The 23rd annual
J.P. Morgan Tournament of Champions (ToC)
arrives in
Grand Central Terminal
, bringing together the world's greatest squash stars for an exciting week of international competition and live spectator events. The matches are played beneath the iconic chandeliers in Vanderbilt Hall in a state-of-the-art glass squash court with stadium seating for 500 and a free standing room area for commuters and passersby. Gracing the courts with their talent will be all of the world's top-ranking men's and women's players, representing 24 nations and six continents.
Things to Do in New York in January: Ongoing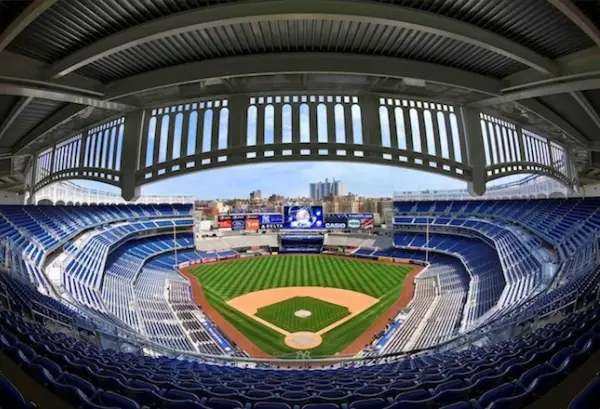 Get up close to the glory of the Yankees with Yankee Stadium Tours!
Visit the sites of Friends, Seinfeld, Trainwreck, Gossip Girl, Sex and the City and many other NYC film sites with On Location Tours.
Learn more about the fascinating history of New York City's Financial District with Wall Street Walks tours.
Ripley's Believe It or Not! Odditorium brings people of all ages face-to-face with the world's most unbelievable curiosities. With 18,000 square feet of astonishing artifacts and exciting interactive exhibits. Here's a coupon!
Zip up 100 stories in 60 seconds and see New York City atop One World Observatory.
Grab the family or a friend for a spin on the iconic Rockefeller Ice Skating Rink. This year marks its 81st anniversary!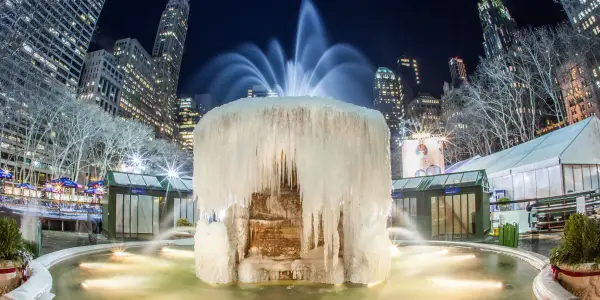 Weather in New York in January
Welcome to the coldest month of the year in New York City. Pack your heavy parka and coats, scarves, and gloves, because low temperatures average around 27 degrees Fahrenheit (-3°C), with average highs getting only up to 36° (4°C). You can expect some outlier days, warmer or colder, with extremes of weather (wind, snow, sleet, freezing rain) not that uncommon. Days are short, with about 6 hours of light. The chances of a snowy day in January? About one in five.