The Best Things to Do in NYC in April
February 16, 2018 - by City Guide News Desk
April is brimming with culture in NYC. The New York Botanical Garden hosts its popular annual Orchid Show, the International Auto Show returns to the Javits Center, jewelry fans flock to MAD Museum for its annual LOOT shopping event, and much more!
Things to Do in New York in April
(3/3-4/22) The Orchid Show celebrates its 16th year at the New York Botanical Garden with a showcase of thousands of dramatically displayed orchids in the Enid A. Haupt Conservatory. This year's show features a series of installations crafted by Daniel Ost—each a living sculpture that celebrates the complex beauty of these stunning flowers. One of the world's leading floral designers, Ost uses flowers as a means of expression. His artistic creations will be tailored to the unique environment of the landmark Victorian-style Conservatory, complementing the architecture of the building while creating a transformative, dazzling spectacle of color, form, and texture. Orchids of seemingly every conceivable shape and provenance from the Garden's collections as well as from some of the finest growers in the world, including rare and iconic specimens, will be on display. During Orchid Evenings (4/6-4/7, 4/14, 4/20-4/21), experience music, tours, and special performances, while cash bars will offer beer, wine, and cocktails for purchase, 6:30pm-9:30pm. nybg.org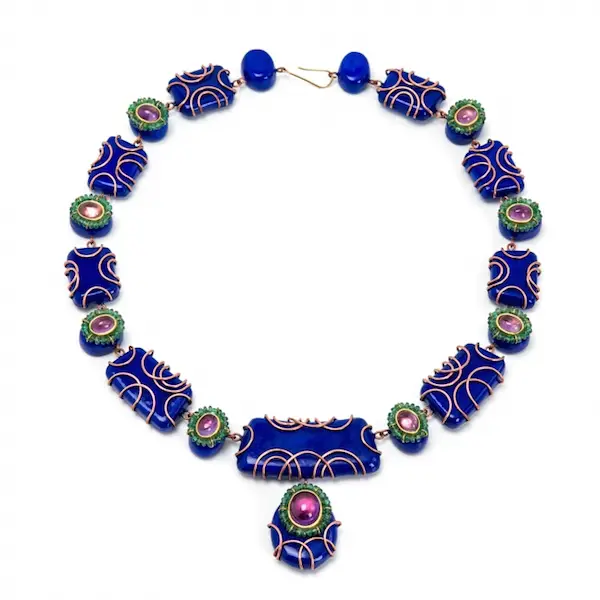 Gian Luca Bartellone necklace
(4/16-4/21) LOOT: 2018 at the Museum of Arts and Design. Now in its 18th edition, LOOT presents a cross-section of the most exciting cutting-edge art jewelry designs, while offering the public a rare opportunity to meet and acquire pieces directly from some of the most skilled creators in the field. Opening night is a benefit.
(3/30-4/8) The 2018 New York International Auto Show takes place at the Javits Convention Center, with all the latest models available for exploration, plus demonstrations and automotive blasts from the future and past.
(4/14-1/15) Big Apple Comic Con, at Penn Plaza Pavilion. With special guests Sherilyn Fenn, Wilson Cruz, Jonathon Schaech, C.J. Ramone, and many more!
(4/15) Every Sunday on the Upper West Side you can find Grand Bazaar NYC, the city's largest curated market—and most distinctive! You'll find local artists and vintage/antique dealers with one-of-a-kind fashion, crafts, collectibles, and handmade jewelry. (There's also some mighty tasty artisanal treats). This Sunday is the NYC Home Decor & Furniture Bazaar, sure to earn you a chorus of "Where did you get that?"
(4/28-4/29) The 2018 World's Fare at Citi Field. Over 100 vendors from over 100 cultures will come together and unite through authentic food, drink and music curated by New York City's leading taste makers. theworldsfare.nyc
(Now-7/15) On stage, he was Ziggy Stardust, Aladdin Sane, and The Thin White Duke. David Bowie, the beloved English singer/New York transplant who sang about "Changes" and is revered for perpetually changing his sound and look over a five decades-plus career, is being celebrated in David Bowie is, a major exhibition that makes its final stop at the Brooklyn Museum. This first-ever Bowie retrospective explores a creative process of reinvention, collaborations, and bold characterizations that shaped listeners' own identities. The show includes 300+ significant objects from Bowie's teens to his death in 2016, including handwritten lyrics, diary entries, photography, set designs, album artwork, and rare performance material, with many items exclusive to the Brooklyn Museum presentation. More than 60 stage costumes are on display. Advanced sound technology, alongside theatrical scene–setting, animation, and video, provides an immersive journey through Bowie's formative artistic experiences.
(3/12-1/6/19) Unseen Oceans at the American Museum of Natural History enables visitors to embark on a journey four miles underground to the ocean's bottom, as they discover the latest ocean science and encounter the researchers and technologies revealing our planet as never before.
(Now-5/13) Tennessee Williams: No Refuge But Writing comes to the Morgan Library. The plays of Tennessee Williams (1911–1983) are intimate, confessional, and autobiographical. They are touchstones not only of American theatrical history but American literary history as well. During the period 1939 to 1957, Williams composed such masterpieces as The Glass Menagerie, A Streetcar Named Desire, and Cat on a Hot Tin Roof, cementing his reputation as America's most celebrated playwright. By 1955 he had earned two Pulitzer Prizes, three New York Drama Critics' Circle Awards, and a Tony. The exhibit highlights the playwright's creative process and his close involvement with the theatrical production of his works, as well as their reception and lasting impact. Uniting his original drafts, private diaries, and personal letters with paintings, photographs, production stills, and other objects, the exhibition tells the story of one man's ongoing struggle for self-expression and how it forever changed the landscape of American drama.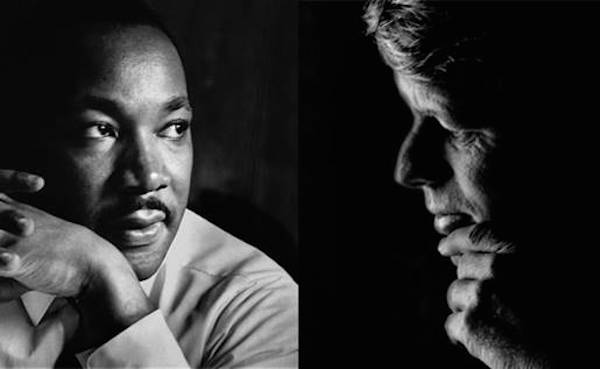 (Now-5/20) To commemorate the 50th anniversary of the assassinations of Martin Luther King Jr. and Robert F. Kennedy in 1968, the New-York Historical Society presents an exhibition of photographs and artifacts honoring these visionary leaders who irrevocably changed the United States. Rebel Spirits: Robert F. Kennedy and Martin Luther King Jr. showcases approximately 60 photographs and 30 documents and artifacts that uncover the relationship between these historic figures.
(Now-12/2/18) Art of the Mountain: Through the Chinese Photographer's Lens at the China Institute. Featuring over 60 photographs from a range of modern Chinese photographers, this exhibition will allow visitors to consider the role of mountains in China's geography, history, art, and philosophy.
(Now-6/3) While it's always fun to revisit favorite artists and works of art, one of the pleasures of museum special exhibitions is the chance to acquaint oneself with the work of formerly unknown artists. Case in point: Tarsila do Amaral: Inventing Modern Art in Brazil at MoMA The first exhibition in the US to focus on Amaral's works looks primarily at her output in the 1920s, her role in an international community, and her contribution to the emergence of modernism in Brazil. Abaporu, a 1928 painting, shows an isolated figure with a cactus, and became the totem of a movement celebrating Brazilian culture rising from the symbolic cannibalism of outside influences. The exhibit includes more than 100 works of art, encompassing paintings, drawings, sketches, photos and historical documents. It's a chance to discover "Modernism" in a new context.
(4/19-4/24) ArtExpo New York at Pier 92 & 94. Explore over 400+ innovative artists, galleries, and publishers from across the globe, showcasing exciting original prints, paintings, drawings, sculpture, photography, ceramics, giclee, lithographs, glass works, and more—all under one roof along the Hudson.
(3/22-7/29) Public Parks, Private Gardens: Paris to Provence at the Metropolitan Museum of Art. Drawing largely on the encyclopedic holdings of The Met, this exhibition will illustrate the horticultural boom that reshaped much of the French landscape during the 19th century. As shiploads of exotic botanical specimens arrived from abroad and local nurserymen pursued hybridization, the availability and variety of plants and flowers grew exponentially, as did the interest in them. From paintings by the Impressionists to photographs of the era and vases made to display lush bouquets, this presentation of some 150 works will provide a fresh, multisided perspective on best-known and hidden treasures housed in a Museum that took root in a park: namely, New York's Central Park, which was designed in the spirit of Parisian public parks of the same period.
(4/27-4/29) Live music and an incredible collection of vinyl dealers await at the annual WFMU Record Fair at the Brooklyn Expo Center.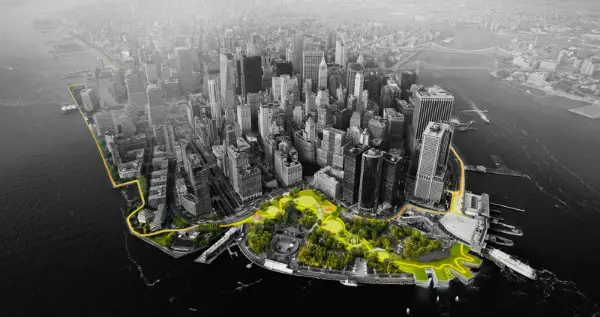 Image courtesy of BIG Team / Rebuild by Design competition
(Permanent) The Museum of the City of New York presents NY at Its Core. Ten years in the making, New York at Its Core presents the compelling story of New York's rise from a striving Dutch village to today's "Capital of the World." The exhibition captures the human energy that drove New York to become a city like no other and a subject of fascination the world over. Entertaining, inspiring, important, and at times bemusing, New York City "big personalities," including Alexander Hamilton, Walt Whitman, Boss Tweed, Emma Goldman, JP Morgan, Fiorello La Guardia, Jane Jacobs, Jay-Z, and dozens more, parade through the exhibition.
(Permanent) The New-York Historical Society's Fourth Floor Renovation, now complete, includes a brand-new Tiffany Lamps Gallery in addition to the opening of its Women's History Center.
(Permanent) The Jim Henson Exhibition at the Museum of the Moving Image will celebrate the life and legacy of the famed Muppet creator, exploring both his prolific career and the enduring effect his work has on pop culture to this day. Visitors can expect to learn more about the creation of such beloved works as The Muppet Show, Sesame Street, Fraggle Rock, The Dark Crystal, and Labryinth, as well as to discover the cutting-edge experimental works Henson made throughout his career.
Things to Do in New York in April: Comedy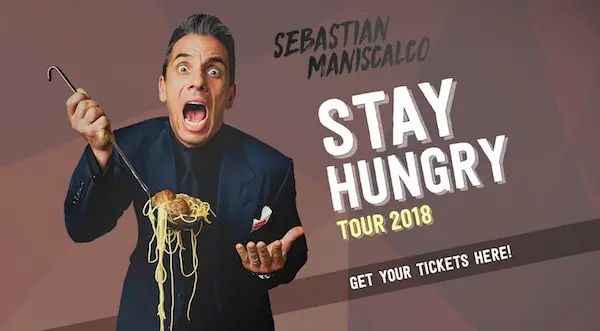 (4/19-4/21) Sebastian Maniscalco: Stay Hungry Tour stops at Radio City Music Hall.
PLUS
(4/5-4/7) Brad Williams at Gotham Comedy Club.
(4/6) Joe Rogan at Kings Theatre.
(4/20-4/21) Finesse Mitchell at Gotham Comedy Club.
(4/28) Josh Wolf at Gotham Comedy Club.
Things to Do in New York in April: Kids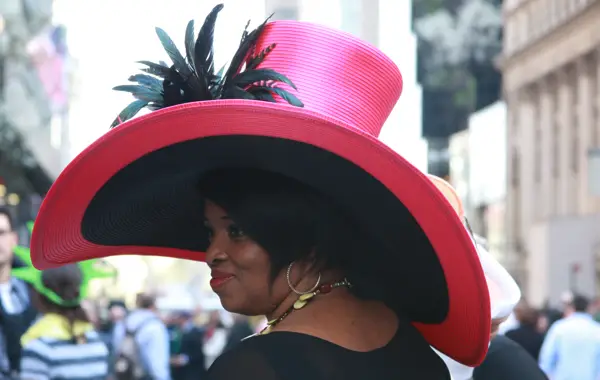 Image: Katy Gartside Photography/Flickr
(4/1) Easter in New York brings egg hunts, fine brunches, and a bonnet-filled procession down Fifth Avenue that's been a city tradition for nearly a century and a half. Celebrate the holiday in true New York fashion with a trip to the Easter Parade. The tradition dates all the way back to the 1870s, when upper class New Yorkers would stroll down Fifth Avenue after church and show off the fashionable new outfits they'd purchased for the holiday. Traffic shuts down for the parade on Fifth Avenue between 49th and 57th Streets from 10am to 4pm on Easter Sunday, letting festive paradegoers fill the streets in their elaborate Easter finest.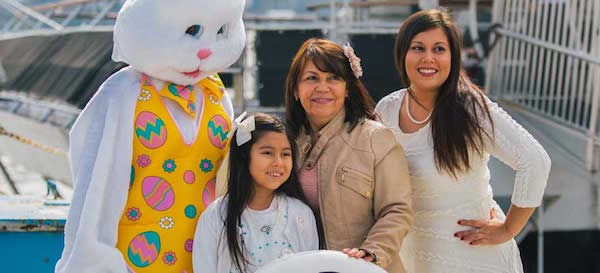 Spirit of New York offers some lovely Easter Sunday Brunch and Dinner Cruises.
PLUS
(4/22) Kids 'n' Comedy Show at Gotham Comedy Club. Every month Kids 'n' Comedy presents a showcase of their best and brightest teenage stand-up grads at 1pm.
For more kids things to do, visit our sister site at nymetroparents.com!
Things to Do in NYC: Music & Nightlife
(4/4-4/5) Pink: Beautiful Trauma Tour comes to Madison Square Garden.
PLUS
(4/4) Lorde / Run The Jewels perform at Brooklyn's Barclays Center.
(4/5-4/7) Brandi Carlile at the Beacon Theatre.
(3/27-4/7) Judy Collins at Cafe Carlyle.
(4/13) Billy Joel at Madison Square Garden.
(4/14) A$AP Ferg at Terminal 5.
(4/15) Franz Ferdinand at Brooklyn Steel.
(4/17-4/18) Guitar legend Buddy Guy returns to play two nights at BB King Blues Club & Grill.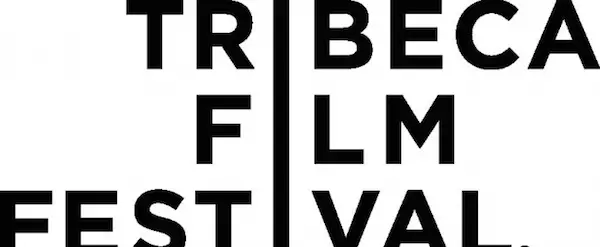 (4/18-4/29) The Tribeca Film Festival returns.
(4/23) Lily Allen at the Music Hall of Williamsburg.
(4/30) The Breeders at Brooklyn Steel.
(Now-4/26) Ecstatic Music Festival at Kaufman Center.
(Ongoing) Listen to the hottest new talent out of Nashville at Opry City Stage!
(Ongoing) The largest VR entertainment center in the Western Hemisphere is New York's latest attraction: VR World. Get inspired by virtual reality in a diverse space with three floors that bring culture, gaming, and entertainment together.
Things to Do in New York in April: Sightseeing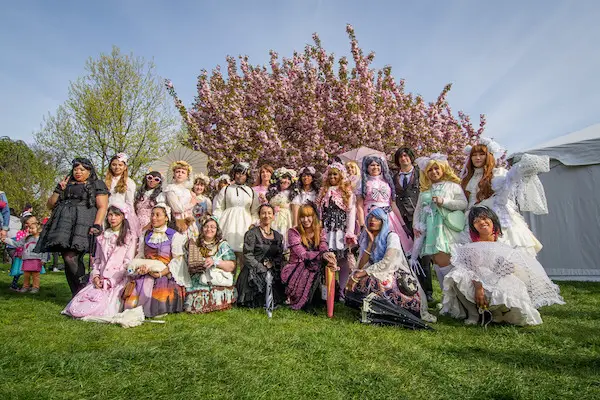 (4/28-4/29) The Sakura Matsuri Cherry Blossom Festival at Brooklyn Botanic Garden.
PLUS
(3/25-4/8) it's the final chance to catch the Macy's Spring 2018 Flower Show.
(4/7) New York Tartan Day Parade in NYC. Celebrate Scottish pride!
(Ongoing) Take a deep dive into an underwater world with one of New York City's newest attractions, National Geographic Encounter: Ocean Odyssey in Times Square. This experience lets visitors explore the ocean like never before thanks to state-of-the-art technology and a brilliant team of designers. This is not a museum, exhibit, movie, aquarium, or virtual reality; instead, the producers consulted with dozens of scientists to create a new kind of immersive experience that guests can walk through as they share ocean encounters. Blockbuster new science—some of it not even published yet—was used in its creation. Short of a submarine, you'll be hard pressed to find a better way to experience life as it's lived under the sea.
Things to Do in New York in April: Ongoing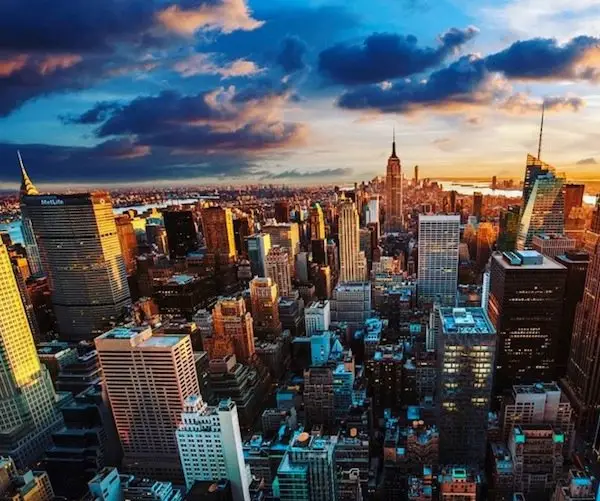 Bring a loved one to take in the breathtaking view at Top of the Rock.
PLUS
(ongoing) Ride 102 stories to the top of the One World Observatory in less than 60 seconds!

(ongoing) Springtime is baseball season! Take a Yankee Stadium Tour!
(New) Check out the New Year's Ball Exhibit at Ripley's New York, where it's New Year's Eve year-round!
Visit the sites of Friends, Seinfeld, Trainwreck, Gossip Girl, Sex and the City and many other NYC film sites with On Location Tours.

Learn more about the fascinating history of New York City's Financial District with Wall Street Walks tours.
Grab a photo with Taylor Swift, One Direction, Lady GaGa and countless others at Madame Tussauds New York.
Ripley's Believe It or Not! Odditorium brings people of all ages face-to-face with the world's most unbelievable curiosities. With 18,000 square feet of astonishing artifacts and exciting interactive exhibits. Here's a coupon!
Weather in New York in April
"April showers bring May flowers," the old saw goes, and you can expect to pay some rain dues this month in New York. In fact, more than half the days in an average April will see rain, although the total precipitation is actually slightly lower than what New York experiences in March. Expect the temperatures to rise steadily, from a start on April 1 with average highs of 56 degrees Fahrenheit (13°C) and average lows right at 40 degrees Fahrenheit (4°C), to highs closer to 66 degrees Fahrenheit (19°C) and lows of 49 degrees Fahrenheit (9°C) by month's end. Days are getting longer, with about 8 hours of light. The heaviest coats can safely be left behind, but you'll still want to pack some outerwear, with sweaters, jackets, and—of course—rain gear. Snow is a longshot by this point in the year. All the great restaurants, museums, galleries, and bars in New York make it easy to entertain yourself indoors, but the odds are you'll have at least a couple of fresh spring days to enjoy the early blooms, and the city's parks coming back to life.
---
Like what you see here? Share it with your friends on Facebook!
Looking for Free Group Planning Services?
Get free advice on planning your group's trip to New York.
RESTAURANTS

Multi-concept restaurant offering modern Japanese cuisine, a...

THEATER

The Imbible sweeps audiences along a 10,000-year journey thr...

SHOPPING

Heaven for designers, artists, and antiques lovers....

SIGHTSEEING

Spirit Cruises is New York City's most vibrant and entertain...