While the United Nations Headquarters is located in New York City, it is, in fact, an international territory! The U.N. was created in 1945, immediately following the end of WWII, as its preamble declares to "save succeeding generations from the scourge of war." Celebrating its 70th anniversary this year, the U.N.'s one-hour guided weekday tours arranged through visit.un.org offer an opportunity to discover (or, as a local, revisit) the newly renovated United Nations Headquarters, and gain insight into the organization's vast array of initiatives.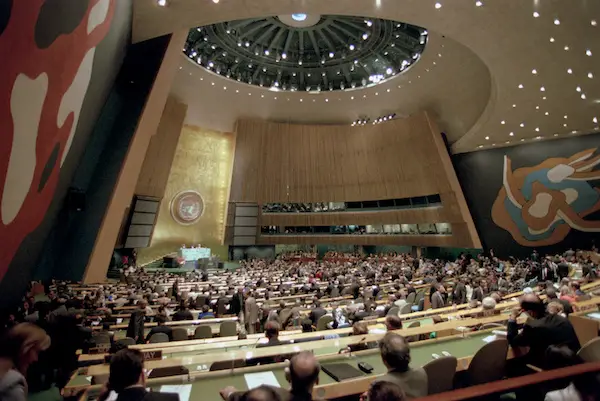 UN General Assembly. Photo/Susan Markisz
The iconic group of four buildings, flanked by a series of international flags, has had its share of historic guest speakers recently; in 2013, brave 15-year-old Pakistani Malala Yousafzai, an advocate of female education and the youngest Nobel Prize recipient in history, gave her first speech in the Trusteeship Council. Leonardo DiCaprio spoke at a U.N. climate summit in 2014; in 2015, Harry Potter actress Emma Watson, a U.N. Women's goodwill ambassador, spoke about HeForShe Impact, an initiative to engage governments, corporations, and educational institutions to further empower women around the world. 
UN Secretary General Ban Ki-moon pictured (clockwise) with Malala Yousafzai, Leonardo DiCaprio, and Emma Watson. Photos: UN/Mark Garten
In September 2015, the 193 member states of the United Nations reached consensus on a new sustainable development agenda, comprised of 17 Sustainable Development Goals (SDGs) and 169 targets. The goals and targets will stimulate action to end poverty and build a more sustainable world over the next 15 years in areas of critical importance: people, planet, prosperity, peace, and partnership.
UN volunteers on a peacekeeping mission during a 2007 flood in Haiti. Photo: flickr/United Nations
Just about any weekday, a visit may give you access to witnessing the General Assembly in session. This is the most iconic room of the U.N., where all its 193 Members States are represented and negotiate resolutions. The tour can also take you through the Economic and Social Council, where member states work to raise the standards of living around the planet, as well as the Security Council, where decisions are made on international peace and security, and the Trusteeship Council, which dealt with decolonisation. Note that the Secretariat, the administrative arm of the U.N., is not visited. The U.N.'s sixth principal branch or "organ" is the International Court of Justice, the only one not based in New York, but in The Hague, Netherlands.
There are six official languages spoken at the U.N.—Arabic, Chinese, English, French, Russian, and Spanish. However, special tours can also be arranged for groups speaking German, Hebrew, Italian, Japanese, Korean, and Portuguese.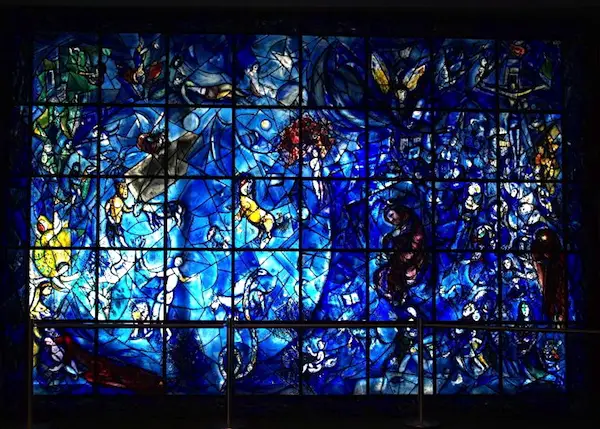 Marc Chagall mural Peace 
During your visit, you'll find illuminating pieces by artists from around the world—a gorgeous Marc Chagall mural commissioned by the U.N.; the sculpture "Knotted Gun," which was donated by Luxembourg in memory of John Lennon; a mosaic entitled "The Golden Rule," based on a Norman Rockwell painting; a Buddhist stupa from Thailand;  and many more. A portion of the ground floor of the main building is set up as an exhibition hall, with rotating works on display.  
The Human Rights Exhibit is particularly moving. Based on the 1948 Universal Declaration of Human Rights, the 30-article document, written by a committee chaired by former First Lady Eleanor Roosevelt, is beautifully illustrated by Brazilian artist Octavio Roth. The first article states, "All human beings are born free and equal in dignity and rights. They are endowed with reason and conscience and should act towards one another in a spirit of brotherhood." The Universal Declaration of Human Rights is in the Guinness Book of World Records for having been translated more than any other document—into 465 languages.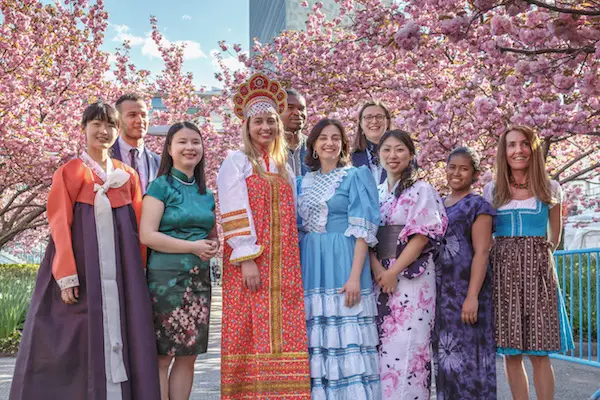 UN Tour Guides. Photo: UN/John Gillespie
While tours are not given on weekends, the United Nations is still open to visitors. There is a main U.N. Gift Centre, organized by goods crafted from different countries around the world, as well as the U.N. Bookshop and a cafe. You can even mail a loved one a postcard from the U.N.'s own on-site post office, with unique United Nations stamps (they can only be used for mail from the U.N., or for collecting—there are many, and the artwork is stunning!).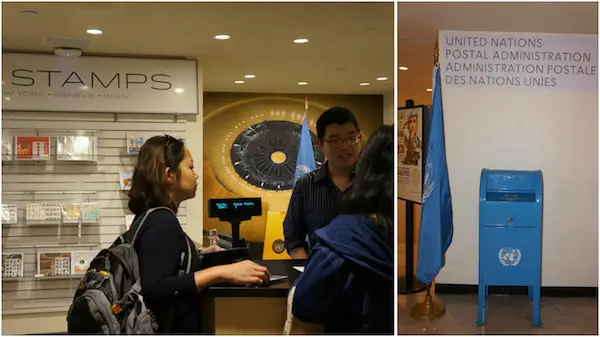 Photos: UN/Michelle Tong
Any itching questions that you may have forgotten to ask your tour guide? No problem: visit ask.un.org for a directory of frequently asked questions, answered in numerous languages.
Visitors to the UN must be at least 5 years of age. All visitors to the United Nations 18 years or older require government-issued photo identification to enter. Tours for groups up to 20 available. 46th St. and First Ave., 212-963-8687, visit.un.org