Ever since the Beatles landed in NYC in 1964, launching the British Invasion, Americans can't get enough of all things English (witness Downton Abbey). Apparently the feeling is mutual, because every year well over a million Brits visit New York City. Since we don't have stately homes, 007, or David Beckham, what's the appeal? City Guide spoke to tourists and expats from the UK to find out. Read on for some must-sees for U.K. visitors to NYC.
UK Visitors: Shopping
Superga, available at Century 21
"My friends and family who visit want to go shopping, as clothes/shoes are so much cheaper here than Britain, particularly with the good exchange rate for them," said expat Sarah Baker. "I usually send them to the big department stores like Saks, Bloomingdales, or Macy's."
Century 21 is another New York classic, offering 65% off the latest in designer looks. The world's largest largest source of cameras, camcorders, computers, tablets, and media players is here, too: the legendary B&H Photo Video.


City Guide insider tip: Macy's and Bloomingdale's offer 10% off savings passes to all out-of-town visitors. And ask about other perks like international shipping and parcel delivery to your hotel.
UK Visitors: Sports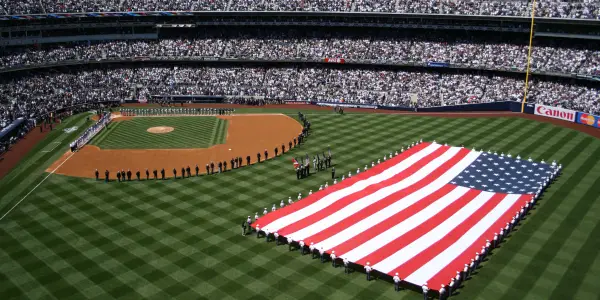 "Most people are interested in sports that we don't have in Britain, like ice hockey, basketball, and American football," said Sarah. "Many are familiar with the Yankees, so they want to see them. Everyone gets a pretzel or a hot dog at the game—everyone!"
For an insider's look at baseball, check out Yankee Stadium Tours, which run year-round and provide access to the stadium itself, plus World Series trophies and rings, and the famed (in America at least) Monument Park.
Americans have a reputation for knowing how to have fun, and Dave & Buster's Times Square certainly fits that bill. They've got all the big games on huge screens, and they'll also let you do some playing on your own: check out States-side classics like Pop-A-Shot, Pac-Man, Skeeball, and air hockey, or the newest games in D&B's Million Dollar Midway. They serve lunch, dinner, and tasty late-night offerings, from spicy wings to juicy burgers, fresh salads, and more.

UK visitors can follow their home clubs at bars all around NYC. Journalist Peter Lynch recommends The Mad Hatter for Manchester City matches, and Peter Dillon's (the location at 130 E. 40th St.) for Manchester United games. Liverpool fans congregate at the 11th Street Bar. For some authentic Irish hospitality, head to Foxy John's, which has an "American fusion" menu and plenty of footie on the telly.
UK Visitors: Food and Drink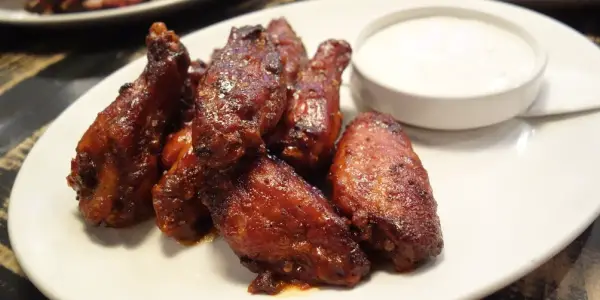 The wings at Blue Smoke

Sarah reports that first-time visitors always want to try New York pizza. There are destination pizzerias of course, but the best way to sample real NY pizza is at a neighborhood joint. Ignore the fancy pies on display and go for a "regular" slice, or a Sicilian (thicker, bready crust but not technically deep dish). Both are simply tomato sauce and cheese, which is the traditional NY style. You will be handed the slice on a paper plate to facilitate bending it like a paper airplane—all the better to eat while walking down the street.
Wings are another popular food among Brits visiting New York, and 2016 may be the golden age of chicken. Wings (and other parts of the bird) are available in many styles all over the city. Never fear, a pint will be close by wherever you land. Try the Korean wings at Barn Joo for the crispy crust, with spice levels that range from tame to incendiary. Go to Blue Smoke for American BBQ, including smoked wings. For the classic Buffalo chicken wing (lip-puckering vinegary hot sauce and blue cheese dip), check out Daddy-O's in the West Village, open until 4am.
After a few days of American food and drink (especially the dishwater we call tea), you may want a taste of home. For the best fish and chips, you can trek to the ChipShop in Brooklyn, which also serves bangers and mash, pies, and crumbles. Myers of Keswick bills itself as a traditional British grocery store in NYC and sells pies, cheeses, and bangers for takeaway. For Sunday roast or a full English, go to The Churchill.
Speaking of tea, most of the upscale hotels offer a lavish afternoon service. George and Amal Clooney favor The Carlyle, but the 17th floor view of Central Park from the Mandarin Oriental enhances the experience. Tea salons dot Manhattan; including a branch of Harney and Sons. The snug Bosie Tea Parlor brews a beautiful cuppa with perhaps the best scones in town (even though the chef is French!).
UK Visitors: History
The Revolutionary War is obviously a landmark in American history and a number of important battles were fought in NYC. The city remained occupied by the British until 1883, when the last ships sailed back to Blighty. The battlefields are long gone, and historic sites mostly commemorate the victors—us. They include the Prison Ship Martyrs Monument in Fort Greene, Brooklyn, and Fraunces Tavern in the Financial District, where peace negotiations were held.
For a taste of New York history, head uptown to the New-York Historical Society, where galleries show off four centuries of history and art, plus the panoramic film experience New York Story, telling the story of New York and America, shown continuously on a 75-foot screen.
UK Visitors: Art
If you must visit just one art museum in NYC, let it be the The Frick Collection. It's manageable in size, and virtually every work is a masterpiece. Henry Clay Frick, who acquired the artworks, was an Anglophile and collected a number of British painters, including Turner, Hogarth, and Gainsborough. A highlight is two portraits by Holbein—of Sir Thomas More and Richard Cromwell—who glare at each other through eternity.
The Metropolitan Museum of Art, a short walk up Fifth Avenue from the Frick, is an encyclopedic collection of art throughout history and spanning the globe. Visit the English period rooms (a whole wing of them) and Gallery 629, which houses 18th century British paintings.
---
UK Visitors: British Consulate
If anything should go awry while you are visiting New York City, the British Consulate General is here to help. The local phone number is 212-745-0200 and the Consulate is located in midtown Manhattan at 845 Third Ave. (btw. 51st and 52nd Sts.).