The Best of What to Do in NYC in October
August 28, 2017 - by City Guide News Desk
With exhibits, sightseeing, fun for kids, concerts, and nightlife, we've got the best of what to do in NYC for October 2017. It's a great month for visiting, with the leaves turning, mellow weather, and lots and lots of activities.
October Things to Do in NYC: Exhibitions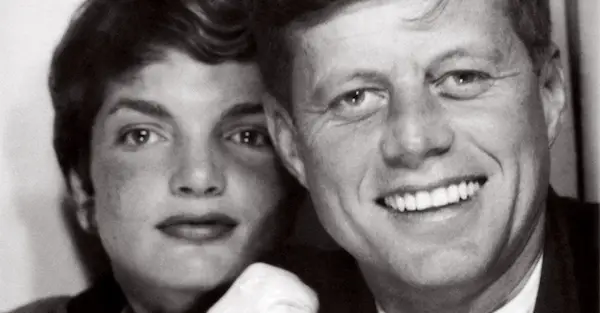 (Now 1/7/18) The photographs in the new exhibit American Visionary: John F. Kennedy's Life and Times at the New-York Historical Society convey the sensation you've seen them before: JFK in the White House, his kids joyfully playing nearby; JFK with wife Jackie at an event, both of them elegant and assured (in truth, many images here have only rarely been shown). It's part of the famous Kennedy allure, conveying a world that's simultaneously approachable, glittering, and rarefied. This well-curated exhibition charts JFK's trajectory as a politician, as well as the cultural and historical pulse of the times, when photojournalism was at an apex. It's a wonderful opportunity to observe a world both familiar and lost, and to reflect on where the country was—and is.
PLUS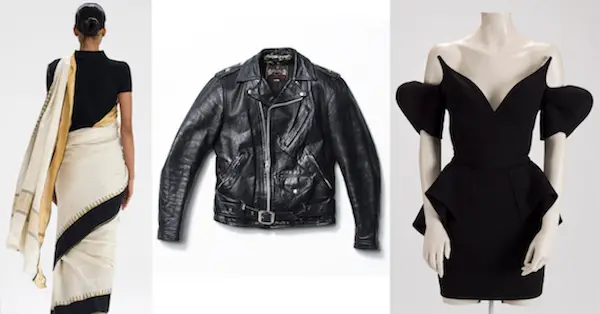 (10/1-1/28/18) Items: Is Fashion Modern? at MoMA explores the present, past—and sometimes the future—of 111 items of clothing and accessories that have had a strong impact on the world in the 20th and 21st centuries—and continue to hold currency today. Among them are pieces as well-known and transformative as the Levi's 501s, the Breton shirt, and the Little Black Dress, and as ancient and culturally charged as the sari, the pearl necklace, the kippah, and the keffiyeh. Items will also invite some designers, engineers, and manufacturers to respond to some of these indispensable items with pioneering materials, approaches, and techniques—extending this conversation into the near and distant futures, and connecting the history of these garments with their present recombination and use.
(10/1-10/31) Bring on Archtober 2017. New York's annual Architecture and Design Month, now in its seventh year, is a celebration of all things architectural. Running October 1 through October 31, this year's festival features over 150 events, from lectures to activities to exhibitions.
(10/7-5/18) The Butterfly Conservatory returns to AMNH. This is one of the museum's most popular annual seasonal exhibitions. Butterflies and moths make up a large group of insects known as the Order Lepidoptera (lep-i-DOP-ter-ah). The name—from the Greek lepido, "scale," and ptera, "wings"—refers to a prominent feature of adult butterflies and moths, the tiny scales that cover the wings and the rest of the body. Great exhibit to visit, especially as the days get cooler!
(New! Now-1/21/18) Soulful Creatures: Animal Mummies in Ancient Egypt at Brooklyn Museum. In the ancient burial ground at Saqqara, Egypt, one animal cemetery alone has yielded over four million individual ibis mummies. And the nearby dog cemetery contained over seven million mummies, with countless others found throughout Egypt. This unusual aspect of ancient Egyptian culture and religion—the mummification of animals—has remained largely a mystery. Soulful Creatures: Animal Mummies in Ancient Egypt explores the religious purpose of these mummies, how they were made, and why there are so many. Drawn from our renowned collection, the exhibition features choice examples from among the many millions of mummies of birds, cats, dogs, snakes, and other animals preserved from at least thirty-one different cemeteries throughout Egypt. Animals were central to the ancient Egyptian worldview. Most animals had connections to a particular deity. After death, mummified animals' souls could carry a message to a god. Yet not all animal mummies are what they seem. Scientific investigation of the mummies reveals that the corruption in the animal cemeteries that some contemporaneous texts allege was all too real. CT scans displayed in the exhibition uncover the empty wrappings, double mummies, and misleading packaging among some of the mummies that the priests sold to worshippers.
(Now-10/29) CHIHULY at the The New York Botanical Garden features nearly two dozen breathtaking works of art by world-renowned artist Dale Chihuly at NYBG in his first major garden exhibition in more than ten years in New York. *On Thurs-Sat. in Sept-Oct., enjoy cocktails, snacks, live music and more during CHIHULY Nights, when the sculptures are illuminated. 6:30pm-9:30pm.
(Now-1/7/18) Magnificent Gems: Medieval Treasures at the Morgan Library & Museum. The treasure bindings on view include star sapphires, diamonds, emeralds, pearls, and garnets, alongside illuminated manuscripts and printed books that depict two-dimensional representations of these precious materials. Among the exhibition highlights will be the ninth-century Lindau Gospels, one of the two finest Carolingian jeweled bindings in the world, and the thirteenth-century Berthold Sacramentary, the most luxurious German manuscript of its time.
(Permanent) The New-York Historical Society's Fourth Floor Renovation, now complete, includes a brand new Tiffany Lamps Gallery, in addition to the opening of its Women's History Center.
(Permanent) New! The Jim Henson Exhibition at the Museum of the Moving Image will celebrate the life and legacy of the famed Muppet creator, exploring both his prolific career and the enduring effect his work has on pop culture to this day. Visitors can expect to learn more about the creation of such beloved works as The Muppet Show, Sesame Street, Fraggle Rock, The Dark Crystal, and Labryinth, as well as to discover the cutting-edge experimental works Henson made throughout his career.
(now-12/31) Drones: Is the Sky the Limit? at Intrepid Sea, Air & Space Museum is the first major museum exhibition on pilotless aircraft to open in the U.S. The large-scale exhibition, located in a huge, custom-designed pavilion, will reveal the history of drone technology, from its WWI origins to its current applications in solving complex humanitarian challenges. The exhibition will include a mix of small and large scale drones, including Volantis, the world's first flying dress, designed and worn by Lady Gaga. intrepidmuseum.org. Use this coupon and take $5 off!
(now-10/29) Final month! CHIHULY at the New York Botanical Garden: breathtaking works of art by world-renowned glass artist Dale Chihuly will be on view at NYBG in his first major garden exhibition in New York in more than ten years. CHIHULY, presented by Bank of America, will showcase approximately 20 installations and include drawings and early works that reveal the evolution of Chihuly's artistic process during his celebrated career. Special weekend celebrations, films, poetry, and nature-inspired art programs for kids offer colorful and imaginative tributes to nature. On CHIHULY Nights (Thurs -Sat), the exhibition takes on a magical energy as the garden's vistas and Conservatory become living canvases for these works of art.
(Permanent) The Museum of the City of New York presents NY at Its Core. Ten years in the making, New York at Its Core presents the compelling story of New York's rise from a striving Dutch village to today's "Capital of the World." The exhibition captures the human energy that drove New York to become a city like no other and a subject of fascination the world over. Entertaining, inspiring, important, and at times bemusing, New York City "big personalities," including Alexander Hamilton, Walt Whitman, Boss Tweed, Emma Goldman, JP Morgan, Fiorello La Guardia, Jane Jacobs, Jay-Z, and dozens more, parade through the exhibition.
October Things to Do in NYC: Comedy
(10/12) Margaret Cho: Fresh off the Bloat at the Gramercy Theatre.
PLUS
(10/5) Jerry Seinfeld at Beacon Theatre.
(10/20-10/21) Pete Correale at Gotham Comedy Club.
October Things to Do in NYC: Sightseeing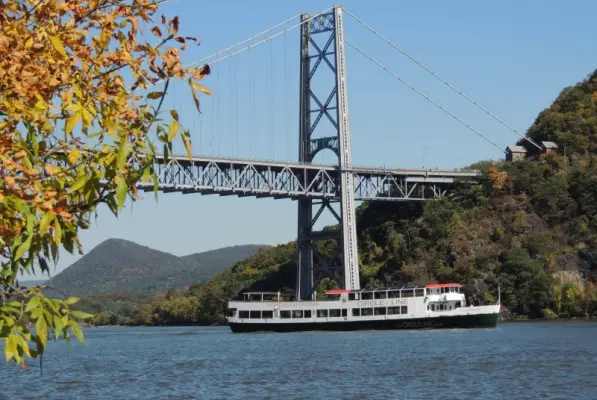 (9/23-11/5 + 10/9), take advantage of Circle Line's Bear Mountain Cruise, or as it has come to be known by many, the Oktoberfest Cruise. Peak fall foliage, live bands, craft vendors, and the largest pretzels known to mankind all welcome you to a hoppy universe far away from the daily grind. You can burn off all those beer and brats, plus stock up on fresh air, with a gorgeous three-hour hike along one of the 50 hiking trails in Bear Mountain State Park. They'll be setting sail Columbus Day, too. $65 adults, $52 kids. Boards 8:30am sharp. Pier 83, W. 42nd St. and 12th Ave., NY, 212-563-3200, circleline42.com
PLUS
(10/1) The picturesque Brooklyn Botanic Garden hosts its Annual Chile Pepper Festival with dozens of fiery food artisans, workshops, and more! Entertainment includes two fire breathers and live bands performing everything from Afro-Caribbean pop to a Brooklyn-style Indian bhangra dance party.
(10/12-10/15) New York City Wine and Food Festival (NYCWFF) will feature more than 80 events, including tastings, classes, celebrity talks, parties, and more.
(10/13-10/15) The New York Coffee Festival comes to Metropolitan Pavilion.
(10/24) Celebrate United Nations Day with a visit to the UN Headquarters complex in midtown. Weekday tours provide access to the stunning art and architecture at the newly renovated UN, in addition to insight into the organization's vast array of initiatives. There's even entry to the General Assembly, where all 193 Members States are represented and negotiate.
See New York City as your own private theater! Take THE RIDE!
The One World Observatory is open, see October from 100 floors high!
Explore NYC's financial district with Wall Street Walks.
Check out the hottest spots to eat and drink in the Flatiron District and Williamsburg with Like a Local Tours.
Visit the sites of Ghostbusters, Friends, Seinfeld, Trainwreck, Gossip Girl, Sex and the City, and many other NYC film sites with On Location Tours.

Ripley's Believe It or Not! Odditorium brings people of all ages face-to-face with the world's most unbelievable curiosities. With 18,000 square feet of astonishing artifacts and exciting interactive exhibits. Here's a coupon!
Explore New York City from the best vantage points with Helicopter Flight Services Tours. Choose from four different itineraries.
October Things to Do in NYC: Kids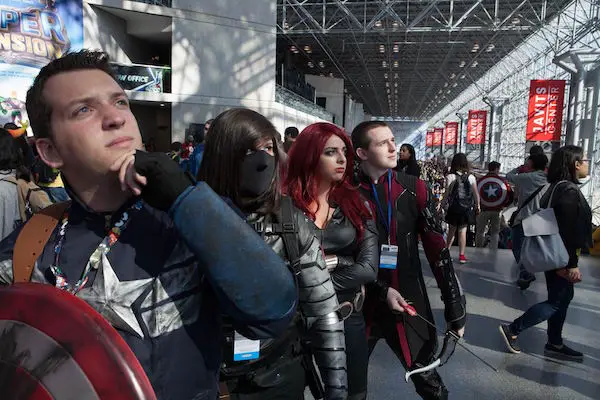 (10/5-10/8) New York Comic Con returns to Javits Center! This year's guests include Mark Hamill (Star Wars), Felicity Jones (Rogue One), Michael Rooker (Guardians of the Galaxy), William Shatner (Star Trek), and many others still to be announced. If you want more, don't miss New York's own Midtown Comics, with three locations (Times Square, Grand Central, and Downtown) and an incredible selection that includes hot new comics, graphic novels, and loads of back issues. newyorkcomiccon.com
PLUS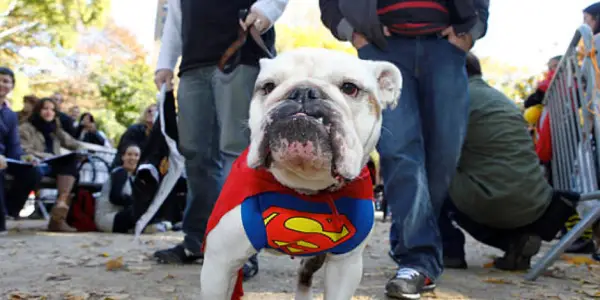 (10/21) Tompkins Square Halloween Dog Parade: Pooches let their alter egos shine, putting on some of the cutest and most creative costumes you've ever seen at the annual Tompkins Square Halloween Dog Parade. Compete for thousands of dollars in prizes. Noon-3pm, rain or shine. tompkindssquaredogrun.com
(10/28) Ghouls and Gourds 2017 at Brooklyn Botanic Garden. Shake a tail feather, show off your costume, and carouse with colossal puppets at Brooklyn's wackiest costume parade! Noon-5:30pm.
PLUS
(now-10/9) Final weeks! Eloise at the Museum reveals the creative collaboration between cabaret star Kay Thompson (1909-1998) and the young illustrator Hilary Knight (b. 1926) that brought the precocious character to life. The exhibition showcases more than 75 objects, ranging from original manuscript pages to sketchbooks, portraits, photographs, and vintage dolls.
(10/1, 10/8, 10/15) Big City Fishing at Hudson River Park Pier 25.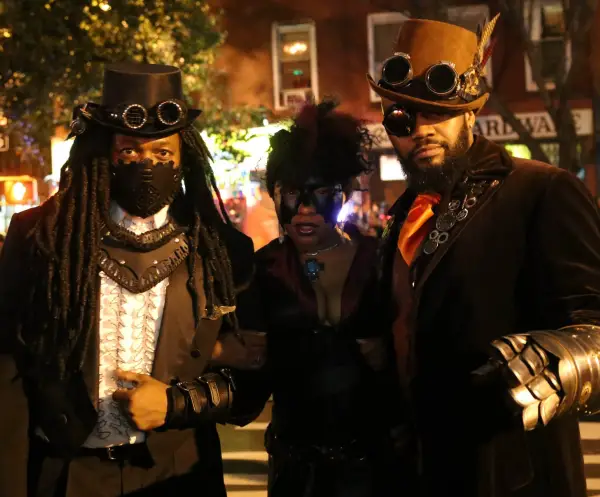 (10/31) The beloved 43rd Annual Village Halloween Parade goes off in Greenwich Village at 7pm (it's also televised on NY1). All those in costume are welcome to join a parade of hundreds of puppets, bands, dancers, artists, and thousands of other New Yorkers in costumes of their own creation in the nation's most wildly creative public participatory event. Alert: only enter the line-up between 6:30 and 8:30pm on Sixth Ave. at Canal St. For spectators, the route follows Sixth Ave. north from Spring St. to 16th St. 7-10:30pm.
(Now-1/28/18) Arcade Classics: Video Classics from the collection at the Museum of the Moving Image in Queens.
(ongoing) Aspiring scientists and astronauts will want to explore the New York Hall of Science in Queens, brimming with interactive exhibits (plus an outdoor playground).
October Things to Do in NYC: Music & Nightlife

(10/2, 10/6) Katy Perry at Madison Square Garden.
PLUS
(now-10/2) Last chance of the season to indulge Oktoberfest 2017 at Watermark. Noon-midnight. Prost! Tickets required.
(10/1) Ed Sheeran at Barclays Center.
(10/4) Paramore at Radio City Music Hall.
(10/5) The Lords of Acid at The Knitting Factory Brooklyn.
(10/4-10/5) Star Wars: Return of the Jedi in concert, with the New York Philharmonic, at the David Geffen Hall at Lincoln Center. (10/6-10/7) Star Wars: The Force Awakens. nyphil.org/starwars 7:30pm.
(10/6) The Kooks at Terminal 5.
(10/6) Comic Con Vixens IV (late show) at City Winery.
(10/6) Tony Bennett performs at Radio City Music Hall.
(10/6) The National performs the final concert of the season at Forest Hills Stadium.
(10/9) Darlene Love at B.B. King Blues Club & Grill.
(10/10, 10/12-10/14) Andrea McArdle at Feinstein's/54 Below.
(10/10-10/21) Rita Wilson at the Carlyle.
(10/12) Air Supply at B.B. King Blues Club & Grill.
(10/16) Billy Bragg at City Winery.
(10/16) Ministry & Death Grips at Brooklyn Steel.
Photo: Griffin Lipson/BFA.com
(10/16) Bill Murray, Jan Vogler and Friends perform at Carnegie Hall.
(10/18) Swedish sister duo First Aid Kit w/JS Ondara at The Town Hall.
(10/26) RuPaul's Drag Race: Werq the World at The Town Hall.
(10/26) Mummy Masquerade at Brooklyn Museum. MeLo X and Jasmine Solano (A.K.A. Electric Punanny) host a Halloween dance party in celebration of the special exhibition Soulful Creatures. The evening includes pop-up tours, led by the ASK team, on the origins of mummies becoming synonymous with Halloween. Guests are encouraged to wear costumes, but they are not mandatory for entry. Includes a cash bar. $25 advance, $30 at door. 7pm-11pm.
(10/27, 10/28, 10/31) McKittrick Masquerade: Inferno at the McKittrick Hotel, home to the interactive experience Sleep No More. Take part in one, or three nights of "costumed revelry" with dancing, live entertainment, plus open bar. Tickets $95-$475.
(10/28) A Wasabassco Halloween: Costume Party & Burlesque at City Winery.
(10/28) Fall Out Boy at Barclays Center.
(10/31) Gwar on Halloween Night at Irving Plaza.
(10/31) George Clinton & Parliment Funkadelic for the 2nd Annual Halloween Funkdown at B.B. King Blues Club & Grill.
Things to Do in New York in October: Sightseeing
(Ongoing) Explore the best of Brooklyn with Circle Line's Landmarks + Brooklyn Cruise!
PLUS
(10/14-10/15) Second Annual Queens Beer Festival.
(10/14-10/15) Unique spaces—indoors and out—are a big part of what makes NYC so special. To feel like a total insider, check out the 15th Annual Open House New York (OHNY) Weekend, a celebration of architecture and urban design all across the city. Visitors have the chance to check out 250 sites in all five boroughs along with tours, talks, and explorations. You'll get landscape architecture, National Park Service landmarks, and cultural destinations. Most visits are free, some sites and tours require advance reservations and may charge a nominal fee. Citywide, ohny.org
(Ongoing) A shout out to A Slice of Brooklyn Tours, as they celebrate their 12th anniversary. They continue to bring locals and tourists alike the best Brooklyn Pizza, Christmas Lights, Chocolate Tours, and more. Founded by Brooklyn native and travel lover Tony Muia, the company has received Certificates of Excellence from TripAdvisor for the past six years! All tours conveniently depart and return to Union Square! Congratulations! Book your tour today!
Things to Do in New York in October: Ongoing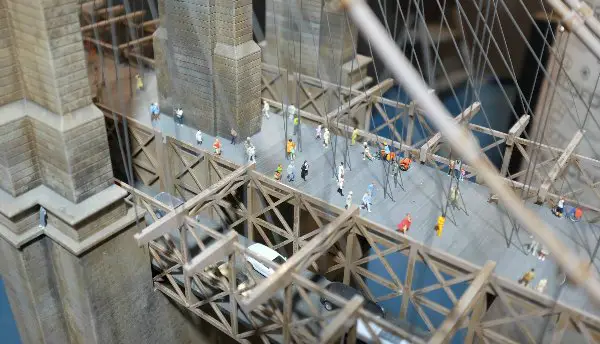 Explore NYC in miniature at Gulliver's Gate.
Part tour, part show, all entertainment! Take THE RIDE and see NYC like never before! Experience Downtown NYC, enhanced with virtual reality, with THE RIDE's DOWNTOWN EXPERIENCE.
Visit the sites of Ghostbusters, Friends, Seinfeld, Trainwreck, Gossip Girl, Sex and the City, and many other NYC film sites with On Location Tours.

Learn more about the fascinating history of New York City's Financial District with Wall Street Walks tours.
Grab a photo with Taylor Swift, One Direction, Lady GaGa, JLo, and more at Madame Tussauds New York.
Ripley's Believe It or Not! Odditorium brings people of all ages face-to-face with the world's most unbelievable curiosities. With 18,000 square feet of astonishing artifacts and exciting interactive exhibits. Here's a coupon!
Zip up 100 stories in 60 seconds and see New York City atop One World Observatory.
Explore New York City from the best vantage points with Helicopter Flight Services Tours. Choose from four different itineraries.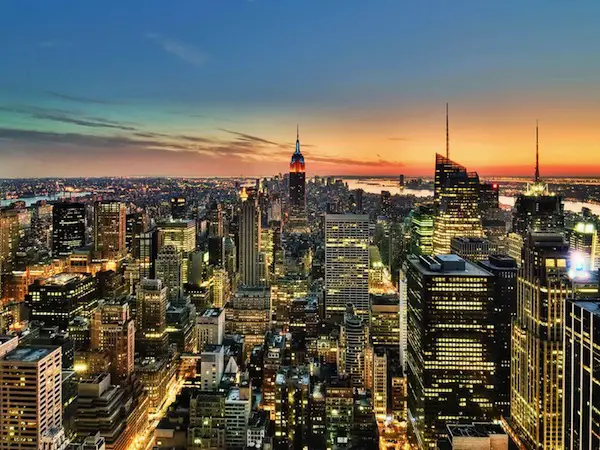 Bring a loved one to take in the breathtaking view at Top of the Rock.
New York Weather in October

For many New Yorkers, October is the best month of the year. There's a crispness to the air, it's usually dry, fall foliage is peaking, and extreme weather is usually far away. Highs average 70°F (20°C) on October 1st and cool down to 52°F (11°C) by Halloween, October 31st. Average lows overnight go from 53°F (12°C) at the month's start all the way down to 45°F (7°C) by month's end. There's rain on about 10 days, but it usually isn't heavy—4 inches in total precipitation is scattered across the month, which is usually a little drier than September. Bringing an umbrella can't hurt, and you'll want a nice jacket. And maybe a second jacket purchased at a deep discount from Century 21?
---
Looking for Free Group Planning Services?
Get free advice on planning your group's trip to New York.
RESTAURANTS

Multi-concept restaurant offering modern Japanese cuisine, a...

THEATER

Kander and Ebb's "musical vaudeville" in which Roxie Hart ga...

SHOPPING

Heaven for designers, artists, and antiques lovers....

SIGHTSEEING

A state-of-the-art Coney Island amusement park that's home t...