The Best Things to Do in NYC in October
July 25, 2018 - by City Guide News Desk
With exhibits, sightseeing, fun for kids, concerts, and nightlife, there's tons going on in New York in October and we've got the best of it. (It's a great month for visiting, with the leaves turning, mellow weather, and lots and lots of activities.)
October Things to Do in NYC: Exhibitions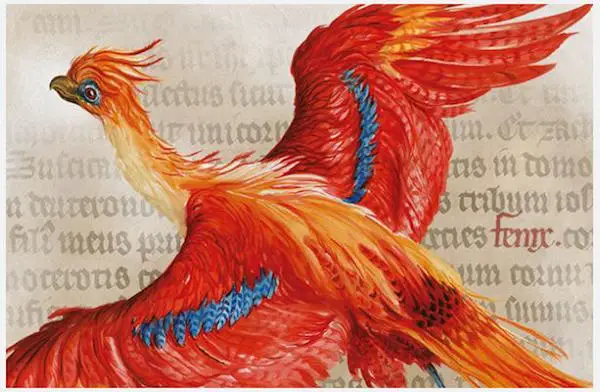 (10/5-1/27/19) Harry Potter: A History of Magic arrives at the New-York Historical Society. In celebration of the 20th anniversary of the U.S. publication of J.K. Rowling's Harry Potter and the Sorcerer's Stone, New-York Historical will display illustrator Brian Selznick's artwork, which will appear on the covers of the Harry Potter series to be published by Scholastic later this year. Also on view to the public for the first time will be Mary GrandPré's illustrations created for Scholastic's original editions of the novels. Costumes and set models from Harry Potter and the Cursed Child, which opened on Broadway in April, will be showcased in the exhibition. A long list of events will take place in conjunction with the exhibit, including trivia night, talks, and an adult costume party. nyhistory.org
PLUS
(10/12-2/3/19) Before abstract art was a speck in Kandinsky's eye, the painter Hilma af Klint (1862-1944) was pioneering non-representational painting in Sweden. A spiritualist who claimed to communicate with the dead, af Klint worked in near-obscurity, forbidding her paintings from public exposure until 20 years after her passing. Upon her death in 1944, she left 1,300 paintings behind, a body of work constituting some of the world's first abstract art. Discover Hilma af Klint, a woman before her time, at the new Solomon R. Guggenheim Museum exhibit Hilma af Klint: Paintings for the Future, opening October 12.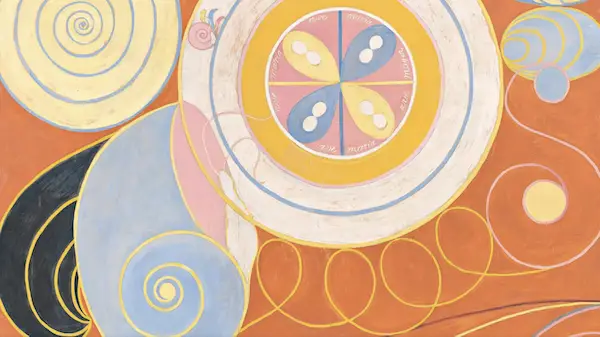 Group IV, the Ten Largest, No. 3, Youth, 1907, from Untitled Series. Photo: Albin Dahlström, Moderna Museet, Stockholm
(10/16-10/20) In Praise of Painting: Dutch Masterpieces at The Met Dutch paintings of the seventeenth century—the Golden Age of Rembrandt, Hals, and Vermeer—have been a highlight of The Met collection since the Museum's founding purchase in 1871. This exhibition will bring together some of the Museum's greatest paintings to present this remarkable chapter of art history in a new light. Through roughly sixty-five works of art organized thematically, the exhibition will orient visitors to key issues in seventeenth-century Dutch culture—from debates about religion and conspicuous consumption to painters' fascination with the domestic lives of women. metmuseum.org.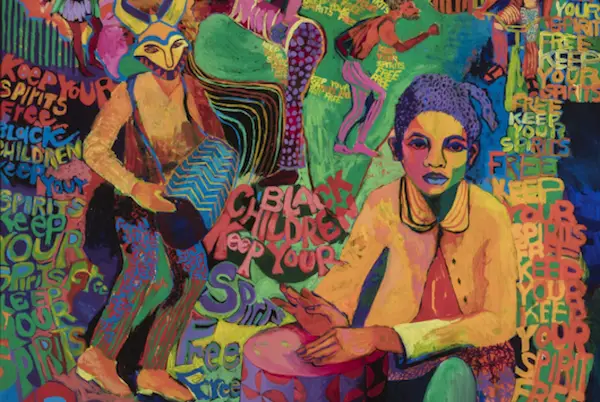 Carolyn Lawrence, Black Children Keep Your Spirits Free. The exhibition, which opens September 14, presents a wide range of painting, photography, and sculpture from over 60 artists on the fourth and fifth floors of the museum. Photo by Michael Tropea.
(Now-2/3/19) Soul of a Nation: Art in the Age of Black Power Proponents of Black Power had no better advocates than the artists among their ranks. Painters, sculptors, and performance artists rose up during this era to make protest art that spoke to the black experience in America and critiqued the white establishment that resisted them. Soul of a Nation: Art in the Age of Black Power at the Brooklyn Museum features over 150 works of art inspired by this vital sociopolitical movement.
(Now-1/6/19) Delacroix at the Metropolitan Museum of Art -This is the first comprehensive US retrospective of the work of French Eugene Delacroix (1798-1863). The Met has teamed up with The Louvre, showcasing in chronological order, some 150 pieces, a variety of paintings, drawings, manuscripts, and prints.
(Now-2/3/19) Even over a century after his birth, Dutch artist M.C. Escher (1898-1972) continues to astound. Catch more than 200 of Escher's mind-bending works at Escher: The Exhibition & Experience in Brooklyn's Industry City. Exploring the intersection of art, mathematics, science, and poetry, the exhibition will feature interactive immersive experiences that bring the artist's optical illusions to life. eschernyc.com
(Now-10/28) In 1939, the pioneering American Modernist Georgia O'Keeffe (1887–1986) went to Hawaii on commission for a Hawaiian Pineapple Company promotional campaign. What she created provides the inspiration for the landmark new exhibition Georgia O'Keeffe: Visions of Hawai'i at The New York Botanical Garden. A stunning display in the LuEsther T. Mertz Library Art Gallery includes 17 of O'Keeffe's Hawaii paintings, not seen together in New York since their debut in 1940. The historic Enid A. Haupt Conservatory explores the remarkable beauty and variety of Hawaiian flora, as well as its complex botanical and cultural history. The garden (just a 20-minute Metro-North ride from Grand Central Terminal) also features a living collection of more than one million plants.
(Now-12/9) Rivers and Torrents: Oil Sketches from the Thaw Collection at the Morgan Library. Even advanced painters struggle to capture moving water in their work. The play of light on the ripples, the wind on the surface, the current moving it all along—it's one of the many reasons we're all captivated by Monet's Water Lilies. See the work of other artists from the 19th century onward through oil studies of Rivers and Torrents. Click here for more about exhibits at Morgan Library.
(Now-10/8) Final week! Heavenly Bodies at the Metropolitan Museum of Art and The Cloisters. Heavenly Bodies: Fashion and the Catholic Imagination reflects the influence of religious art, ceremony, and imagery on clothing design. It's a sprawling show, literally—encompassing 65,000 square feet and 25 galleries, including The Cloisters (the museum's uptown branch dedicated to medieval art, housed in reconstituted European chapels and cloisters) and parts of the Lehman Wing, the Costume Center, and the medieval and Byzantine art galleries at The Met itself.
(Now-12/2/18) Art of the Mountain: Through the Chinese Photographer's Lens at the China Institute. Featuring over 60 photographs from a range of modern Chinese photographers, this exhibition will allow visitors to consider the role of mountains in China's geography, history, art, and philosophy.
(Now-10/14) Final weeks! The American Folk Art Museum presents Charting the Divine Plan: The Art of Orra White Hitchcock, which brings together aspects of art, love, science, and religion, as expressed by one of America's first female scientific illustrators. Working in the mid-19th century, Orra White Hitchcock was equally skilled in the natural sciences and in art, and her illustrations of plant life, geological formations, fossilized animals, and dinosaur tracks were used in Amherst College lectures and the scientific journals of the day. The exhibition puts on display Hitchcock's rarely seen drawings and paintings, some up to 10 feet long, which demonstrate both scientific clarity and an unexpected modernity.
(Permanent) The Jim Henson Exhibition at the Museum of the Moving Image will celebrate the life and legacy of the famed Muppet creator, exploring both his prolific career and the enduring effect his work has on pop culture to this day. Visitors can expect to learn more about the creation of such beloved works as The Muppet Show, Sesame Street, Fraggle Rock, The Dark Crystal, and Labryinth, as well as to discover the cutting-edge experimental works Henson made throughout his career.
(10/1-10/31) Bring on Archtober 2018. New York's annual Architecture and Design Month, now in its seventh year, is a celebration of all things architectural. This year's festival features over 150 events, from lectures to activities to exhibitions.
October Things to Do in NYC: Comedy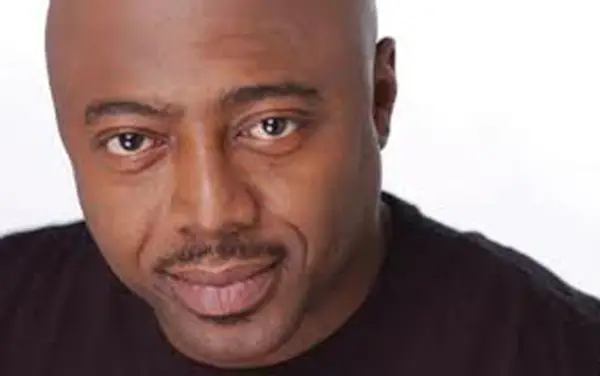 (10/11-10/14) The Chapelle Show's Donnell Rawlings at Carolines.
PLUS
(10/18-10/20) Pete Correale at Gotham Comedy Club.
(10/26-10/27) Rachel Feinstein at Gotham Comedy Club.
October Things to Do in NYC: Kids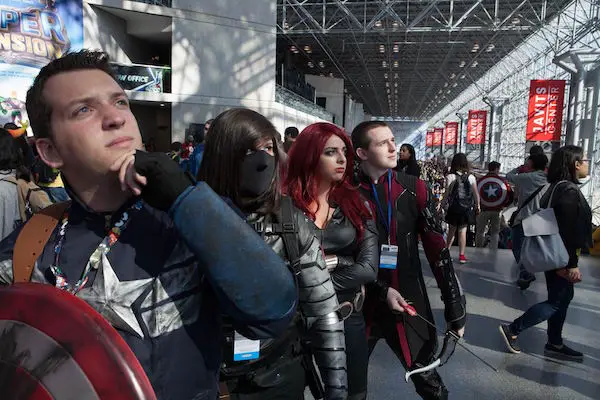 (10/4-10/7) For kids and adults alike, New York Comic Con returns to the Javits Center! This year's guests include the cast of American Gods, including writer Neil Gaiman, Jason Momoa (Aquaman), Matt Smith, David Tennant (Doctor Who) Neil deGrasse Tyson, Sam Heughan (Outlander), Adam Savage (Mythbusters), and more to be announced. If you can't get enough of all things comics, don't miss New York's own Midtown Comics, with three locations (Times Square, Grand Central, and downtown) and an incredible selection that includes hot new comics, graphic novels, and loads of back issues. newyorkcomiccon.com
PLUS
(10/27) Ghouls and Gourds 2018 at Brooklyn Botanic Garden. Shake a tail feather, show off your costume, and carouse with colossal puppets at Brooklyn's wackiest costume parade. Noon-5:30pm.
(10/28) Children's Fall Festival at Queens Farm: dress in costume, boogie down to live country western music, take an autumn hayride, visit a Haunted House, and enjoy pony rides and a seasonal petting zoo. Find your way out of The Amazing Maize Maze, take pics with cartoon character look-alikes, and check out the Con Edison Ecology booth for recycling tips and kids' crafts. 11am-4pm. $20. queensfarm.org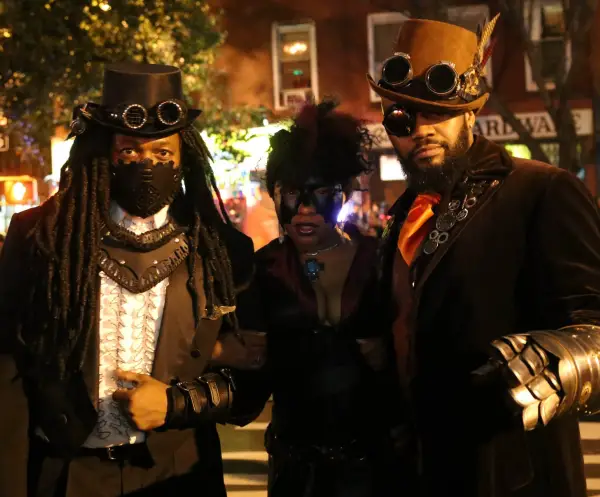 (10/31) The beloved 45th Annual Village Halloween Parade goes off in Greenwich Village at 7pm (it's also televised live on NY1). All those in costume are welcome to join a parade of hundreds of puppets, bands, dancers, artists, and thousands of other New Yorkers in costumes of their own creation in the nation's most wildly creative public participatory event. Alert: only enter the line-up between 6:30 and 8:30pm on Sixth Ave. at Canal St. For spectators, the route follows Sixth Ave. north from Spring St. to 16th St. 7-10:30pm.
(ongoing) Aspiring scientists and astronauts will want to explore the New York Hall of Science in Queens, brimming with interactive exhibits (plus an outdoor playground).
October Things to Do in NYC: Music & Nightlife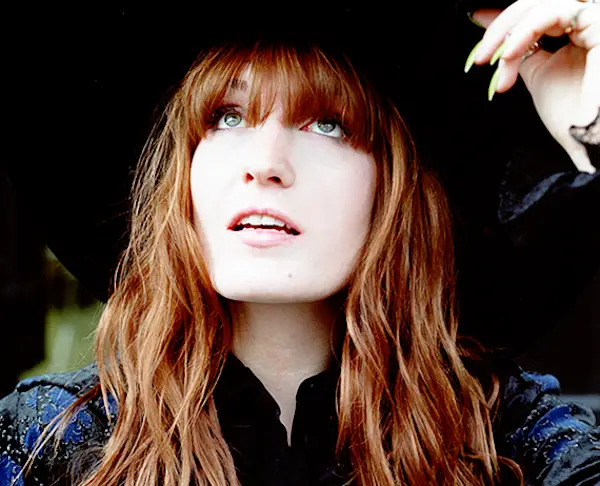 (10/9) Florence & The Machine at Brooklyn's Barclays Center.
PLUS
(10/1) Chromeo at Brooklyn Steel.
(10/2) Simple Minds: Walk Between Worlds Tour at Beacon Theatre.
(10/3-10/4) Christina Aguilera at Radio City Music Hall.
(10/4-10/5) Bruno Mars at Barclays Center.
(10/6) EEEEEATSCON at Forest Hills Stadium.
(10/7) ELSIEFEST at Central Park SummerStage. With Sutton Foster, Alex Newell, Grant Gust, Darren Chris, Rufus Wainwright, and many more!
(10/9) Modest Mouse at Kings Theatre in Brooklyn.
(10/10) Ray LaMontagne at Radio City Music Hall.
(10/11) Nicki Minaj & Future at Barclays Center.
(10/12-10/13) Death Cab for Cutie at Kings Theatre.
(10/13) Gorillaz at Barclays Center.
(10/13-10/14) Nine Inch Nails at Radio City Music Hall.
(10/10) Elton John: The Farewell Tour at Radio City Music Hall.
(10/14) Phil Collins at Barclays Center.
(10/14) Elizabeth Cook performs at The Studio at Opry City Stage.
(10/16-10/17) Nine Inch Nails at Kings Theatre.
(10/23-10/27, 10/30-11/3) Michael McDonald performs at supper club Cafe Carlyle.
(10/26) Nick Cave & The Bad Seeds at Barclays Center.
(10/27) Garbage at Kings Theatre.
(10/27) Six-time Grammy winning salsero Gilberto Santa Rosa at Kupferberg Center.
(10/27) They Might Be Giants at Terminal 5.
PLUS
(10/4-10/7, 10/11-10/14) Last chance of the season to indulge Oktoberfest 2018 at the riverfront hang Watermark Bar. Noon-midnight. Prost! Tickets required.
Things to Do in New York in October: Sightseeing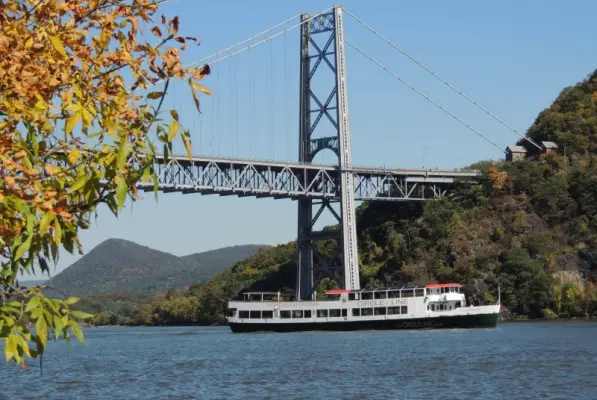 (10/6-8, 10/13-10/14, 10/20-10/21, 10/27-10/28), take advantage of Circle Line's Bear Mountain Cruise, or as it has come to be known by many, the Oktoberfest Cruise. Peak fall foliage, live bands, craft vendors, and the largest pretzels known to mankind all welcome you to a hoppy universe far away from the daily grind. You can burn off all those beer and brats, plus stock up on fresh air, with a gorgeous three-hour hike along one of the 50 hiking trails in Bear Mountain State Park. They'll be setting sail Columbus Day, too. $65 adults, $52 kids. Boards 8:30am sharp. Pier 83, W. 42nd St. and 12th Ave., NY, 212-563-3200, circleline42.com, viator.com
PLUS
(10/1) Fans of CBS Sunday Morning can enjoy an immersive event at a special "An Evening with CBS Sunday Morning Live" at The Town Hall. 8pm.
(10/4) At the 16th Annual Taste of the Village event in Washington Square Park, join the Washington Square Park Conservancy along with over 30 local food and drink purveyors under the historic Arch. With delicious tastes in a magical setting, the 16th Annual Taste of the Village promises to be a fun and flavorful evening under the stars. 6pm-9pm. Get tickets here.
(10/13) The ultimate Diwali event is a daylong festival on Saturday, October 13 at Times Square. Some of Indian music's most celebrated performers will rock out on the main stage. 46-48th Streets & Broadway, diwalitimessquare.com
(10/11-10/14) The New York City Wine and Food Festival (NYCWFF) will feature more than 80 events, including tastings, classes, celebrity talks, and parties.
(10/12-10/14) The New York Coffee Festival comes to the Metropolitan Pavilion.
(10/24) Celebrate United Nations Day with a visit to the UN Headquarters complex in midtown. Weekday tours provide access to the stunning art and architecture at the newly renovated UN, in addition to insight into the organization's vast array of initiatives. There's even entry to the General Assembly, where all 193 members states are represented and negotiate.
See New York City as your own private theater! Take THE RIDE! Here's a coupon!
The One World Observatory is open, see October from 100 floors high!
Check out the hottest spots to eat and drink in the Flatiron District and Williamsburg with Like a Local Tours.
Visit the sites of Ghostbusters, Friends, Seinfeld, Trainwreck, Gossip Girl, Sex and the City, and many other NYC film sites with On Location Tours.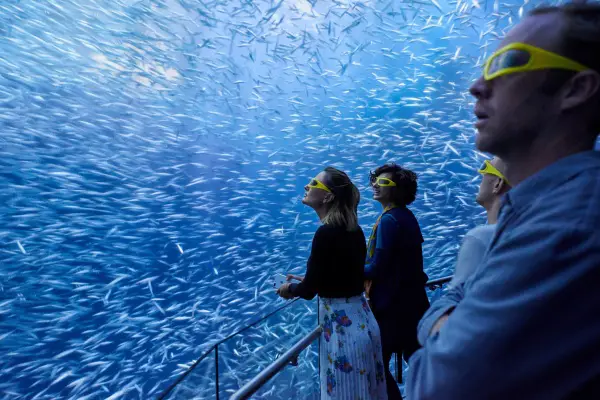 Immerse yourself in the deep, dark depths of the ocean, where Humboldt squid fight to the death, 50 foot whales ride overhead, play with sea lions, navigate a sea kelp maze and more at National Geographic Encounter: Ocean Odyssey! Here's a $5 off coupon!
Ripley's Believe It or Not! Odditorium brings people of all ages face-to-face with the world's most unbelievable curiosities. With 18,000 square feet of astonishing artifacts and exciting interactive exhibits. Check out their new escape room, Ripley's Relic! Here's a coupon!
Explore New York City from the best vantage points with Helicopter Flight Services Tours. Choose from four different itineraries.
(Ongoing) See the most famous NYC landmarks on both the Hudson and East Rivers, plus breathtaking views of Manhattan's downtown skyline, with Circle Line's Landmarks Cruise!
(10/13-10/14) Unique spaces—indoors and out—are a big part of what makes NYC so special. To feel like a total insider, check out the 16th Annual Open House New York (OHNY) Weekend, a celebration of architecture and urban design all across the city. Visitors have the chance to check out 250 sites in all five boroughs along with tours, talks, and explorations. You'll get landscape architecture, National Park Service landmarks, and cultural destinations. Most visits are free, some sites and tours require advance reservations and may charge a nominal fee. Citywide, ohny.org
(Ongoing) A shout out to A Slice of Brooklyn Tours, as they celebrate their 13th anniversary. They continue to bring locals and tourists alike the best Brooklyn Pizza, Christmas Lights, Chocolate Tours, and more. Founded by Brooklyn native and travel lover Tony Muia, the company has received Certificates of Excellence from TripAdvisor for the past six years! All tours conveniently depart and return to Union Square! Congratulations! Book your tour today!
Things to Do in New York in October: Ongoing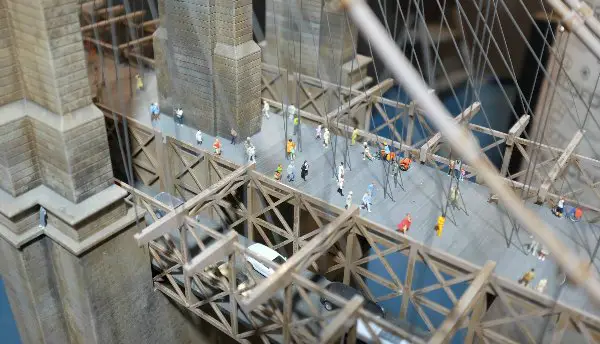 Explore NYC in miniature at Gulliver's Gate.
Visit the sites of Ghostbusters, Friends, Seinfeld, Trainwreck, Gossip Girl, Sex and the City, and many other NYC film sites with On Location Tours.
Grab a photo with Taylor Swift, One Direction, Lady GaGa, JLo, and more at Madame Tussauds New York. Here's a coupon!
Ripley's Believe It or Not! Odditorium brings people of all ages face-to-face with the world's most unbelievable curiosities. With 18,000 square feet of astonishing artifacts and exciting interactive exhibits. Check out their new escape room, Ripley's Relic! Here's a coupon!
Explore New York City from the best vantage points with Helicopter Flight Services Tours. Choose from four different itineraries.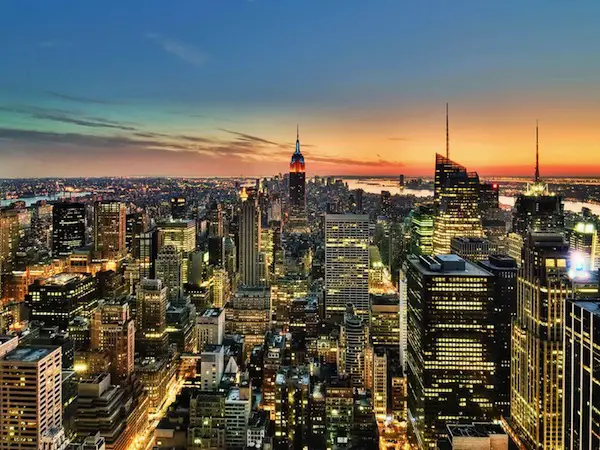 Bring a loved one to take in the breathtaking view at Top of the Rock.
New York Weather in October

For many New Yorkers, October is the best month of the year. There's a crispness to the air, it's usually dry, fall foliage is peaking, and extreme weather is usually far away. Highs average 70°F (20°C) on October 1st and cool down to 52°F (11°C) by Halloween, October 31st. Average lows overnight go from 53°F (12°C) at the month's start all the way down to 45°F (7°C) by month's end. There's rain on about 10 days, but it usually isn't heavy—4 inches in total precipitation is scattered across the month, which is usually a little drier than September. Bringing an umbrella can't hurt, and you'll want a nice jacket. And maybe a second jacket purchased at a deep discount from Century 21?
Looking for Free Group Planning Services?
Get free advice on planning your group's trip to New York.
RESTAURANTS

Brings together the character of Hell's Kitchen past with th...

THEATER

In a heartbeat, 38 planes with 6,579 passengers were strand...

SHOPPING

A premier destination for family entertainment....

SIGHTSEEING

The 9/11 Memorial honors the nearly 3,000 people killed in t...