While New Yorkers are increasingly discovering how great a vacation to Canada can be, more than a million visitors from Canada come south to take in the sights of New York City every year. We've got a rundown of the best things for Canadians to do while they're in NYC. Whether you want something that reminds you of home, or something that gets you as far away as possible from it, New York pretty much has it all.
Canadian Visitors in NYC: Entertainment and Shopping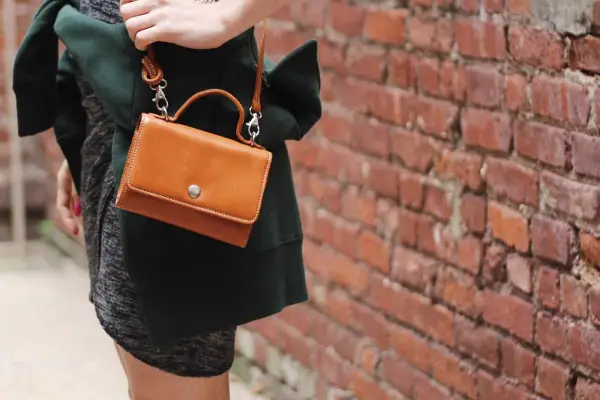 Roots

Time for some shopping, eh? Enjoy your favorite Canadian brands, curated with a New York slant. Handcrafted in downtown Toronto, Bite beauty products in SoHo has a cult following for their organic ingredients; the buttercream lipstick is worth a splurge. WANT Les Essentials leather goods brand from Montreal sells artfully crafted travel bags and accessories in the West Village. And Roots, the store that got a huge boost at the Olympics, now has, some, um, roots in NYC. Shop their NoLiTa HQ for a classic toque (hat or beanie to you and me), jacket, or sweats. You can also pop into Canadian retailer Joe Fresh for basics like jeans and button downs, along with trendier items, at bargain prices.
It gets cold here, too. For outdoor clothing, check out Paragon, REI, and The North Face Store. If it's quintessential New York style you're after, head to Zara for up-to-the-minute fashion; for handmade goodies, check out Artists & Fleas at Chelsea Market or out in Williamsburg—they've got t-shirts, home décor, and even pet accessories. Opening Ceremony, the cool unisex clothing store, stocks both homegrown and international talent, and has a cool factor that's through the roof.
Canadian Visitors: Food and Drink
If you're wandering around midtown and need a pick me up, ahoy—there's a Tim Horton's. They're not as popular or widespread in New York as chains like Dunkin' Donuts or McDonald's, but hey, their website is in both French and English, so kudos for that. Grab a coffee and a breakfast sandwich or pastry, and start your day with a bite of home.
OK, poutine. There, we said it. This beloved (or at least, famous) Canadian dish is made with French fries, cheese curds, and gravy. But you knew that. It's found its way the states, and when you're feeling a little homesick for this carb overload, you'll be happy to know that several restaurants now feature it on their menus. The version at the hip Shopsin's General Store on the Lower East Side has it listed under French fries; just showing up there will let people know you're in the know. The place has kind of an insane menu—settle in and plan to spend a chunk of time just working your way though it. You can also find the dish at the Mile End Deli (named after the Mile End district in Montreal, so you get a double whammy of Canadian goodness), where it comes with chicken gravy ("sauce brun") and can also include brisket; that version has a seriously rabid following.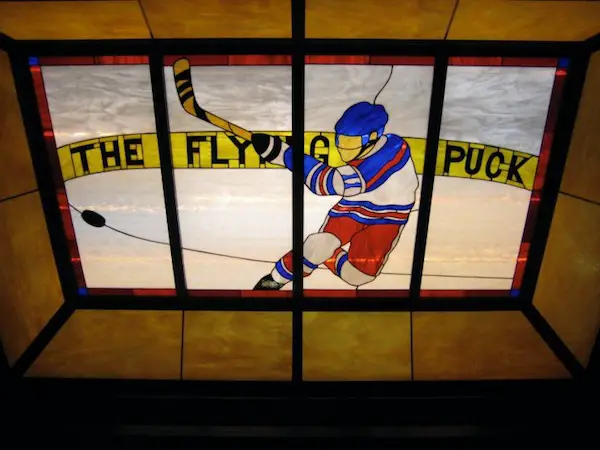 The Flying Puck/Facebook
Looking for a home away from home and a place for a drink? Over at the Ontario Bar in Brooklyn, go for the Canadian-inspired décor, the air hockey table, the fireplace, and maybe a shot of Canadian whiskey. If you're just in the market for a beer and a seat to watch the hockey game, check out The Flying Puck, right near Madison Square Garden. It's the spot for Rangers fans, but we won't tell if you silently pretend the Maple Leafs are in town. Have a Labatt Blue and start rooting. (If you feel like getting out on the ice yourself, check out Riverbank State Park for hockey sessions; Trump-Lasker Rink has them, too, plus the added frisson of proximity to New York's own Donald. For figure skating, one of the world's most famous patches of ice is The Rink at Rockefeller Center, where you can glide beneath the bright lights of midtown Manhattan.)
When you want actual sustenance, try King Bee in the East Village, which offers dishes inspired by Canadian cooking, with a nod to both Louisiana country food and its ancestry in Acadian cooking. Try the Halifax donair (it's made of spiced pork and beef and donair—a spicy sweet garlicky sauce—in a pita). If you're looking for something All-American, grab a burger and fries at Five Guys; feeling a strange pull towards home? They have branches in Canada. For the quintessential New York slice, we like Di Fara's, although you will have to trek to Brooklyn. East Village sensation Dirtcandy, started by Canadian Amanda Cohen, serves veggies in inventive ways.
Canadian Visitors: Culture and History
Looking for some culture? Alliance Française offers programs that promote French culture, while the Canadian Association for New York hosts events for the Canadian community in the city, with a strong emphasis on philanthropy.
If you trudge around the American Museum of Natural History, you'll come across some displays from the far north, such as a wolverine from Nunavut. If you just want something truly New York and truly worth your time, a ride to the One World Observatory and a visit to the nearby National September 11 Memorial & Museum is heartbreaking and memorable.
For book and map lovers, head over to the Argosy Bookstore for first-edition books, cool old maps and prints, and even baseball cards and autographed memorabilia; there's surely at least a postcard from Canada—or New York—to bring back to Cousin Sue.
Consulate General of Canada in New York
Should you run into any troubles in NYC and need the help of the Canadian consulate, you can find it at 1251 Avenue of the Americas, between 49th and 50th Sts. in midtown Manhattan, across from Rockefeller Center. It's open from 9 to 5, Monday through Friday, and can be reached at 212-596-1628.