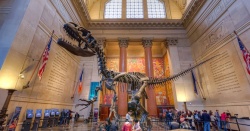 Inside Scoop: American Museum of Natural History
Holding down a large patch of land just off Central Park West, New York City's American Museum of Natural History is one of the top scientific institutions in the world. Founded in 1869, this museum's mission of discovering and interpreting fossils, artifacts, and information about the natural world has remained true for the past four decades. In particular, the museum's fossil halls have gained worldwide acclaim and are popular with visitors of all ages.
Permanent exhibitions include the Biodiversity and Environmental Halls, the Birds and Reptiles and Amphibians Halls, the Earth and Planetary Sciences Halls, the Fossil Halls, the Human Origins and Cultural Halls, and the Mammal Halls.
American Museum of Natural History Photos