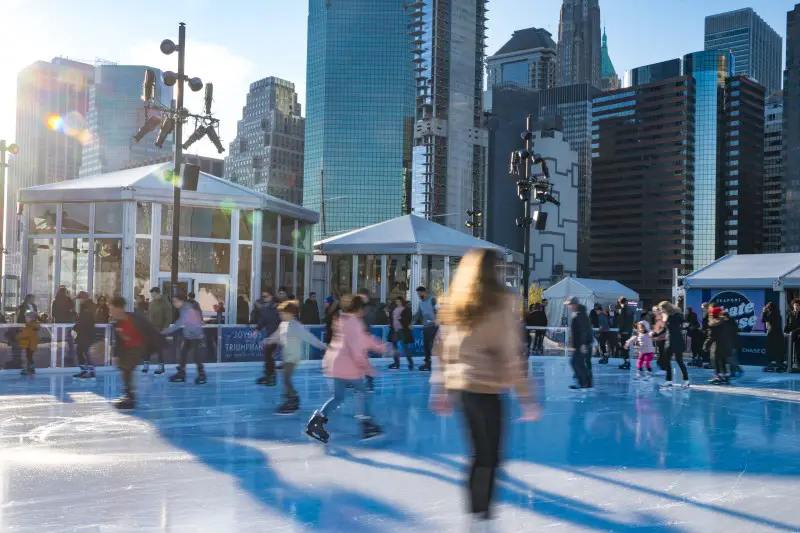 Image: The Rooftop at Pier 17
There's nothing like taking a spin on the ice to signal the start of the winter season in New York City–and with a Manhattan landmark in your backdrop, the experience is all the more enchanting. From the early days of skating on frozen ponds in Central Park to the debut of its indoor venues with St. Nicholas Rink in 1858, the city's love affair with ice skating has deep historical roots. As the years passed, these rinks became cultural landmarks and social hubs, attracting visitors and locals alike— a tradition which continues over 150 years later. Whether the goal is to have a fun family outing, to learn how to skate with friends, or to go on a romantic evening date, there's an ice rink for everyone in New York City. 
Before you lace up your skates, here are a few tips for planning:
Book in advance. I highly recommend booking your skating time slots in advance, since many of the popular times sell out, especially on weekends and holidays. 

Dress warmly. Ice skating can be cold, especially if it's windy outside. Be sure to wear a warm hat, gloves, and scarf.

Take a beginner's lesson or bring an experienced friend. Ice skating can be tricky, especially if you're new to it. But getting a few key tips from a pro (many of the rinks featured below offer lessons) can make all the difference.
Regardless of your level of experience with skating, you're sure to have a blast gliding across the ice and taking in the breathtaking sights of the city skyline. Read on to learn more about some of Manhattan's most popular rinks:
Wollman Rink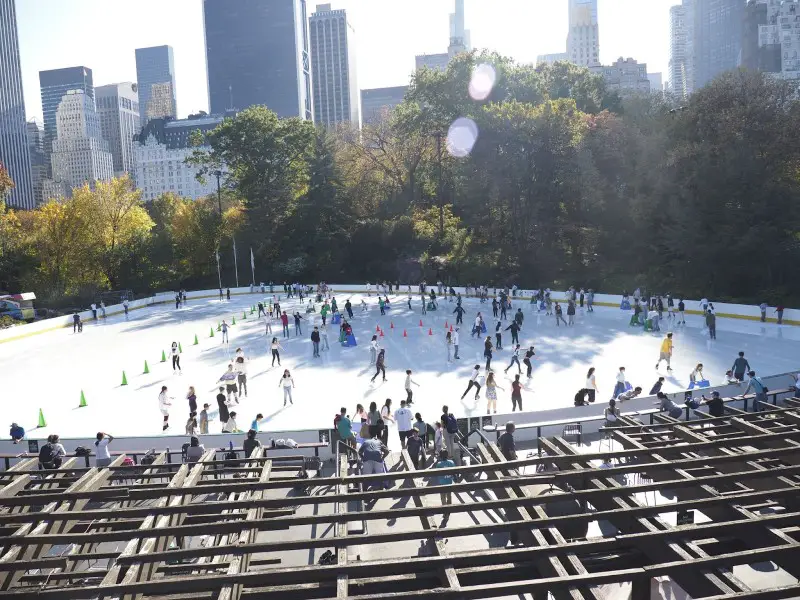 Image: Katusha Jin
This iconic rink in Central Park is one of the most popular tourist destinations in New York City during the winter holiday season, and for good reason. Surrounded by soaring trees and other natural scenery, it makes for a perfect weekend outing. Wollman Rink is closest to the east side of the park, and very close to the zoo. It's easiest to find if you enter the Park at 59th Street and 6th Avenue, or 59th Street and 5th Avenue. The fact that it's located in Central Park means that after a skate, you can grab a snack nearby and then go for a walk, which is exactly what I did. During the opening weekend I got to experience a short introductory lesson to skating, and I went from clinging to the wall to skating confidently right across the middle of the rink. Wollman Rink offers a variety of classes for beginners of all ages and, despite being an absolute beginner, I didn't feel left out—there were many newbie skaters mixed in with the experienced skaters.
Cost:
Admission:
Adults: $15 – $37
Children: (4–12 years old) $10; (3 and under) free
Seniors (65+): $10
Skate Rental: $11
Hours:
Open daily through March 15, 2024
10am – 2:30pm (Mon., Tues.); 10am – 9pm (Wed., Thurs., Sun.); 10am – 10pm (Fri., Sat.).
Location and additional info:
830 5th Ave, New York, NY 10065, wollmannrinknyc.com
 
The Rink at Rockefeller Center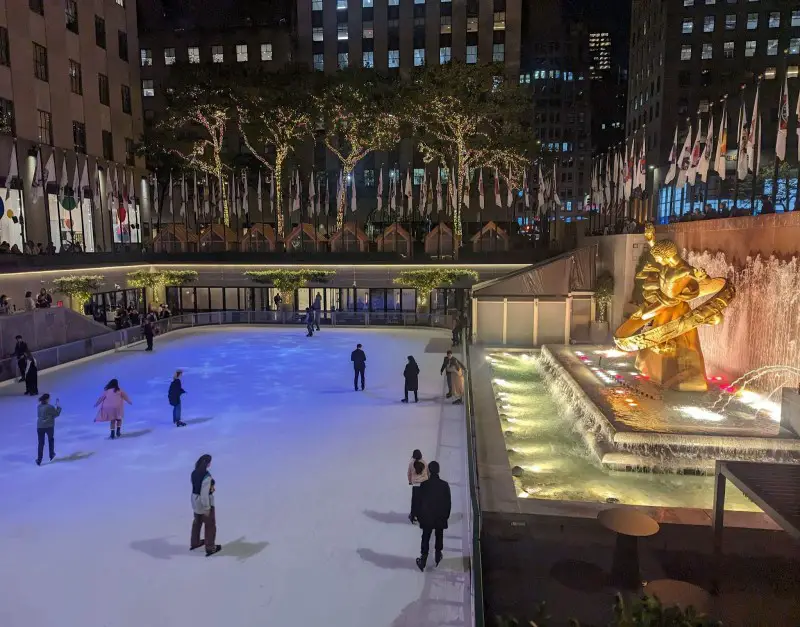 The Rink at Rockefeller Center is located just steps away from Radio City Music Hall and St. Patrick's Cathedral. The rink was originally a temporary attraction when it opened in 1936, but soon became a permanent fixture due to its popularity. There's something extremely elegant about the experience of skating in front of the golden Prometheus sculpture and under the lofty tower at 30 Rockefeller Plaza. Despite how famous the space is, the rink is situated on a lower level than the rest of Rockefeller Center, which makes it feel like a little secret space within the concrete jungle. This is one of the more expensive places to skate, and the space has a decidedly classy ambience to match. Think twinkling city lights, an art deco ambience. You can aand optional luxury amenities (you can book a private chalet with food and beverage service, or even work with the venue to plan an extra-special engagement).. You can also arrange private lessons if you're still learning the basics, either one-on-one ($60 in addition to admission and skate rental), or for a group of up to four ($120 in addition to admission and skate rental).
Cost:
Admission:
Adults: $21 – $73

Children: (6–12 years old) $21 – $73; (5 and under): $11 – $37
Prices vary depending on time of day selected.
Skate Rental: $11
Hours:
Open daily; closing date in 2024 TBA
9am – 12am
Location and additional info:
600 5th Avenue, New York NY 10020, rockefellercenter.com
 
Bank of America Winter Village at Bryant Park
Image: Katusha Jin
This winter wonderland in the heart of Midtown Manhattan features a variety of activities, including ice skating, shopping, and dining. What makes this ice rink distinct from the others is that it's surrounded by an open-air holiday market. The small  individual kiosks have unique gifts on offer by artisans from New York City and all around the world. The festive spirit here is infectious: whenever I visit the Winter Village it reminds me of having hot cocoa by a fireplace—this is probably because of the sweet smells from the chocolate kiosks that waft across the park. Needless to say, I've found it to be the perfect place to buy holiday presents. It's also worth noting that if you have your own skates, then this will be the cheapest option on the list, since admission is free and you pay only for your skate rental.
Cost:
Admission: Free
Skate Rentals: $17 – $55
Hours:
Open daily through March 3, 2024
8am – 10pm; 8am – 12am (weekends and holidays in Nov. and Dec.).
Location and additional info:
41st Street and, 6th Ave, New York, NY 10018, bryantpark.org
The Rink at Brookfield Place
Image: Brookfield Place
Located in Lower Manhattan, close to the Staten Island Ferry and the Brooklyn Bridge, this rink offers the chance to skate near the Hudson River and soak in the view of the Statue of Liberty. There's also easy access to the shops at Brookfield Place—perfect for squeezing in a little post-skate holiday gift shopping. I'd recommended packing light, as there aren't lockers onsite. Given its location, I find that the best time to come is around sunset so you can make the most of the beautiful cityscape views across the river. Private lessons are available, starting at $55 for a 15-minute session.
Cost: 
Admission: (Adults and Children): $15 – $17
Skate Rental: $5 – $7
Hours:
Open daily between November 18, 2023 – mid-March, 2024 (dates are dependent on weather conditions).
2pm – 9:15pm (Mon.–Fri.); 9am – 9:15pm (weekends and holidays).
Location and additional info:
230 Vesey St, New York, NY 10281, therinkatbrookfieldplace.net
 
Disney's The Santa Clauses Winter Wonderland at Pier 17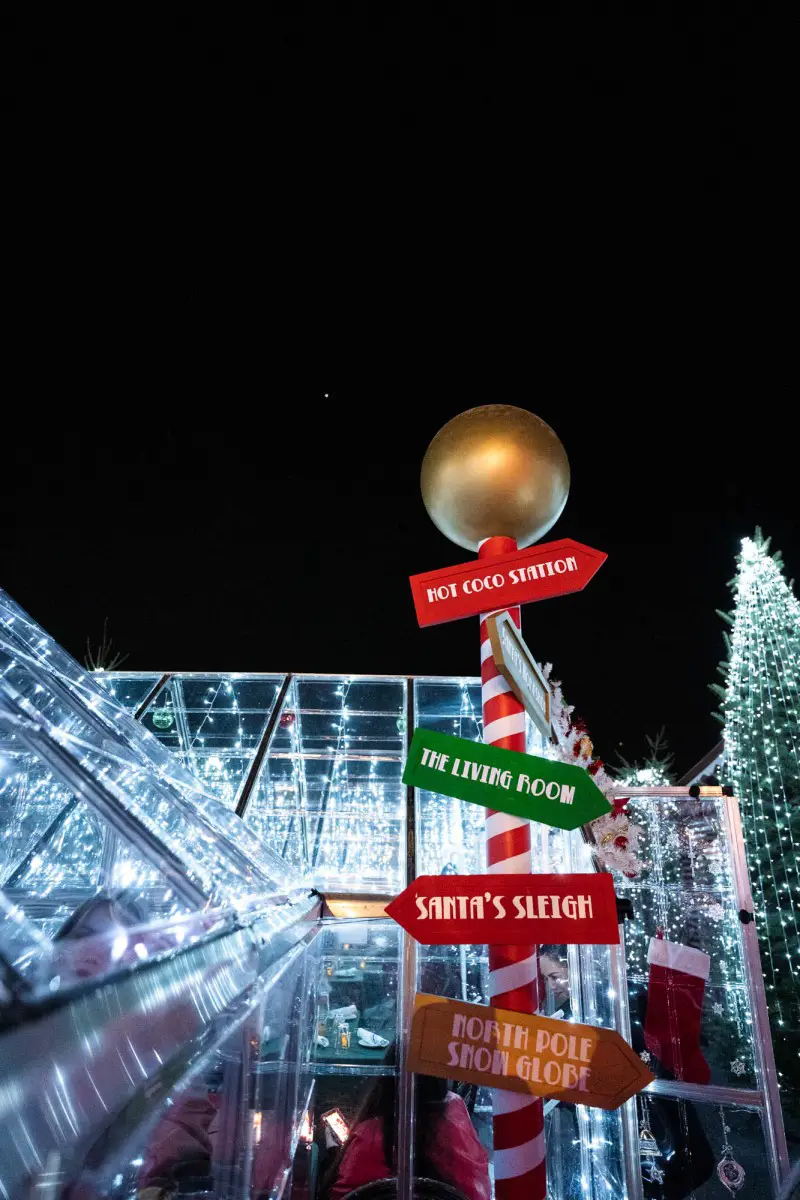 Image: The Rooftop at Pier 17
Holiday movie fans will get a kick out of this seasonal extravaganza inspired by the Santa Clause film franchise, spread out over 65,000 square feet at South Street Seaport's Pier 17. With a rooftop skating rink featuring eco-friendly synthetic ice, you can take in prime views of the city skyline while you work on your double axel. There's plenty to do here for all ages: kids (even the grown-up kind) can tour Santa's Living Room and snap photos with the man himself on select days, while adults can enjoy dinner in private glass houses available for booking, and the whole crew can enjoy seasonal treats and hot chocolate at Judy's cafe, or order up cider at the Gingerbread Bar. With a general admission ticktet, you'll get an included hot chocolate, while VIP tickets also cover your skate rental along with a fast pass entrance and a Santa hat.
Cost:
General admission: from $30
VIP admission (includes skate rental and more): from $53
Hours:
Open daily from November 22, 2023 – January 7, 2024
3pm – 11:00pm (Mon.–Thurs.); 1pm – 11:00pm (Fri.); 11:00am - 11:00pm (Sat. and Sun.)
Location and additional info: 
89 South St, New York, NY 10038, bucketlisters.com
Sky Skate Presented by Dunkin'
Image: Sky Skate Presented by Dunkin'
Rinks don't get any higher—or more thrilling—than Sky Skate Presented by Dunkin', Edge's brand new top floor, all-weather, indoor rink. Located at Hudson Yards, Edge is an observation deck offering panoramic views of New York City from the highest outdoor sky deck in the Western Hemisphere. The 1,024 square foot ice rink(made from eco-friendly synthetic ice) at the venue offers a one-of-a-kind opportunity to glide amidst breathtaking views of the city skyline. Skate rentals are free with your ticket, which covers a 30-minutes skate session and also includes admission to the observatory. 
Cost:
Admission:
Adults: from $46
Children: (6–12 years old) from $41
Seniors (65+): from $44
Hours:
Open daily through January 14, 2024
through November 22: 2PM to 8PM
November 23-26: 10AM to 9PM
November 27: December 14: 2PM to 8PM
December 15: January 7 - 10AM to 9PM
January 8-14: 3PM to 7PM
Location and additional info:
20 Hudson Yards, New York, NY 10001, 4th Floor, edgenyc.com/skyskate
Winter Whirl at Westfield World Trade Center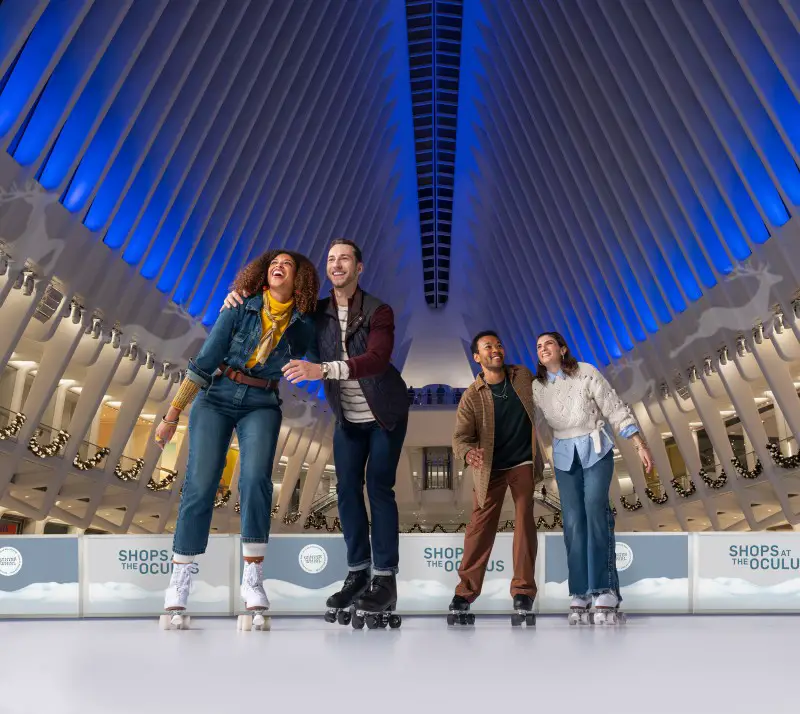 Image: Westfield WTC
Lower Manhattan's sprawling Shops at the Oculus complex will get an extra dose of holiday cheer with the debut of Westfield World Trade Center's Winter Whirl roller rink, open from November 24 to January 2024. Tickets start at $30 for adults and $25 for kids aged 8-18, covering 45 minutes of skate time with rentals included. Skate along to festive tunes beneath the stunning 160-foot glass and steel ceiling before fueling up at eateries like Épicerie Boulud and Eataly—and if you're stocking up on presents, ask about the complimentary gift wrapping stations available from Freeform and Unwrp.
Cost:
Admission:
Adults: from $30
Children: (8-18 years old) from $25
Hours:
Open Wednesdays through Sundays through January 21, 2024.
11am - 10pm (last admission at 9pm).
Sunday, December 24 and Sunday, December 31: 11am to 6pm (last admission at 5pm).
The rink will be closed on Monday, December 25.
Location and additional info:
185 Greenwich Street, New York, NY 10007, westfield.com/westfieldworldtradecenter