Churches in New York are only the beginning when it comes to the city's houses of worship. On top of a full 2,000 Christian houses of worship, you'll find 1,000 synagogues, 100 mosques, dozens of Hindu and Buddhist temples, 13 Christian Science Reading Rooms, two Quaker meeting houses, and many others beyond. In fact, 83% of New Yorkers report that they are affiliated with some form of organized religion. The largest cathedral in the world? Yes, it's in New York City. The mammoth St. John the Divine (spanning three city blocks) is an Episcopal church, and it's only one of 25 cathedrals in the city, representing denominations that run from Catholic (St. Patrick's) to Belarusian Orthodox (St. Cyril's of Turau). Attending worship services in New York is a great way for visitors to meet like-minded locals and experience the quotidian life of the city. But there are plenty of other good reasons for sightseers to visit NYC's churches and other religious institutions.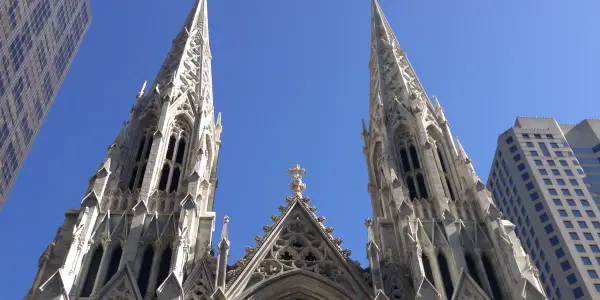 St. Patrick's by Marianne O'Leary/Flickr
Worshipping in NYC: Joyful Noise
On Sunday mornings, the streets of Harlem reverberate with gospel music—an irresistible draw for visitors from around the world. Some of the most popular are the Abyssinian Baptist Church (420 W. 145th St.), Canaan Baptist Church (132 W. 116th St.), and the Greater Refuge Temple (2081 Adam Clayton Powell Blvd.). Music is integrated into the church services, and leaving early is considered rude, so plan to stay for the full hour (or more). Be sure to dress in your Sunday best. Although services are free, it's proper to put a few dollars in the collection plate.


Many other kinds of sacred music, both choral and instrumental, resonate in churches around the city. The largest organ in NYC (five keyboards and 12,000 pipes) is at St. Bartholomew's Episcopal Church (51st St. and Park Avenue), while the Church of St. Mary the Virgin (145 W. 46th St.) is said to have the best acoustics.
City Guide Tip: Stop by Grace Church (802 Broadway, in Noho) for a free Bach mini-concert, Tuesday-Friday from 12:20 to 12:50.
Trinity Church (75 Broadway)—Manhattan's oldest congregation—is today world-renowned for its music program, with a professional choir, baroque and contemporary orchestras, youth and family choruses, and bell ringers. It's a good stop at the western end of Wall Street on a day of exploring the Financial District.
Jazz great Dizzy Gillespie was once a member of the Baha'I faith. In his honor The Baha'i Center of New York (53 E. 11th St.) presents inexpensive weekly jazz concerts in their John Birks Gillespie auditorium.
Worshipping in NYC: Time Travel
Ever wondered what the Three Stooges did in their spare time? They worshipped at the Actor's Temple, 339 W. 47th St., founded in 1912. Many stars of vaudeville, Broadway, radio, and television were members, including Jack Benny, Harpo Marx, Al Jolson, and Henny Youngman.
The oldest church building in New York City is the Quaker meetinghouse in Flushing, Queens (137-16 Northern Blvd), constructed in 1695. St. Paul's Chapel, built in 1766 as part of Trinity Church, is the oldest public building in Manhattan. Bialystoker Synagogue (7 Willet St.) is probably the oldest active Jewish congregation in the city. Nearby, the magnificent 1867 Eldridge St. Synagogue (12 Eldridge St.) has been transformed into a museum of Jewish life in the city.
Eldridge St. Synagogue by Librarygroover/Flickr
Worshipping in NYC: Feed the Soul
While strolling Museum Mile, feed body and soul at The Episcopal Church of the Heavenly Rest, (2 E. 90th St., entrance on Fifth Ave.) This aptly named church transformed one of its chapels into a casual café, complete with outdoor tables facing Central Park.
Connoisseurs of South Indian vegetarian fare swoon over the food served in the Hindu Temple Society of North America's Ganesh Canteen (45-57 Bowne St., Flushing, Queens) It's a great place to explore the full range of dosas: crepes, either crispy or soft, plain or stuffed with spiced vegetables.
The International Center for Krishna Consciousness (305 Schermerhorn St., Brooklyn) serves a vegetarian menu, Monday through Friday, and posts the daily menu on the Govinda's Vegetarian Lunch Facebook page.
Worshipping in NYC: Artistic Treasures
New York is rich in architecturally significant houses of worship, and among them are Central Synagogue and The Riverside Church (490 Riverside Dr.), commissioned by John D. Rockefeller and modeled on the Cathedral at Chartres.
A number of Manhattan churches were built at the pinnacle of the Tiffany era. Some of the ecclesiastical artworks now reside in museums, but you can see one of the largest collections of original Tiffany glass and decorations in situ at St. Michael's Church (99th and Amsterdam).
Saint Peter's Church (619 Lexington) is a work of modern art inside and out, from the stark granite exterior to the chapel designed by sculptor Louise Nevelson. The church's collection includes permanent masterpieces and rotating showcases of emerging artists.