Sometimes when you travel, you want to get lost. Other times, it's nice to have some history, some context, and a native to show you around — and a good taste of the local cuisine can help top off the experience. A Slice of Brooklyn Bus Tours, which has been rated #1 tour of Brooklyn on TripAdvisor and whose slogan is "Manhattan? FUHGETTABOUDIT", was started by travel lover and Brooklyn native Tony Muia. Best of all, their tours depart from Manhattan.
Save $3 off the Christmas Lights & Cannoli tour with promo code CITYGUIDE.
"Rockefeller Center? FUHGETTABOUDIT!" becomes their official slogan as they offer their 8th annual Christmas Lights and Cannoli Tour. The three-and-a-half-hour tour starts in Manhattan and highlights the festive homes of Dyker Heights, the Italian-American section of Brooklyn made famous in the PBS documentary "Dyker Lights," which is the area's nickname during the month of December.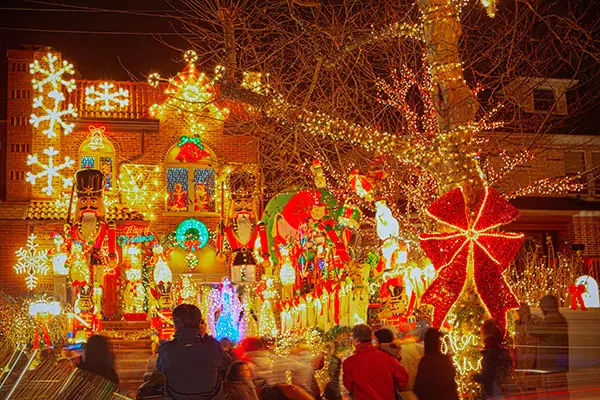 Each year, over 100,000 people flock to the area to see dazzling lights, fourteen foot tall wooden soldiers, animatronic figures, glowing nativity scenes and much more. Some of the homes featured on the tour are so over-the-top that they've even been featured on The Learning Channel's "Crazy Christmas Lights." Homes in the area are so lavishly draped in lights that one homeowner on the tour has an annual electric bill of $10,000 for the month of December alone!
Besides the lights, the tour features a stop for one of Brooklyn's best cannoli from Villabate-Alba Pastry Shop and hot chocolate to warm up. There's festive music to be heard throughout the tour and, on the ride back to Manhattan, nostalgic Christmas television specials are shown on the TV screens of the bus like The Colgate Comedy Hour, Andy Williams, Frank Sinatra, Bing Crosby, Sonny & Cher and more.
The "Christmas Lights & Cannoli Tour" was prominently featured on Samantha Brown's "Holidays in New York" special, Good Morning America, The Chew, GMTV in the UK, RAI in Italy as well as on German and Spanish television. Muia, whose tour is the only Brooklyn-based guided bus tour of the area, is amazed but not surprised at all the press coverage the tour has received.
The Christmas Lights & Cannoli Tour runs every night in December, except December 24th and 25th, with start times of 6pm, 7pm and 8pm. And just like every tour offered by of A Slice of Brooklyn Bus Tours, tours conveniently depart from the Union Square area of Manhattan.
---
"I've always been proud of where I'm from," says Muia, born and raised in Bensonhurst. "I used to travel a great deal in the '80s and '90s, when I was a respiratory therapist. Brooklyn is in most people's consciousness, [whether it's] a book, movie, TV show, the Dodgers, whatever it is.
"You realize that when you travel outside of Brooklyn," he continues, "it's really respected. I started showing people around in my car as a hobby. I kept this little journal of places to eat, neighborhoods, landmarks, movie locations. My friends started considering me as a kind of a Brooklyn ambassador." Muia decided to make a career switch in 2005 and launched A Slice of Brooklyn Bus Tours.

The Slice of Brooklyn Pizza Tour, a four-and-a-half-hour bus tour that runs year round, highlights the incredible pizzerias, landmarks, movie locations, and points of interest that have made Brooklyn world-famous. The bus tour heads over the Manhattan Bridge for a look at DUMBO, the Brooklyn Bridge, and Fulton Ferry Landing, and then stops at Frank Sinatra's favorite pizza spot, Grimaldi's. "On one tour, we caught Hugh Jackman eating [there]!" recalls Muia.


From Grimaldi's, the bus keeps to the south of the borough, passing the Brooklyn waterfront, the neighborhood of Red Hook, and then into Bay Ridge and Bensonhurst, where Muia will point out film locations from film classics such as Saturday Night Fever, Goodfellas, and The French Connection. The bus also stops at L&B Spumoni Gardens in Bensonhurst for authentic Brooklyn Sicilian pizza, and then on to Coney Island where folks get to stroll the legendary boardwalk. The tour has been featured on the Today show, the Travel Channel, and the Food Network.

"It just caught on right away," says Muia, who conducts most of the tours, along with his cousin Paula. "It is a family business. Tour guides can make or break a tour. What's different here is that we also have an audio-visual component during the ride that's turned into a big part of the tour. It helps people connect."

Another perk of having a local show you around? Connections. For most out-of-towners (or even residents), a visit to Grimaldi's means a long wait. Those on the tour, however, get to cut in line and are immediately seated and treated to a Margherita pizza pie.
What is it that makes Brooklyn pizza the best? Part of it is the water, Muia admits, but that's not all. "We live in an area where a lot of immigrants settled. You can't stay in business 30 years with a lousy slice!"

For reservations, call Zerve at 212-209-3370 or visit asliceofbrooklyn.com. Save $3 off the pizza tour with promo code CITYGUIDE.