New York City is home to some of the world's greatest art museums, but you don't have to pay an admission fee to see the city's coolest masterpieces. Rounded up below are five of NYC's best street art works, ranging from bronze sculptures to iconic graffiti walls. The streets of Manhattan have so much to offer, and we mean that quite literally.
Best of NYC Street Art: "Fearless Girl" (Financial District)

Image: Shinya Suzuki/Flickr


"Fearless Girl" is slated to be a temporary installation, so make sure you come check her out before her scheduled last day of March 8, 2018. (Of course, there are talks of her becoming a permanent addition to the Financial District). Created by artist Kristen Visbal, this bronze statue made its debut just in time for International Women's Day, and it has since become a tourist hotspot. You'll find Wall Street's famed "Charging Bull" directly across from this new installation, and the duo make for some pretty fantastic photos. Broadway & Morris St.
Best of NYC Street Art: "Subway Map Floating on a NY Sidewalk" (SoHo)

Image: Marcin Wichary/Flickr
You might walk right over "Subway Map Floating on a NY Sidewalk" if you're not looking for it—its subtlety is half its charm. A work by Francoise Schein, this urban installation is meant to represent the complex relationship between the rights of men and underground trains. The installation is embedded with LED lights that turn on during the evening to brighten the pavement. As for when this piece was originally installed? Over three decades ago in 1985, but good artwork is timeless. 110 Greene St.
Best of NYC Street Art: Audrey Hepburn Mural (Little Italy)

Image: Cait_Stewart/Flickr
You'll find one of NYC's most Instagrammable murals on the outside wall of Caffé Roma in Little Italy. Painted by Brooklyn street artist Tristan Eaton, this 12 by 7-foot artwork combines portrait with Pop Art to create a colorful-yet-haunting image of Hollywood's philanthropic sweetheart. As the mural proves, Hepburn is as much an icon today as she was back during her heyday. It also only seems fitting that such a timeless beauty would find her home in such a historical district. Grab an Italian pastry and let the swooning begin. 385 Broome St.
Best of NYC Street Art: "Alamo" (East Village)
Image: (vincent desjardins)/Flickr
"Alamo", otherwise known as "The Cube" can be found at Astor Place in the East Village. The sculpture alone is mesmerizing because of the cube's orientation, but there's a secret to it that makes it that much cooler: it spins. Grab a friend and push from the corners to get this enormous sculpture rotating in mid-air. Created by Tony Rosenthal, every time you stand beside the "Alamo" you'll feel like you're at the crossroads of the world (or at the very least, New York City). Cooper Sq.
Best of NYC Street Art: "Crack is Wack" (Harlem)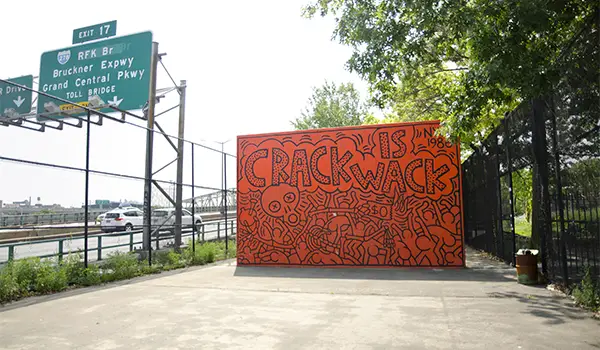 Image: edwardhblake/Flickr
Arguably New York City's most well-known piece of graffiti art, "Crack is Wack" was originally completed in the summer of 1986 by Keith Haring. He painted the entire mural in one day, and though it was painted without permission, the Parks Department ended up preserving it throughout the years. Haring was fined $100 for the mural, which now seems like a small price to pay considering the colossal fanbase that the work has acquired over the years. E 127th St.