If there's one thing to be learned from 25 years of the Blue Man Group, it's that every so often it's a good idea to liberate the 10-year-old boy tsunami surfing somewhere between your superego and id. Oh, he's there all right, chowing down on junk food, tossing back Jell-O shots, eagerly hoping you'll free him—if only for 1 hour and 45 minutes—from his perpetual time out.
Fortunately, three blue dudes, from a world somewhat parallel to ours but not really, are armed with appropriate ammo: marshmallows, Ricky Ricardo drums, paint (primary colors only), 8-foot cellphones with clever apps, tubes (various shapes and sizes), a fluorescent percussion band, plus a seemingly endless supply of streamers and miscellaneous gushy, sticky, gross-out stuff. And, in the product placement department, Cap'n Crunch cereal and Twinkies.
In the program—not handed out during the show, as there's too much slip-and-slide potential, one imagines, but available online at blueman.com/NYProgram—there's a paragraph titled "About Blue Man Group" that pretty much cuts to the chase. It looks briskly back to Blue Man's beginnings 25 years ago when the original trio of Blue Men—Chris Wink, Phil Stanton, and Matt Goldman—launched the phenomenon that would attract a global audience of more than 35 million and reinvent itself with Silicon Valley/scientific/social media advancements.
Having seen a very early version of the show, it's clear that today's techno explosion plays nicely with the iconic bits. "There are certain segments of the show that have not changed or have changed only slightly over the years, such as paint drumming, a vibrant, explosive expression of emotion," notes Randall Jaynes, long-time Blue Man and Director of Performer Development, who cites a telling moment in Blue Man interactivity: when the Blue Men share a "meal" with a member of the audience. "This is a great example of how the Blue Men attempt to re-create a human ritual, but of course, the Blue Man characters don't understand all the nuances," he says.
Indeed, it's the interaction between us and these humanoid guys—they are, after all, blue and mute and lacking ears (although their hearing seems far more acute than ours)—that is so outrageously fascinating and hilarious. No matter how cranky you might be when you enter the Astor Place Theatre, within 15 minutes—guaranteed— you will surrender to the cunning madness and surreal humor that ricochets off the walls like kittens riding Roombas on YouTube.
Without question, the Blue Men in their curiosity about mortals, or homo sapiens, or whatever category they file us under, come off as innocents in a bizarre new world. Their real-life counterparts, on the other hand, are much more familiar with the national landscape, bouncing (often literally) from the show's various venues in Boston, Chicago, Las Vegas, New York, and Orlando, as well as overseas productions in countries like France, Germany, and China.
Colin Hurd, one of the current NYC Blue Men who's been with the show for 17 years, tells me that while most of the guys suit up in their twenties, it's not uncommon for them to stay with the show for decades. He also revealed that the most senior of the Blue Men is 51. "As long as you can keep up the momentum," he says, "you're good."
Says Jaynes: "There have only been slightly more than 100 Blue Men throughout the years and most of them have performed in the New York show at one point or another. They very often are audience members as well, watching their cast mates do the show. Supporting their growth in the role is a regular part of the process for them."
And in case you were wondering, this is a show you'll want to share with the whole family—not wee tots, perhaps, but grade school kids on up will go berserk (in the best possible way). Certainly the two boys behind me did, with nonstop laughter and the occasional "Oh, no!" shout. But then, they were 10-year-old boys...like me.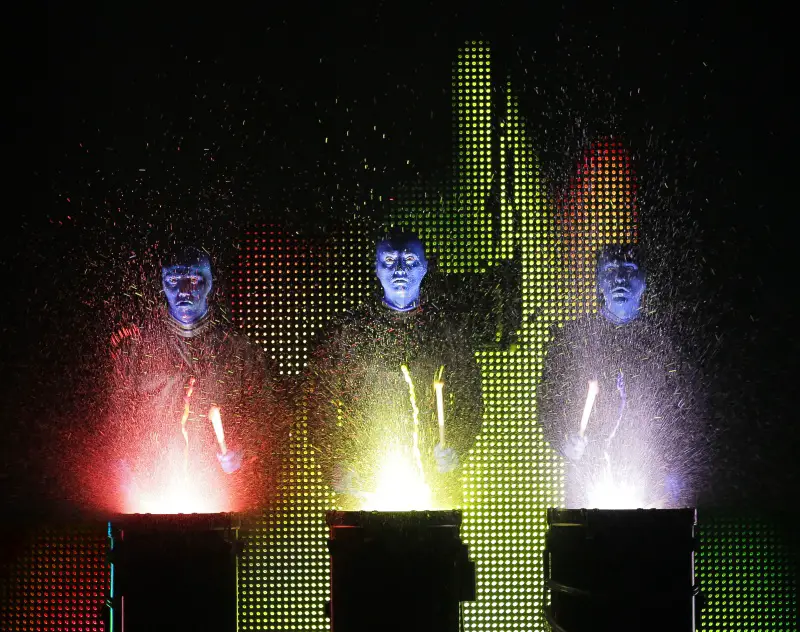 Blue Man Group NYC is playing at the Astor Place Theatre, 434 Lafayette St. To reserve your regular tickets (or the VIP option...very cool), call 800-BLUEMAN or visit blueman.com.