Brooklyn, New York has 131 miles of coastline. Historically, this has made Brooklyn a successful shipping hub, but it also makes Brooklyn a fantastic place to visit. Read on for overviews of 7 Brooklyn waterfront neighborhoods including Greenpoint, Williamsburg, DUMBO, Brooklyn Heights, Red Hook, and Coney Island.
Visiting the Brooklyn NYC Waterfront: Greenpoint
Greenpoint, Brooklyn is located directly south of Long Island City, Queens. This historically Polish neighborhood looks across the East River to Manhattan's Murray Hill. From the tranquil lawns of WNYC Transmitter Park, you can see the skyline and take pictures on the pier. Greenpoint doesn't have direct subway access to Manhattan, so passengers can board the East River Ferry, which costs the same as a subway for a one-way fare. Near the water are establishments like Paulie Gee's, serving unique pizzas with ingredients like hot honey and dried cherries. Whiskey fanatics can visit The Moonlight Mile for drinks and local art. Other neighborhood favorites include the red velvet donut at neighborhood institution Peter Pan Donut & Pastry Shop. The distillery Greenhook Ginsmiths hosts tours and tastings of fine locally made gin.
Visiting the Brooklyn NYC Waterfront: Williamsburg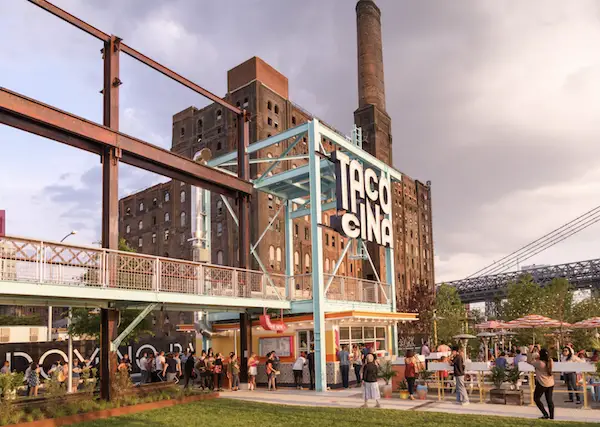 Hungry? Grab eats in Domino Park at Danny Meyer's Tacocina. Photo: dominopark.com.
Many first-time visitors to Brooklyn come to Williamsburg, a large neighborhood in north Brooklyn. This hip area is filled with shopping and nightlife, including many waterfront businesses not to be missed. The Williamsburg Bridge spans the East River, connecting downtown Manhattan with South Williamsburg. North of the bridge are waterfront parks including the brand-new Domino Park, Grand Ferry Park, and East River State Park. In Domino Park, not only can you take a million pictures of the view, but you can also eat tacos at Tacocina. East River State Park is the location of Smorgasburg, the weekly food market with 100 local vendors in the warmer months. Weekends, visit Artists and Fleas on North 7th for craft goods like jewelry, pottery, clothing, and much more. There's a whole rooftop bar culture in Williamsburg to keep your weekends busy, with standouts like The Ides and Output. The East River Ferry also stops in both North and South Williamsburg if you'd like a lovely ride down the coast.
Visiting the Brooklyn NYC Waterfront: DUMBO
DUMBO stretches between the bases of the Brooklyn and Manhattan Bridges (the acronym stands for Down Under the Manhattan Bridge Overpass). Located across the East River from Manhattan's Financial District, DUMBO is home to the celebrated River Cafe. This New American fine dining restaurant attracts a packed house every night for the chocolate Brooklyn Bridge-shaped dessert and the million-dollar view. Around that restaurant has sprung a vibrant community of attractions and local businesses. Other restaurants with winning views include Celestine and Cecconi's. Brooklyn Bridge Park is the site of endless photo opps with the Manhattan skyline and two bridges in the background, as well as fixtures like the antique Jane's Carousel, a working carousel nearly a century old. The waterfront is perhaps best seen when you walk the Brooklyn Bridge. A new branch of the Brooklyn Historical Society in DUMBO has a fitting exhibit for history buffs and curious kids: Waterfront, an exploration of the Brooklyn shoreline from the prehistoric era to the future. The East River Ferry and South Brooklyn Ferry both offer transportation from DUMBO to Wall Street in Manhattan.
Visiting the Brooklyn NYC Waterfront: Brooklyn Heights & Cobble Hill
The six piers of Brooklyn Bridge Park extend to Brooklyn Heights and Cobble Hill, two coastal neighborhoods south of DUMBO. This waterfront park has walking trails, soccer fields, a roller rink, an ice cream stand, and free kayaking in summer. The Brooklyn Heights Promenade is an elevated public space with incredible views of the Manhattan skyline and the Statue of Liberty. Although primarily residential, Brooklyn Heights also offers perfect views at 1 Rooftop Garden & Bar. Cobble HIll's Columbia Street overlooks a shipping area that's bordered by a walking and biking path. On Columbia, check out beers galore at The Hop Shop and the rooftop at Alma, serving Mexican food and margaritas.
Visiting the Brooklyn NYC Waterfront: Red Hook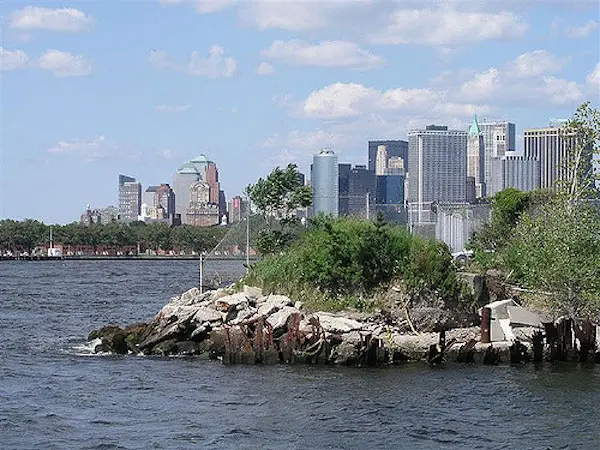 Red Hook/Valentino Pier. Flickr/Alex 756.
Red Hook is the true "hook" of the borough, lying at the southwest tip of Brooklyn. This location makes it an international shipping hub and gives it an edge on Statue of Liberty views. Find the best glimpse of Lady Liberty in Brooklyn at Valentino Pier at the southwest tip of the neighborhood, surrounded by a small park. There's also more waterfront-related history at the Waterfront Museum, located on an antique floating barge. This family-friendly museum preserves the fascinating history of Brooklyn's maritime culture, as well as hosting live events. The South Brooklyn Ferry stops at Red Hook, while the home furnishing superstore Ikea has a ferry of its own transporting shoppers back and forth from Manhattan.  Don't leave the area without a plate of barbecue lamb belly at the smash-hit Hometown Bar-B-Que.
Visiting the Brooklyn NYC Waterfront: Coney Island
Coney Island is not an island at all, but located on a south Brooklyn peninsula facing the Atlantic Ocean. Along with other nearby communities like Manhattan Beach and Brighton Beach, Coney Island attracts plenty of New Yorkers every summer for sunbathing and swimming. Coney Island's claim to fame is Luna Park, an amusement park in operation since 1903. Its legendary wooden roller coaster is the Cyclone, while other roller coasters, rides, and games for all ages make it a must-visit destination every summer. A rite of passage is to eat a Coney Island hot dog at Nathan's.  New York Aquarium is also located on the shore. It's home to hundreds of marine species and a gigantic brand-new shark exhibit. The Aquarium also serves food at its two cafes, both with great views of the water.