Brooklyn Museum's Studio 54: Night Magic opens March 12. This exciting exhibition follows the meteoric rise of New York's most famous club. During a pivotal moment of city history, Studio 54 was a hub of nightlife that exemplified the music, fashion, and culture of the disco era. Inspired by the exhibition, we've rounded up six activities for those of you that like to boogie. Shop for authentic disco gear, feel the groove at an Ice Disco, dance to disco music, and even visit the place where it all started.
Screaming Mimi's 
Before you hit the town, get your white Saturday Night Fever suit at one of New York's signature vintage stores. Screaming Mimi's, located in the West Village, stocks 1970s duds from bellbottom jeans to snazzy jumpsuits, in addition to designer clothing from other eras. And the huge, sparkly shades to top off your look? They've got those too. If you're on a shopping spree for more disco wear, find more at some of NYC's best vintage stores. 240 W 14th St., 212-677-6464, screamingmimis.com
Hustle Party
Dustin Pittman (American). Iman, 1978. Courtesy of the artist. © Dustin Pittman.
Do the hustle—it's a disco mandate. Learn the famous dance at a party hosted at the Brooklyn Museum in conjunction with Studio 54: Night Magic. On Thursday, March 19, dance teacher Marlene Veras will show you the moves beginning at 6pm. Following the class will be a party with live music and plenty of hustle at this dance extravaganza. Admission is free; RSVP at link below, 6-9:30pm. While you're at the Brooklyn Museum, consider a meal at house restaurant The Norm. "The Norm 54" will pop up from March 13 to July 5, the duration of the Studio 54: Night Magic's run, with a menu that's an ode to traditional diner culinary culture, enhanced by chef de cuisine Andy Mejias to be a little more over the top. 200 Eastern Pkwy., 718-638-5000, brooklynmuseum.org
House of Yes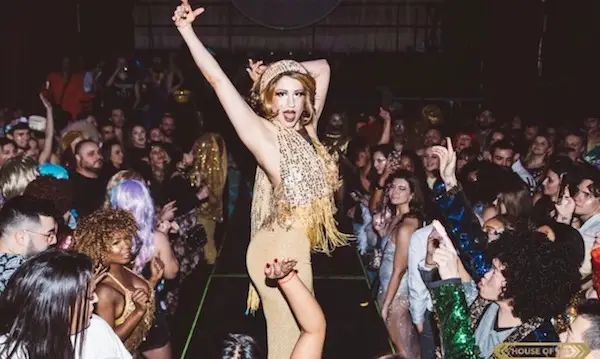 House of Yes, photo by Kenny Rodriguez.
House of Yes is the 21st century's answer to Studio 54. The aerial dancers, anything-goes outfits, and extravagant, all-night parties make this massive Bushwick space a hit, week in and week out. They've even got a couple of disco-themed parties coming up, like Discotechnique on March 21 and April 11. On May 15, they're cohosting a Dance Party with Brooklyn Museum. 2 Wyckoff Ave., 646-838-4937, houseofyes.org
Lola Star's Dreamland Disco
The hottest skate party in the city is Lola Star's Dreamland Disco. Starting March 7, the event is coming back to the LeFrak Center at Lakeside in Brooklyn's Prospect Park. Saturdays in March, come for the Ice Disco, a dance party on an ice rink. Special homages to the disco era include theme nights on March 14 ("Soul Train") and March 28 ("Saturday Night Fever"). Expect DJ'd disco tunes and 70s-inspired costumes—even dance and costume contests! Once the weather warms up, Lola Star's party will likely come back for its roller-skating iteration throughout spring and summer. Check link below for details. 171 East Dr., dreamlandrollerrink.com
Et Al.
Since the Studio 54 era, the nightlife hub of NYC has moved downtown. Head to the Lower East Side for disco nights at Et Al., a lounge where you can get down like Bianca Jagger during their Thursday night disco parties. You'll get your fill of Earth, Wind & Fire and other era-appropriate hits at this dance-y lounge. 191 Chrystie St., info@etal-nyc.com, etal-nyc.com
Studio 54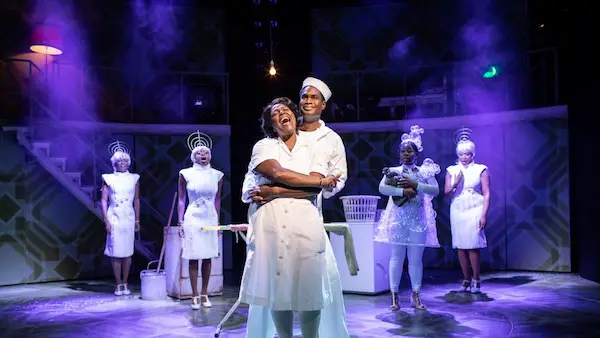 The cast of Caroline or Change, now at the Roundabout Theatre. Photo: Helen Maybanks.
Studio 54's famous nightclub shuttered in 1980, not three years after its opening. The space has lived many lives, as the Brooklyn Museum exhibition will explore, but now it's a Broadway theater. The Roundabout Theatre Company hosts shows in the historic venue; starting March 13, it's Caroline, or Change. Read on here for more on the musical's upcoming run at Studio 54. 254 W 54th St., 212-719-1300, roundabouttheatre.org