Celebrating 4th of July 2017 in NYC
June 14, 2017 - by Mei Zhu
In 2017 the 4th of July falls on a Tuesday and the nation's largest patriotic pyrotechnic display will illuminate the NYC night sky once more. The main event is of course the Macy's 4th of July free fireworks show, which celebrates its 41st anniversary this year. Of course, there's plenty more to check out in New York City. Read on for the best in 4th of July brunches, beach festivals, live music, and rooftops bars.

4th of July New York: Fireworks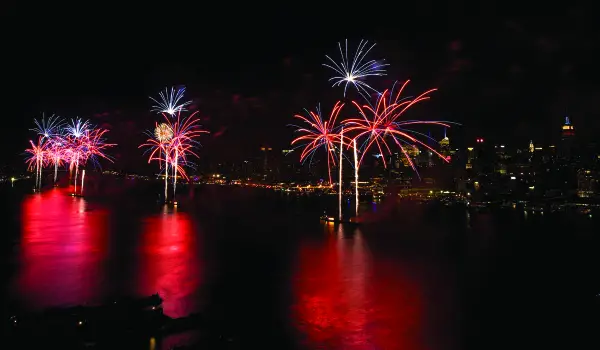 The West Point Band performs a live score of patriotic favorites with opera singer Jamie Barton, Nashville recording artist Craig Campbell, and Grammy-winning vocalist Heather Headley. Four barges on the East River provide the pyrotechnical action, which is the largest Independence Day display in the nation. The fireworks begin at nightfall (9:20pm or so), but for the best views you'll want to get situated hours in advance. Viewing information and other spectator tips are available at macys.com/fireworks or 212-494-4495. The 2017 Macy's Fourth of July Fireworks Spectacular airs on NBC at 8pm. Here are some of our favorite options for viewing:
Free Fireworks Viewing Spots in NYC

The official view spots have entries at Houston, 23rd, 34th and 42nd streets on Manhattan's FDR Drive, starting at Houston Street and going all the way up tp Midtown East. Access will be open starting from 7pm and closed when the areas fill with people.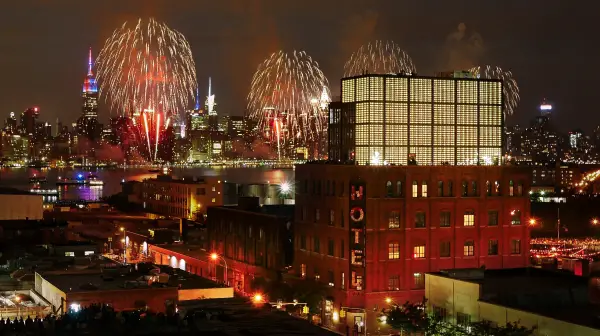 Brooklyn
East River State Park
11-acre state park located in Williamsburg along the East River that will guarantee you a close view of the fireworks, amid a mix of Polish and artsy folks from the neighborhood.
Manhattan
East River Park
This newly reopened park on the Lower East Side runs 1 1/2 miles alongside the FDR Drive and the East River. It has become one of the go-to spots for the fireworks show.
South Street Seaport
New York City wouldn't be the same without jazz. Head to Fulton Street to experience a live jazz festival in a free event that will take place outdoors on Fulton Street from 5:30pm to 9pm. Afterwards you can enjoy a special view of the Macy's fireworks from this waterfront area just off the Financial District.
Queens

Gantry Plaza State Park
This 12-acre riverside oasis in Queens offers spectacular views of midtown Manhattan.
4th of July New York: Cruises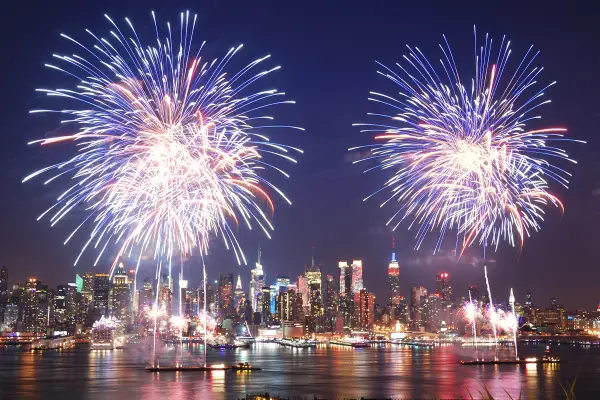 The very best place to watch the show is right from the water on one of New York's famous cruise ships. You can declare your independence from crowds aboard the Circle Line July 4th Fireworks cruise. Food, drink, and a live DJ complement the action. Choose from an afternoon NY Statue of Liberty Lunch Cruise or the open bar and three-course buffet aboard the nighttime NY Independence Day Fireworks Dinner on Spirit Cruises. Manhattan's premier all-glass, European-inspired dining cruise ship Bateaux is the most sophisticated way to watch the show. Daytime sees the Independence Day Sightseeing Lunch and night brings a five-hour Independence Day Fireworks Dinner with a plated meal and platinum open bar. New York Water Taxi also offers a scenic ride, their July 4th Fireworks Cruise. Tickets ($199) include passed and stationary hors d'oeuvres, a buffet dinner, dessert trays, beer, wine, and soda. Boats depart from the Hudson at 41st St.

4th of July New York: Views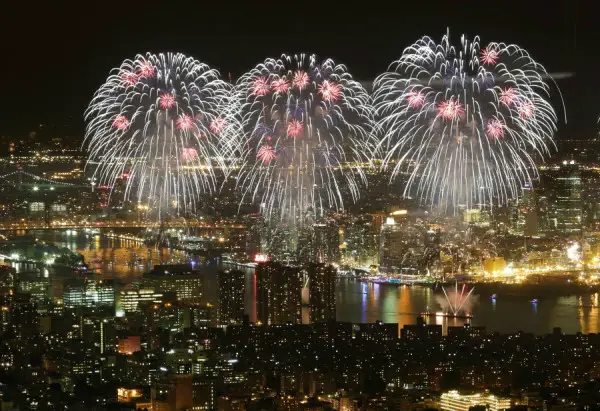 For a once-in-a-lifetime July 4th, head up to the tallest building in the Western Hemisphere where One World Observatory is hosting a watching party. A symbolic 1,776 feet high, One World offers 360-degree views and some great ticket packages for taking in the pyrotechnics (as you can see above, the views are off the hook). There are two options, a general admission ticket good for entry to the stunning views of the observatory, plus a two-hour beer and wine open bar and all-American fare (hot dogs, soft pretzels) for $250pp; and a VIP upgrade for an exclusive lounge, spirits at the bar, and additional light bites ($325pp). Doors open at 8pm—just in time for sunset!
For a midtown look at the show, head to the limited access observatory at the Empire State Building. Take in the show from the 86th floor open-air Observatory, including hors d'oeuvres and premium open bar. TV screens and speakers will be on the 86th floor for the broadcast. The observatory will be closed to all but a few ticket holders, so get your reservations now (guest check in 7pm; 80th floor reception until 9:30pm; passed hors d'oeuvres and premium bar for 21+ guests; fireworks show; $350).
4th of July New York: History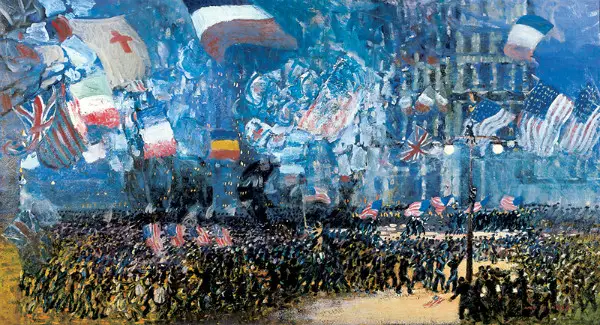 George Benjamin Luks (1867–1933). Armistice Night, 1918. Oil on canvas. Whitney Museum of American Art, New York, Gift of an anonymous donor. Photo: ©Whitney Museum of American Art
The New-York Historical Society has special programming for the Fourth of July, with a 10am start for Independence Day: Celebrating American Identities. Historical reenactors, trivia, and History Detective Briefcases for Families are among the highlights, free with museum admission. In this centennial year of America's entry into World War I, the New-York Historical Society also presents a special exhibition examining The Great War through the eyes of artists. World War I Beyond the Trenches features powerful works by artists like John Singer Sargent, George Bellows, and Georgia O'Keeffe, joined by artifacts from the museum's collection (propaganda posters, letters, sheet music, uniforms, and military gear) that provide insightful context.
For more history, stroll the streets of the Financial District at dawn on the Fourth, when the scenery most resembles its colonial incarnation. You'll learn about NYC's pivotal role in the Revolutionary War, and little-known local heroes like Marinus Willet, who evolved from street brawler to prominent leader. The tour begins at 6am on July 4th.
4th of July New York: Parties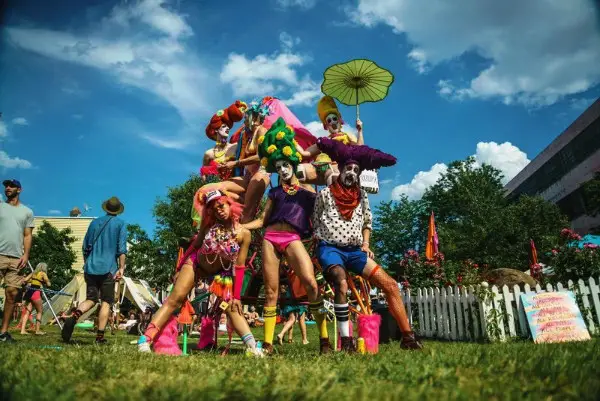 Circus Performers at Summer of Love | Photo credit: Shot by Rod

As part of the House of Yes Presents Summer of Love 2017 series check out a free Fourth of July BBQ & Day Party at the historic Vander Ende-Onderdonk House in Ridgewood (Queens). Highlights include an extended set from house and disco DJ and House of Yes resident Eli Escobar, Frozé slushies and Heineken beers at the open air bar, BBQ and lots of other delicious food from local vendors, an open-call circus jam where you can try your hand at hooping, juggling, acroyoga, and aerial for those with experience, and face paint and glitter at the make-over station. Kinds under 12 are welcome if accompanied by an adult.
Catch Tiësto Perform at The HRBR Project on Governors Island. Grammy Award-winning DJ/producer Tiësto will perform at the HRBR Project on Governors Island on July 4th, produced by RPM Presents. Fans will have the opportunity to see the dance music legend perform with the backdrop of the city's skyline. Catch the action from 4-10pm.
Hudson Terrace
Hudson Terrace is hosting a "Big Bang" Rooftop Party—and everyone who RSVP's can enter free before 4pm! Midtown West - 621 W 46th St
Gansevoort Park Avenue
Want a close view of the Macy's Firework Show? Grab a table at Gansevoort Park Avenue and enjoy the excitement of NYC for Fourth of July with live music all night long!
Nomad - 420 Park Ave S
4th of July New York: Brunch
Who says Independence Day is all about beer and BBQ? Start your 4th off with a celebratory bellini, bloody mary or mimosa at a Independence Day brunch! Consider the restaurants below offering specials for the 4th of July!
The Dutch
Okay, ignore the name: this is not Dutch, but an Independence Day-suited American restaurant! They'll be offering their annual all-day cookout on July 4th. Special items range from American classic hot fried chicken to Hawaiian rolls and pineapple jam to patriotically inspired luau cocktails.
Soho - 131 Sullivan St.
Bubby's
Come in and have a stack of pancakes to start your celebration! This classic NYC brunch spot should be rollicking come July Fourth.
West Village - 73 Gansevoort St.
Clinton Street Baking Company
The lines ouside this downtown favorite are an indicator of its ratings as one of the city's best breakfast spots. You can't go wrong with anything in their American Classic menu: fried chicken & waffle, eggs Benedict, and brioche French toast are only the beginning. Come early on July 4th!
Lower East Side - 4 Clinton St.
4th of July New York: Theatre
Celebrate the amazing immigrant heritage of America with the Museum of Jewish Heritage. They'll be showing the premiere performance of Amerike – The Golden Land (in Yiddish with English and Russian supertitles) takes place at 7pm on the Fourth of July. The musical will be followed by a bbq-style reception overlooking the Statue of Liberty and Ellis Island, and of course fireworks over the Hudson River.
4th of July New York: Coney Island

There's nothing quite as patriotic as watching the Nathan's Famous hot dog eating contest, a July 4th tradition on Coney Island. 2016's winner. Joey Chestnut, devoured a whopping 70 hot dogs in 10 minutes to set a new contest record. The world's top competitive eaters gather for the event, with 2015 Nathan's Famous World Champion Matt Stonie and 2016 women's title holder Miki Sudo back to bite it out. It's free, but get there early as lots of people turn out for the event.
4th of July New York: Afternoon Activities
Hudson River Beach Festival
If you want to celebrate America's birthday with some wine and dance, this is the beach party you don't want to miss! La Marina, located at what once a docking spot for yachts toward the northern tip of Manhattan, is known for its resort-like restaurant and beautiful views of the Hudson River and George Washington Bridge. Kicking off at 3pm, the beach festival will feature some famous DJs and performers.
Inwood - 348 Dyckman St.
NY Yankees vs. Toronto Blue Jays
There is nothing more American on Independence Day than attending a good old baseball game! Sip on a beer and take down a hotdog while supporting the Yankees during this 4th of July! To get the inside story on the Bronx's famed Yankee Stadium, take a special tour.
Bronx - Yankee Stadium - 1 E. 161st St.
Nancy Whiskey Pub
At this 50-year-old tavern you can free burgers, hotdogs, and snacks, play a few games of shuffleboard, and down some cheap drinks. The most tempting part? You can wade in a kiddie pool set up on the street right outside the bar.
Tribecca - 1 Lispenard St.
Making Magic with Ethan
Want something for kids for the 4th of July? Head to Hudson River Park and enjoy the mysterious power of magic shows. Ethan's philosophy is that magic is meant to be created and shared with people, so he and the audience will create an amazing show together. There are two shows starting at 2pm and 4pm. Guests of all ages should come out and be surprised!
Greenwich Village - Hudson River Park
Looking for Free Group Planning Services?
Get free advice on planning your group's trip to New York.
RESTAURANTS

Fogo de Chão's first churrascaria (Brazilian steakhouse) in ...

THEATER

Gaston Leroux's famous period thriller is now one of Broadwa...

SHOPPING

Find the right gear for your workout. ...

SIGHTSEEING

Opened to the public in 1913 thanks to the ingenuity and amb...