In 2019 the 4th of July falls on a Thursday and the nation's largest patriotic pyrotechnic display will illuminate the NYC night sky once more. The main event is the Macy's 4th of July free fireworks show, which celebrates its 43rd anniversary this year. Of course, there's plenty more to check out in New York City. Read on for the best in 4th of July hot dog eating contests, live music, and more!
4th of July New York: Fireworks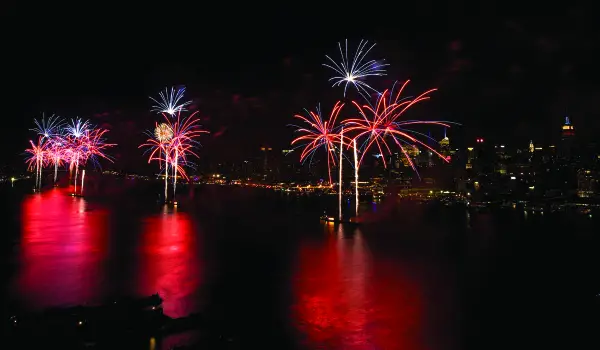 This year's theme of the Macy's show is a celebration of American cinema, with the soundtrack shouting out to summer blockbusters and some of Hollywood's most beloved scores. Recorded on original Metro-Goldwyn Mayer grounds in L.A., the highlight of the soundtrack will be Jennifer Hudson's take on "Somewhere Over the Rainbow," backed by an orchestra that makes everything that much more epic.

This is the nation's largest Independence Day fireworks show and this year it will launch from the Brooklyn Bridge itself, in addition to four barges on the East River. (Don't miss the firework waterfall bursting from between the towers on the main span of the bridge.) The fireworks begin at nightfall, 9:20pm or so, but for the best views you'll want to get situated hours in advance. Viewing information and other spectator tips are available at macys.com/fireworks or 212-494-4495. Here are some of our favorite options for viewing:
Free Fireworks Viewing Spots in NYC
The official view spots have entries at Houston, 23rd, 34th and 42nd streets on Manhattan's FDR Drive, starting at Houston Street and going all the way up to Midtown East. Access will be open starting from 7pm and closed when the areas fill with people.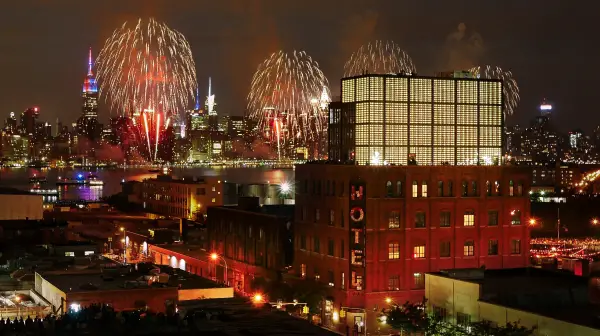 East River State Park
11-acre state park located in Williamsburg along the East River that will guarantee you a close view of the fireworks, amid a mix of Polish and artsy folks from the neighborhood.
Manhattan
East River Park
This newly reopened park on the Lower East Side runs 1 1/2 miles alongside the FDR Drive and the East River. It has become one of the go-to spots for the fireworks show.
South Street Seaport
New York City wouldn't be the same without jazz. Head to Fulton Street to experience a live jazz festival in a free event that will take place outdoors on Fulton Street from 5:30pm to 9pm. Afterwards you can enjoy a special view of the Macy's fireworks from this waterfront area just off the Financial District.
Queens
Gantry Plaza State Park
This 12-acre riverside oasis in Queens offers spectacular views of midtown Manhattan.
Staten Island Fireworks
To enjoy some fireworks before the main event, hop the Staten Island Ferry to the brand-new Empire Outlets on the Staten Island waterfront. This is the first outlet mall in New York City and in addition to discount shopping, the complex will be offering music, food, and its own early firework show as part of a special July 4th celebration.
Jersey City Fireworks
Residents of the west side of Manhattan will also get some fireworks this year, thanks to Jersey City, right across the Hudson River. Jersey City Mayor Steven Fulop is expecting 200,000 celebrants to return to the Jersey side this year. Headline artists will be Pitbull (a.k.a. Mr. Worldwide) and Jersey City's own Akon, who has a new album dropping this summer.
4th of July New York: Observation Decks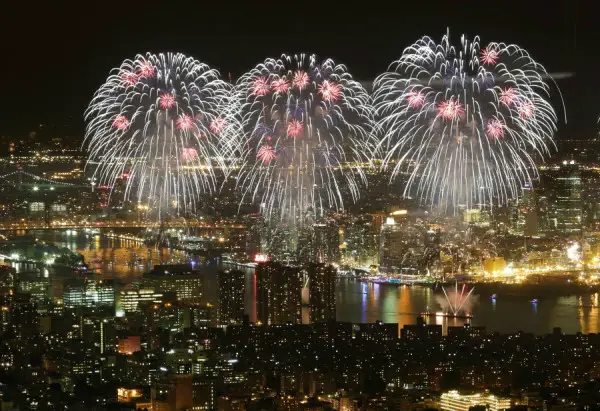 For a once-in-a-lifetime July 4th, head up to the tallest building in the Western Hemisphere where One World Observatory is hosting a watching party. A symbolic 1,776 feet high, One World offers 360-degree views and some great ticket packages for taking in the pyrotechnics (as you can see above, the views are off the hook). There are two options, a general admission ticket good for entry to the stunning views of the observatory, plus a two-hour beer and wine open bar and all-American fare (hot dogs, pretzels), which is now sold out. Still available is the VIP upgrade, which features access to an exclusive private party space on the 102nd floor; a 3-hour open bar featuring top-shelf spirits, beer, wine, prosecco, sparkling water, and soda; and a chef's selection of classic American fare and passed canapes. Doors open at 7:45pm, perfect timing for dusk and sunset!
For a midtown look at the show, head to the limited access Observatory at the Empire State Building. Closed to the general public, ticket holders are provided VIP private access to the 86th floor Observatory with prime viewing of the East River from 7:30 through 9pm. There will be gourmet hors d'oeuvres and a premium open bar. Not only will guests be able to step outside and enjoy the show without having to battle the crowds, but TV screens and speakers will be set up inside the event displaying the broadcast presentation.
4th of July New York: Cruises

One of the very best places to see the show is right from the water on one of New York's famous cruises. You can declare your independence from crowds aboard the Circle Line July 4th Fireworks Cruise. A July 4th-themed buffet and free beer and wine complement the action; upgrade to Premium for an open bar and passed hors d'oeuvres. On Spirit Cruises, choose from an afternoon NY Statue of Liberty Lunch Cruise or the open bar, three-course buffet, games, DJ, and dance floor aboard the nighttime NY 4th of July Fireworks Dinner. For more amazing views, hop aboard Hornblower Cruises & Events, which will be hosting its Admiral's 4th of July Fireworks Cruise. Get patriotic with an American picnic-style buffet and a premium open bar, and then enjoy dancing to the onboard DJ. Manhattan's premier all-glass, European-inspired dining cruise ship Bateaux is the most sophisticated way to watch the action. Evening brings a five-hour Independence Day Fireworks Dinner with a plated meal and platinum open bar.
4th of July New York: Rooftops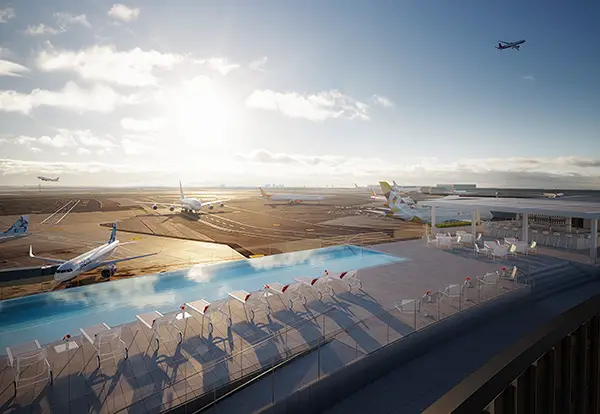 July 4th BBQ Bash at The Pool Bar at TWA Hotel. This brand-new space at JFK will be ready with holiday festivities, including a backyard BBQ party in partnership with Aviation Gin and great views of all the action on the runways. From 4-8pm look for free samples of a pair of specialty cocktails, the Strawberry Collins and the Aviation; plus summer barbecue faves like burgers, hotdogs, grilled corn, and ice cream cones. Yes, there will be corn hole.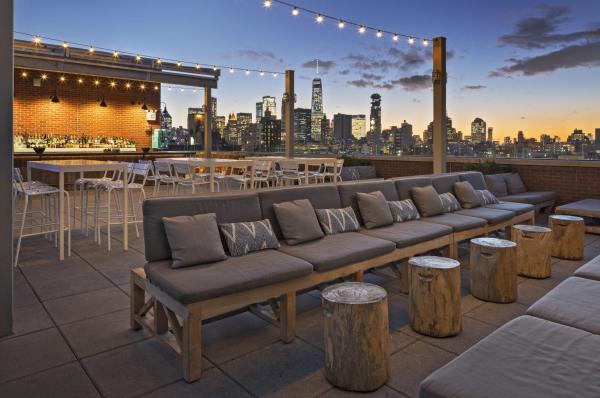 Mr. Purple's 4th of July Backyard BBQ. The roof bar of the Hotel Indigo Lower East Side will also be hosting a backyard barbecue all day long. DJs will be spinning, the kitchen will be turning out oysters, watermelon salad, Chicago-style hot dogs, and shrimp tacos, and there will be specialty cocktails like the Uncle Larry's Backyard Punch and the Blue Colada.
4th of July New York: History
For more history, stroll the streets of the Financial District at dawn on the Fourth, when the scenery most resembles its colonial incarnation. You'll learn about NYC's pivotal role in the Revolutionary War, and little-known local heroes like Marinus Willet, who evolved from street brawler to prominent leader. The tour begins at 6am on July 4th.
4th of July New York: Coney Island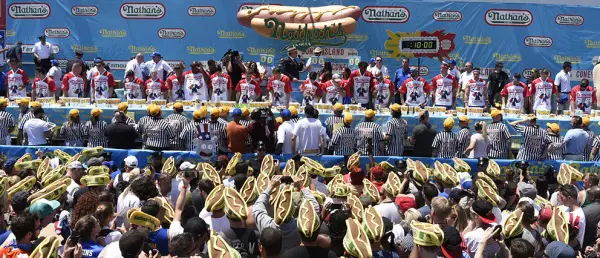 There's nothing quite as patriotic as watching the Nathan's Famous hot dog eating contest, a July 4th tradition on Coney Island. The world's top competitive eaters gather here every July 4th. After a record-breaking performance last year, Joey Chestnut will be back to defend his title. On the women's side, five-time Mustard Belt winner Miki Sudo is a perennial favorite. The women's competition begins at 10:50am and the men's competition starts at noon. It's free, but get there early as lots of people (some 30,000!) turn out for the event.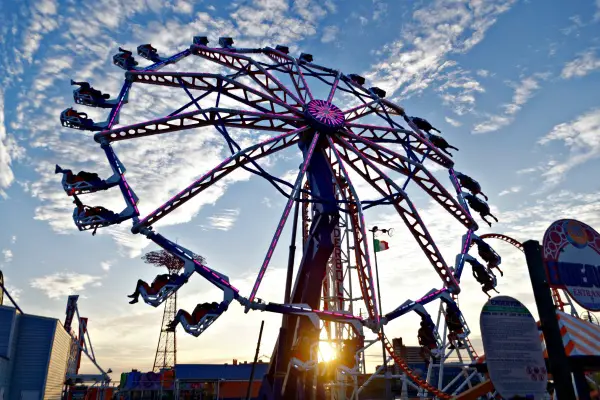 The legacy of Coney Island's legendary amusement parks lives on with Luna Park, one of the city's biggest summertime draws. A wide variety of rides for thrills and fun await, including the newly opened Astro Tower and virtual reality-infused Cozmo Jet. Of course, there's the classic Cyclone roller coaster, which saw its first riders in 1927, plus the new Thunderbolt, featuring a 90-degree drop(!), and the Steeplechase, where riders sit on horse-shaped seats like jockeys at a race. Thrill-seekers can also check out the gravity-defying Slingshot and giant see saw-like Zenobio. Not a fan of free-falls and loop-de-loops? Try the 1906-built B&B Carousell, the Circus Coaster, or Tea Party, perfect for younger visitors. Keeping with Coney Island tradition, Luna Park is an open-gated amusement park with no fee to enter. 1000 Surf Ave. (btw. W. 10th & W. 15th Sts.), 718-373-LUNA (5862), lunaparknyc.com