When going to New York City, few people travel alone. If they do, it's because they're visiting someone who lives there. So, of course, you're going to be looking for things to do together as a group! New York City is the perfect place for a group vacation. There's so much to see and the city; there are so many options to accommodate your party's size. Check out the following suggestions if you're looking for something to do with your friends this weekend!
1. Escape the Room
A growing popular activity for a group activity in New York City is Escape the Room. The interactive activity is the perfect activity for friends, where you have to solve riddles and tasks to, you guessed it, escape the room. It's fun, affordable, and it's a great way to start a night in New York City. It's also a great team bonding experience.
2. Explore Korean BBQ at Don's Bogam

Dinner with friends is always a great idea. Dinner with friends at Don's Bogam is an even better idea. If you haven't tried Korean BBQ before, that should be on your bucket list. Don's Bogam is also the perfect place to bring a group of friends for a culinary experience. Reserve a table and get ready for some amazing food, prepared at your table if you're going for the full BBQ experience.
3. SPiN New York
Sports and playing games are always great activities for a group of people. And what could be better than grabbing a drink with friends and playing some ping pong? So do what SPiN New York recommends, book a table and get your pong on. Located close to the Flatiron Building and Madison Square Park, this place can assure you a good night out with friends.
4. Play some miniature Golf at Pier 25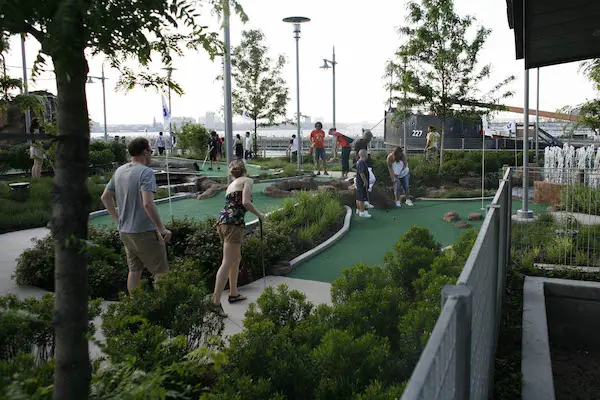 Tribeca is a beautiful neighborhood and it has a lot to offer its visitors. Like miniature golf! Looking for a fun outdoor activity during the day? Get some friends together and head on over to Pier 25, where you'll find Pier 25 Miniature Golf. The space is big and it's only $5 for adults ($4 for kids).
5. Trivia Night with Your Group
Trivia Night at Brookyn's Videology. Photo via website. 
Trivia nights are great! But also even better for people who haven't visited the city before. It's a great way to have a fun, yet relaxed night, with friends at a bar while guessing on some random questions. It's also a great way to experience first hand the American culture and just enjoy the fact that you're currently in the Big Apple. Do a quick Google search for bars hosting trivia nights in a neighborhood close to you; the options are endless.
---
About the author: Nina is the Engagement and Corporate Communications Analyst for RentHop, a national apartment rental site based in New York City. She moved overseas from Norway three years ago and has since been living and working as an expat in New York, enjoying everything the city has to offer.