At a time when the planet seems ever more divided, it's amazing to visit a place like Gulliver's Gate and be reminded that we all share one world. Gulliver's Gate is one of the most ambitious attractions to ever land in New York City, a $40 million extravaganza that allows visitors to travel the globe without leaving Times Square. Latin America, Asia, the Middle East, Russia, and Europe are all here in incredibly detailed miniature. And don't let that word "miniature" fool you—Gulliver's Gate feels like it covers acres, stretching a full city block with the wonders of the world.
The work of craftspeople from eight countries on four continents is represented here. One of the fascinating elements of Gulliver's Gate is seeing the different approaches that each team took. There's a mammoth tribute to New York to get you in the spirit right from the start. The loving work on the Brooklyn Bridge may be a tip-off: the little Big Apple was built entirely in Brooklyn. 3D printers provide precision recreations of famous buildings in some places, or you can see an analogue approach, as in the snowy scapes of the Russian sector, made entirely by hand. These aspects of local flavor are a perfect match for what is, at its heart, a celebration of human diversity.
You'll understand New York in a new way when you see the city from a bird's eye view, complete with moving cars and trains (vehicles here are equipped with their own on-board computers). Parents will appreciate all the avenues for learning, like insight into scale, the way aspects of cities and national boundaries rub up against each other. In miniature, Times Square reveals itself in a way that it isn't graspable when you're dealing with its hubbub at street level.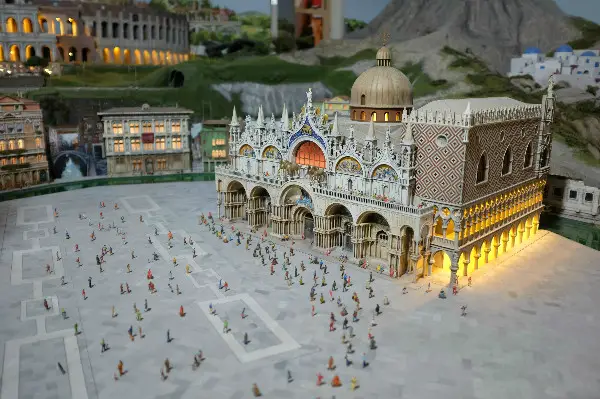 Although landmarks are rendered with realistic care, Gulliver's Gate takes some entertaining liberties with time and space. Within the modern metropolis of New York you'll see a Lenape Village, calling back to pre-colonization New Amsterdam. As you enter Europe you'll be greeted by the Colossus of Rhodes, torch aglow, making a connection between the Titan of Braavos of fiction and the Seven Wonders of the Ancient World. There's plenty of cheek here, too. Don't miss the Chunnel train that connects England and France (beneath the floor), or a sighting of the Loch Ness Monster, or the tables turned at a Spanish bullfight, where the bull wields the crimson cape. Look closely enough at any scene and surprises will reveal themselves, vignettes hidden everywhere. You could spend weeks here and still uncover new things.
Europe gives way to Asia, where there's a strong sense of harmony and flow, even with the radical shifts in time suggested by the Taj Mahal, Angkor Wat, and a glowing remix of a skycraper better known as Beijing's CCTV headquarters.
Any gate should have a key, and you'll receive one upon arrival to unlock the interactive elements of the attraction. Kids can feel empowered, as when they switch on the thundering of the gods from high atop Mount Olympus. Light and sound play key roles, and there's some amazing technology, too, like the living miniature of Niagara Falls, which can put visitor faces right into its foam. Through the magic of 3D printing, travelers can have themselves (and their families) immortalized in 1:87 scale and placed into a display for perpetuity. What better excuse for a return visit than to check in with your avatar?
Another thrill of Gulliver's Gate is the way it provides access to things you may never get to. In a few steps you can move from an erupting volcano in South America to the Great Pyramids to the Holy Land. (In the case of the moon and the Mars colony displays, the odds of a real-life visit are decidely long.)
There are many opportunities to find S.T.E.A.M. (Science, Technology, Engineering, the Arts, and Mathematics) know-how at work. Part of the fun of being here is a perpetual sense of "Can this be real? Am I really seeing this?" There's even a working airport with the capacity for 50 flying planes. Glimpses of the mechanics behind the displays are invaluable. One of the most fascinating places is the control room (there are a lot of moving parts to stay on top of) where engineers face out to the public and answer questions. Toward the back you'll find studio spaces, with craftspeople working at desks in the doorways. From these models of industry, Gulliver's Gate will inspire an interest in miniatures, craft, and creativity.
It may also cover something bigger: a renewed passion for the world itself, in all its variety.
---
Tips for bringing kids to Gulliver's Gate:
Children under age 3 are free.
Strollers are allowed.
Don't be intimidated by the prospect of traveling through the crowds of Times Square; Gulliver's Gate is easily accessed by the A/C/E trains to 42nd Street, where you can exit at 44th and just be a quick, not-so-crowded walk to the exhibition.
Previews begin April 4th, with the grand opening coming in May.
216 W. 44th St. (btw. Seventh & Eighth Aves.), 646-585-4291, gulliversgate.com