We're in the thick of October, and for most Americans, that can only mean one thing—Halloween is right around the corner! In honor of the ghoulish holiday, we've rounded up a list of New York theaters notorious for harboring ghosts. From former owners dropping in for a visit to apparitions of famous faces that played those theatres long ago (and even some who just show up to make mischief), we've got your complete guide to ghost-hunting in New York's famed Theatre District! Read on—if you dare. And happy Halloween!
New York's Most Haunted Theatres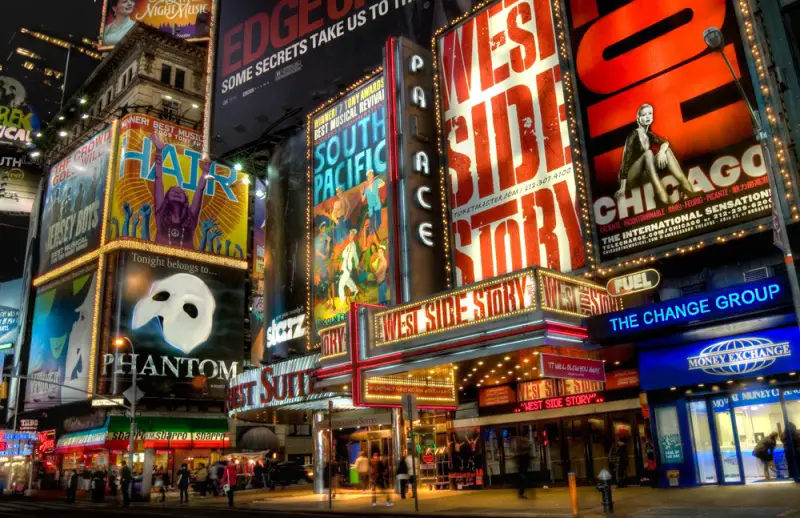 The Palace Theatre. Rumored to house more than 100 ghosts, the Palace is surely the most renowned of Broadway's haunted haunts. Among the many apparitions that regularly appear to theatre personnel include a female musician, clad in a white gown playing cello in the pit; a gloomy little girl who hides out in the balcony; a supposed former manager, dressed in a brown suit, who stalks the manager's office; a young boy who rolls toy trucks in the hallway behind the mezzanine, and even the ghost of Judy Garland herself, known to appear at the rear of the orchestra pit, near a door built specifically for her to enter and exit from during her much-lauded Palace concerts. According to lore, faint melodies from a Steinway piano are also occasionally heard late at night.
Presumably, experiencing a ghostly encounter of any kind would spook you regardless. But still, theatre staff warn the one Palace Theatre ghost you should beware of most is that of acrobat Louis Borsalino. During the days of vaudeville, the agile performer supposedly fell to his death during a tightrope-walking act on the stage of the Palace. And why should he be avoided at all costs? Legend has it that anyone who sees the phantom of the once-agile man will die themselves within a year's time.


Well, if that isn't a reason to watch your back while "playing the Palace"….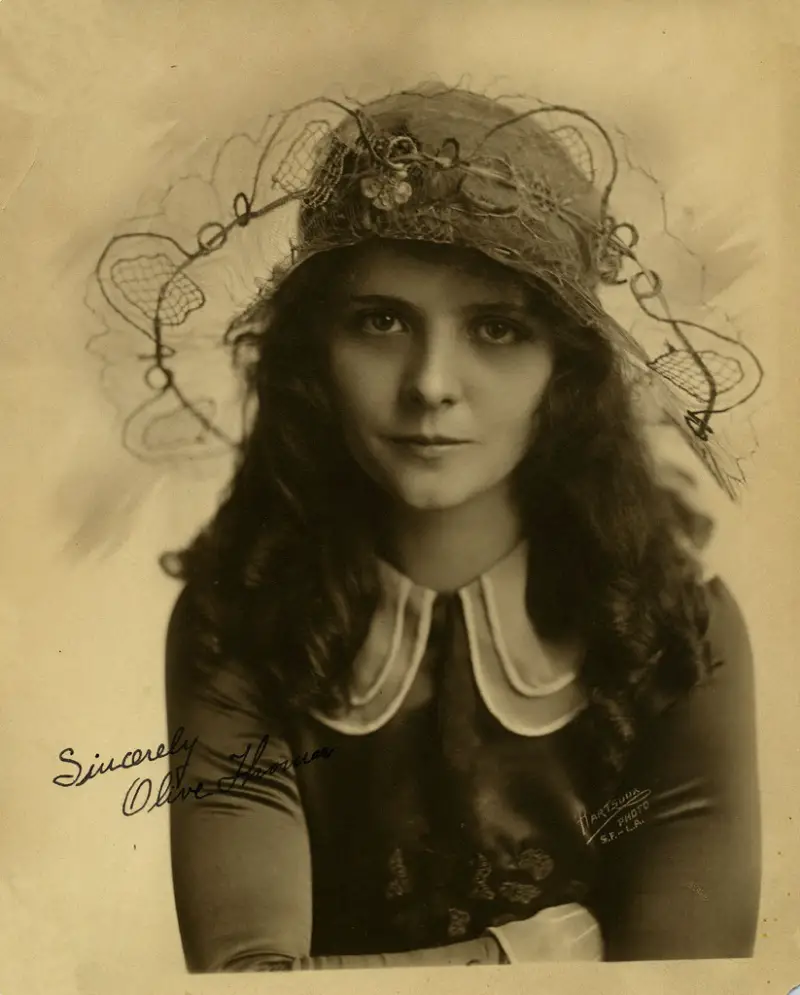 New Amsterdam Theatre. No, that's not a genie you're seeing! Haunting the New Amsterdam— current home to Disney blockbuster Aladdin—is former Ziegfeld Follies showgirl Olive Thomas. She's supposedly haunting her old stomping grounds: the Ziegfeld Follies were originally presented here in 1913.
Current theatre owners Disney Theatricals have acknowledged the ghostly presence by hanging her portrait on both stage left and stage right of the backstage area—and the staff reportedly whisper "good night" as they leave each evening.
Spooked staffers who've encountered the apparition know the apparition by her outfit: signature green-beaded Follies dress, beaded headpiece, and sash. They'll also notice she holds a big blue pill bottle—the same as the one containing the mercury pills she swallowed (and died from) after she discovered she contracted syphilis from ex-husband Jack Pickford.
Thomas is said to appear almost exclusively to men, acting coy and flirtatious. She frequently makes appearances on the rooftop, and is said to cause trouble — flickering lights on and off, among other mischievous behavior — whenever there is a major change made to the theatre. Yikes! When Aladdin and Jasmine spoke of experiencing "A Whole New World," we don't think this is what they had in mind!!    
Byron Company. Portrait, David Belasco, 1902. Museum of the City of New York. 93.1.1.8606.
Belasco. The last of the "Big Three," the Belasco Theatre is said to be haunted, naturally, by the ghost of David Belasco, a prominent theatrical impresario who christened the theatre with his name just three years after it was built. Notorious throughout his life for being a libertine ladies' man, Belasco's ghost has been said to occupy a seat in the balcony during rehearsals and performances, where he's shaken hands with actors and passersby, and naughtily interacted with female audience members—even going as far as pinching them on the bottom! He's also known to frequent the duplex apartment above the theatre—built specifically for him as producer while he worked there. Actors have reported hearing laughter and footsteps from the room above—which hasn't seen a (live) tenant since Belasco died in 1931. While the ghost has been said to appear less regularly in recent years, he does show up on occasion with a companion, referred to as "the Blue Lady," due to the cerulean color of her garb. 
Finally, a note to all actors: Legend has it that if Belasco's ghost appears to you on opening night of your show in that theatre, the show is blessed. With The Glass Menagerie set to open next at the venue, here's to hoping he "really, really likes" Sally Field!
New York's Most Haunted Theatres: Honorable Mentions
Eugene O'Neill. There are reportedly two ghosts—one male, one female—that wander the backstage area of the Eugene O'Neill. These figures have been known to randomly appear onstage alongside the actors and whisper in their ears, and partake in such impish behavior backstage as moving props, pushing items off of high shelves, and tugging at actors' hair in the makeup room. It's a good thing (or maybe not) the theatre's current tenants—Mormons—believe in the afterlife!
Gershwin. Seems it's not just Elphie who's "defying gravity" at the Gershwin! There are allegedly three other apparitions that roam the theatre to this day. According to research, actors in the smash hit Stephen Schwartz tuner have experienced the occasional tap on the shoulder or glimpse-of-someone-that-wasn't-really-there from one of these three figures.
Only one ghost—Dennis—is known by name, but the other two are said to wear a 19th century blue suit and a white T-shirt, respectively, when they are sighted. One thing's for sure: After 13 years of ghostly encounters, Wicked actors have almost certainly been changed for good…and that's not necessarily a good thing!
Imperial. Supposedly haunted by the legendary Ethel Merman, who played Annie Oakley in Annie Get Your Gun here, to critical acclaim. More than once, actors have reported doors opening and closing by themselves. Oooh…no business like show business indeed!

Stephen Sondheim. The Stephen Sondheim Theatre, formerly the site of the Henry Miller's Theatre, is said to be haunted by Henry Miller, who apparently fiddles with the elevator operation when theatre inhabitants mention his name inside the space.
Bonus Haunt: Radio City Music Hall. Though he's apparently rarely been seen by the staff, Samuel Lionel Rothafel, architect of Radio City Music Hall, has been said to haunt the "Showplace of the Nation" since his death in 1936.
Colloquially referred to as "Roxy" throughout his time of life, Rofethal is known to frequently attend opening night performances, keeping a watchful eye on his "Roxyettes" (as those happy tappy women were originally called, under his foundership), often with his own ghostly leggy companion at his side.
Rothafel was known to famously say, "Don't give the people what they want. Give them something better!" Life in the flesh is so mundane. Bring on the ghosts!
---
Research sources include, but are not limited to, "Scandals and Secrets of the Supernatural" (Playbill.com), "Broadway's Haunted Houses" (TheaterMania.com), and "Ghosts of New York: The City's Most Haunted Theaters" (WalksofNewYork.com). These are great sites for more information on the theatrical ghosts of New York.