New York City is filled with various fast-paced careers in different industries that reflect the bustling city streets. As a result, it can be easy for stress to build up in both your mind and body when living in the city. Thankfully, there are numerous ways to relax after a chaotic day in the Big Apple, leaving you ready to wake up feeling refreshed and ready to start all over again. Read the below tips on how to effectively de-stress in NYC.
Take a Walk Through the Brooklyn Botanic Garden
According to scientists at Harvard University, vegetation can have a relaxing effect on a person's mind and body. For this reason, you should consider taking a stroll through either Central Park or Brooklyn's botanical gardens when you are struggling with stress or tension in your body. You can guarantee you will feel lighter and brighter once you return home.
Meet with Friends to Unwind
A toast to friendship at Eataly Flatiron. (Photo courtesy of Eataly Flatiron.)

Let's face it, if there is one thing New York is not short of it is cool bars and relaxing cafes, which are the perfect place to enjoy a glass of wine after a long, hard day of working or shopping. When stress starts to build inside your body, call up your friends and arrange to meet to share a bottle of wine, some conversation, and plenty of laughter. You will wonder why you were stressed once you have said goodbye to your good friends.
Chillout at Home
Of course, the hectic city might be causing you more stress than necessary. If so, make your way home to simply chill out. Turn down the lights in a room, light some candles, run a hot bath and listen to your favorite songs, which will help to melt away your tension. You could even try smoking some relaxing herb varieties to wind down, and you can get started by taking a look at these DopeBoo smoking accessories.
Put on Your Headphones on the Subway
One of the most stressful parts of your day could be the commute to work. If you are one of the six million people who take the subway every day, you will know full well that it can be more than a little bit hectic. If you want to stop yourself from feeling stressed before or after work, simply put on your headphones and listen to either upbeat or relaxing music. It will help to block out the noise on the subway platform and train, so you can absorb yourself into a song.
Restore Your Body with a Spa Treatment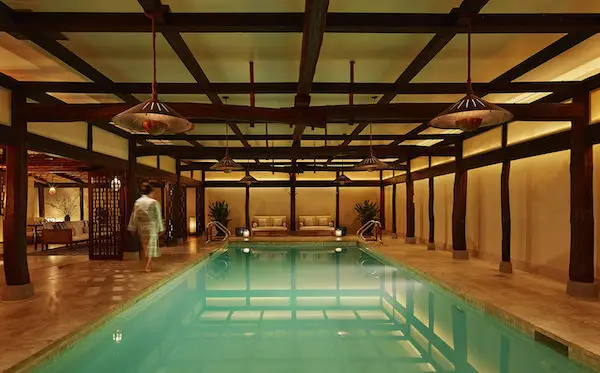 De-stress at Shibui Spa in NYC.

New York offers many spa and wellness centers for you to take your pick from in the city. It is the ultimate way to pamper yourself after many months of hard work. So, if you are feeling lethargic, tired, or stressed, treat yourself to a full-body massage, relaxing facial or a head massage. You will most likely feel like a completely different person once the pampering experience has come to an end.