Central Park is an essential stop on your tour of the city. Once you step inside, you realize just how massive it is! At 2.5 miles long and half a mile wide, it would take you an entire weekend to experience every single activity, take every picture, and sample every pretzel from the many carts sprinkled throughout the park. Follow our schedule, though, and you and your group can hit the highlights and have a fantastic time.
Image: John Cunniff/Flickr


Designed by Calvert Vaux and Frederick Law Olmsted, the park opened in 1859 to enraptured crowds who, at the time, could view actual sheep in Sheep Meadow and get milk at The Dairy. Now, with millions visiting the park every year, New York's backyard is tailor-made for a day of fun, particularly in sunny weather. Here is an outline of a perfect day in Central Park for an active, outdoorsy bunch, scheduled from breakfast time to sunset. Be sure to wear clothes you can move in and athletic shoes for biking and walking.
Your Perfect Day in Central Park: Breakfast from Wafels & Dinges
You'll be greeted by the sweet smell of maple syrup at three different entrances to Central Park. Your breakfast is in one of these small yellow carts: Wafels & Dinges. They make some of the most sinful waffles in New York. And when they say "dinges" (Belgian slang for "whatchamacallits"), that means toppings like whipped cream, speculoos spread, strawberries, and Nutella. The carts—stationed daily at the southeast entrance, on Center Drive, and in front of the Museum of Natural History—attract lines, but you'll know why when you take your first bite. And don't worry, there's coffee too! Southeast entrance: 5th Ave. & 60th St.; Center Drive: near Wollman Rink; Museum of Natural History: 2 W. 81st St.; 646-257-2592; dinges.nyc/find-us
Your Perfect Day in Central Park: Late-Morning Bike Tour
Burn off your wafel with a bike ride around the park! The bike tour market in the park is very competitive (as are walking tours and scooter tours, if bikes aren't your thing), so we'll let you weigh your options. But just so you know, the park itself hosts tours lasting 1 or 2 hours at reasonable prices for adults and children. A guide will educate you as you go about the history of Gapstow Bridge, Conservatory Garden, and Belvedere Castle among other treasures of the park. Central Park's bike tours run daily from 8am to 8pm and are offered in English, Spanish, and Portuguese. 208 W. 80th St., 917-993-3141, centralpark.com/tours/bike
Your Perfect Day in Central Park: Picnic Lunch
You might choose your own adventure for lunch, opting for a restaurant nearby. But if you're strict about staying within the bounds of Central Park for the day, have a picnic delivered to you! Just reserve your basket on the Central Park website 24 hours in advance, and you'll have a gourmet sandwich, fruit, chips, cookies, and water. You can also pick up the basket at the park's bike shop after your tour is over for a lower price—convenient, no? You can carry the picnic to nearby Strawberry Fields to lunch in the grass. Pick up at 208 W. 80th St., centralpark.com
Your Perfect Day in Central Park: Afternoon Rowboats
Take a leisurely walk from your picnic to The Lake at Central Park, taking in the famous Bethesda Fountain on your way. The rowboats at the lake are a classic New York activity, with the skyline in full view. Rent a rowboat for you and up to 3 friends for $15 per hour (cash only). The boats hold up to four people and are $4 for each additional 15 minutes with a $20 cash deposit. You could also take a tour on a Venetian gondola on the lake with resident tour guide and gondolier Andres Garcia. Gondola tours are $45 for 30 minutes and accommodate 6 guests at a time. The Loeb Boathouse in Central Park: E. 72nd St. and Park Drive North, 212-517-2233, thecentralparkboathouse.com
Your Perfect Day in Central Park: Alice in Wonderland & Sailboats on the Conservatory Water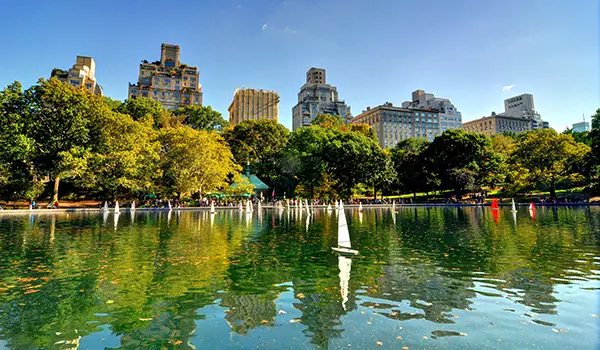 Image: Mike Norton/Flickr
If your arms need a rest after rowing (no judgment), visit the welcoming Alice in Wonderland sculpture near The Lake. Alice sits on a massive toadstool, accompanied by the Mad Hatter, Cheshire Cat, and White Rabbit. The bronze sculpture was made by José de Creeft in 1959 and makes an excellent perch for young visitors, who are encouraged to sit on the toadstool with Alice. Nearby is the Conservatory Water, where model sailboats glide across the placid pond. You can sit on a nearby bench and watch, or rent a boat yourself at Kerbs boathouse. Rentals are $11 for 30 minutes, and boating season lasts from April through October. At E. 72nd St., 917-522-0054, centralpark.com
Your Perfect Day in Central Park: Snacks & Drinks at LPQ Yacht Club
On the south side of Conservatory Water is a Yacht Club/Snack Shack run by Le Pain Quotidien. Sit on the patio and enjoy an adult beverage, popcorn, and/or some Blue Marble Ice Cream for an afternoon pick-me-up. Other offerings include soups, sandwiches, and gourmet hot dogs. E 72nd & 5th Ave., 646-939-0020, lepainquotidien.com/store/central-park-yacht-club
Your Perfect Day in Central Park: Conservatory Garden at Sunset
If you ask us, the Conservatory Garden is the crown jewel of the park and well worth the walk to 104th Street. Here's where the walking shoes come in handy! Travel from the Yacht Club at Conservatory Water along East Drive. You'll pass the Loeb Boathouse at The Lake on your left, and, walking uphill, pass the Metropolitan Museum of Art on your right and the Jacqueline Kennedy Onassis Reservoir on your left. The intricate wrought-iron Vanderbilt Gate to the Conservatory Garden is located at Fifth Avenue between East 104th and 105th Street. These formal gardens are filled with fountains, sculptures, and artful displays of seasonal blossoms, hedges, and trees. There are three sections, displaying different gardening styles from England, France, and Italy. Take a quiet stroll through these serene environs for a spell, and return to the bustle of the city for dinner on the Upper East Side. What a day! 5th Ave. & E 105th St., centralparknyc.org