Getting into the holiday spirit in New York City is not a difficult thing to do. There are more than enough things to spike your spirit when it comes to NYC around Christmas time. There are winter villages, the lighting of Christmas trees, the smell of roasted chestnuts, Starbucks holiday cups. You name it. But if those things don't rub off on you, there are always other ways to get into the holiday spirit in NYC.
1. Visit a Christmas store
The majority of people who visit New York City, or anywhere else for that matter, for the first time brings back souvenirs. A great way to get into the Christmas spirit, and gather some souvenirs, is to check out one of the city's numerous Christmas stores. These Christmas stores are open all year and you'll have a field day trying to pick out the perfect Christmas ornament to go on the tree this year.


2. Get into the holiday spirit at Rolf's
There is no lack of Christmas Spirit in New York City. Some say it might be too much, and sometimes too early. I beg to differ. I think everything New York City has to offer when it's getting close to Christmas is just wonderful. Like their many options for Christmas themed bars and restaurants! The German restaurant "Rolf's Restaurant" is located in Gramercy Park and the store is decked in Christmas decorations. Ok, it might be borderline tacky for some but it is also wonderful and a great experience.
3. The Winter Village in Bryant Park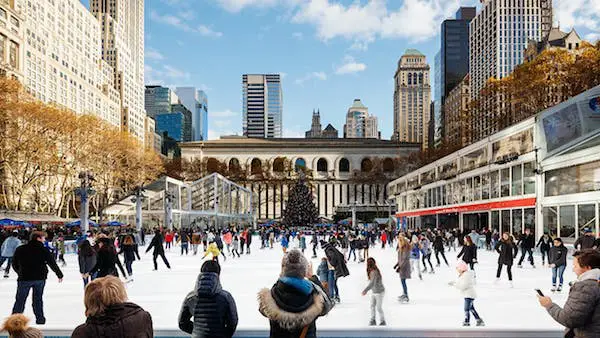 Bryant Park is in the middle of Midtown, Manhattan, and with that, tons of people pass the park on their way to work. Myself included. And by just passing it, and seeing the Christmas stores and the ice rink gets me all giddy for Christmas. A full visit is even better! Have a cup of cocoa and walk around the park to see all of the different stores. The park's Christmas tree is also my favorite.
4. A walk through Central Park
Every tourist knows of the famous Central Park. The big park has been in numerous movies, including the famous "Home Alone 2: Lost in New York", where Kevin McCallister once again gets separated from his family and ends up in Central Park on multiple occasions. Central Park is a magical place and it has a way to brighten up your spirits. Getting into any kind of spirit while walking through the park is not hard, especially getting into the Christmas spirit!
5. Experience the Dyker Heights Christmas Lights
If a trip through Brooklyn's Dyker Heights Christmas Lights doesn't get you in the Christmas spirit, I'm afraid you might be doomed this year. The Dyker Heights Christmas Lights are among the city's finest display of Christmas lights and ornaments and it is just as breathtaking year after year. There is also a tour of the various houses and their Christmas displays so if you're interested in the tour you might want to book it now since it always sells out early.
6. See the Rockefeller Center Christmas Tree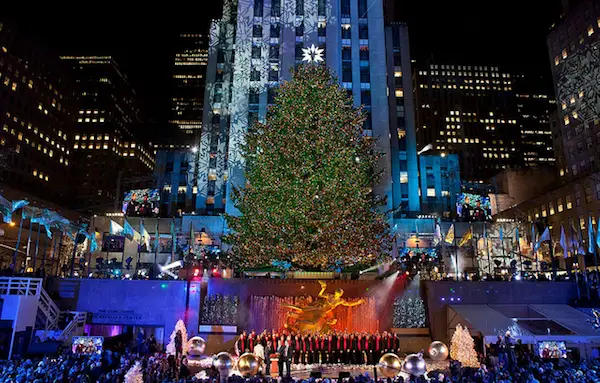 We all do this. Tourist or not, when it's that time of year we all head over to the Rockefeller Center to watch the Christmas tree in all its beauty. It's a New York City tradition. One that neither tourists or New Yorkers get tired off. Yes, there will be a lot of people there and yes, getting a good picture is nearly impossible with all the selfie sticks and hands in the air. But, just take a minute and soak up the beauty. That's all you need to get into the Christmas spirit.
7. Watch the New York City Ballet perform The Nutcracker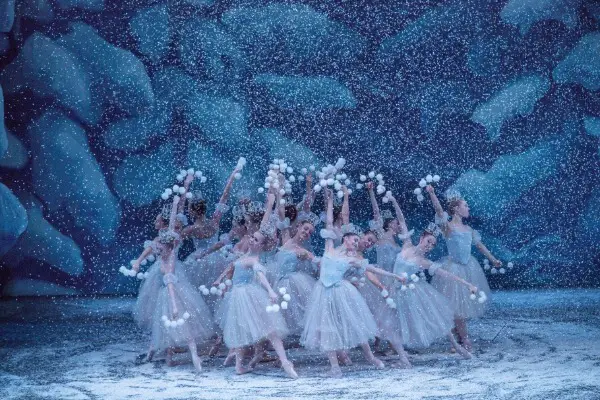 Photo credit: © Paul Kolnik
Another classic recommendation is watching the New York City Ballet perform George Balanchine's The Nutcracker®. This is an amazing show and it is worth the money. Immerse yourself in the music, the movement, and the story for a little while. You probably don't want it to end when it is starting to come to an end. It is a memorable experience, one that will sit with you for a long time
About the author: Nina is the Engagement and Corporate Communications Analyst for RentHop, a national apartment rental site based in New York City. She moved overseas from Norway three years ago and has since been living and working as an expat in New York, enjoying everything the city has to offer.