Experience the world of history's most famous spy at 007 x SPYSCAPE: Driven, a brand new exhibition inside SPYSCAPE. New York's spy museum is bringing Agent 007 stateside on March 8.
This immersive exhibition will bring you into the Bond universe with sets, props, and insights about the creation of the ageless secret agent. Novelist Ian Fleming created the Bond character, who debuted in Casino Royale in 1953 and was brought to screen in 1962 with Dr. No starring Sean Connery. The hit film franchise, which continues to this day, consists of 26 films across five decades. Although Bond has been played by seven different actors, he remains ever smooth, ever strategic, and ever stylish.
One of the props in this exhibition is an Aston Martin DB5, a car model readily associated with James Bond from its appearance in films like Goldfinger. Pierce Brosnan as Bond drove this particular Aston Martin in the 1995 film GoldenEye. The Guinness Book of World Records has listed it as the most valuable item from the Bond franchise. The vehicle appeared in a climactic scene in which Brosnan raced Famke Janssen's character through the hills of Monaco.
007 x SPYSCAPE: Driven will also show you the lab of Quartermaster (or Q), M16's gadget master. You'll view concept art from Oscar-winning production designer Sir Ken Adams, who worked on seven Bond films. Adams contributed to the slick midcentury look of the first Bond film Dr. No (1962), as well as Goldfinger (1964), Thunderball (1965), You Only Live Twice (1967), Diamonds Are Forever (1971), The Spy Who Loved Me (1977), and Moonraker (1979). The exhibition will also explore the creation of Skyfall's unforgettable final scene from the 2012 Bond film starring Daniel Craig.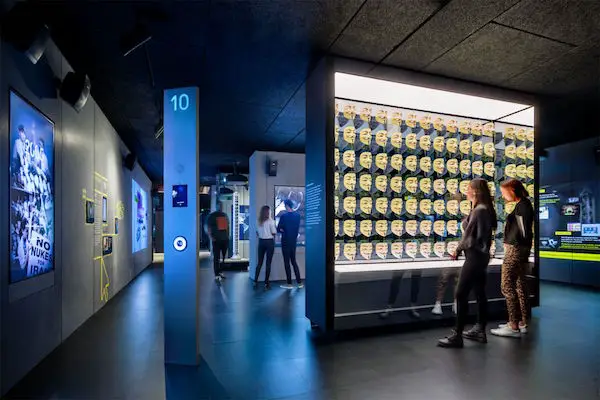 The exhibition represents a partnership between SPYSCAPE, EON Productions, and Metro Goldwyn Mayer Studios (MGM). SPYSCAPE is Midtown Manhattan's spy museum where you become an intelligence agent. In this interactive experience, you face a series of espionage challenges like breaking a lie-detector test and dodging laser beams. Along the way, you'll learn about real spies from history, from cryptologists to hackers to Bond-esque agents. At the end of your experience in SPYSCAPE, you'll receive a full Spy Profile based on the strengths and skills you demonstrated inside the museum.
This hotly anticipated exhibition, opening Friday, March 8, is expected to fill up fast. Reserve your tickets here today!
---
SPYSCAPE is located at 928 Eighth Ave. Call 212-549-1941 or visit spyscape.com for tickets and more.