You've probably planned what you want to do in New York City during the day, but what will you be doing at night? Sure, there are thousands of bars in the Big Apple, but there's much more on offer. From culture to sweets to stunning views, here are some great nightlife alternatives in NYC!
1. Get dessert in Little Italy
Little Italy really wakes up at night; a walk through the neighborhood really shows you the different sides of New York City. While I highly recommend a meal in Little Italy as well, a walk through the neighborhood is sometimes just as good. Grab a decadent cannoli at Caffe Palermo's on Mulberry Street, and check out this lively area at night, when the welcome signs are lit up in the background.
2. Dedicate the night to poetry slam

If you haven't experienced it yet, poetry slam should be on your bucket list. It doesn't matter if you're dedicated to poetry or not, a good poetry slam is something most people enjoy. And it's just so New York. Find a venue, such as Nuyorican Poets Cafe, that is hosting a poetry slam, take a seat, and enjoy the creative and inspiring atmosphere.
3. Experience the Top of the Rock at Night

There's nothing like seeing New York City by night. All the bright lights, all the big signs, all the people walking around the concrete jungle. And what better way to view it all by seeing it on the Top of the Rock at night? Most people might want to see the sights of the city during the day, being that it is easier to take pictures and spot the different attractions from afar, but there is something special viewing it by night as well. Last elevator up at 11:15pm. topoftherocknyc.com
4. Stroll the Brooklyn Heights Promenade

For an alternative vantage point of the Manhattan skyline, get yourself to Brooklyn's oldest neighborhood, Brooklyn Heights, for views of the Manhattan skyline surrounded by the East River. The Brooklyn Heights Promenade is a pretty romantic destination, so if the weather is with you, grab a special someone and share the experience.
5. Escape reality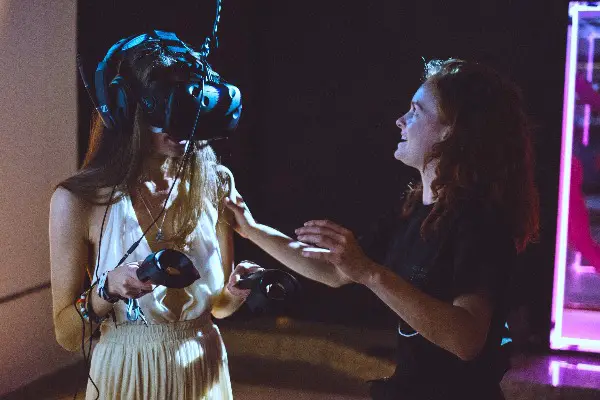 VR World Photo by Kenny Rodriguez provided courtesy of VR Worldwide, Inc.
NYC offers various opportunities for individuals to don VR gear and explore other worlds. At the new VR World down the street from the Empire State Building, three stories of options are at your fingertips; race, climb Mt. Kilimanjaro, or fly in outer space with Moveo, the world's first fully immersive virtual reality simulator. They're also open 'til 10pm (every night but Sunday, which is until 8pm.) vrworldnyc.com
Ghostbusters fans will want to check out Ghostbusters: Dimension experience at Madame Tussauds New York. Suit up for thrills and battle the paranormal. Open until midnight Friday and Saturday, 10pm Sundays and weeknights. ghostbusters.madametussauds.com
---
About the author: Nina is the Engagement and Corporate Communications Analyst for RentHop, a national apartment rental site based in New York City. She moved overseas from Norway three years ago and has since been living and working as an expat in New York, enjoying everything the city has to offer.