New York knows how to do Christmas. With its array of glittering decorations, extravagant holiday shows, and beckoning pop-up Christmas bars it's a feast for the senses. But sometimes you want something…different. Maybe tickets for the show you wanted to see are sold out, and you're looking for an alternative. Maybe you've seen that show 37 times, and you're looking for something…different. Whatever the reason, we're offering alternatives for some well-loved holiday traditions in New York so you can start some new ones. Below, our suggestions—with some help from the Everything To Do NYC Facebook Group.
If you love Rolf's…try Lillie's Victorian Establishment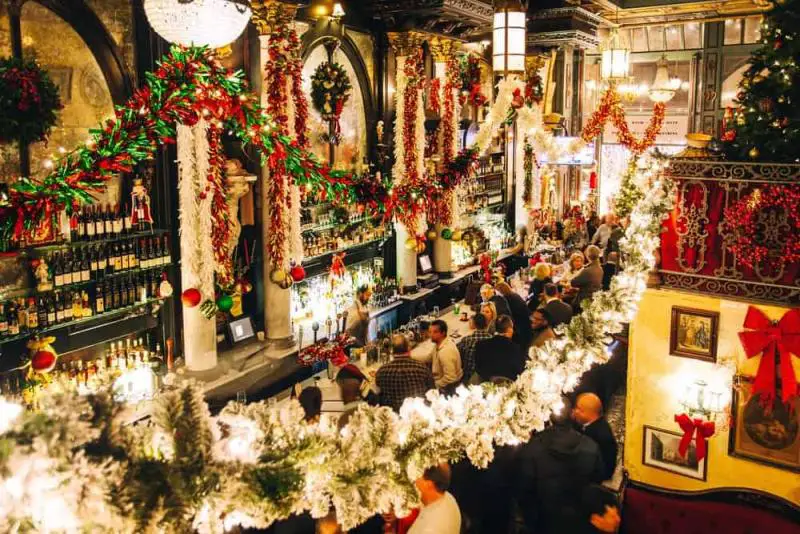 Inspired by 19th century actress and socialite Lillie Langtry, Lillie's Victorian offers a decorated-to-the-hilt Victorian interior that will make you feel like you've popped into a restaurant straight out of Dickens. With abundant—yet still somehow fairly tasteful—decorations from garlands to wreaths to baubles, on top of its already Victorian interior, the restaurant fairly screams Christmas.
Lillie's Victorian boasts locations in both Times Square and Union Square, and the extensive menus may differ. Categories generally include not only lunch, brunch, and dinner, but also "Afternoon Tea," and "No Thanks, I'm Driving." The lunch menu includes some decidedly non-Victorian offerings, such as a prosciutto panini and seared branzino. If you're looking for fare more suited to the vibe, shepherd's pie, chicken pot pie, and Lillie's Salad, with cranberries and mixed greens, may be more to your liking.  Wash it down with a Hotel D'Alsace (it includes rhubarb liqueur and lavender) and just wait for the ghost of Christmas present to show up.
What ETDers say: "We went there because, truthfully, we couldn't get into Rolfs, and weren't disappointed!"
Lillie's Victorian, 13 E. 17th St., 249 W. 49th St.;  lilliesnyc.com
If you love the tree at Rockefeller Center, visit the Origami Tree at the American Museum of Natural History
While the Christmas tree at Rockefeller Center is undoubtably the most famous tree in the country, others in New York deserve their due. For a completely different kind of holiday tree—yet one equally beguiling in its own way—check out the Origami Tree at the American Museum of Natural History.
Each year, the tree is decorated with origami that represents a specific theme. This year's is—wait for it—bugs. That's right, the 13-foot tree is decorated with origami bugs in honor of the Susan and Peter J. Solomon Insectarium in Richard Gilder Center for Science, Education, and Innovation, opening this winter. More than 1,000 pieces of origami decorate the tree; they include beetles, butterflies, and grasshoppers as well as recognizable creatures from the museum's other exhibits, like the Blue Whale and Tyrannosaurus Rex.
What ETDers say: "Truthfully, my kids like this tree better than the tree at Rockefeller Center. It's indoors, they can get up close, and they wanted to learn how to make origami after they saw it."
Beautiful Bugs Origami Tree. on display in the Grand Gallery, First Floor, through January 9th, 2023. American Museum of Natural History, 200 Central Park West, amnh.org
If you love the ice rink at Rockefeller Center…try the one at Industry City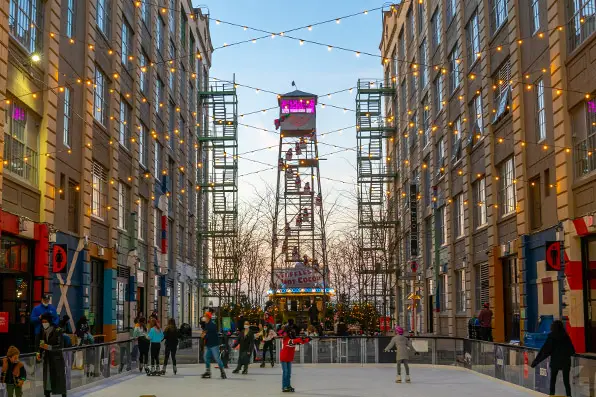 It's true that skating at the Rockefeller Rink is a New York tradition and an iconic part of the holidays. But if you're looking for something smaller, less crowded, and still skate-worthy, check out the rink at Industry City.
Like the one at Rockefeller Center, the ice rink at Industry City is outside (and uncovered.) Here, though, tickets are only $15 per person (less than an adult ticket at Rockefeller Center) with a $10 skate rental fee. The rink is 60 feet x 32 feet and fits 85 skaters—not too big, not too small, but just right. Book a session ahead of time; it lasts between 1.5 and two hours. Plus, the rink is surrounded by cool places to eat and drink, plus  other activities including NYC's first petanque court, live music, and more. (One skating admission ticket gets you admission to some of the other activities, including the game and billiards rooms.)
What ETDers say: "We were dubious at first, but it's actually great because there's also a ton to do around there."
Industry City Ice Rink, 51 35th St, Brooklyn, industrycity.com
If you love The Nutcracker at Lincoln Center, try the under-one-hour version for kids at New York City Children's Theater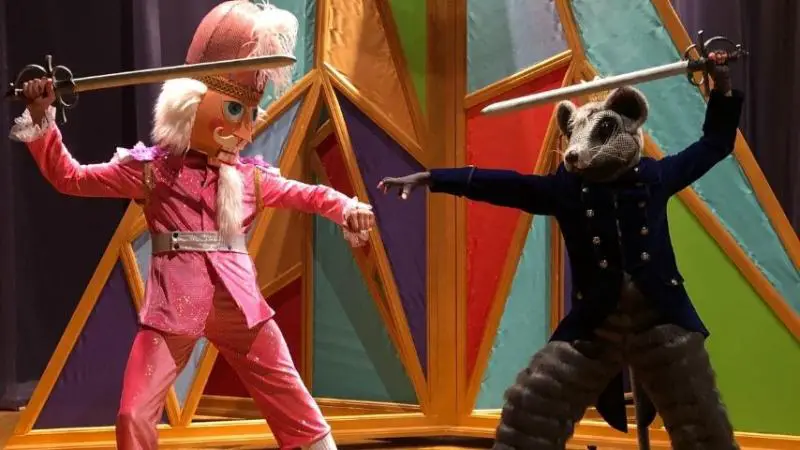 Yes—watching the tree grow on stage at the New York City Ballet's Nutcracker is mesmerizing, and the grandeur and spectacle of the performance  can't be beat. But for kids 3-8, the 50-minute performance at the New York City Children's Theater offers a great alternative.
In this abbreviated version of the classic holiday ballet, audience members can join Clara and her prince as they travel to a magical land complete with a dastardly mouse king, dancing flowers, and scrumptious treats. Note: The characters walk among the aisles and interact with audience during the performance, and audience members will be invited to dance with the characters during the show—worth mentioning to kids before the show. It's a child-sized delight, and a perfect intro to the classics.
What ETDers say: "Don't go expecting the NYCB Nutcracker. But if you have young kids who might otherwise be overwhelmed, this is a great first theater/dance experience."
My First Nutcracker, New York City Children's Theater, through December 23rd, 2022. 340 E. 46th St., nycchildrenstheater.org
If you love the Holiday Market at Union Square, visit the one at Columbus Circle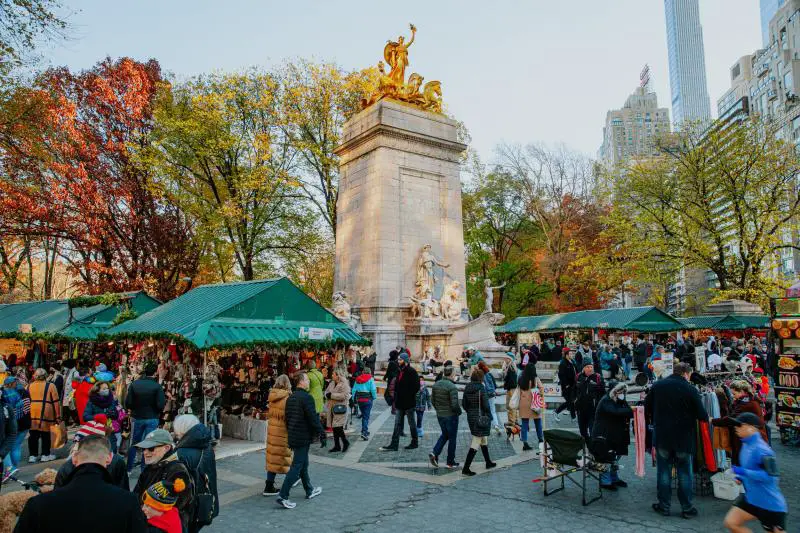 The holiday market at Union Square not only sells treats, but also is a treat—with aisles of artisan-made food and gifts, it's deservedly one of the outdoor market champs.
But that doesn't mean that other outdoor holiday markets aren't worthy of attention. The holiday market at Columbus Circle, for example, is definitely worth a trip. For starters, it's located right at the entrance to Central Park, which gives it a kind of nestled-in-the-woods appeal. It's the kind of spot where you can do the bulk of your holiday shopping, plus pick housewarming gifts, dessert for that holiday party, and a few trinkets for yourself, all in one place. This year's offerings include teas and spices from MondEpice; stuffed-to-the gills cakes and cookies from Gracie Baked; and enticing puzzles with themes like Harry Potter, birds, and books from the New York Puzzle Company. Plus jewelry, handmade clothing, chocolates, home goods, locally made hot sauce, Despite the fact that it boasts more than 100 vendors, the market, reminiscent of European holiday stalls, doesn't feel overwhelming.
Can't make up your mind? Grab a cup of cider and a piece of gingerbread and just wander. You can always go back.
What ETDers say: "This is a great market for holiday shopping, and for many people, more convenient than going to Union Square."
Columbus Circle Holiday Market, Columbus Circle and Central Park South, through December 24th, 2022. urbanspacenyc.com
If you love the holiday lights in Dyker Heights visit the NYC Winter Lantern Festival at the Queens Farm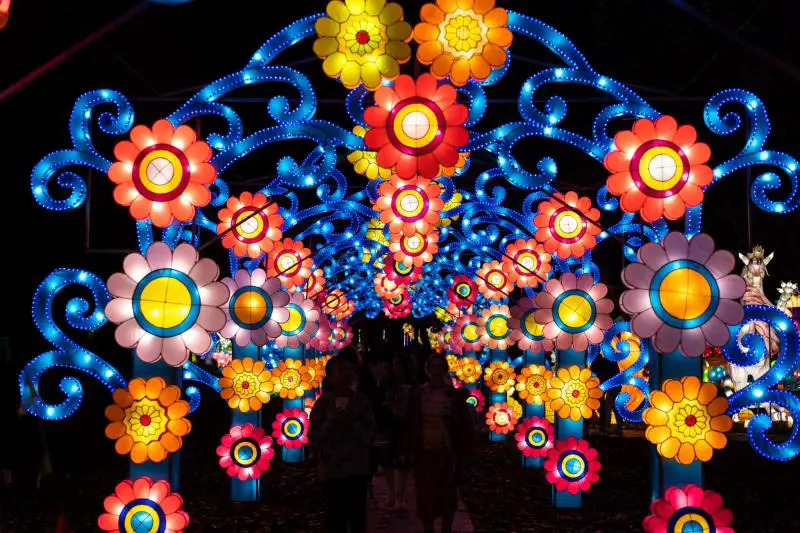 Sure, the Dyker Heights display in Brooklyn is an over-the-top extravaganza of lights and color and Christmas. But missing some of the other spectacular light shows around the city would be a shame, because there are some great ones.
At the Queens Farm, Christmas decoration comes in the form of 1,000 lights—hand-crafted lanterns that adorn the six acres of historic farmland. The lanterns were inspired by both theme parks and Chinese myths and legends, and include dazzling dragons, woodland animals and plants, flowers, farm animals, and sea creatures. The display also includes illuminated swings (yes, they can actually be used) as well as illuminated tunnels. (For those who attended last year, the number of lanterns and lights has been doubled.) Great photo ops will abound, and it's sure to be less crowded than Dyker Heights. So go light up the night!
What ETDers say: "There are so many lights shows around the holidays that it's hard to know which ones to see. Someone recommended this—we never would have known otherwise—and ended up having a lot of fun."
NYC Lantern Festival, Queens Farm, 73-50 Little Neck Parkway, Queens, through January 8th, 2023. queesnfarm.org