Circle Line Sightseeing Cruises Presents NYC's New Metro Sightseeing Bus Tours
September 10, 2013 - by City Guide News Desk
Circle Line Sightseeing Cruises has announced the expansion of Metro Sightseeing Bus Tours - the best way for tourists and New Yorkers alike to immerse themselves in the culture and history of New York City. The tourism experts who have made Circle Line a renowned sightseeing brand since 1945 have taken their skills from the water to the city streets and developed the most insightful bus tours available in the city. Now passengers will enjoy the new tour content, expanded schedules, and value-pricing offered only by Metro Sightseeing Bus Tours.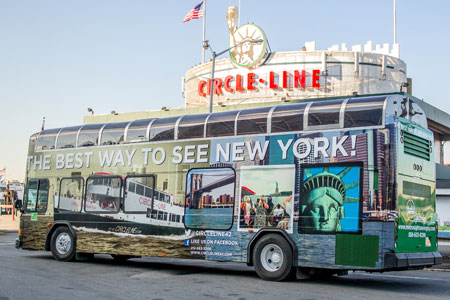 Starting at noon Sunday through Thursday, 9:30am Fridays and Saturdays, the two-hour bus tour offers an in-depth look into the iconic landmarks of the city on their brand-new double-decker bus complete with licensed live tour guides and a state of the art sound system. With a convenient mid-town pick up at Circle Line Sightseeing Cruises on Pier 83, W. 42nd Street, passengers will get to see over 25 of the most famous neighborhoods and sights that the city is known for; including Times Square, Bryant Park, the Empire State Building, New York Stock Exchange, City Hall Brooklyn Bridge, and more. Tickets for this tour are $15.
For the best value and complete NYC experience, passengers can pair their bus tour with a Circle Line Sightseeing Cruises to get the best of both worlds – the bus tour is just $10 when combined with any cruise. Cruises are weather protected, come complete with a world famous Circle Line tour guide, and have refreshments available for purchase on board.
Metro Sightseeing Bus Tours is also excited to announce its partnership with The New York Post to offer a very special and exciting New York Post Headlines Tour every Thursday at 10am and 2pm. In just over two-and-a-half hours, guests on the Headlines tour will become experts in the sensational New York Post headlines that have chronicled the highs and lows of New York City since revolutionary war times. While always providing the great main stays, the tour is updated every week with the latest news, gossip and headlines ripped directly from the pages of the New York Post. Tickets are $39 each and the bus picks up passengers at 57th Street and 7th avenue.
"We are excited to be announcing the expanded schedule, new prices, and new content of Metro Sightseeing Bus Tours," stated Jason Hackett, Chief Marketing Officer of New York Cruise Lines. "The experts at Circle Line have decades of experience in New York City tourism and are uniquely positioned to develop this new brand in sightseeing. For years, Circle Line has shared the colorful history and stunning sights of the city with both tourists and locals. The growth of Metro Sightseeing is a great way for us to extend our years of expertise beyond the rivers and onto the city streets."
For more infortmation, visit metrosightseeingny.com.
Looking for Free Group Planning Services?
Get free advice on planning your group's trip to New York.
RESTAURANTS

Conveniently located in the Port Authority Bus Terminal, the...

THEATER

Kander and Ebb's "musical vaudeville" in which Roxie Hart ga...

SHOPPING

Specializing in the great vineyards of California, France, A...

SIGHTSEEING

Manhattan's premier all-glass, European-inspired dining crui...