Last week, 300 members of New York City's tourism industry gathered on the flight deck of the Intrepid Museum to honor 38 colleagues who go above and beyond in delivering superior experiences for NYC visitors. The evening was a chance to celebrate the 40th anniversary of the Intrepid Museum and City Guide. City Guide would like to congratulate honoree Ray Winn, who manages the delivery of 3,000,000 copies of City Guide and 1,000,000 City Maps. We also celebrate Eli Marcus and Vincent Timpone, each with a remarkable 34 years serving the industry. Thanks to our sponsors HeliNY Sightseeing, Margaritaville Resort Times Square, and SUMMIT One Vanderbilt.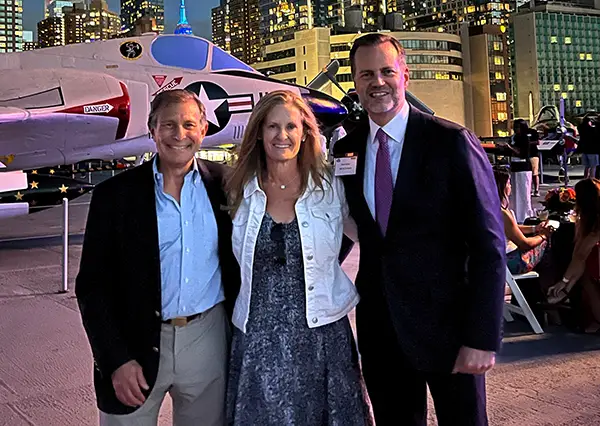 Cohosts Susan Marenoff, President, Intrepid Sea, Air & Space Museum and David Miller, CEO of Davler Media, joined by Fred Dixon, President and CEO of NYC & Company at the NYC Tourism Fall Kickoff. Image via @ussintrepid.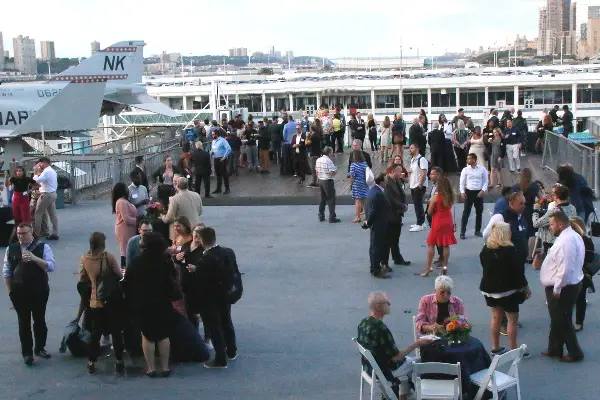 The flight deck begins to fill as 300+ tourism professionals gather for the NYC Tourism Fall Kickoff.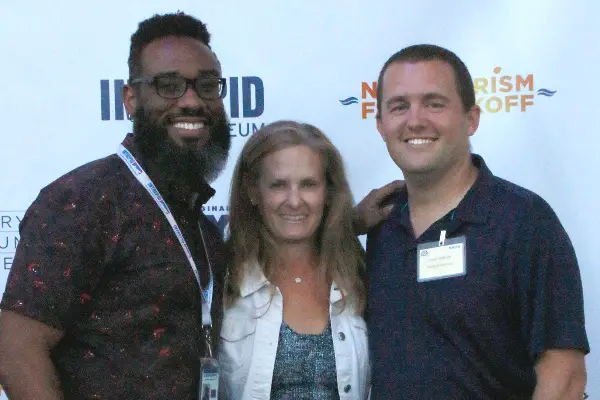 Intrepid honorees Willie Davis, Manager, Group Programs, and Jason Sullivan, Senior Manager, Groups & Tourism, with Intrepid Museum President Susan Marenoff.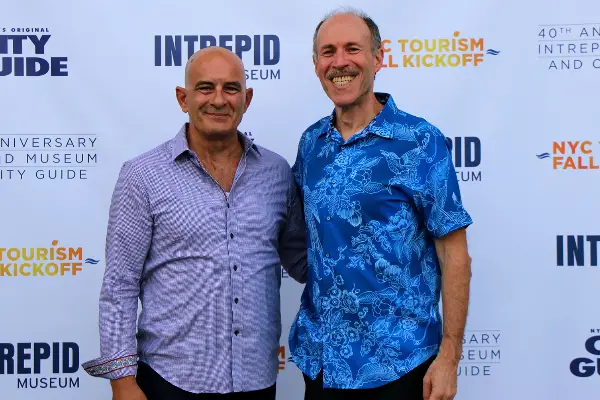 Vincent Timpone and Eli Marcus of City Guide.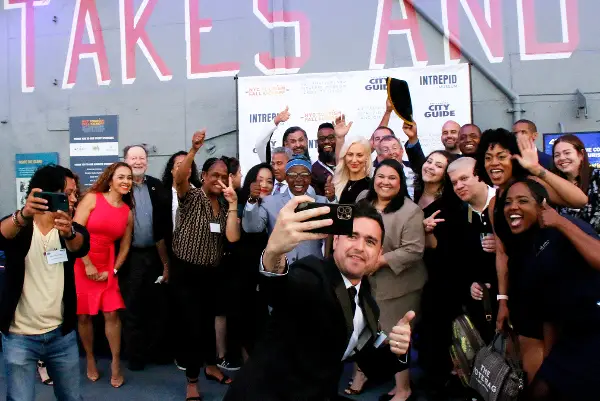 The night's honorees gather for a selfie (or two).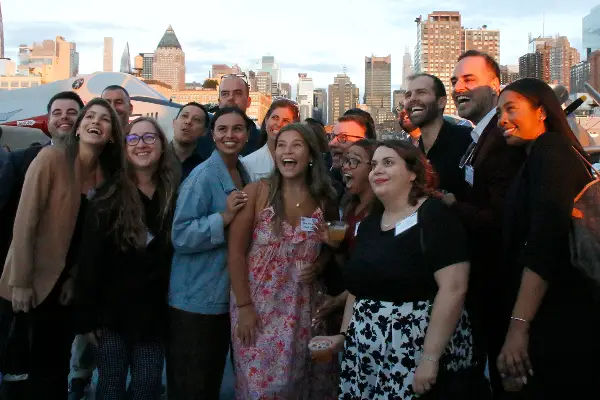 Photo ops on the flight deck.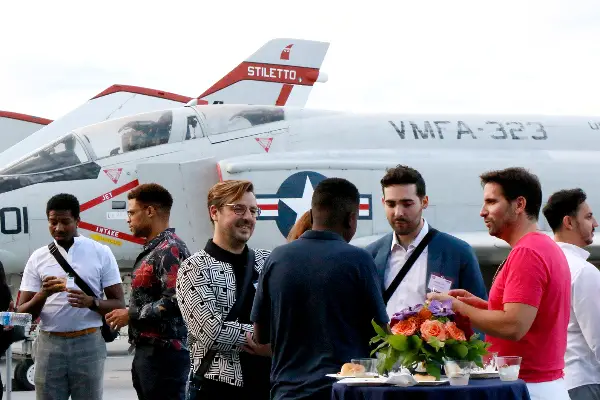 Food and drink went well with the Intrepid Museum's incredible collection of historic aircraft.
For more images of the NYC Tourism Fall Kickoff, visit the Facebook Group NYC Tourism Professionals. (Not a member yet? Join!)

The Intrepid Museum has a video recap of the night here.

You can learn more about the NYC Tourism Fall Kickoff honorees and their accomplishments for NYC tourism and city visitors in the Commemorative Journal here.
NYC TOURISM NEWS AND NOTES
Over and over again at the event we heard that NYC tourism is returning and optimism is running high. Data supports those reports. Hotel demand in NYC is hitting pandemic-era highs (reaching 94% of 2019 benchmarks) and this month NYC has boasted both the highest occupancy and average daily rate in the top U.S. hotel markets. 
A new Variety piece gives a good overview of the fall season for Broadway, covering both challenges and expectations for growth. "Domestic tourism was the big surprise," Charlotte St. Martin, president of The Broadway League, says in the article. "Over the summer we saw a stronger return there than anticipated."
NYC NOTES
NEW NYC IMMERSIVE EXPERIENCES
OTHER NYC OPENINGS
BEYOND NYC
CLOSING TIME