Nearly 20 years in the making, Brooklyn Bridge Park's 85 acres of waterfront property are now 90% complete. The park recently opened their lush lawn, Pier 3. Now all of the park's six piers have been successfully converted into space open to the public. With summer attendance off to a busy start, the picturesque waterfront complex will give Central Park a run for the money.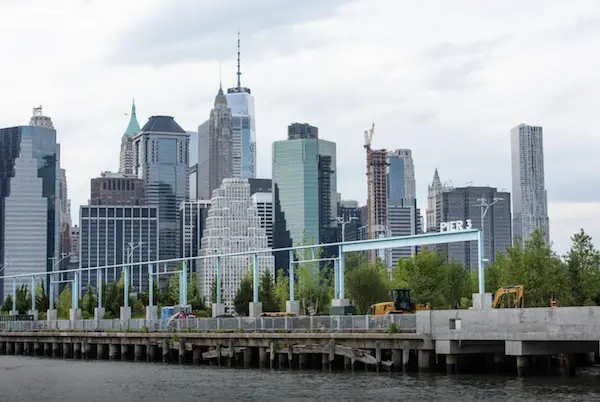 Photo: BBP.
Brooklyn Bridge Park was in need of more dedicated "hang out space." No longer an industrial-site eyesore, the five-acre Pier 3 includes plenty of space to stretch out, read, or stroll in a manicured nature labryinth dotted with plants, mirrors, and some salvaged lost treasures.


A view of Pier 3's Greenway Terrace, in Brooklyn Bridge Park. Photo: Etienne Frossard.
Brooklyn Bridge Park's FREE Movie Nights started up again July 12, and you can find the upcoming schedule here. BBP will also be hosting a Community Bookstore event July 23, at 7pm, as part of the Books Beneath the Bridge Series.
Domino Park features a new sand-filled volleyball court. Photo: dominopark.com.
The other good news is that Domino Park, a six+acre stretch by Brooklyn's former Domino Sugar factory along the East River in Williamsburg, has also completed renovation and is now open to the public.
It features a new lawn and highline walk, a fountain, and chairs for lounging along the water.
Photo: dominopark.com.
There's also a super-cool new kids' playground, plus a sand-filled volleyball court, bocce courts, and a tasty grub spot by Danny Meyer's Tacocina. The park is adorned with salvaged items from the factory like syrup tanks.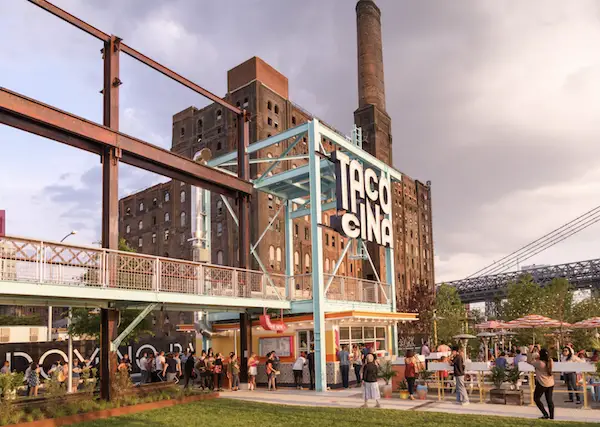 Hungry? Grab eats in Domino Park at Danny Meyer's new Tacocina. Photo: dominopark.com.
Domino Park hours are daily 6am-1am. For more information, visit dominopark.com. For more information on Brooklyn Bridge Park, visit brooklynbridgepark.org.