Andy Karl has something of a history when it comes to Broadway shows based on hit movies. In 2014 he was seen as a bulked-up Rocky Balboa in the musical Rocky. Three years later he picked up an Olivier Award in London for his take on jaded weathercaster Phil Connors in Groundhog Day. He eventually brought that character to Broadway, making unforeseen headlines when he tore his ACL during previews. Notably, his performance in both shows netted him Tony Award nominations for Leading Actor in a Musical.
Andy Karl and Samantha Barks make a legend their own in Pretty Woman. Photo by Andrew Eccles.
Fast-forward to July 20, 2018 and the first preview of Pretty Woman: The Musical. Karl is back on the Great White Way, this time channeling Edward Lewis, a character made famous on celluloid by Richard Gere nearly 30 years ago. To his credit and talent, Karl hasn't created a carbon copy of Gere's corporate raider who eventually learns to love himself.


"The show is a journey, particularly Edward's journey away from everything he's known—money, the boardroom, and routine," says Karl. "Vivian represents the freedom he's never allowed himself to have. She makes him see the wonder of the world through her eyes."
In Pretty Woman, Karl's choices as an actor and a singer are nuanced and exciting. With a nod to the '90s when the film was released, he explains, "I have the freedom onstage to make this beloved story something that's even bigger and happier today."
Of course, the somewhat improbable rich man/working girl pairing makes for a wonderful fairy tale, and it's the chemistry between Vivian and Edward that brings authenticity to the up and down romance as it unfolds. British actress Samantha Barks, best known for playing Éponine in the Les Miserables film, imbues Vivian with unbridled esprit: she's a dreamer who sees—and sings—her future as "anywhere but here."
Indeed, Vivian's spark, energy, and fresh take on everything she encounters becomes the catalyst for Edward's transformation. Observes Karl, "It's an upward climb for Edward—who is actually terrified of heights—to find love in ways he couldn't have imagined."
At every performance the charismatic Karl skillfully fleshes out the essence of a conflicted guy with impressive vocals in songs like "Freedom" and "Something About Her"—credit here going to Jim Vallance and Canadian pop sensation Bryan Adams, who created the pop-country score.
Meanwhile, Tony winner (Kinky Boots) Jerry Mitchell's direction and choreography deftly keep the show moving through a storyline that's been tweaked around the edges but still retains the film's core delights. From iconic moments to familiar lines to Bark's costumes (by Gregg Barnes) calling to mind those worn by Julia Roberts' Vivian, precedents are respected, without relying solely on imitation.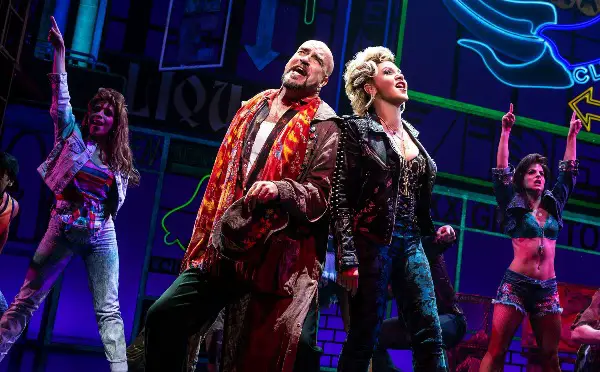 Ellyn Marie Marsh, Eric Anderson, Orfeh, and  Renée Marino among a dynamite supporting cast. Photo by Matthew Murphy.
The supporting cast is also dynamite, particularly Vivian's hooker cohort, Kit de Luca, brought to life by Karl's Tony-nominated real-life wife Orfeh (Legally Blonde), who brings a street-smart savvy to the role in addition to powerhouse vocals. Like Vivian, Kit is determined to fulfill her dreams.
"Pretty Woman is about strong, empowered women who stand their ground and the men who are freed by them," says Karl. "That's a story that's more meaningful than ever to women today."
Andy Karl with a proposition for Samantha Barks. Photo by Matthew Murphy.
Karl recalls the enormous buzz surrounding Pretty Woman well before its opening. "It's the title that people know," he explains. "They come from every country already loving this story. Even if they don't know the movie, which is something I often hear at the stage door, they get it.    
"And they all thank me for this show and tell me that it's so much fun—and fun is definitely something we value today."
---
Pretty Woman is playing at the Nederlander Theatre, 208 W. 41st St. For tickets call
877-250-2929 or visit prettywomanthemusical.com.