NYC's 10 Best Restaurants with Live Music
January 26, 2018 - by Merrill Lee Girardeau
Whether you're planning a Valentine's Day date or looking for some extra oomph in ambiance, you'll find incredible musicianship and fine food at some of New York's best restaurants. Your evening might be accompanied by a piano or jazz band while you snack on sushi, steak, or sea bass. It's a cinematic way to spend an evening at any of these ten New York treasures.
NYC Restaurants with Live Music: Birdland Jazz Club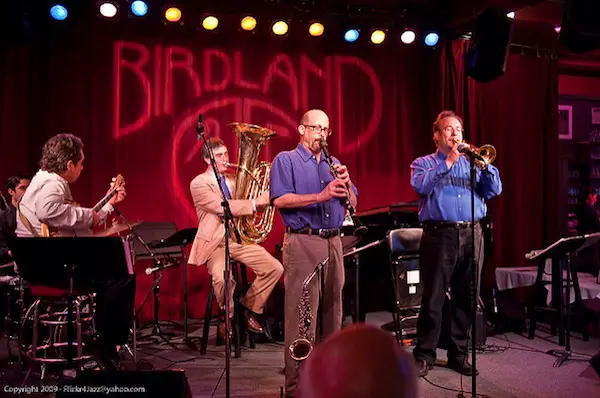 Some of the best jazz in midtown can be found at the legendary Birdland Jazz Club. With musically diverse acts and an intimate, classy vibe, dress up a little and come early to grab a table before the show. The baby back ribs and jambalaya are particularly yummy, and the cocktails are strong. 315 W. 44th St., 212-581-3080, birdlandjazz.com
NYC Restaurants with Live Music: Club A Steakhouse
Enjoy a romantic dinner at Club A, an upscale multilevel steakhouse that often posts a band on the bottom floor. Whether you prefer filet mignon or rib-eye, sea bass or lobster, you'll savor every bite. We also recommend a glass of red wine; it'll go perfectly with your steak and the red walls of Club A's interior. 240 E. 58th St., 212-688-4190, clubasteakhouse.com
NYC Restaurants with Live Music: Opry City Stage

Want a full concert while you enjoy a plate of Nashville hot chicken? You'll find it at Opry City Stage in the Theater District. An offshoot of Nashville's Grand Ole Opry, this four-level venue overlooks a stage where country music acts play each night of the week. Southern fare like collard greens, gumbo, and po boys comes hot from the kitchen to your table. 1604 Broadway, 212-388-5565, oprycitystage.com
NYC Restaurants with Live Music: Tomi Jazz
This small underground restaurant packs a punch with incredible Japanese food and live jazz nightly. You'll love favorites like the cod roe pasta, lychee cocktail, and honey toast. This Midtown East haunt tends to get crowded, so we recommend a reservation. 239 E. 53rd St., 646-497-1254, tomijazz.com
NYC Restaurants with Live Music: The Flatiron Room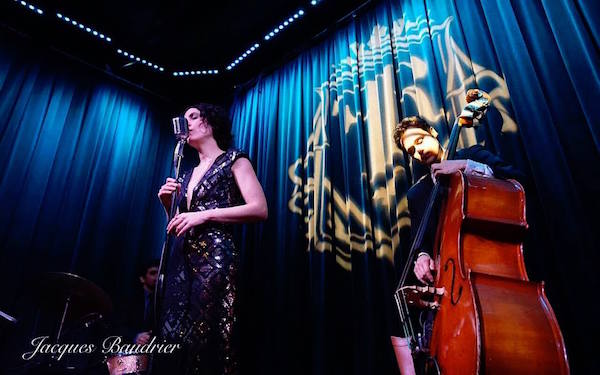 Photo: Jacques Baudrier
The Flatiron Room hosts jazz acts every night of the week on their sizeable stage. But this is by no means a concert venue. Come sip one of their 10,000 varieties of whiskey, and sample a Pig & Fig flatbread or braised short ribs with polenta and barbecue sauce. If you're into 1920s aesthetics, upbeat crowds, and big bass riffs, this is your pick. 37 W. 26th St., 212-725-3860, theflatironroom.com
NYC Restaurants with Live Music: Arturo's
Pizza and live jazz: that's all you need to know about Arturo's, and they do it right. Arturo's serves to-die-for coal-oven pizza (get the Diavolo) in this funky, surprisingly large spot on West Houston. The jazz band is a staple of the Village's live-music scene and a local favorite for good reason. 106 W. Houston St., 212-677-3820, Menu at places.singleplatform.com
NYC Restaurants with Live Music: Caffe Vivaldi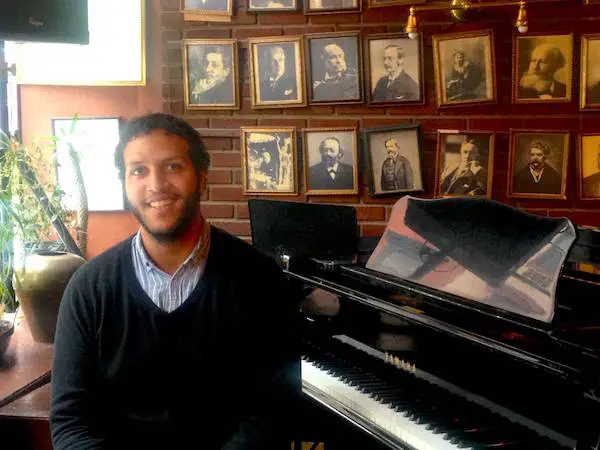 Something of a holdover from the Village's earlier, more bohemian days, Caffe Vivaldi hosts an eclectic mix of singer-songwriters, bands, pianists, and more. Find the next indie star or classical virtuoso at Caffe Vivaldi while you enjoy a plate of ravioli or chicken with wine sauce. You might even go up yourself on an open-mike night. (N.B.: Caffe Vivaldi is cash only.) 32 Jones St., 212-691-7538, caffevivaldi.com
NYC Restaurants with Live Music: Chez Josephine
Come to West 42nd for a little slice of Paris. Chez Josephine (named for Josephine Baker) sets the mood with low lighting and a nightly pianist at the grand piano in the center of the restaurant. Enjoy the fantastic rack of lamb, French onion soup, or spaghetti bolognese, and don't forget the chocolate mousse for dessert! 414 W. 42nd St., 212-594-1925, chezjosephine.com
NYC Restaurants with Live Music: BlackTail
Photo: Gregory J. Buda
BlackTail checks a lot of boxes you might type into your search bar: waterfront view, live music, killer cocktails, and amazing food. Overlooking the Statue of Liberty and Ellis Island, BlackTail tends to fill up quickly at night, with patrons sipping Cuba Libres or lemon daiquiris. The kitchen takes the food seriously too, with a spicy burger topped with Manchego cheese and sloppy joe-style empanadas. Come Sunday nights for live jazz! 22 Battery Pl., 2nd Floor of Pier A, blacktailnyc.com
NYC Restaurants with Live Music: Minton's Playhouse
Find stellar jambalaya and jazz at another legendary jazz club and the "birthplace of bebop": Minton's Playhouse. Minton's is an elegant dining room and a wide stage decorated with a Harlem Renaissance-style mural. Minton's hosts a range of impressive jazz acts nightly. Enjoy some filet mignon, lobster ravioli, or snapper as you tap your toes to the beat. 206 W. 118th St., 212-243-2222, mintonsharlem.com
Looking for Free Group Planning Services?
Get free advice on planning your group's trip to New York.
RESTAURANTS

Beloved midtown spot takes inspiration from local tradition,...

THEATER

Kander and Ebb's "musical vaudeville" in which Roxie Hart ga...

SHOPPING

Specializing in the great vineyards of California, France, A...

SIGHTSEEING

Spirit Cruises is New York City's most vibrant and entertain...