The Iridium is a musical landmark famously known as a destination for intimately experiencing the best rock, jazz, and blues artists in the world. Over the last 20 years, The Iridium has built up a reputation for attracting iconic instrumentalists and vocalists seven nights a week, and as a result has grown in the diversity of its music offerings as emerging songwriters seek to join in the room's rich history of music discovery. Among the superstar acts that have graced The Iridium stage are Les Paul, who played weekly at The Iridium until his passing in 2009, Jeff Beck, Steve Miller, Buddy Guy, Joe Walsh, Zakk Wylde, Joe Satriani, The Rolling Stones' Mick Taylor and Charlie Watts, Max Roach, and Michael Brecker, among many others.  Today, in addition to its consistent draw of legendary rock guitarists and jazz and blues musicians, The Iridium regularly showcases next generation talent spanning a variety of genres including folk, indie pop, alt rock, R&B, cabaret, and world music.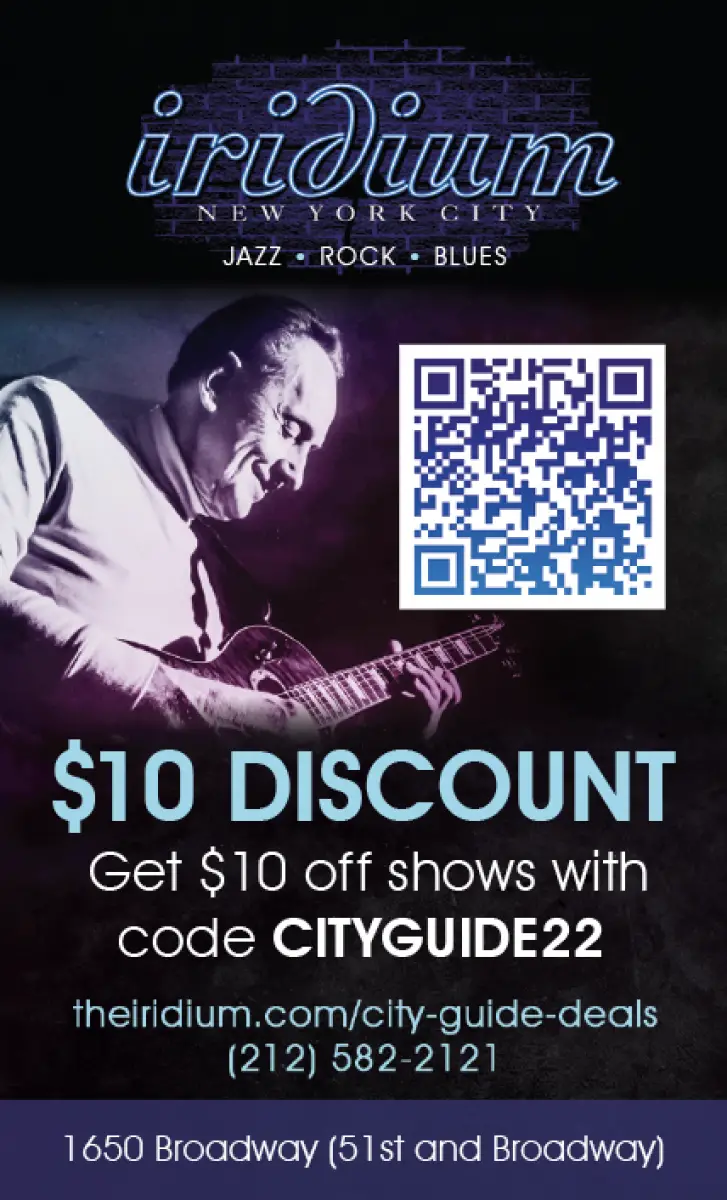 Take $10 off the ticket price for select shows using City Guide's exclusive discount code, CITYGUIDE22, at checkout. Don't miss The Joni Project—A Tribute to Joni Mitchell this Saturday, October 29th. Looking ahead, discounts are available for "Master of the Telecaster" Arlen Roth on Friday, November 11th; guitarist Jimmy Vivino (of Conan house band fame) and "The Basic Cable Rhythm Section" on Saturday, November 12th; and Rusted Root's Michael Glabicki on Thursday, November 17th.
Les Paul, revered as a pioneer in electric guitars and music recording, has influenced The Iridium in the club's becoming one of the only NYC concert venues to double as a live recording studio boasting its own music label, IridiumLive. Since 2011, notable releases on the IridiumLive label have included Grammy-winning guitarist Albert Lee's "Live At The Iridium" and "Les Paul Trio and Friends: A Jazz Tribute to Les" featuring Les Paul's band performing with special guests Nels Cline of Wilco, jazz guitar legend Stanley Jordan, Jane Monheit, and Bucky Pizzarelli. Jeff Beck's Grammy-nominated "Rock 'N' Roll Party Honoring Les Paul" is also among the historical recordings at The Iridium.
A 180-capacity venue centrally located at 1650 Broadway near Times Square and Columbus Circle, The Iridium is available for private events and offers upscale contemporary cuisine along with one of the finest wine lists in the city with its 450-bottle cellar.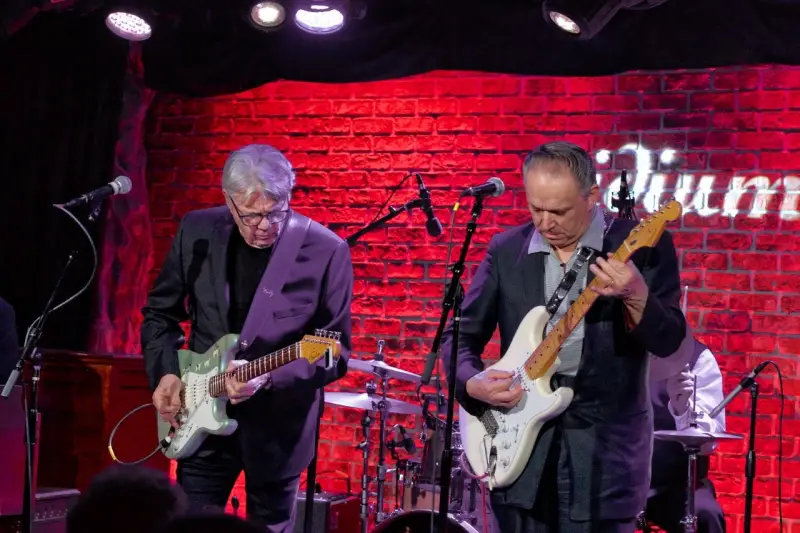 Steve Miller with Jimmie Vaughan (credit: Arnie Goodman).
Sheryl Crow (credit: Jim Belmont).