With the return of international tourism imminent, pieces are falling into place. Airline routes will stabilize and other nations will follow the U.S.'s lead, unfreezing borders around the world. We are confident a significant traveler flow is coming our way. The timing is excellent for the city's holiday push and City Guide will be right there, delivering print magazines again to key hotels. The return of tourism tracks other indicator's of the city's health, like the luxury sales market—which is breaking records with three months of the year yet to go. There are lots of bright points on the opening/reopening front as well:
Resonance has just released its latest World's Best Cities Report. New York City may not be at the top, but we're not far off and in good company: the top three go London, Paris, and then us. Next year back to #1!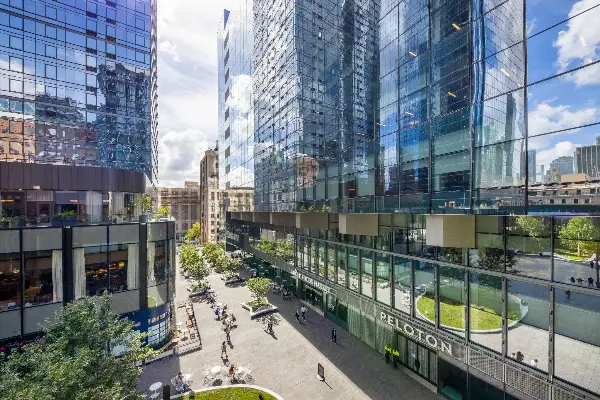 Manhattan West has opened, bringing food, hospitality, wellness retailers, and culture to the west side. Image: Jakob Dahlin.
LINKS OF INTEREST
Jumbo origami-inspired sculptures have taken over Broadway in the Garment District. Located on the public plazas between 36th and 39th Streets, the art installation Hacer: Transformations will be on view through November 23rd. Photo: Alexandre Ayer / @DiversityPics for the Garment District Alliance.
NYC
BEYOND NYC
EVERYTHING TO DO FACEBOOK GROUP POST OF THE WEEK
City Guide's Everything To Do NYC Facebook Group brings together 54,000 tourists and NYC superfans to share notes on what's happening right now in the city. You can get a clear picture of traveler interests here, and what locals are recommending. In addition to being great for research, the group can be a lot of fun. Just look at the 200 comments to this prompt:
Iconic NYC restaurants? Tavern on the Green, The Rainbow Room, etc.
The recommendations will put a nostalgic smile on your face, touching on spots like River Cafe, Pete's Tavern, John's, Juliana's Pizza, Wo Hop, Veselka, Serendipity, Katz's, Russ and Daughters, Grimaldi's, Tipsy Shanghai, Patsy's, Momofuku, Gramercy Tavern, Balthazar, Joe's, Bamonte's, Gray's Papaya, Cafe Lalo, Tao, Russian Tea Room, Hungarian Pastry Shop, Old Town Bar, Ear Inn, Joe's Shanghai, Cafe Luxembourg, Barney Greengrass, Nobu, Masa, Tom's Restaurant...Who did they miss? Weigh in here—and if you're not a member yet, join us!