Save on National Geographic Encounter: Ocean Odyssey with City Guide's Coupon Code
May 15, 2018 - by City Guide Discounts
Go on an immersive adventure beneath the seas, from the South Pacific to the coast of California, with National Geographic Encounter: Ocean Odyssey. Journey with your friends and family on this walk-through experience, where you'll visit a luminous coral reef at night, witness a battle between two ferocious Humboldt squid, find yourself in the middle of a magnificent 3-D feeding frenzy, and much more. Take advantage of City Guide's coupon code and you can enjoy it at a discount: $5 off by presenting a copy of City Guide magazine at the box office, or with the code CITY18 online at NatGeoEncounter.com.
Offer is valid for Reserved Entry tickets only, at most event times through June 30th, 2018. National Geographic Encounter: Ocean Odyssey, 646-308-1337, 226 W. 44th St. (btw. Seventh & Eighth Aves.), New York, NY 10036.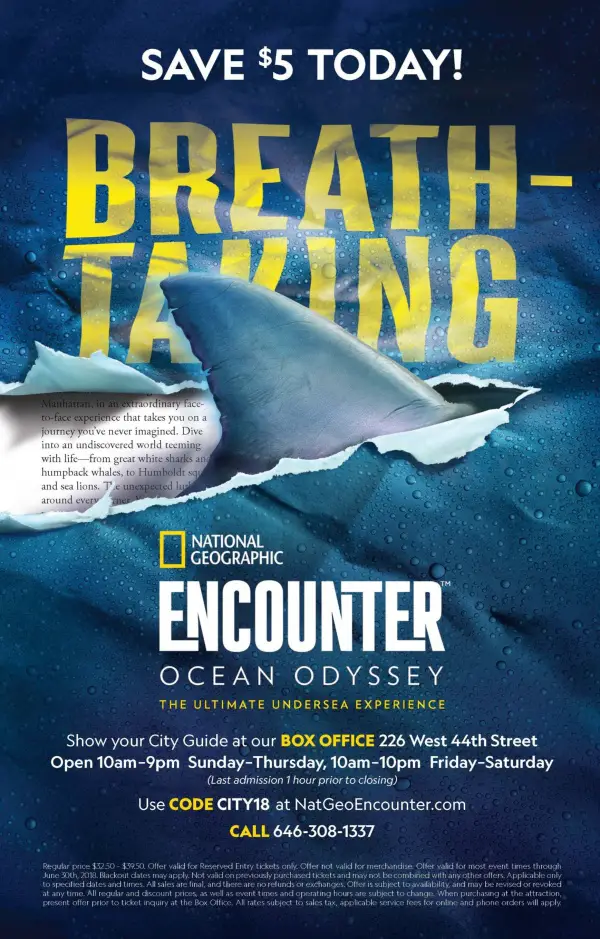 Looking for Free Group Planning Services?
Get free advice on planning your group's trip to New York.
RESTAURANTS

Multi-concept restaurant offering modern Japanese cuisine, a...

THEATER

In this new musical, Jenna, supported by her quirky crew of ...

SHOPPING

At Build-A-Bear Workshop®, it's the most fun you'll ever mak...

SIGHTSEEING

A state-of-the-art Coney Island amusement park that's home t...